words by Sheryl Nonnenberg
They can be seen in every city and suburb in this country—signs announcing that a property is for sale or rent. For most of us, they serve a utilitarian purpose, after which they are removed and used again. For Redwood City's John Shroyer, however, vintage real estate signs are a link to local history and a connection to others who have shared his profession.
Both John's family and career are rooted on the Peninsula. He grew up in the Belmont-Redwood City-San Carlos area and attended Carlmont High School. In 1977, shortly after graduating, he became a real estate agent and moved his office to San Carlos in 1980. John and his wife Jane settled in Redwood City, where they raised three boys in their 1930s classic Spanish home in Edgewood Park. 
A lifelong history buff, John discovered bottle collecting as an 11-year-old, which led to other collecting pursuits. Above all, he loves finding objects that reflect local history. But why real estate signs?
"I am interested in them for the historical aspects but they are also aesthetically beautiful to me," he says. John explains that he focuses on signs found in San Mateo County that date prior to 1950. His collection totals around 40 and he displays about half of them in his new office (he works for Golden Gate/Sotheby's International Realty) in Redwood City. The other half is in storage in his garage.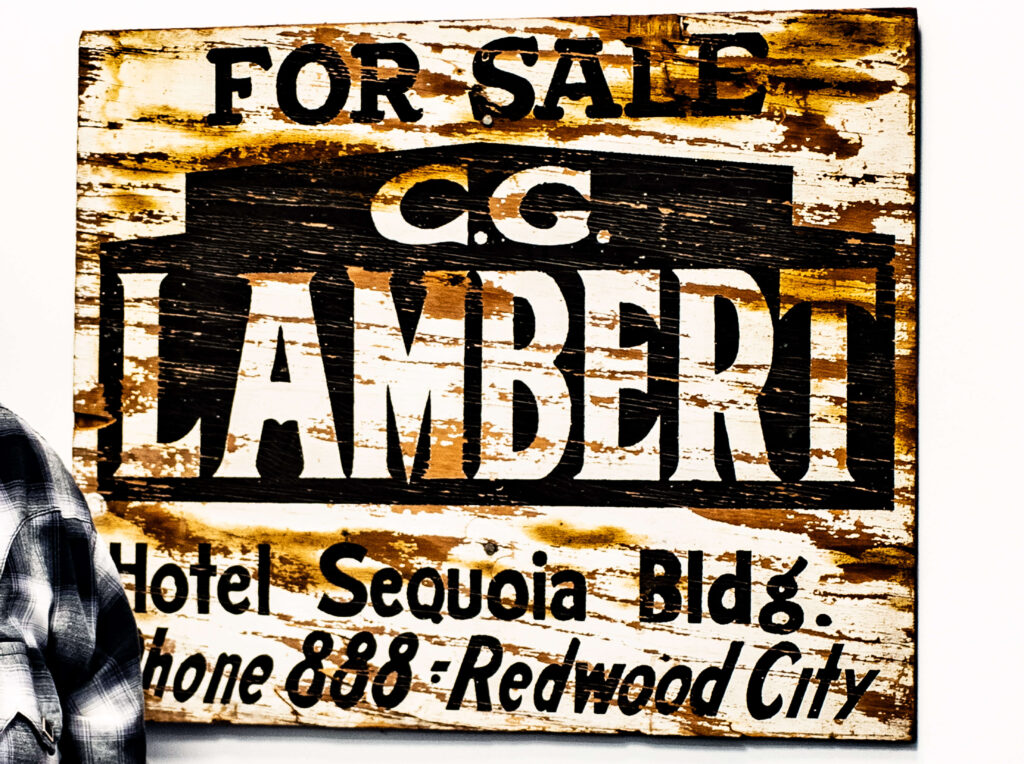 The first signs that John acquired were from realtors who were in their heyday when he was just starting out. Local legends like Bill Royer, for example, who began in the 1940s. "This is what started it," notes John, "connecting signs with people." At that time, most realty companies were mom and pop businesses or a single individual, rather than the national and international firms we are familiar with today. "They are from a bygone era; these people are long gone," he says, "but I thought the signs were historically significant."
John acknowledges that he is probably the only one who collects signs in this area, although he has found others who collect ephemera (photographs, brochures, etc.) that focus on San Mateo County history. He has discovered signs in houses that he has sold, old offices and garages. John will occasionally spot one on eBay and he also has friends who are "pickers" who will notify him when they see something of interest.  
"Real estate signs have not changed much, basically," he observes. "Although today, the company name is far more prominent than the individual realtor."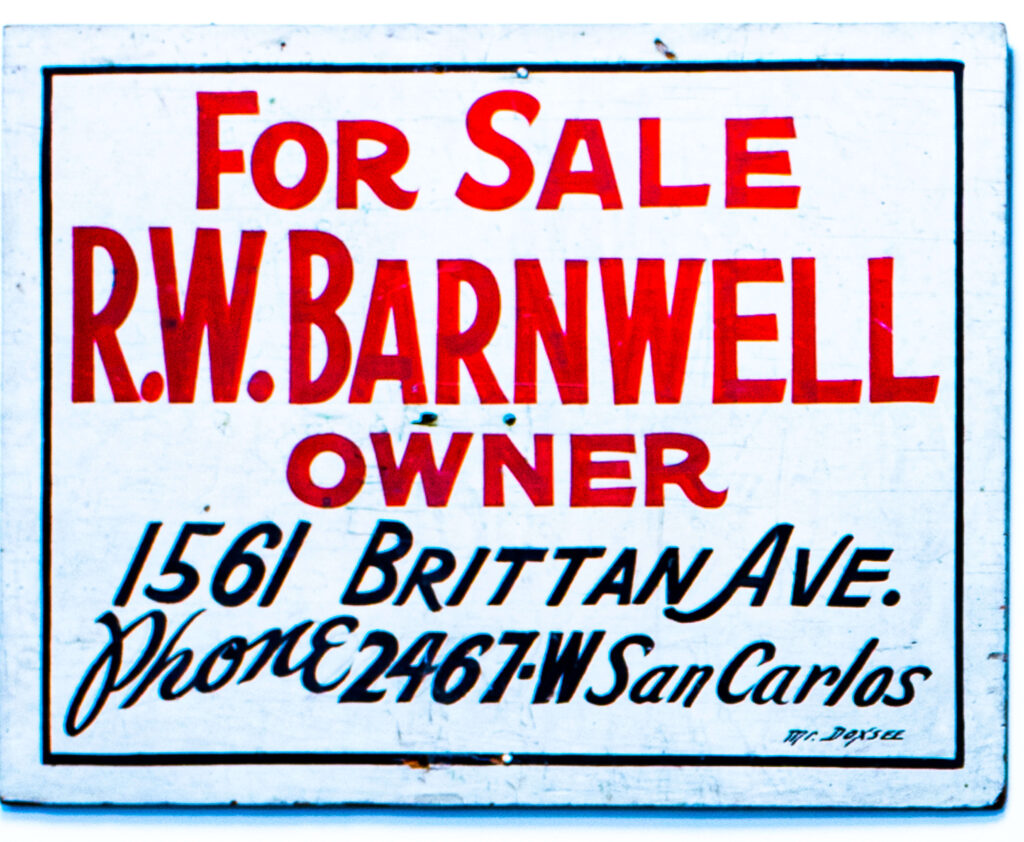 The vintage signs were often hand-painted on wood or tin. "The old ones were unique and individually done," John shares, as he gestures to his favorite, a sign from C.G. Lambert Real Estate. Mr. Lambert's office was in the Hotel Sequoia Building in Redwood City and his phone number was "888." John found the sign in an empty barn and was immediately drawn to it because Lambert was selling homes in the Edgewood Park area. "He was doing what I am doing now," he points out. The sign is a bit battered, but for John, that is part of the charm: "I love the fact that it is not new and it is clearly a weathered old sign. And, who doesn't know the Hotel Sequoia Building?"
Some of the signs are so old they do not have telephone numbers. Others were cobbled together using old crates. One of the oldest, from 1870, for A.J. Samuel Real Estate, consists of calligraphic lettering on tin. Spade Realty, located in Menlo Park, used a bright yellow background and the graphic from a playing card for their logo. An old sign for Fox and Carskadon used contrasting red and green block lettering, set against a rustic, wood-grain background. "It makes history more tangible," reflects John. 
John clearly enjoys his various collections and, as much as possible, displays them in an organized manner both at his home and office. "Otherwise," he says with a laugh, "it is just clutter." He would like to see his signs displayed one day, perhaps in a local history museum. And yes, he hopes his collection will continue to grow because, he explains, "Much of the fun is in the search and the finding."