Words by Jennifer Jory
Imagine a three-wheeled, Italian vintage vehicle rolling into your driveway. The driver pops open the side to reveal four taps flowing with Champagne for you and your guests. Say "Ciao!" to Sippin' Pretty Bubble Bar and Tap Truck, the manifestation of local entrepreneur Holly Braithwaite's desire to bring Old-World European charm to Peninsula backyards. "The truck makes people happy," smiles Holly. "I can't imagine anything better on a warm day than a cold, crisp glass of Champagne."
Sippin' Pretty's origins can be traced to the small village of Mougin, France, where Holly's husband Jean-Francois asked her to marry him. As they strolled through the streets looking for a way to celebrate their engagement, they spotted a whimsical, turquoise vintage Champagne truck lined with fluted glasses. It was the perfect way to toast their new beginning. The celebration also sparked the idea to bring a slice of Europe home to the Bay Area with their own truck and bubble bar. "I announced to my husband, 'This is what I am going to do someday,'" Holly recounts.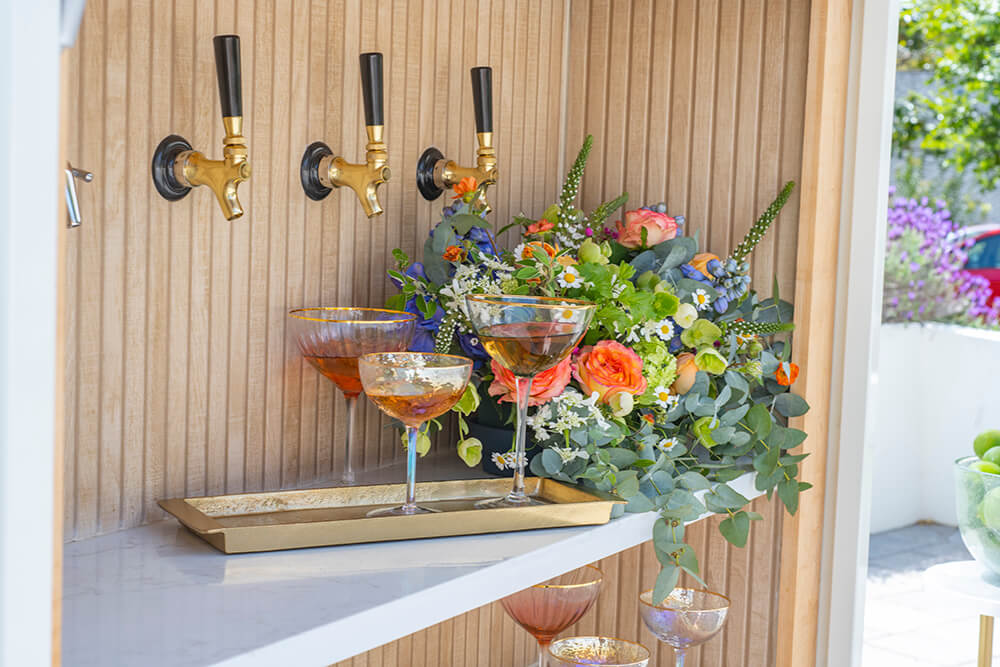 Fast-forward 10 years and the notion kindled by their betrothal became a reality. Holly partnered with her mother Susan and they began to plan their new venture. "My mom really encouraged me to start the business and she now runs the back end," Holly explains. Already a collector of vintage glasses, Holly researched vehicles and came across a three-wheeled, vintage Italian truck on the East Coast. She set to work meticulously outfitting it, selecting finishes and curating the build out of the refurbished mobile mini bar dispensary. "My style is boho, eclectic, fun and different," notes Holly. As a final touch, she dubbed the truck Lola.
In September 2022, Holly brought Lola home to San Carlos and soon landed her first event. Jean-Francois worked alongside her and they managed the first big party together. "One of our challenges was the learning curve of tapping Champagne," Holly laughs. "We were trying to understand how to add CO2 and testing bubbles all day. We had a lot of Champagne, but we finally mastered it." For events, the couple teams up—Holly driving Lola to nearby festivities and Jean-Francois trailering the truck to more distant venues.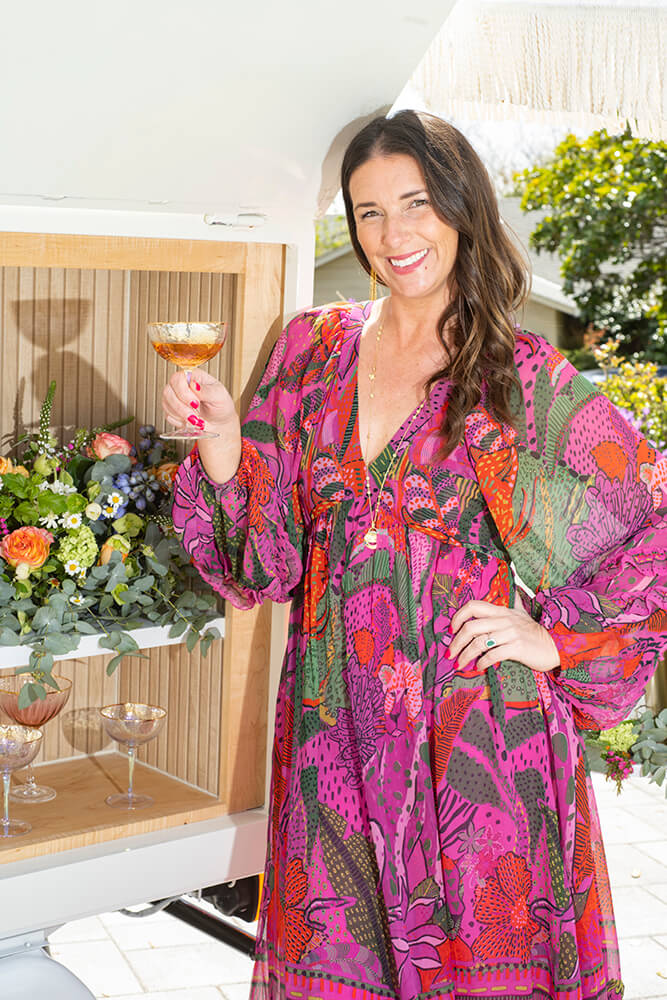 The pair first met on a match.com date at the Woodside Bakery. "We hit it off right away and had a second date that same day with our dogs," recalls Holly. Jean-Francois' French heritage introduced Holly to the European lifestyle. "It's a different world there and I feel like I was meant to be European," she describes. "The food is fresh and natural and there is a way of life that is easy-going." Every summer, the couple return to France for several weeks with their eight-year-old son Lucca to visit the village where Jean-Francois' father grew up.
Originally from outside Seattle, Holly traded Washington state's cool weather to study advertising and marketing at the University of Hawaii. After college, she lived with her grandfather in San Carlos and fell in love with the Peninsula, prompting her to pursue further education at the Fashion Institute in San Francisco. Soon she built a clientele in a personal styling business. "I always wanted to work for myself and when I started doing some personal styling, the business took off," she shares. "I love having my own schedule and being in charge of my own business." After a while, Gucci recognized her talent and hired her to bring her expertise to their jewelry and watch division. While she continues to establish Sippin' Pretty, Holly now applies her skills at an European-inspired jewelry brand.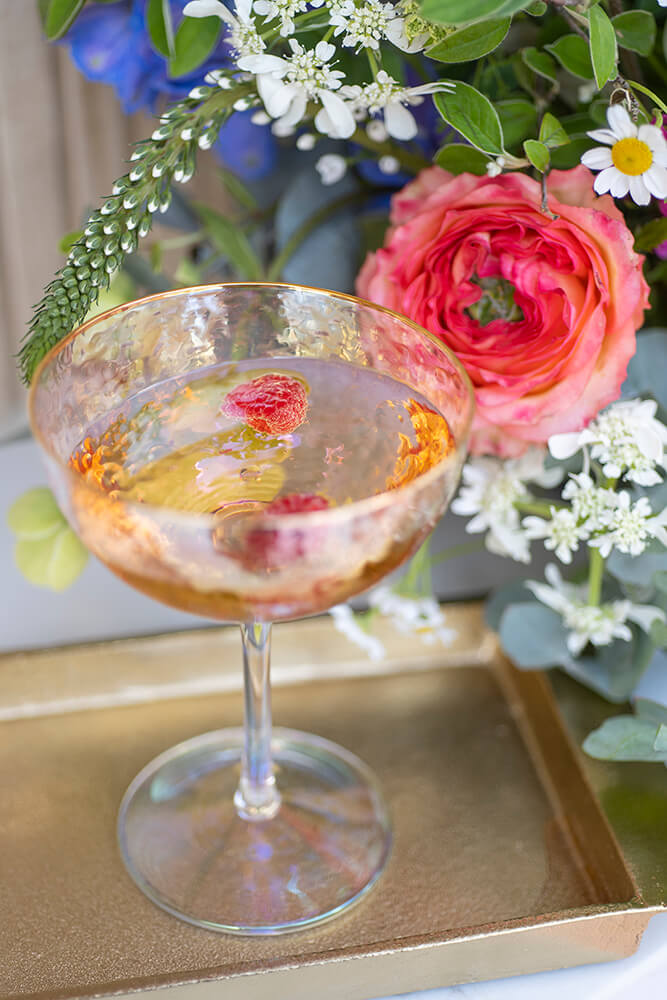 Holly hopes to someday expand Sippin' Pretty with a variety of vintage vehicles including a Vespa bar cart. "It's a passion project—I've combined doing something I love and working with my mom, which is super special," says Holly. "And my creative styling background brings something different to events." Deploying designs that include flowers and props to fit the occasion, Holly has brought Lola to Super Bowl celebrations, birthday parties and summer soiree fundraisers with many different libations flowing from the tap.
As it turns out, Lola can accommodate almost any request. "The Super Bowl party was the first time we tried craft cocktails," Holly says. "It was a big hit with themed decorations and a football pool." The truck also pours Moscow mules, margaritas and beer. Her son Lucca inspires her with children's themes ranging from an Italian soda party to a hot cocoa celebration.
Looking to the future, Holly even envisions franchising the business. "All my creative juices go into Lola and fun ideas with her," relays Holly. "I get to meet new people and it's always around something celebratory."
toasting time