Words by Lotus Abrams
Standing on a windswept bluff on Bodega Head, gazing out at the Pacific Ocean as the waves crash onto the beach below, it's not hard to appreciate the rugged beauty of the Sonoma Coast. There are so many reasons to visit this remote, unspoiled area. Sweeping vistas appear around nearly every bend along Highway 1; stunning trails and beaches beckon; and seaside eateries offer a taste of the region's freshest bounty. Spend a few days exploring the area around Bodega Bay and Jenner—luxurious lodgings invite you to linger.
Bodega Bay
Start your getaway in picturesque Bodega Bay. Alfred Hitchcock's 1963 thriller The Birds—filmed in Bodega Bay and the surrounding area—put this petite fishing village on many a traveler's map. But credit also goes to the natural beauty of its setting, offering ample opportunities to enjoy outdoor pursuits.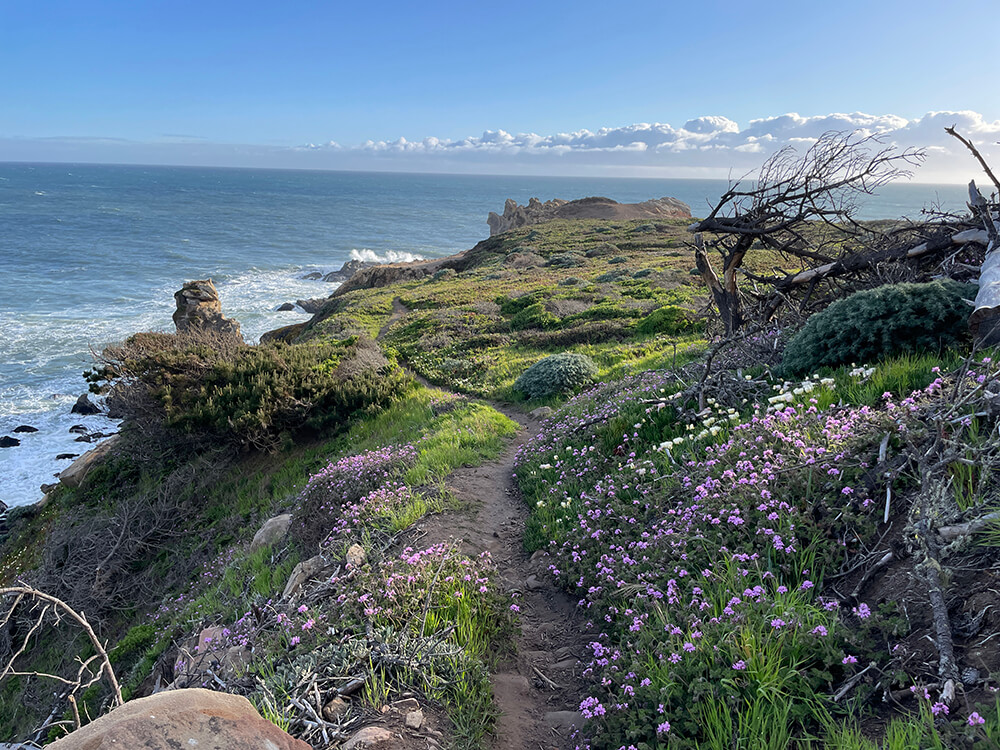 Photography: Courtesy of Timber Cove Resort - The Nomadic People
Photography: Lotus Abrams
Part of Sonoma Coast State Park, don't miss Bodega Head Trail, an easy 1.7-mile loop on a rocky peninsula that juts out into the Pacific, providing panoramic views of the ocean as well as the bay. Depending on the time of year, you may glimpse migrating whales, seals, wildflowers and seabirds on your walk. Across the channel from Bodega Head, sheltering the bay and harbor, Doran Regional Park is another scenic spot to explore, with its two-mile-long beach, rock jetty (a popular spot for fishing) and grassy dunes that connect with the Bird Walk Coastal Access Trail.
When it's time for lunch, head to one of Bodega Bay's casual seaside spots for fresh seafood specialties like local oysters and clam chowder. Two popular options are Fishatarian Fish Market for fish tacos and local brews and Spud Point Crab Co. for crab sandwiches and crab cakes.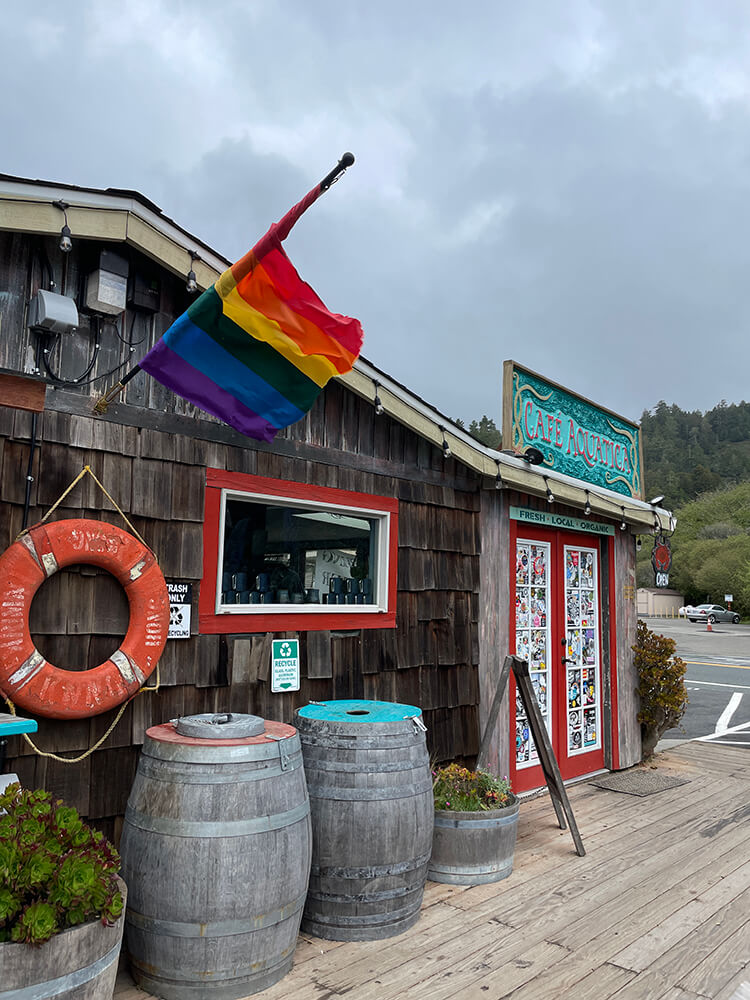 Photography: Lotus Abrams
After lunch, burn some calories by taking a kayak or stand-up paddle board from Bodega Bay Kayak out for a spin (rentals and tours are available as well as lessons for beginners), or sign up for a surf lesson at the Bodega Bay Surf Shack. You can also explore the beach dunes and hills around Bodega Bay by horseback on a trail ride arranged through Chanslor Stables or Horse N Around Trail Rides.
In the afternoon, make your way to Sonoma Coast Vineyards to sample cool-climate rosé, sauvignon blanc, chardonnay and pinot noir. Enjoy your tasting with a cheese and charcuterie plate in the inviting tasting room or in the family- and pet-friendly picnic area offering scenic views of the bay.
After an activity-packed day, check in to the Lodge at Bodega Bay for a luxurious overnight stay in one of the hotel's 83 beautifully renovated rooms and suites boasting private balconies and patios and stunning views of the bay, ocean, harbor and marsh, along with wood-burning fireplaces in many rooms. Take a dip in the infinity-edge hot tub, which offers unobstructed water views, and make sure to enjoy a meal at the on-site restaurant, Drakes Sonoma Coast, or in the more casual Drakes Fireside Lounge, where you can sample fresh regional seafood, meat, produce, cheeses and wines. A heated swimming pool, sauna, spa, fitness center, outdoor fire pits and complimentary cruiser bikes are also among the amenities.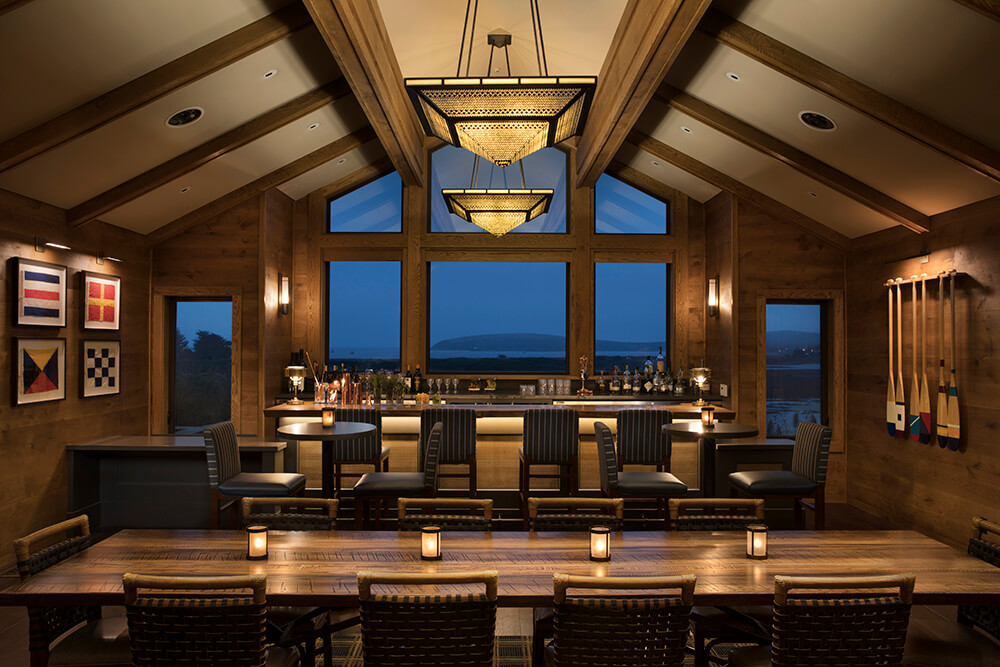 Photography: courtesy of drakes fireside lounge
Jenner
The following day, drive north, taking in the majestic coastline as you make your way toward Jenner. In the tiny town, located where the mouth of the Russian River meets the Pacific, local gathering spot Café Aquatica makes a good pitstop for breakfast or lunch. Serving up house-made pastries, sandwiches and fair-trade, single-origin coffee, Café Aquatica hosts live music acts during the weekends in the summer on its outdoor deck overlooking the river.
Leaving Jenner, the grassy hills paralleling the coast quickly give way to steep, wooded slopes thick with stands of Bishop pine, redwood, Douglas fir and tan oak. Take in 360-degree views of both the Coast Ranges and the mighty Pacific from the Vista Trail, an easy one-mile loop trail located about five miles north of Jenner.
A few miles up a side road from Highway 1, Fort Ross Vineyard & Winery produces estate-grown chardonnay, pinot noir and pinotage wines from its Fort Ross-Seaview American Viticultural Area (AVA) vineyard located a mile from the sea—the closest to the Pacific Ocean in the entire state of California. The seated wine and food tasting experience (available by appointment) features locally sourced small bites prepared by the winery's in-house chef served on the tasting room's expansive deck overlooking the ocean or inside by a roaring fire.
Back at the coast, Fort Ross State Historic Park offers an intriguing glimpse into what life was like when the site was a Russian-American Company settlement from 1812 to 1841, the southernmost settlement in the Russian colonization of North America. Several reconstructed buildings, and one original, have been furnished with artifacts that are representative of the era. Check out the visitor center for informative exhibits that also cover the area's natural history, native Kashia Pomo people and ranch era (1842–1972).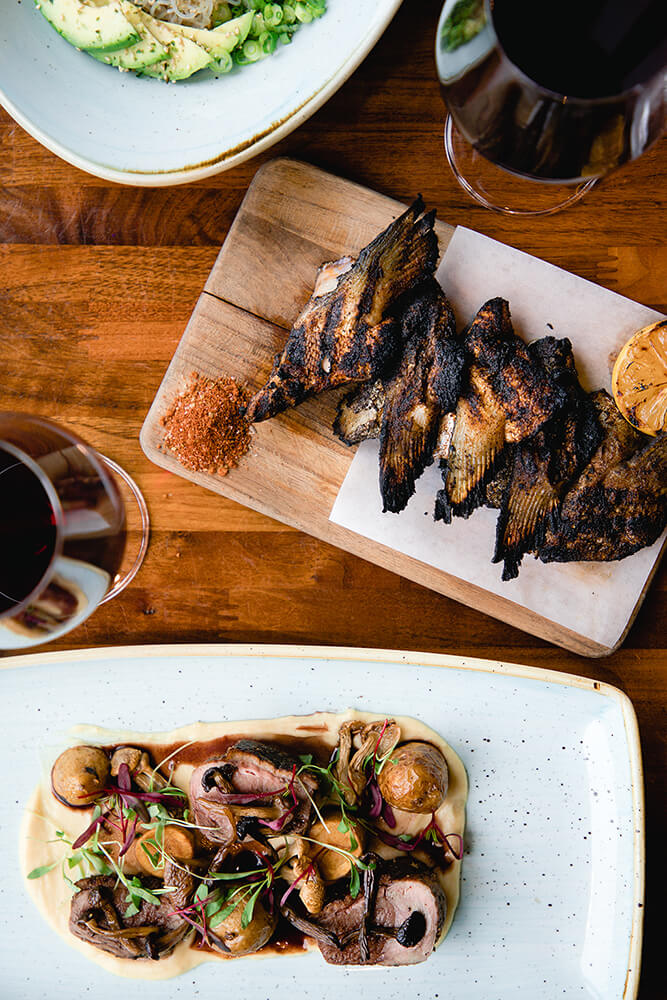 Photography: courtesy of Timber Cove Resort
After you've wandered through the park, make your way to the Timber Cove Resort, set on a dramatic bluff above the ocean. Celebrating its 60th anniversary this year, Timber Cove has been lovingly renovated with furnishings that evoke its mid-century heritage while adding a sense of rustic-chic charm. An "outdoor living room" outfitted with firepits, billiards and ping-pong tables, and accommodations stocked with yoga mats, record players and Nest-controlled fireplaces (in many rooms) add to the experience. The onsite restaurant, Coast Kitchen, offers seasonal fare featuring ingredients sourced from many local purveyors and a Sonoma-dominated wine list—all with a gorgeous ocean view.
Before heading home, visit Gerstle Cove at Salt Point State Park to see the fascinating honeycomb-like erosion called tafoni (Italian for cavern) visible in the sandstone rocks near the water's edge. Fun fact: The sandstone from Salt Point was used to construct San Francisco's streets in the mid-1800s. Look carefully and you can see eye bolts in the rocks where ships once anchored to load sandstone slabs.