Step into the Social House in South Lake Tahoe's Heavenly Village, and it's clear this eatery knows how to make a craft sandwich—whether it's a classic Reuben or a Caprese Panini on ciabatta. What's not so obvious is what's behind the sturdy bolted-wood refrigeration door at the back of the establishment. We walk with purpose past brightly lit tables and patrons munching on potato chips and pause in front of it. We look around in speculation. Are we supposed to say something? Is there a secret password? After all, we've only heard a rumor.
Apparently, we've caught the right eye. "Do you want in?" we are asked by a Social House staffer, in what sounds like a conspiratorial whisper. We nod our heads affirmatively and a code is typed into the keypad next to the door, which releases the lock. We step into a tiny storage space with empty crates and face another heavy door, this one suggesting a walk-in freezer. We turn the door knob and… the crowded deli fades out behind us, along with a century of time. As our eyes adjust to the low light, we take in the 1920s-styled Community Speakeasy—the decorative pressed tin patterned ceiling, hanging crystal chandelier and wall sconces, red-brick walls and oil-lamp-lit bar stretching almost the length of the small room. As we settle in at one of two high-top tables, red curtains pull back to reveal a tiny shelf of a stage. A keyboardist strikes the first chords of a Bruce Hornsby song and music washes over us. Slowly sipping a Blackberry Sage Smash served tall on the rocks, I think about how Tahoe still holds many secrets and surprises.
This past winter delivered a welcome surprise all its own—with Tahoe racking up its single snowiest month in history along with bragging rights to the best snowpack in the Western U.S. But with the spring and now summer melt, Tahoe is shaking off its heavy winter coat and revealing a different seasonal bounty of treasures. Whether you're a Tahoe novice, or even if you've been doing the full I-80 east trek (or veering off to I-50) for as long as you can remember, here's a sampling of some new offerings and perhaps some yet untried adventures. With two months of special coverage, we head to the South Shore in this issue followed by the North Shore in July.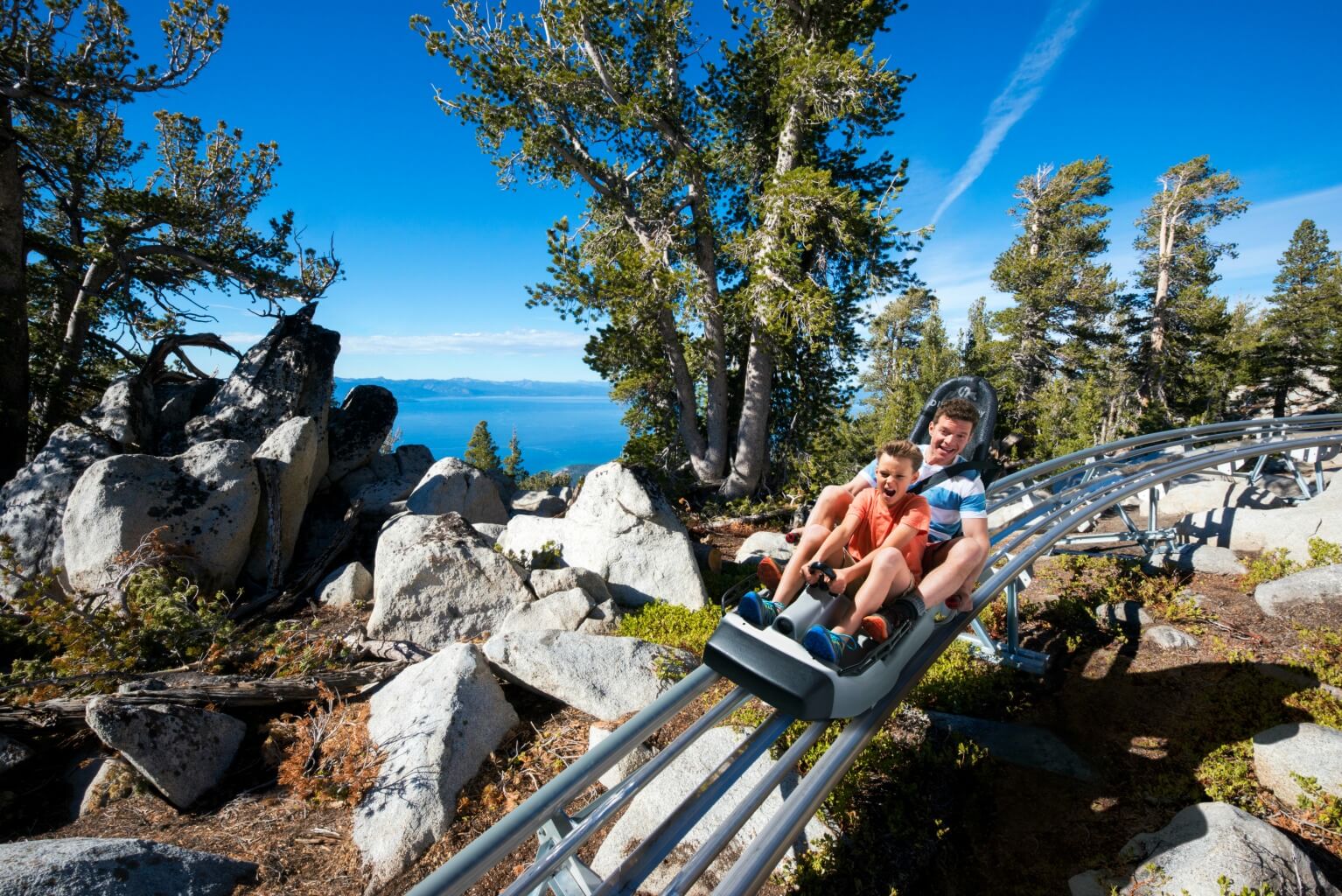 ready for action
The vibe of South Tahoe is fun—as in, there's always something going on. Of course, the casinos are here at properties like Hard Rock, Harveys and Harrah's but blackjack, roulette and slot machines represent just one slice of the action.
As popular as Tahoe is in the winter, it's always amazing to see how summer transforms the experience—with its own enticing flipside. The same gondola that's winter's ticket to the slopes of Heavenly Mountain becomes the gateway to Epic Discovery, an outdoor playland of ropes courses, tubing and climbing walls. When Epic Discovery opens for the summer season on June 21, you'll be able to sample some new adventures, all with spectacular views of the lake. Set amongst the pines, surrounding the mid-station observation deck, the Canopy Tour immerses guests in the forest with an array of zip lines and aerial bridges. Guided 4×4 Mountain Tours in all-mountain vehicles offer vistas of Tahoe, the Carson Valley and Desolation Wilderness. For a downhill thrill, hop into a sled on the gravity-based Alpine Coaster for a ride through dense forest and natural rock formations.
The iconic Emerald Bay is one of Tahoe's most photographed/Instagrammable landmarks, but if you snorkel or scuba dive, a much less crowded view is opening up to you. This summer, you can get a first look at the new Emerald Bay Maritime Heritage Trail. Featuring interpretive panels, the trail covers four dive sites (three being revealed for the first time), capturing the mysteries of Emerald Bay's sunken ships used during the early 20th century. Even veteran visitors may not realize that Emerald Bay is the final resting place for numerous launches, boats and barges used during the heyday of the Emerald Bay Resort (1920s and 1930s) and the 1929 construction of Vikingsholm, one of the finest examples of Scandaniavian architecture in the U.S. You won't find a more diverse group of sunken small watercraft anywhere else in the country.
music in the air
Another distinct South Shore summer offering is live music, which always seems to be wafting in the air. For a memorable night out, Harveys Summer Concert Series offers outdoor arena seating for 4,000 under the stars, hosting acts like Tim McGraw on June 14, Blake Shelton on July 12 and Jackson Browne on August 10. For free entertainment, check out Heavenly Village—all day and into the night. Grab some eats at Azul Latin Kitchen, California Burger Co., Base Camp Pizza Company or Gunbarrel Tavern, and you'll find live music starting up at 11AM and jamming all the way to closing, on indoor stages or the plaza patio. And back to that secret bar, if you're in the know at the Social House, you can catch daily live acts, and even the occasional Burlesque show, at the Community Speakeasy. It's the smallest of venues, no more than 36 inside at a time, including the bartenders, so it feels like you're getting a private performance. A favorite with visitors and locals alike, the Live at Lakeview Summer Music Series returns June 21 for its 8th season. It's a weekly Thursday night community gathering with free amphitheater  shoreside seating.
libations and sweets
Whether it's winter or summer, it's always draft season in Lake Tahoe, and the South Shore has nine local craft breweries or taprooms all within six miles, collectively bundled as the South Lake Tahoe Beer Trail. The newest entry is the Hangar Taproom & Bottle Shop with 30 rotating craft beers on tap. To be clear, the primary focus here is beer with the goal of "getting stuff no one else has." When we dropped by, offerings ranged from a Coronado Cosmic Ocean IPA to a Brooklyn Lager. And while food trucks will be on hand this summer to help soak up the brew, the biggest draw is the expansive outdoor setting. Featuring firepits, bocce ball, cornhole and even a dog park, it's a one-stop summer hangout. For the cornhole bean bags, ask inside at the bar. Apparently the squirrels like to nibble on them so they are closely guarded. For the record, I completely dominated a spousal match-up with my own rather surprising (and inexplicable) cornhole prowess. For local hand-crafted brews and more substantial grub, check out the Cold Water Brewery & Grill. If you find yourself waiting for a table, you can pass the time in the tasting room adjacent to the restaurant. Leave the pooch behind though. The sign outside says no (cigarette) butts or mutts.
On the sweet side, Crazy Good Bakery and Cafe already had a following for small-batch gourmet donuts and pies at local farmers markets, so South Lake was psyched to get a brick-and-mortar location last fall. You'll find scones, cupcakes, muffins and cookies—along with (boiled before baking) fresh bagels. Glazed and Confused Tahoe Donut will also be opening up its own South Shore stand-alone location this summer. Eclectic creations include the Oh-Oh-O-REO and the Vincent Van Dough.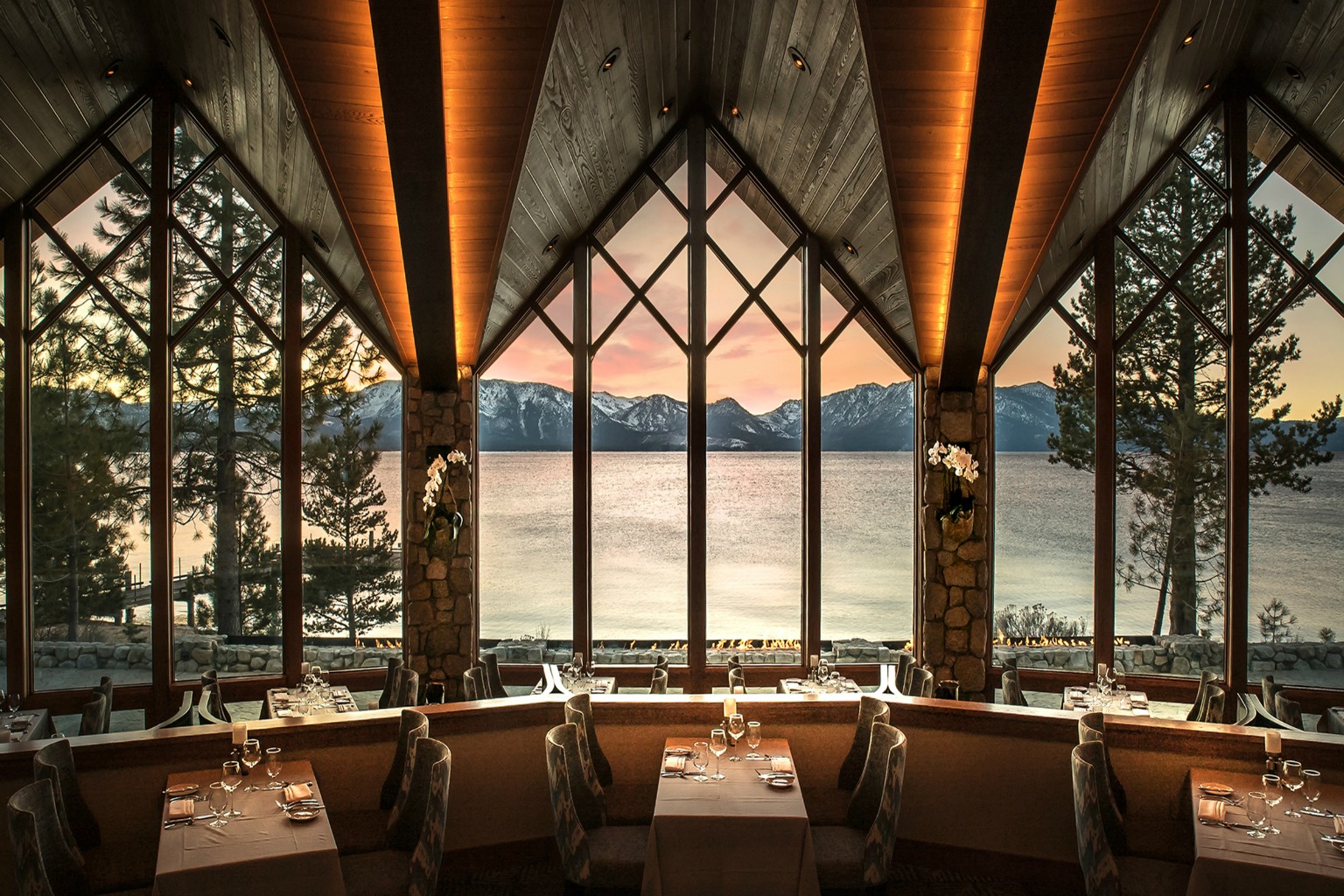 exceptional edgewood
Summer on the South Shore also brings the 30th annual American Century Championship, the star-studded celebrity golf tournament scheduled for July 9-14 at the storied Edgewood Tahoe Golf Course. Meanwhile, the new Lodge at Edgewood (edgewoodtahoe.com) is quickly building its own legendary reputation. The 235-acre lakefront resort—with the area's only private beach—offers a unique blend of exceptional pampering and casual comfort. Although just opened in 2017, Edgewood Tahoe has already earned the #1 Continental U.S. Resort Hotel ranking by Travel & Leisure readers. What does it take to become the South Shore's seminal destination? Numbers tell part of the story: 154 luxury guest rooms and suites, an 8,500-square-foot rejuvenating spa, three acclaimed restaurants. We happily checked in to discover more of Edgewood's secrets.   
It wasn't a difficult search. Edgewood's daily complimentary Mountain Mindful Yoga and the bliss of moving into a Warrior II pose under towering pine trees. Reading the morning paper in Edgewood's Great Room, hopelessly (and gratefully) distracted from the news by 38-foot floor-to-ceiling lakeview windows. Lounging back in Adirondack chairs on the sandy beach, marveling at sparks of light flashing off Lake Tahoe's impossibly crystal blue water, as wispy clouds drifted past the Sierra Nevada range laid out in front of us. Swimming lap after lap while marveling how the mesmerizing views line up perfectly with Edgewood's infinity pool and hot tub. The daily S'mores Cart loaded with all the fixings with outside fire pits ready for roasting. Dinner at Edgewood Restaurant timed with the sunset—and another floor-to-ceiling view of glorious shifting shades of pink as the mountains turned into dark silhouettes. Nibbling on salt-crusted rolls from Edgewood's own bakery before relishing a seafood feast of seared diver scallops, pan-seared sea bass and lobster risotto. In the end, we didn't come back with a single takeaway, rather one after another in a series of memorable moments.
Heading back, Peninsula-bound, hopping on I-50 to I-80 (traffic blissfully in check), refreshed and ready to re-engage, we reflected that we can always count on the reliable favorites—the bike trails, hiking, kayaking, golfing, horseback riding, beaches and casinos—but it's encouraging to see that the South Shore is always upping its game. To start planning your getaway, visit tahoesouth.com. And don't forget to join us when we head to Tahoe's North Shore in July.