Words by Jennifer Jory
In the heart of Portola Valley, well-groomed horses prance around an arena in a postcard-like setting. After instructing six riders with laser focus, Spring Down Equestrian Center (SDEC) owner Carol Goodstein walks her five rescue dogs and then prepares for a full slate of training classes in the afternoon. "I love what I do and it's my passion," she beams. "I feel fortunate that I do what I really enjoy." With a quick stride and the energy of someone half her age, Carol presides over the three-acre ranch that preserves a family-like atmosphere and a slice of equestrian life on the Peninsula.
Married at 19 to her late husband Stan, Carol studied at San Francisco State before switching to an accounting program to help Stan in his new venture, which became the 13-store mattress chain Slumberland. They soon had two children: first Gary, then Lori. Stan, also an animal lover, enthusiastically supported their purchase of Spring Down in 1984, and while he had other interests besides horses, he always gave in to adding more horses and dogs over the years. "When my husband decided to get out of the sleep business, I had six horses," she recounts. "We bought Spring Down and it all blossomed from there."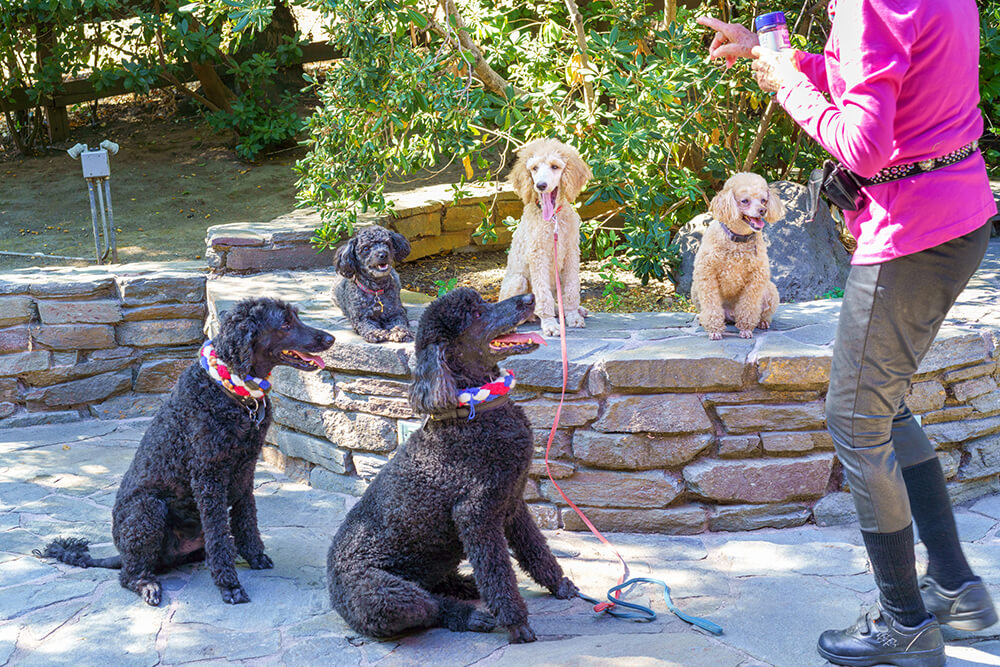 Carol's rescue poodles crowd Spring Down's office, which is staffed by young riders who share her passion. "Horses became my second love after dogs," she relays. At just seven years old, Carol started riding and taking lessons in San Francisco at Stanyon Stables. After a fire destroyed the property in 1944, she moved to St. Francis Stables on Arguello Street. "It was a lot of fun in those days," she remembers. "I spent a lot of time riding on the beach and in Golden Gate Park." Carol also enjoyed Lowell High School's after-school riding program, where she ran the end-of-the-year horse show. Until just recently, she led Spring Down riders on horse excursions from Golden Gate Park to the beach so they could experience the same ride she cherished growing up.
When Carol is not teaching one of her 50 weekly riding lessons, her mission to safeguard horse property on the Peninsula keeps her busy. Her commitment runs so deep that this year she pledged the (mortis causa) donation of Spring Down to the San Mateo Horseman's Association, an organization founded in 1940 to support the local legacy of horsemanship. "I don't want horses to disappear from this area," she stresses. "People are selling their property and moving out of California. I want Spring Down to stay horse property."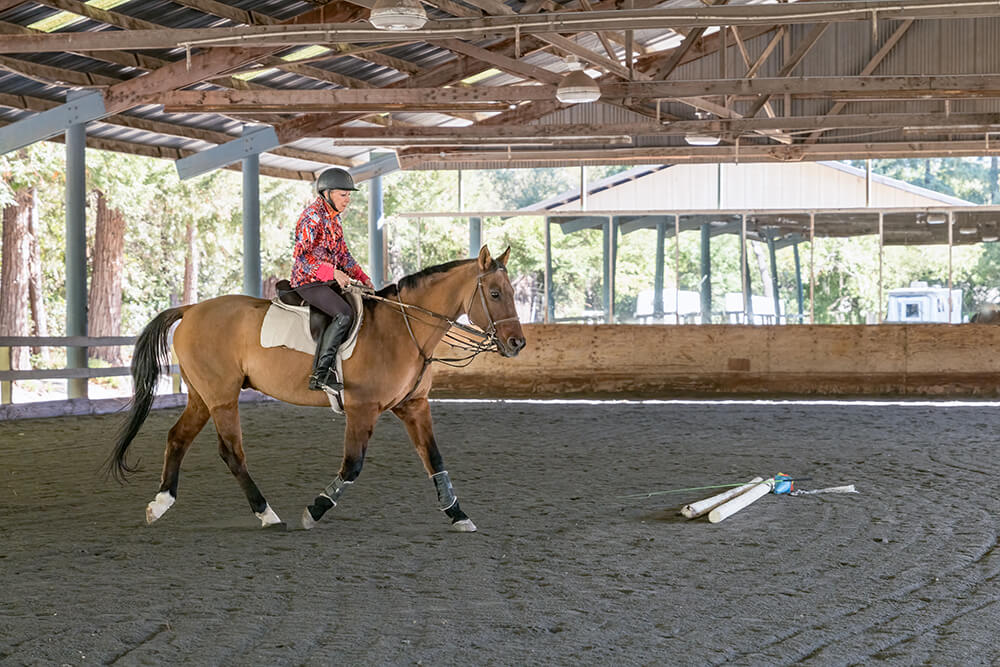 Carol's generosity and commitment to her goal of maintaining open space and equestrian life on the Peninsula began nearly 20 years ago. In 2000, she sold the front six acres of Spring Down to the town of Portola Valley with the directive that it could never be developed. With her recent pledge, Spring Down will continue serving the community and offering lessons and camps for riders in perpetuity.
"This is what God put me on Earth to do," Carol believes. "To save kids, horses, dogs and cats too. It is just my thing." She explains that when young people are going down the wrong path, horses and the discipline of riding can play vital roles in correcting their direction. "When a horse needs you," she says, "you respond to it and the horse responds as well." Carol underscores a horse's keen ability to read human emotions and sense a nervous rider. She teaches students to breathe deeply and relax and says that when this happens, it transforms the rider and their relationship with the horse.
In 1982, Carol jumped into professional riding and showing at events at the Woodside Mounted Patrol grounds and in Gilroy and Carmel Valley shows. "I wanted to have fun," recalls Carol. "I didn't like the competition or the attitude. Everyone hated or loved their horse by the end of the show and I didn't like that." Her experience translated into a philosophy that teaches riders to view horses as companions rather than competitors.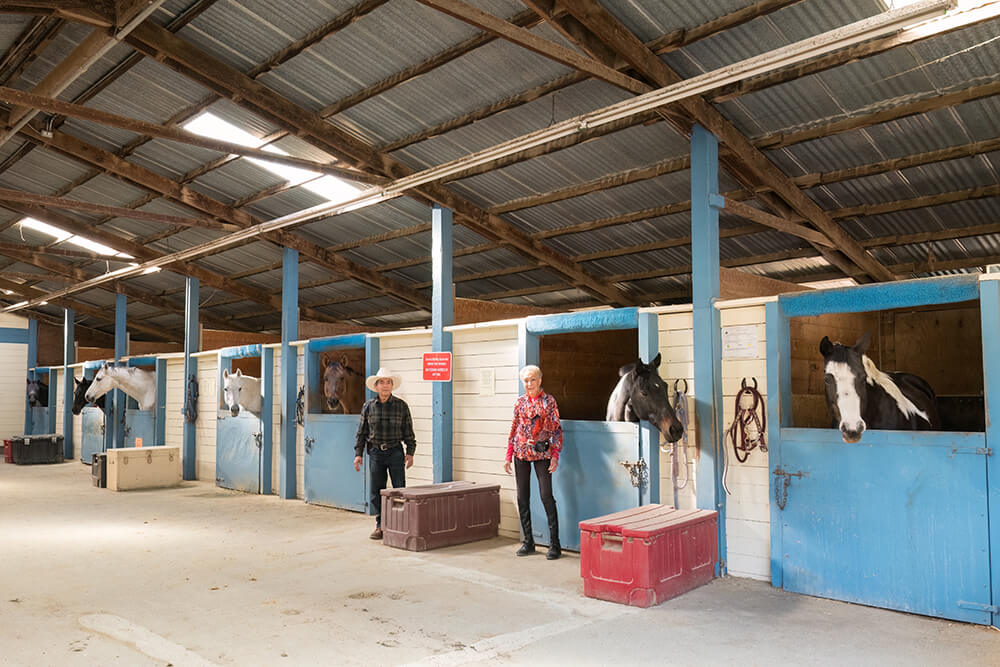 "Anyone can come here and learn to ride," she says. "You tell us what you want to learn and we will teach you."
An animal lover at heart, Carol emphasizes education and teaches riders how to bond with horses, to spot what triggers a horse and how to get a horse back on the thinking side of its brain. "Most of my horses have been my pets," she shares. "I have a little different attitude here and everyone has fun. The people who ride here just want to be around horses. They want the connection and we provide it."
Reflecting on life at Spring Down, Carol summarizes, "This is home to a lot of people. The minute they drive in, they're family. My property manager Manuel came with Spring Down and our head groom Francisco has been here longer than me." Carol confirms that the legacy she hopes to leave is for the Equestrian Center to continue its hundreds of weekly lessons and camps for generations to come. She credits Spring Down for countless personal lessons in patience and humility and laughs, "Just about the time you think you know it all, the horses teach me there's more to learn."