Under the dappled shadows of eucalyptus trees in Stanford's Toyon Grove, Mike Yurochko is manning the barbecue. Ask him what's on the grill at his family tailgate and the answer is a bit startling: "We eat our opponents." On this particular day, Stanford is playing the USC Trojans. Mike admits that they draw the line at cooking humans, so sometimes a little creative interpretation is needed. Instead, he's serving up "Trojan horse ribs," which are big beef spare ribs that Mike has slathered with a dozen different kinds of peppers, garlic, jalapeños, onions and wild boar bacon. Other (directly consumable) mascots go straight to the chopping block—be it duck served four different ways (against Oregon) or bear chili and steaks (against UCLA and Cal.) As a former Stanford football player, Mike seems to get particular satisfaction out of his tailgate theme, but chowing down on the opposing mascot is just one example of the all-out, pre-game passion that characterizes the Stanford tailgating tradition.
Stanford has the distinction of being the only Division 1 college football team on the Peninsula, and for any given home game, up to 50,000 fans cheer on the Cardinal in Stanford Stadium. On game day in Palo Alto, El Camino Real backs up with the slow crawl of cars coming in from all parts of the Bay and beyond. Locals decked in Nerd Nation and "Fear the Tree" t-shirts, hoodies and jerseys pedal through city streets, with clear, stadium-approved bags slung over their handlebars. Even Caltrain does its part by making special pre- and post-game stops at Stanford Stadium. Like a Cardinal red wave, fans surge onto campus, game tickets tucked safely away. Upon arrival, priority number one is tailgating.
Here's how it works. All designated football parking lots around the stadium are fair game, and they open five hours prior to kickoff or noon—whichever is earlier. Between the general parking lots, season ticket lots, reserved group areas and an overnight lot for out-of-towners, motivated tailgaters are ready to pounce (as early as 6AM for some games), staking out places to party, whether they're popping up a tent or popping open a back hatch. In any direction, you'll see Stanford students, parents, alumni, various organizations, opposing team fans and countless local die-hards, swapping stories, stoking up grills, tossing footballs and tapping kegs, as they load up plates with potato chips, deli meats, charcoal-grilled burgers and Tomahawk steaks.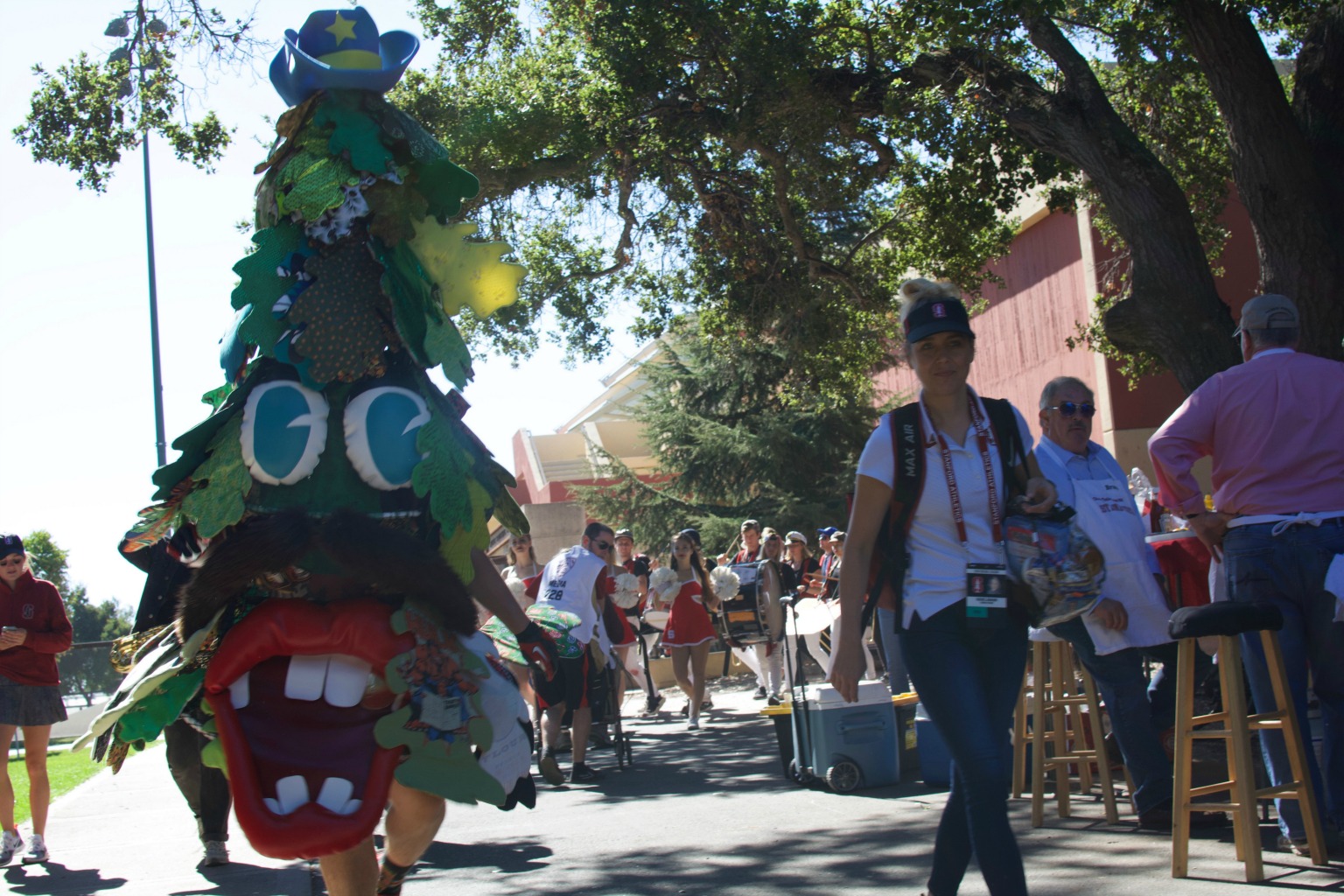 For 15 years now, Tim Robertson has kept a close eye on the clock, driving down from Redwood City in time to snag a prime spot in the shady groves of Parking Lot 10. His tailgating group (including close friends from Castro Valley and Rancho Mirage) started with a modest set-up and just kept evolving. Now they've got a 34-foot RV, big-screen TV, barbecue, fully-set dining room table, well-stocked bar and fresh-cut red roses. With grilled steak and mushrooms on the menu, Tim's buddy, Scott Newton, admits it's hard to break away sometimes. "You come for the tailgate, and the game is extra, right?"
Heading over toward the stadium, the Leland Stanford Junior University Marching Band is winding its way past Fan Fest, Stanford's free pregame tailgate. As the Stanford Tree whirls wildly in circles, Stanford's anthem "All Right Now," notches up the tailgate fervor even higher. A few steps away is Chuck Taylor Grove, where you'll find alumni families with generations of tailgating history. At one end of the grove, Mark Solomon of Los Altos Hills is placing huge cuts of tri-tip steak on the barbecue, assisted by two grilling pals clad in matching custom Stanford chef's aprons. Mark estimates that he and his tailgate partner and fellow Stanford grad, Bob Burmeister, have been doing this for 25 to 30 years. "I can remember growing up as a kid, seeing the people in here doing it, then you're a student, then you're the person putting the party on and then you have your own kids come and go," he says. As many as 200 come out on any given weekend, a Stanford extended family that's grown to include "friends of cousins, and cousins of friends." Mark acknowledges, "They wouldn't know what to do if we weren't here to feed them."
At a tailgate bookending the other side of Chuck Taylor Grove, you'll find Mark's brother, Jed Solomon, of Menlo Park. Jed and Mark's father, Herbert Solomon, was a Stanford PhD and long-time faculty member, and the Solomon family now counts six Stanford degrees spanning three generations. Jed co-hosts his tailgate with two Stanford alumni and former football players, Chuck Evans and Duker Dapper. The three former national chairs of Stanford's Buck Cardinal Club share a commitment to perpetuating the spirit of Stanford football and athletics—and enjoy catching up with friends, whether it's at every home game or even just once over a season. Even as neighboring tailgates hang chandeliers and roast whole pigs on a spit, Jed says the Solomon brothers have forged their own Chuck Taylor Grove tradition. "Mark will usually come down to mine for a little bit, and I'll go over to his, and the kids will go back and forth." As for the winning formula for a successful tailgate? After 35 years of hosting, Jed breaks it down into three essential ingredients: food, booze and a television.
It's the TV that's created the ultimate dilemma. Inside fan or outside fan? Locking up his RV back in Parking Lot 10, Tim Robertson says they always go to the game. With a nod to some fully entrenched tailgaters, Mark Solomon admits, "We don't close." When it's game day at Stanford, everyone's got their own Cardinal style.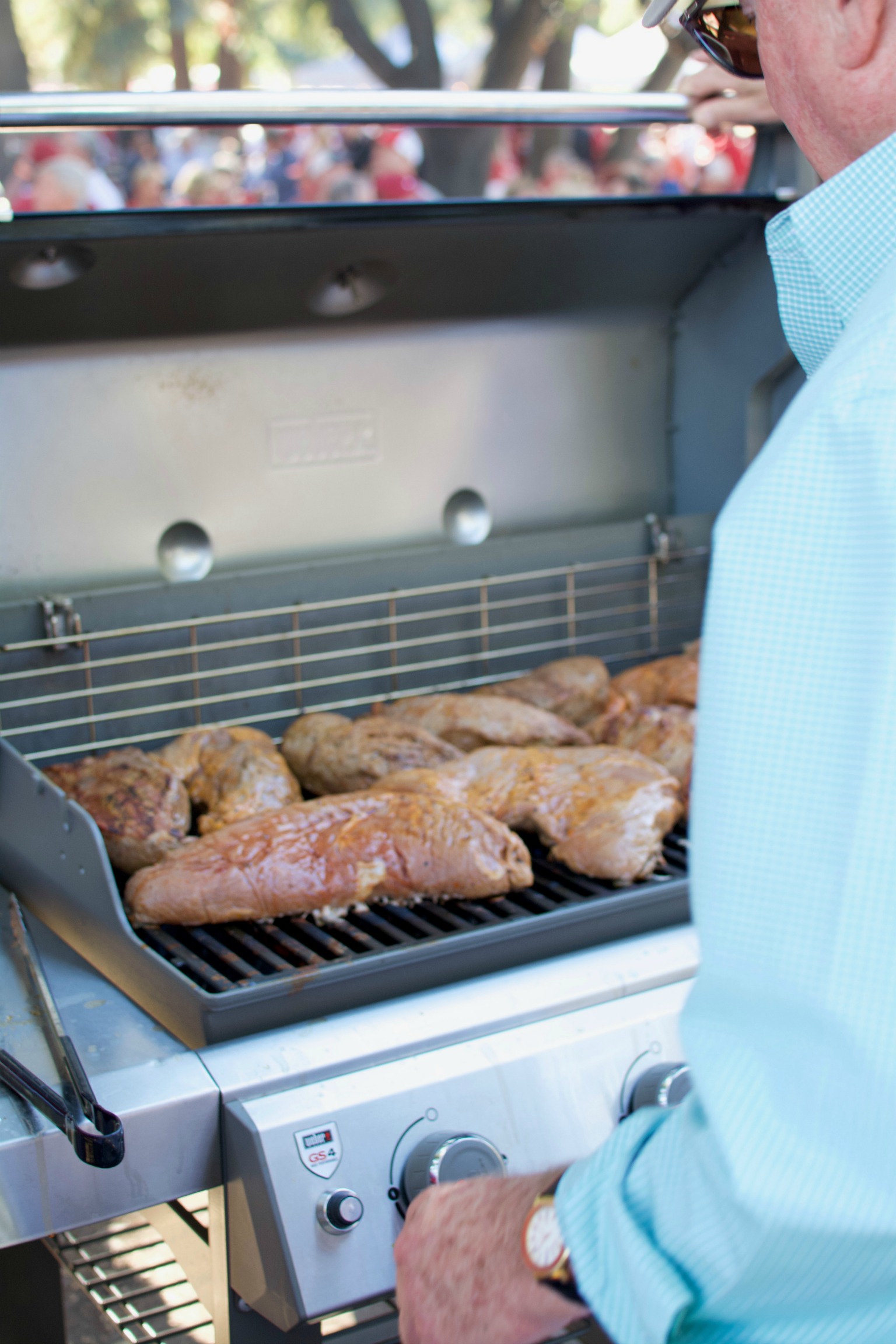 pro tips
Sameer Dholakia, Menlo Park
Met wife, Laura, as Stanford undergrads
on the menu: Most importantly, chips and queso and margaritas. We also have fruit and veggie trays that no one eats and cookies that get a lot more attention.
don't forget: A tent is really helpful for hot days and keeps the sun off the food. We have these spinny "ShooAway" things to keep the flies away. And try to get as close to the walkway as possible.
Cindy Howell, Scottsdale, Arizona
Met husband, Kevin, as Stanford undergrads
on the menu: Inexpensive platters from Costco.
don't forget: We are not local, but we still have season tickets. We have a storage unit in San Jose by the airport. We rent a car and pick everything up. We stay somewhere with a kitchenette, so we can wash everything up and then fly home after the game.
Ryan Peattie, San Francisco
Stanford undergrad and MD degrees; former football player
on the menu: Ribs. Put that down twice.
don't forget: It's dusty, so with little kids, laying down some astroturf works well. We got a bounce house on Amazon. We also got a trailer this year so one person can bring all the stuff, and the rest can just show up. Of course, it sucks for the one person.