Elephant parts lie scattered across a white table inside the central studio space of the Claremont Art Studios in San Mateo as two sisters work in tandem to stitch them all together.
Peninsula-based fiber artists Lorna and Jill Watt work across from each other on separate parts of their project–Lorna stitches the larger pieces using a Brother KH-270 knitting machine while Jill crochets the whimsical additions, like a peanut or eyebrows. Pairs of aqua blue ears, legs and stubby arms are stacked and ready to go. Also on the table is a grid paper notebook that serves as an instruction manual with the dimensions of each elephant body part calculated into inches and stitches.
It takes a week to complete two elephants but soon these yarn creatures will join the sisters' dozens of other colorful installations wrapped around trees in the Civic Center Commons in San Francisco. For the last two years, the Watt sisters have been commissioned by the Trust for Public Land to visually enhance the area. So far, they've wrapped parrots, chameleons, giraffes, flamingos and more on over 80 trees that line the plaza outside City Hall.
The Civic Center Commons is just one of dozens of commissioned projects the duo has completed between San Francisco and the Peninsula through their artistic outlet Knits for Life. The sisters specialize in yarn bombing: fiber art installations that pop up in unexpected places—giving feet to an ordinary corner mailbox or turning tree limbs into octopi—always creating a head-turning effect and often prompting a grin.
Jill and Lorna began in 2011 and have distinguished themselves with their delightfully whimsical characters, accentuated by intricate features. Not only are the ears, toes and tusks fully accounted for in their elephant, but they'll go as far as developing a narrative as to what prompted this giant animal to scale up a San Francisco tree in the first place.
"We're always adding more," Jill says. "Not just on the elephant but we'll tell a story; why is he up in the tree like that?"
"He's rearing up from a mouse!" adds Lorna, holding the silver-stitched provocateur in her hand.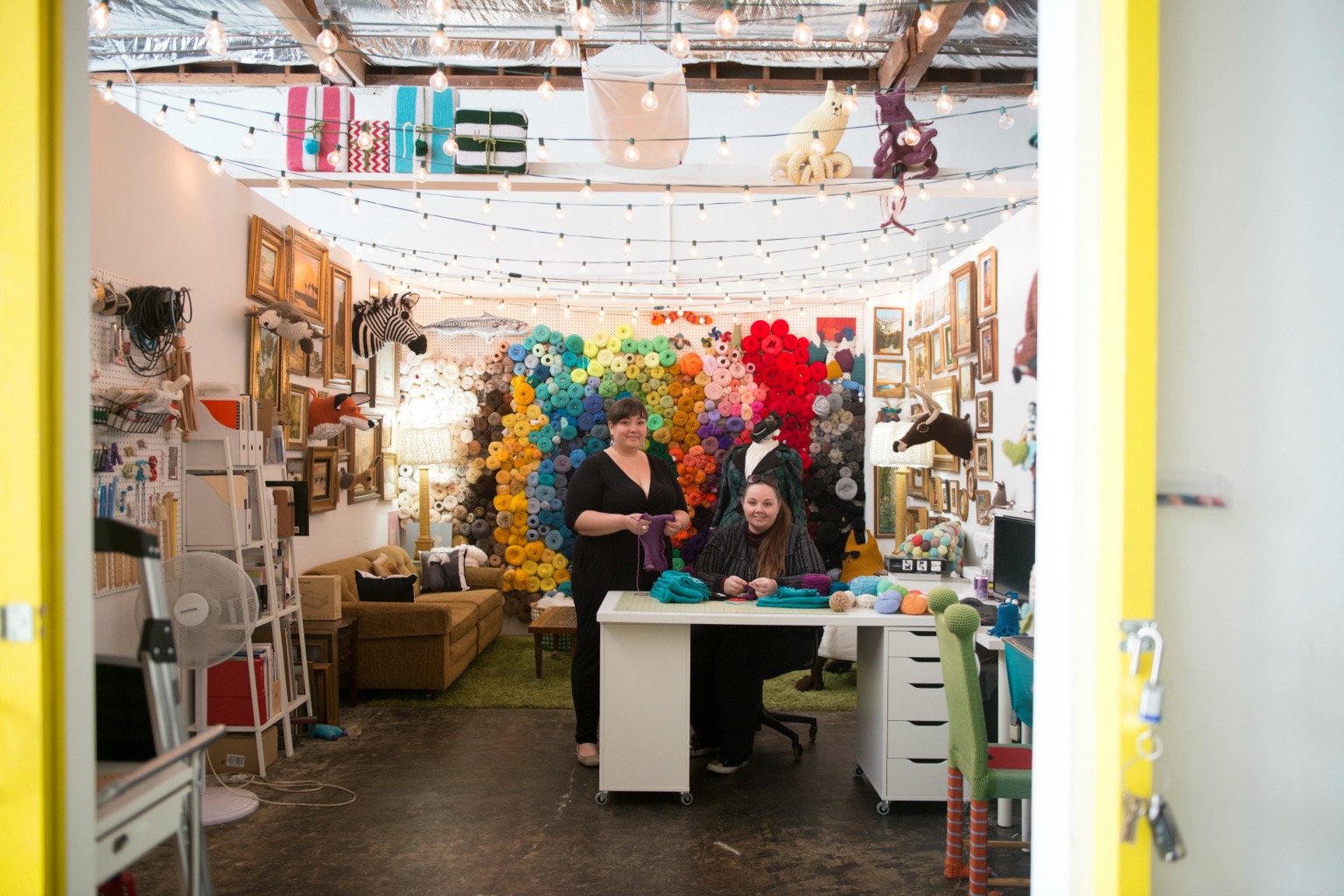 The pair's working relationship couldn't be tighter or more complementary and it shows down to the seams. (Jill fancies the vertical mattress stitch while Lorna prefers weaving the Kitchener.) And although they sometimes differ in the direction of a project, they always find ways to support each other's opposing styles.
"I want to do something crazy while Jill wants to make the cute little frogs in suspenders with a cane and top hat," Lorna says.
They admit that they only ever reach loggerheads while brainstorming for new projects. Lorna will often suggest ideas regardless of scope or expense and Jill will have to remind her of the logistics.
"I want to have thousands of ideas to find the one," says Lorna, whereas Jill prefers to be more direct. "I don't want to waste time with 999 bad ideas," she says. "I want the perfect one."
Both women were born and raised in San Jose, where Lorna remembers checking out a book at the library to teach herself how to crochet a mummy. Their childhood dream was to work in Jim Henson's Creature Shop and they attribute much of their interest in the arts to their grandparents, Robert and Catherine Watt. Two filet crochet portraits of their grandparents were on view in the 2015 exhibit Thread Around Holes at The Lace Museum in Sunnyvale and currently hang outside their studio's door.
"They would always take us to a craft store when we visited them in San Diego," Jill says. "What's the craft version of a green thumb?"
"A thimble thumb!" Lorna responds, with a laugh.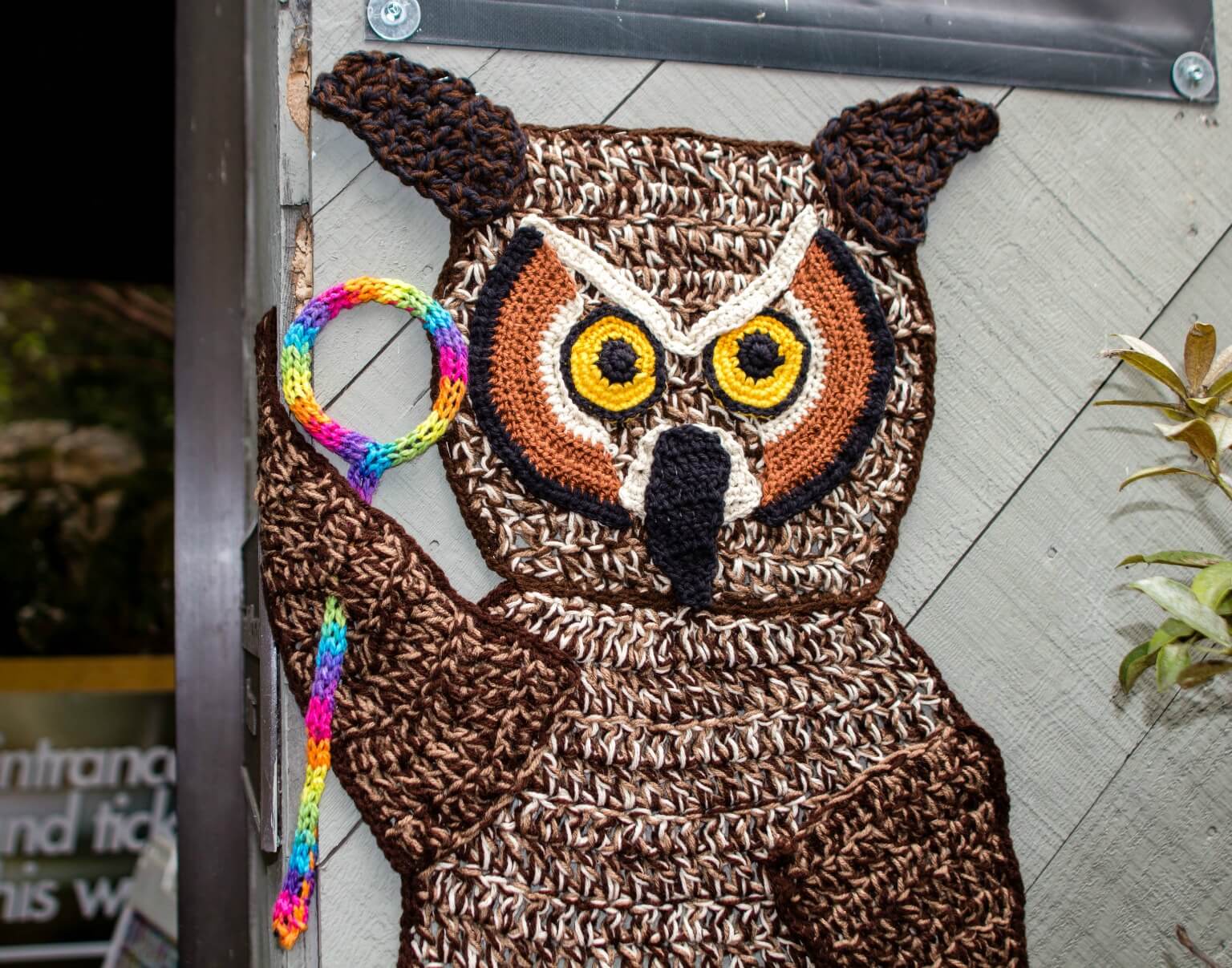 Their knitting and crochet began as a hobby but quickly gained traction after its positive reception on the Peninsula. The yarn bomb they made of an iPhone covering up an old payphone in San Mateo earned Knits for Life a front-page story in the San Mateo Daily Journal in 2013 and in the same year, Lorna was appointed Artist in Residence for the Downtown Business Association of San Mateo. They installed their Squid Tree yarn bomb, a baby blue mollusk that stretched up the limbs of a downtown tree and required four miles of yarn to complete.
The sisters moved into the Claremont Art Studios about four years ago. One wall is adorned with their grandfather's paintings of landscapes and architecture while the other is filled with needlepoint images of portraits or religious imagery from their grandmother. The back wall is completely covered in hundreds of rolled skeins representing all shades of the color wheel while taxidermy heads of a yarned fox, zebra and elk are mounted around the studio. Scores of scissors and pens are within arm's reach and their work station is bookended by sewing and knitting machines, both from the brand Brother. "We're sisters surrounded by Brothers!" Lorna says.
2018 was the first year Knits for Life worked on more commissioned projects than personal yarn bombs. Some of their commissions included an installation at the Google Cloud offices in Sunnyvale, contributing several string art designs and panels for a global summit for Twitter and yarn bombing multiple critters for the CuriOdyssey Museum in San Mateo.
They also increased their national profile with the debut of the Monster Feet Yarn Bomb Along in the spring. What was essentially a virtual crafting circle, the sisters developed into a six-week series of online tutorials and lessons for creating yarn bombs (in particular, their quirky, three-toed monster paw design). Instagram posts using the #mfybal create a collage of beaming participants from New York, Austin, Minneapolis and more who uploaded pictures of their city's benches, bike racks and mailboxes revamped with color and whimsicality.
Yarn bombs are quite durable and can last for years, although the sun eventually bleaches out the color. However, Lorna and Jill say the leading cause of ruination tends to be from human thievery, an act that hasn't discouraged them in the least.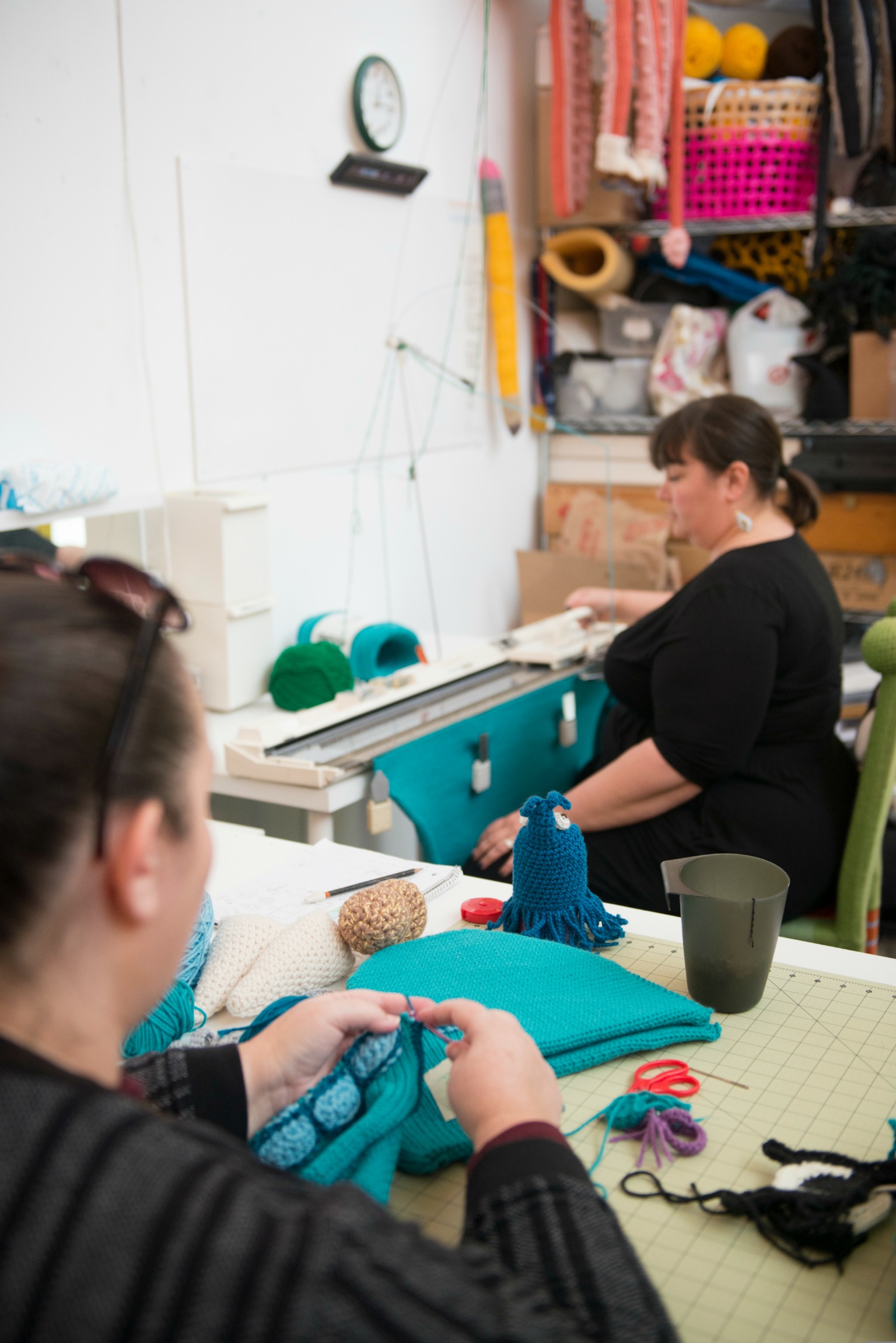 "Lorna got a picture once from someone who said, 'I just saw your iPhone at a bar,'" Jill says. "It was just after the local paper had featured it and someone was wearing it. I mostly don't care because yarn bombing is an experiment; we're putting it out there and whatever happens, happens."
"It's transient and ephemeral," Lorna adds. "We're at peace
with that."
"If things are up all the time, people will stop noticing," Jill says. "And the whole point is to get them to smile."