Step through the door and you immediately hear a distant racket of muffled thuds, which is actually the sound of hand axes whacking against wooden targets. Anticipation stretches along a hallway, heightened by a directional arrow and sign reading: "This Way to the Axe Throwing Promised Land."
Before you reach Bad Axe Throwing, you must first navigate through the Silver Dragon Kung Fu martial arts center, an entirely different indoor activity that occupies the front half of this Daly City warehouse. This roundabout route suggests an almost secretive ambiance, as if you are entering some speakeasy joint.
Inside the axe throwing promised land, a group of coworkers are lined up facing eight targets that are made up of sliced and shredded plywood. The smell of fresh lumber permeates throughout the space. These employees from a local solar company have been treated to a Friday afternoon stress reliever and company outing. One staffer notes how nice it is to be at a work event not tethered to drinking alcohol while another predicts the stories they'll share come Monday.
A boombox streaming a playlist of trusted rock anthems is turned down to announce a group picture. As the team gathers in a half circle, someone asks if they should look jovial or fierce. After two hours of hawking hatchets against the wall, the mood is an equal bit of both and the freshly-minted axe throwers pose with their tomahawks raised in the air and beaming smiles.
The event's coach for the day is Paige Scardino, a dance student at San Francisco State University who has been coaching at Bad Axe Throwing for a year. She's an ideal mentor due to her easy rapport with groups and knack for earnest encouragement.
That motivation is crucial for first-time throwing. Even when exactly following instructions—raise the axe with two hands behind your head like a soccer throw-in, lean forward with your predominant foot and fire the axe towards the bullseye—the discouraging splat of a badly-thrown axe hitting the floor is a tad soul-crushing. But Paige is equipped with pick-me-ups and advice to help guide throwers into taking another better-aimed shot.
"I found that what makes a good thrower are people who are willing to try and make mistakes," she says. "If they don't get it the first five times, they try the next five times. It's my job to find the ebb and flow of being supportive and not pushy."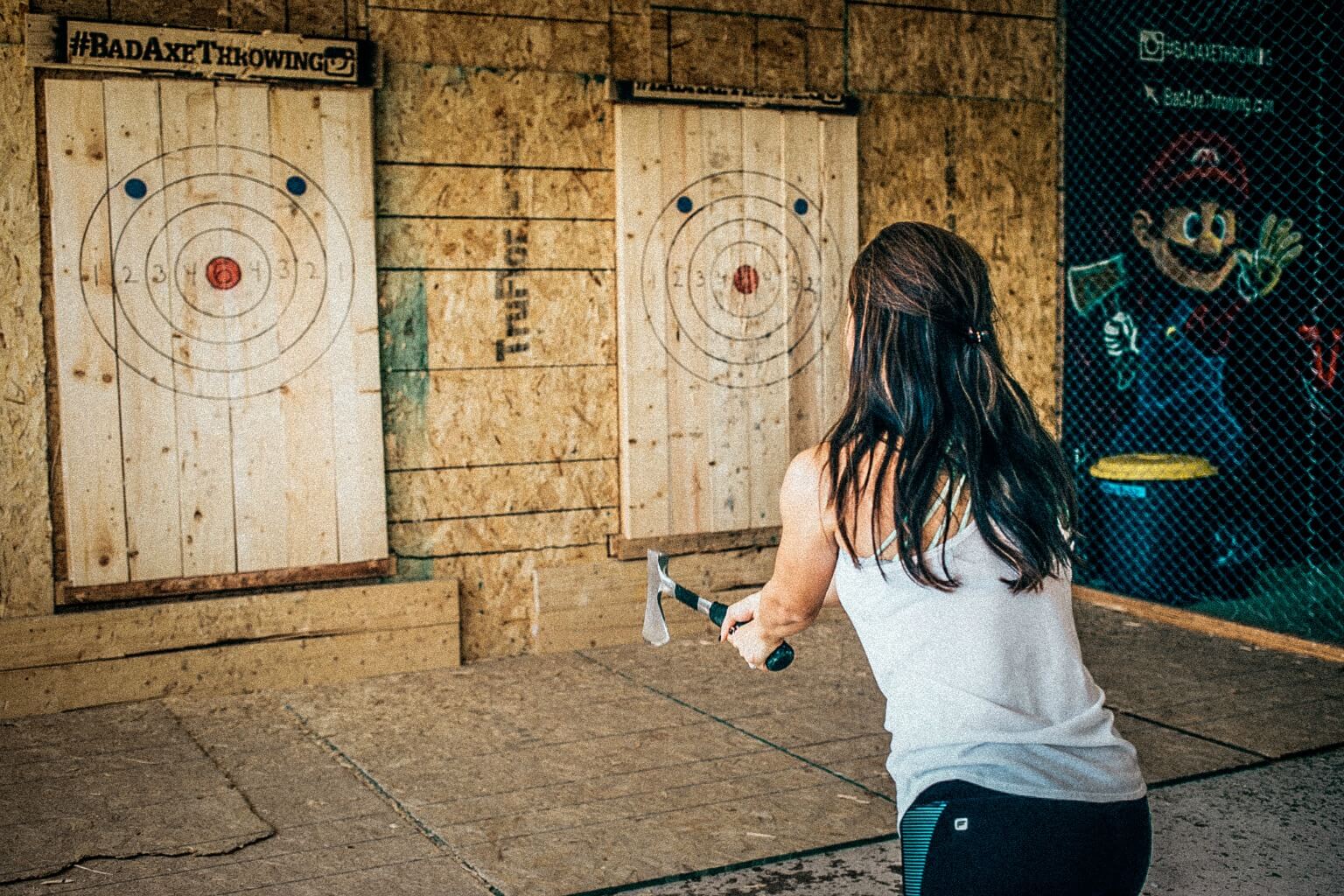 Axe throwing, although a "lumberjack sport" that's been around for generations, has seen a rebirth over the last decade with leagues and locations rapidly popping up across North America. It's bowling 2.0.
The first league of this kind can be traced back to the Backyard Axe Throwing League, which began as a competition between friends in a backyard in Toronto during the summer of 2006. Through word of mouth, it quickly caught on; in 2011, Backyard Axe opened its first warehouse location, followed by a second in 2013 and in 2016, the league helped form the National Axe Throwing Federation to establish the first uniform rule system and safety standards. The Federation now boasts 6,000 league members in over 65 cities.
Like bowling leagues before them, indoor axe throwing leagues offer a weekly opportunity for friends to get together, where teammates playfully cheer and egg each other on. Akin to bowling or darts, axe throwing is easy to learn but quite difficult to master.
Scoring in axe throwing is comparable to darts, where players aim at a wooden target painted with a bullseye and rings worth different points. Unique to the sport, there are two blue dots on the shoulders of the board known as "kill-shots." These hard-to-nail blue dots are only used for tie-breakers or when a perfect score is in reach.
Building off the National Axe Throwing Federation's success is the World Axe Throwing League, founded in 2017, which is on a mission to validate the sport. It lobbied to make June 13 International Axe Throwing Day and secured the first-ever coverage of its Axe Throwing World Championship on ESPN last December. The League oversees 80 affiliated locations throughout 15 countries worldwide, including Bad Axe Throwing. In fact, Benjamin Edgington from Bad Axe Throwing in Denver was crowned the 2018 champion.
The Ontario-based Bad Axe Throwing has 30 locations between the United States and Canada and will often appear in areas that benefit from indoor sports during cold winters or in cities with a young workforce like San Diego, Dallas and Atlanta.
The first local Bad Axe in Daly City opened in the fall of 2017 and immediately attracted team-building and morale-boosting events. Tech companies are lining up, of course—Square, Google and Lyft were recent clients—but the hobby is also gaining traction as a fresh alternative for bachelor and bachelorette parties and birthdays.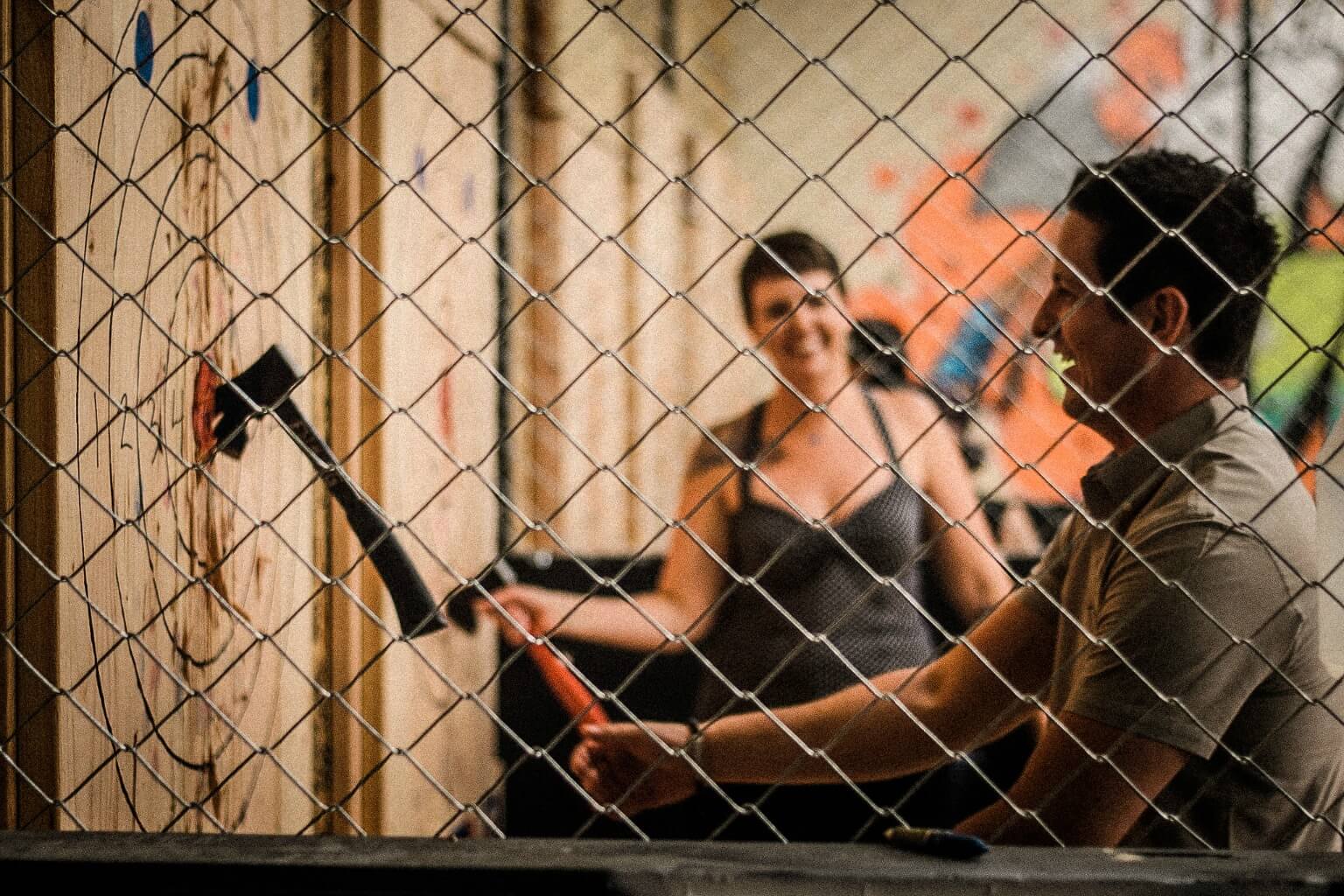 Passion for axe throwing is burgeoning, edging closer to the mainstream, while still maintaining a whimsical touch. Folks come dressed in their best flannels sporting fake beards and Paige has even seen gender reveal parties on the axe-throwing lanes.
Although heaving an axe at a target clearly expends energy, it's also a satisfying outlet for relieving stress, and even anger—which could explain the uptick in "divorce parties."
"I had one lady bring in a cake and she taped up her vows onto the board alongside pictures of her in her wedding dress," Paige says. "They were in it. It was more liberating than hating on the ex-husband and he wasn't brought up that much. It was more like, now I can travel and do new things like axe throwing."
heave-ho!
Bad Axe Throwing
30 Hill Street, Daly City
888.435.0001