Words by Johanna Harlow
For Tony Vella, it's a typical night on the job. On a street in the Tenderloin district, Tony cranes his neck up at a man with one leg out the window of a third-floor apartment. The guy has his arms wrapped around a 60-inch flat-screen TV. Then he lets it go. Tony instinctively arches back and—whoosh—the falling projectile breezes just over his head before it smashes across the concrete.
Dodging objects comes with the territory when you're a stuntman. And tonight, Tony's on set of the second Venom movie, filming a scene where the hero is embroiled in a Jekyll and Hyde battle with his alter ego and household items become casualties. It's not Tony's first time in the Marvel universe. You can also find him in Antman as a driving double for Michael Peña (AKA Luis).
Beyond stunting, doubling and driving, Tony works gigs as an aerial rigger and stunt coordinator. "Some people get known for being exceptional fighters—or they specialize in high falls, fire burns, driving, wire work, flying around or spinning," the Pacifica resident says. "I'm an all-around guy. You know what I'm really good at? Getting beat!"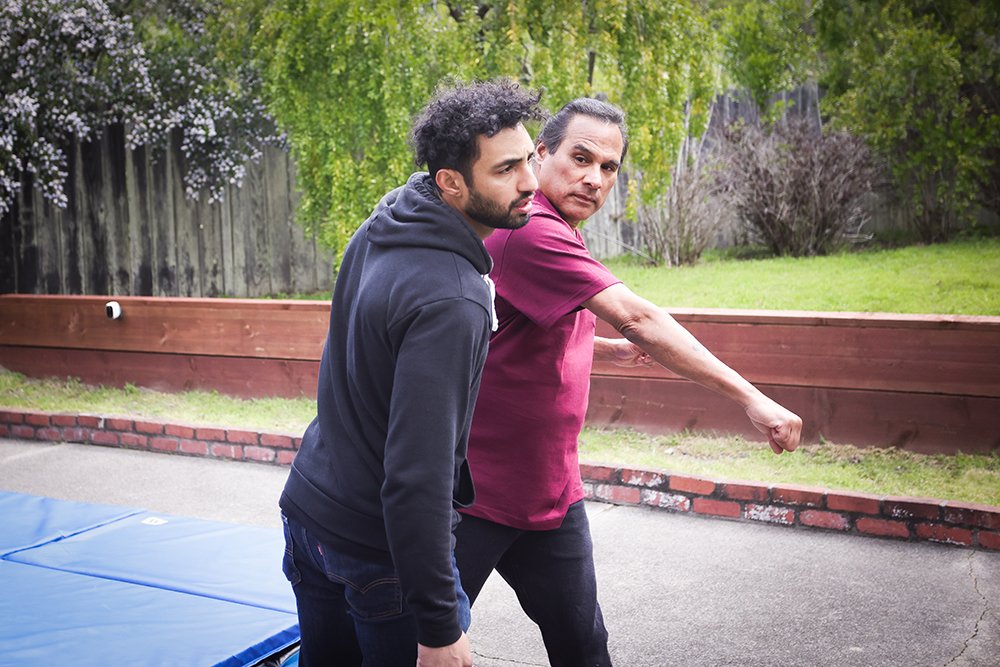 At the age of seven, he already knew he wanted to be in show biz. "Television was my babysitter," recalls Tony who was raised by his grandparents, aunt and uncle in San Francisco. "The original Batman TV series really got my attention with the fight scenes!" Fascinated by the voices he heard in Warner Bros. cartoons, he experimented with impersonations. To demonstrate, Tony shifts his voice to a Brooklyn/Bronx swagger, "Pretty soon, I realized I could do a pretty good Bugs Bunny. 'What's up, Doc?'" He switches to a nasal stutter, "Or eh beh beh eh boy, Porky Pig." Dipping into a dopier octave, he layers on a lisp, "Or 'Hey! Bullwinkle Moothe here!" Tony also impersonated relatives and mimicked monsters like Dracula and Frankenstein. "My grandparents didn't know what to do with me!" he laughs.
Later on, while caring for aging family members and working at an auto body shop, Tony squeezed in acting auditions during lunch breaks. He began securing instructional video gigs. "'This is how we load the fry machine.' 'This is how we make the shakes,'" recites Tony in a chipper voice. "I probably did well over 75 of those in my career." He also landed some "small parts in small commercials." Undeterred by the slow slog, Tony kept at it, taking every local class he could on acting, commercial improv and cold reading as well as studying method acting at Jean Shelton Acting School. ("Keep trucking, keep trying, right?") And then, on yet another audition, Tony noticed an ad for a stunt school on the bulletin board. Writing the number down changed his life.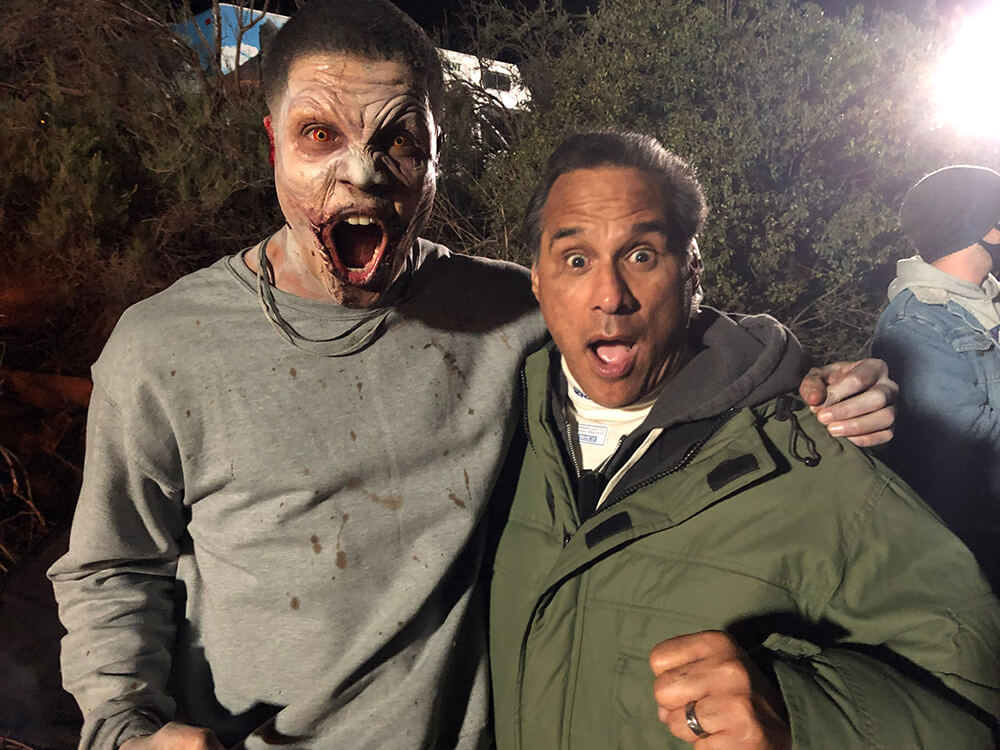 After learning the precise art of getting pummeled, Tony found his way onto an episode of America's Most Wanted as a cop who gets shot during a routine traffic stop. Suddenly, he had himself a niche. "Now I know what my calling card is! I'm the stunt guy who can act," he realized. After two more AMW gigs, Tony started serving as a double for the character of Evan on episodes of Nash Bridges.
Tony poses with a cursed victim from The Bell Keeper starring UFC champion Randy Couture. Tony served as stunt coordinator on the film, which is currently awaiting release.
In those early years, Tony also performed in live shows at Vallejo's Six Flags. In an epic water battle via fan boat, Tony morphed into the nefarious Two-Face. "I fought Batman and Robin, three, sometimes four times a day," he recounts. He also skulked about as a henchman in the park's Jungle Theater, an "Indiana Jones meets Laura Croft" kind of show. "You hit this button and then you had so many seconds to get out of the way because the big propane flame was gonna come," he reveals.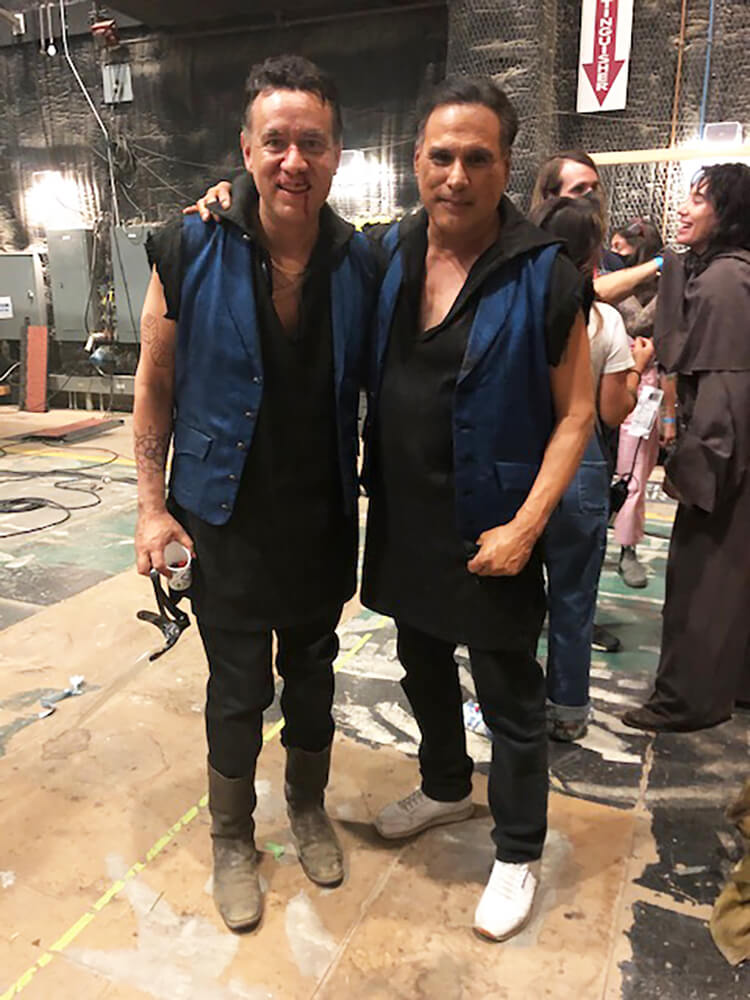 As his career took off, Tony racked up credits in big-name productions like Penny Dreadful: City of Angels, CSI Miami, Zodiac and Contagion. He's had the snot kicked out of him on 13 Reasons Why (ironically by the character of Tony) and he's been punched in the stomach by Angie Tribeca (wearing a voluminous pink quinceañera dress and tiara, no less). He's also had his head bashed through a confessional booth screen in Our Flag Means Death. (Look for him as Fred Armisen's double in the "We Gull Way Back" episode.) Of course, under all that fake blood and prosthetic lacerations, Tony's loving every minute. "I like the physicality of it. I like the creativity behind it. I like the magic of it," Tony says. One of his more over-the-top stunts? He grins when he shares, "Not only have I done stair falls, but I did one in a dress, in a wig, in high heels. Backwards."
Despite many graphic deaths, Tony has evaded serious injury—a fact he shares while knocking vigorously on wood. "I got hit in the face with a garbage can lid when I worked on the movie version of Rent," he adds with a shrug. Nothing unusual there. "We call it 'dings.'"
Beyond set work, Tony founded Bay Area Stunts, a Northern California stunt network serving the motion picture and television industry. He also teaches students the trade from the patio of his Pacifica home, which is fortified with gear—from body protection pads and aerial rig equipment to tumbling mats and crash pads. "A lot of the new people coming into the industry aren't properly trained," Tony says. "My course is designed to make you entry-level ready."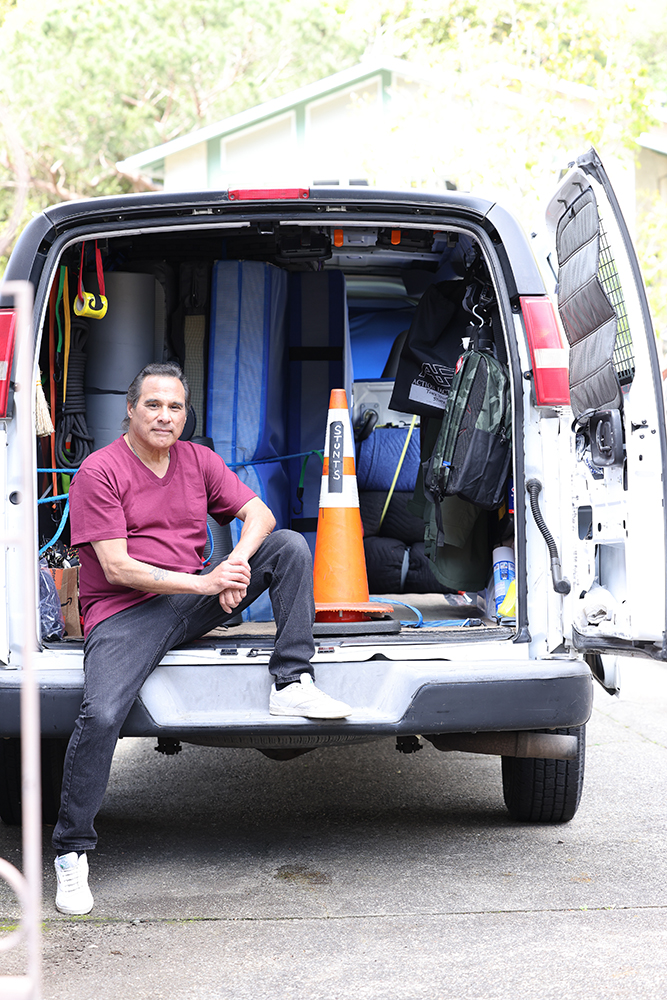 In fact, he's currently the only person teaching a Hollywood-style stunt course in Northern California. His class covers everything from learning about gear and proper techniques to understanding technical terms and camera angles. "When the course is done, I'm not done," Tony remarks. He provides resume feedback and even recommends students for work on films. When Tony blocked fight scenes as the stunt coordinator for No Address (an upcoming film featuring William Baldwin, Xander Berkeley and Lucas Jade Zumann), he recruited his protégés to help him troubleshoot.
What will fate throw at Tony next? An anvil? A psychopath? A car with tampered brakes? Be it blade or blaster, Tony stands with body pads and crash mats at the ready. Go ahead, do your worst.
lights, camera, *ACTION*