Craving an adventure beyond the obvious yet not too far from the Peninsula? Head down the coast to the area between Moss Landing and Santa Cruz for a combination of incredible wildlife viewing and surf city ambience punctuated with some tasty bites along the way.
paddling with sea otters on elkhorn slough
It's hard to miss the two large stacks at the power plant near Moss Landing driving Highway One from Santa Cruz to Monterey. What you don't want to overlook is the little bit of nature's wonderland nearby, the 1,700-acre Elkhorn Slough Reserve.
Where else can you paddle a kayak surrounded by sea otters munching away at shellfish, some with babies on board? Or walk along trails that meander through coast live oak woodlands, wetlands and meadows?
Paddling a kayak on Elkhorn Slough is something adults and children of all abilities can enjoy. Monterey Bay Kayaks (located at 2390 Highway 1) and open 9:00AM to 6:00PM through May—an hour longer during the summer—offers rental single and double kayaks, along with stand-up paddleboards.
No experience is necessary for sit-on-top kayaks; previous experience is necessary for sit-inside kayaks. Beginners are given an orientation before setting out. For the calmest waters, plan a morning launch as the onshore wind picks up in the afternoon, making paddling more difficult.
The main water channel is seven miles long with smaller side channels providing additional opportunities for exploration. You'll glide alongside oh-so-cute sea otters and hear barking seals and sea lions lounging on the shore and under the bridge pilings.
Of note: You can launch your own kayak from the same location—and dogs are welcome. Just make sure your canine is obedient enough to sit atop the kayak and never enter the water.
Want a preview of what you'll see? View one of two otter cams at elkhornslough.org/ottercam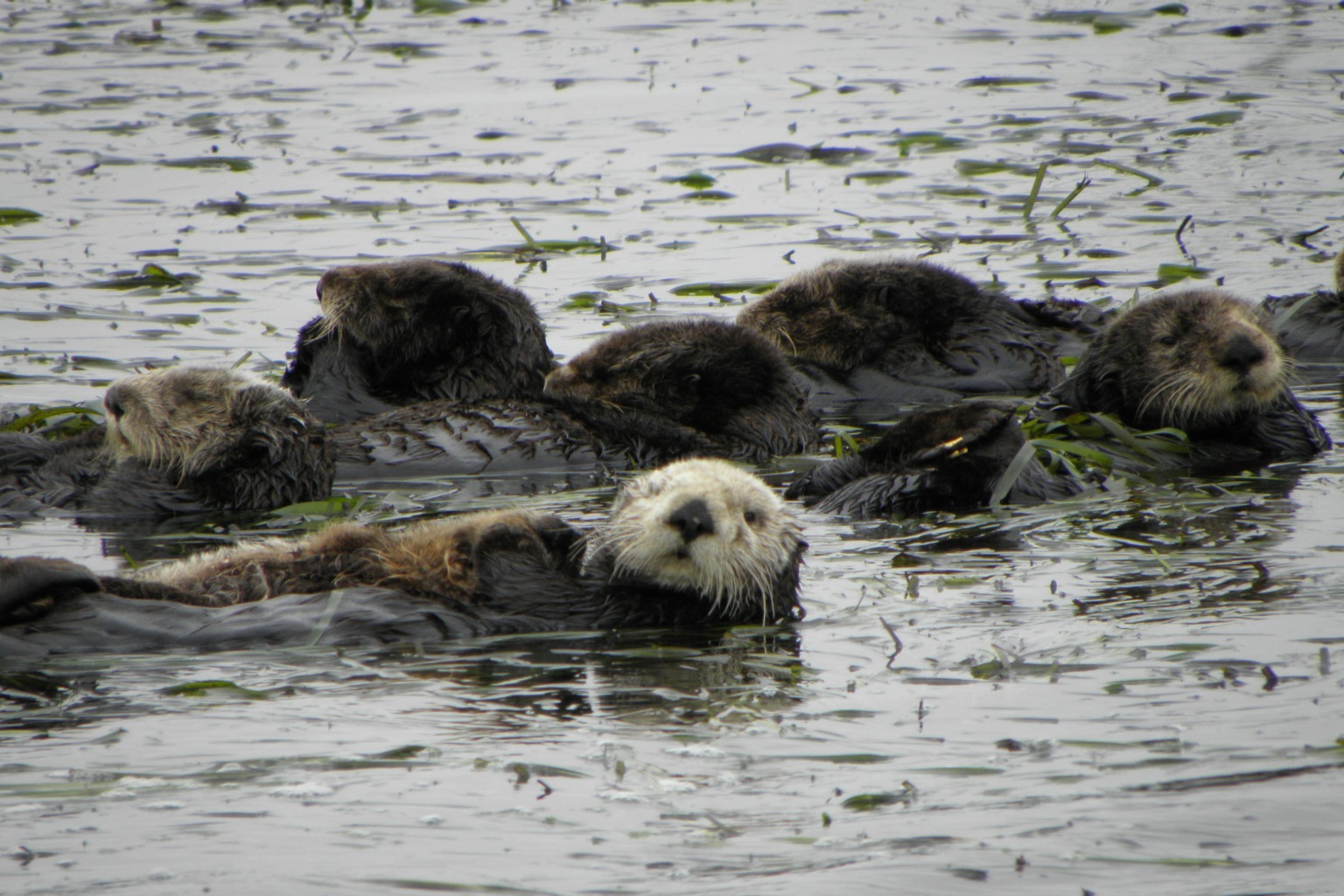 elkhorn features good hiking trails, too
The starting point for walking Elkhorn's five miles of easy, flat trails is the Elkhorn Slough Reserve Visitor Center (1700 Elkhorn Road, Watsonville), which features educational exhibits, including a nine-times larger-than-life model of life in the mud, home to a four-foot fat innkeeper worm. There is no fee to stop by the Visitor Center and adjacent picnic area. It costs $4.12 (credit cards only) to walk the trails for adults 16 and over; children are free. The center and trails are open Wednesday to Sunday from 9:00AM to 5:00PM.
Whether you've kayaked or hiked, the appetite you've worked up can be satisfied in the tiny town of Moss Landing itself. Our favorite by far is the Haute Enchilada Café, a combination eatery and art gallery located at 7902 Moss Landing Road. Along with good food and drink, you'll find a pair of barn owls, named Teco and Valentina, nesting in a box at the back end of the property.
surf's up on the santa cruz westside
Known as "surf city," Santa Cruz is recognized by many surfing aficionados as second only to Haleiwa in Hawaii as the place to catch a wave in the U.S. There's some serious lore: A trio of Hawaiian princes surfed the mouth of the San Lorenzo River on boards made of local redwood in 1885. And it boasts some notable legendary surfers: Darryl "Flea" Virostko, Jack O'Neill, Peter Mel, Nat Young, Vince Collier and Richard Schmidt, to name a few.
You can learn more at the Santa Cruz Surfing Museum located at the Mark Abbott Memorial Lighthouse on West Cliff Drive. There you'll find a statue of Bill Lidderdale, an original member of the Santa Cruz Surfing Club, commissioned in honor of all surfers following Lidderdale's death.
The area near the statue just happens to overlook the surfing hotspot, Steamer Lane, known by locals simply as The Lane. The adjacent bluffs provide easy viewing of swells as high as 18 feet and surfers enjoying ride-happy sessions.
The wide, off-street path adjacent to West Cliff Drive is great for walking or cycling. Heading west, you're treated to ocean views on the left and the mansions of "Millionaires Row" built in the late 19th century on the right. If you need a snack, our favorite is Steamer Lane Supply (644-670 West Cliff Drive).
Keep walking or pedaling and you'll come to Natural Bridges State Beach. Into the late 20th century, three mudstone bridges stood here but wave erosion and wind destroyed two; the one remaining can be viewed but not accessed.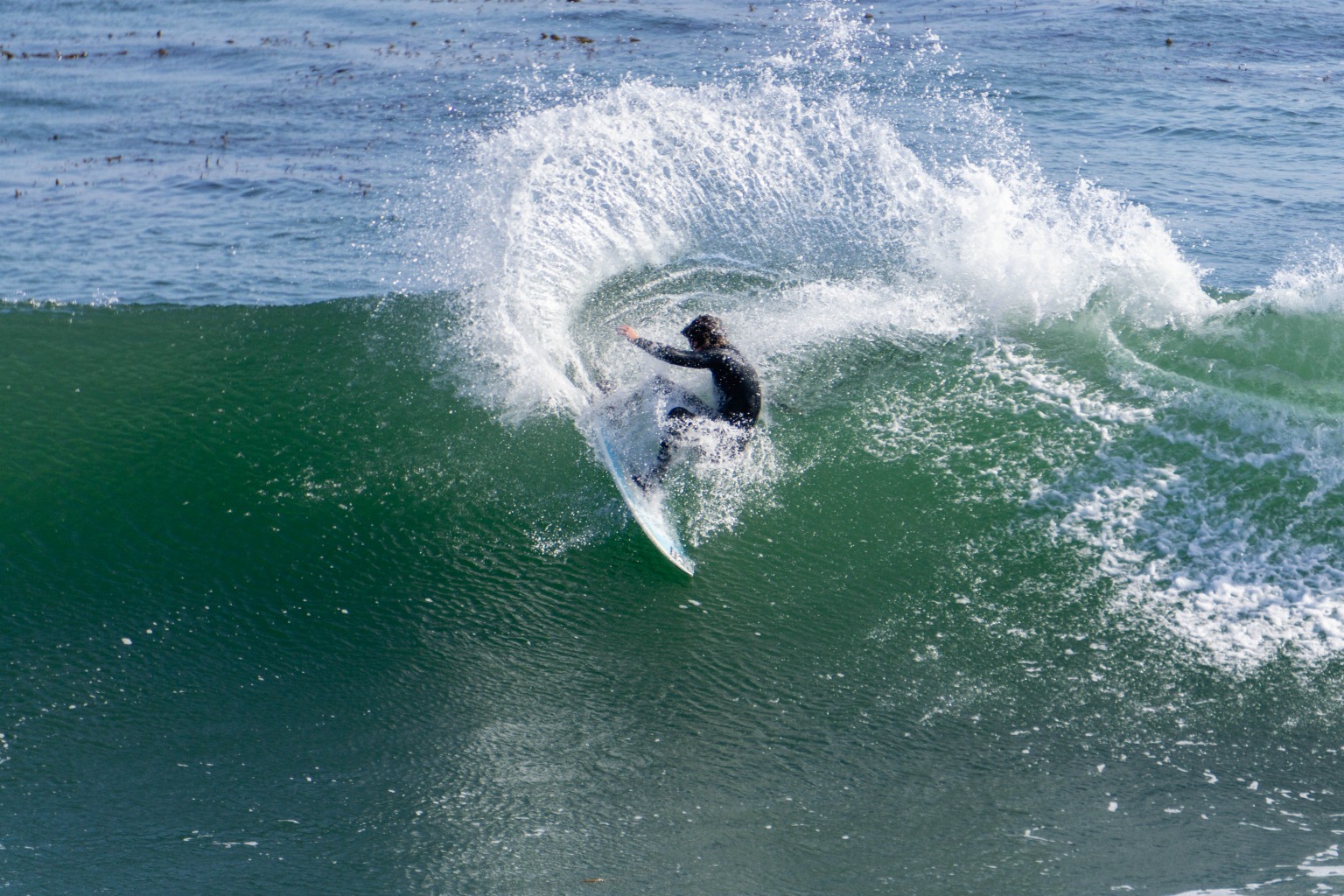 center of surf action and the historic santa cruz beach boardwalk
If you grew up on the Peninsula and learned to surf, Cowell's was undoubtedly your first stop. Known for its long, gentle waves, it's located just west of the Municipal Pier, making it close to the action on the Santa Cruz Beach Boardwalk.
If you want non-stop viewing of Cowell's, book a room at the Dream Inn. Original rooms are in the lower building while the tower features larger, newly-remodeled rooms with king-size beds. There's direct access to the beach from the pool area—and an ocean view from every room.
No visit to Santa Cruz would be complete without riding the historic Giant Dipper wooden roller coaster and Charles I.D. Looff carousel located along the Boardwalk. Opened in 1924, the coaster initially plunges riders into darkness, only to then climb up 70 feet before barreling down and around curves at speeds of 55 miles per hour.
The Looff Carousel is over 100 years old and sports a brass ring dispenser, the last still operating in the world, as well as an original 342-pipe organ. To get the most of the ride, you'll want to nab an outside horse so you can grab a ring and fling it into the target: a clown's mouth.
The Boardwalk features over 40 other thrill, family and kiddie rides along with carnival attractions. In May, limited rides are open during the week with all rides open every day beginning Memorial Day. Boardwalk admission is free. To see ride and attraction pricing, visit beachboardwalk.com/tickets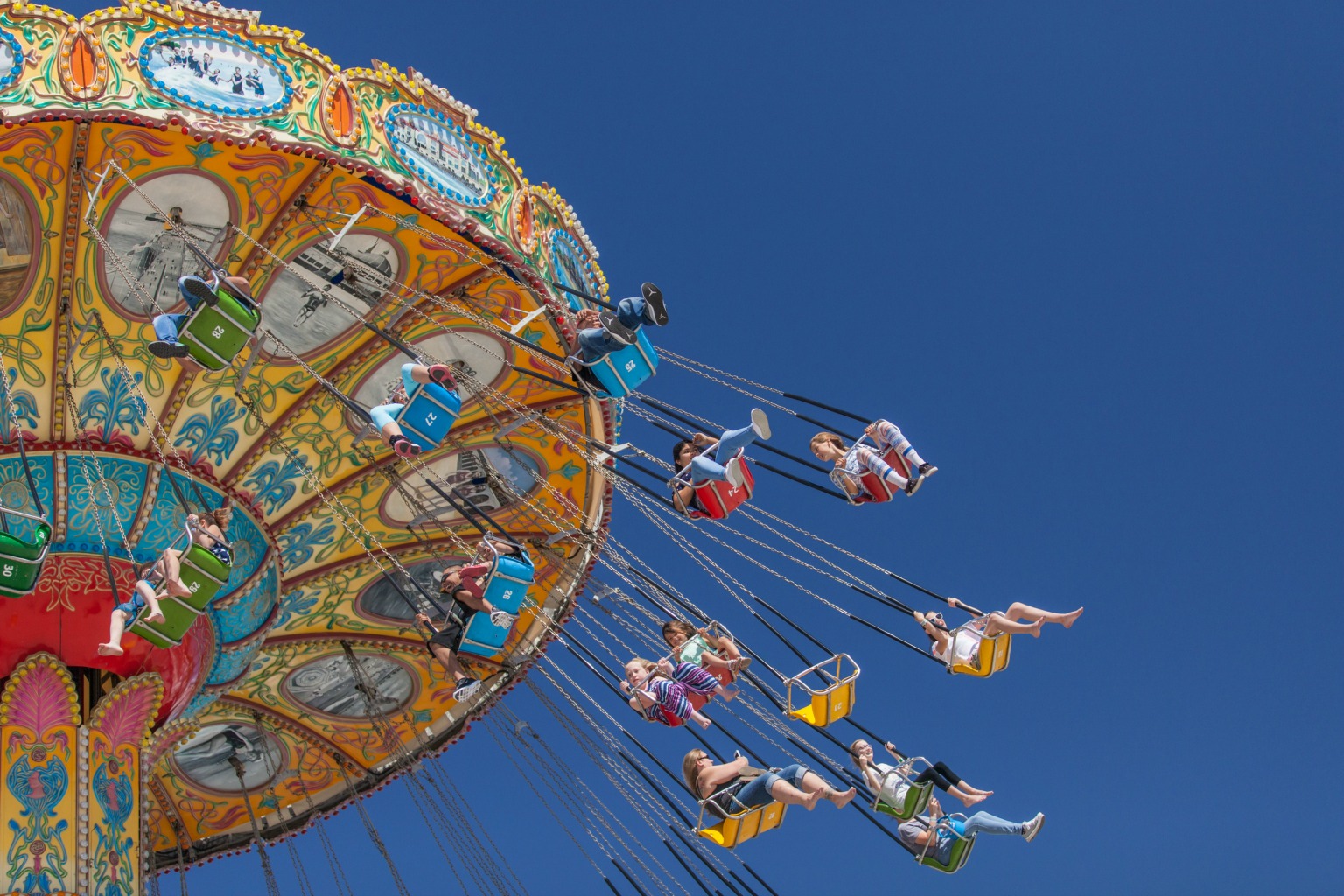 santa cruz's east side means serious surf
The neighborhood may be laid-back but Pleasure Point and its dozen surf breaks is anything but. It's here where Jack O'Neill made his home.
The Hook, located at 41st Avenue at East Cliff Drive, is the most famous spot. Perched high above the bay, a blufftop viewing area lined with picnic tables and benches allows spectators to watch surfers catching air and slicing through the Hook's steep waves. To further explore Pleasure Point's surf culture, wander up 41st Avenue and browse a village of surf-themed shops and eateries including an O'Neill Surf Shop. Zameen At The Point is a favorite eatery known for its feta fries.
At 33rd and East Cliff Drive sits diminutive Pleasure Point Park. There is stepped seating and a broad staircase that stretches down to the water. You'll see a mix of short boarders and long boarders from the bluff.
other lodging options—and some really yummy ice cream
Other lodging in town includes a variety of modest motels and a new entry, Hotel Paradox, part of Marriott's upscale Autograph Collection. This dog-friendly establishment is located at 611 Ocean Street, well back from the Boardwalk action but within walking distance to downtown Santa Cruz's eateries. We've had good luck at Woodstock's Pizza (710 Front Street). There's also the more upscale Laili (101B Cooper Street).
As you head out of town and back over the hill to the Peninsula, make a stop at the original Marianne's Ice Cream at 1020 Ocean Street. In business since 1947, Marianne's has developed a whopping 105 flavors over the years, 80 of which are available at any given time.