Capturing the action at Mavericks, Frank Quirarte is always ready to save a life
Words by Silas Valentino
Featured Image by Brian Overfelt
Every few years, the Mavericks Volunteer Rescue Team puts on a fundraiser to help service their jet skis, upgrade first aid equipment and educate the public about safety at Mavericks and big wave surfing. This past December, the organization doubled its goal, swiftly raising thousands of dollars; the response was positively enthusiastic:
"Consider this a down payment on a future ride out of the danger zone," one benefactor scribed on the GoFundMe page.
You don't surf Mavericks to wipe out but if you go down, and a pulverizing 65-foot wave crashes overhead, the hand that hoists you out of the water would likely belong to the team's leader, Frank Quirarte.
The hometown rescuer has safeguarded surfers for nearly 30 years from his front-row seat on a WaveRunner jet ski. Frank keeps watch over the extreme athletes as they battle nature's extreme forces. If a surfer hits the water, he calculates the seconds before the next break to maneuver in for a rescue ride out.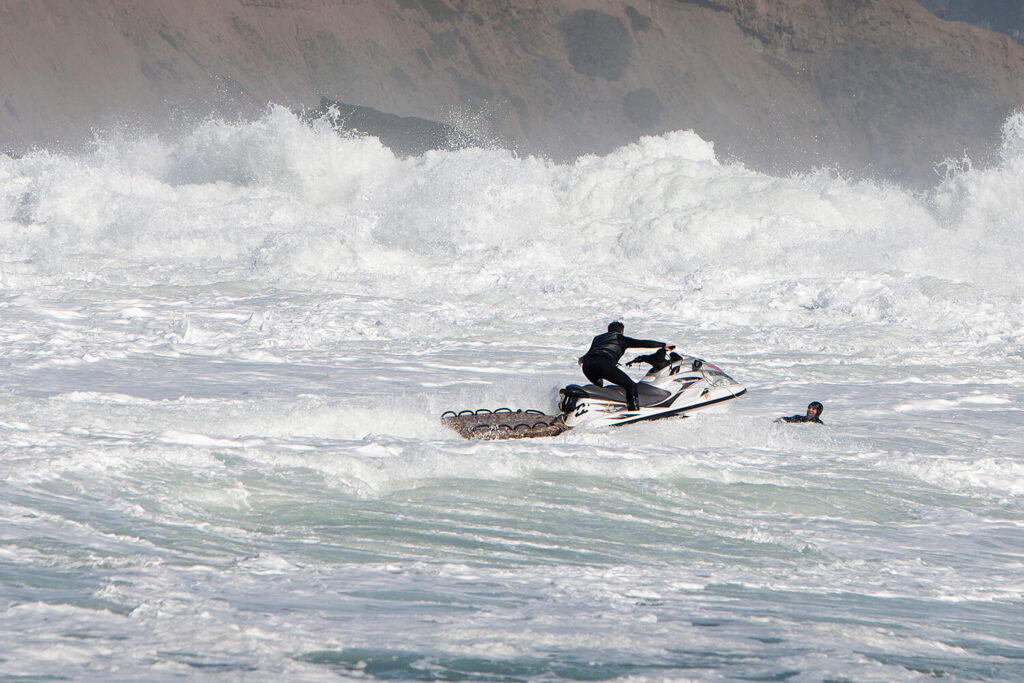 Frank sees it all from his aquatic perch—the agony and the ecstasy of big wave riding. And since he's the youngest of four brothers, the Pacifica native knows the value in sharing. That's why, without any professional training, he began heading out on his rescues with a camera in hand to document the turbulent sport.
Over the years, Frank learned from his photographic snafus, modified an approach to the art and started developing some pretty gripping images that surf magazines began to publish. After his shots started appearing on covers, Frank realized that he'd stumbled into professional photography.
Serving a dual purpose on the water—as rescuer and documenter—allows Frank to travel to big waves across the world and support international surfers. For this kind-hearted thrill-seeker, photography is just one of the ways he engages with the world; he's journeyed to Mount Everest, documented several Burning Mans and volunteered to rescue survivors from the flooded streets of New Orleans following Hurricane Katrina in 2005.
Frank's surf photography appears in magazines and on walls across the country—freezing the intimate images that unfold in the midst of chaos. He captures the moment when someone lets go and yields to the elements. When man bows down to nature.
Frank's extensive years as a guardian mean that you're never as safe at Mavericks as when he focuses his lens on you.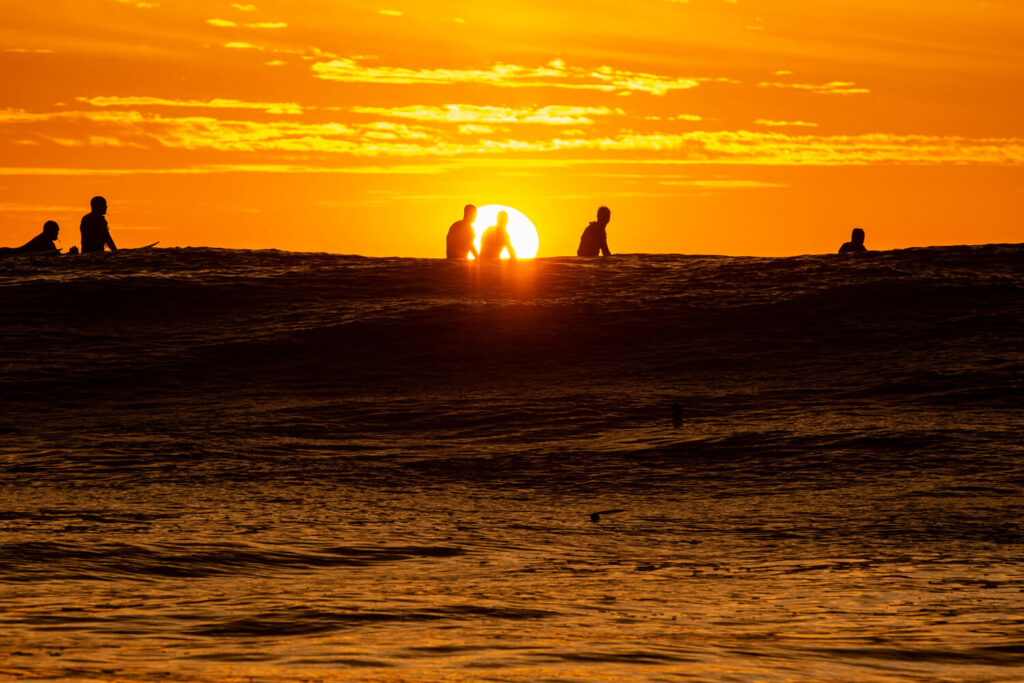 There's a garage in the Linda Mar neighborhood in Pacifica where Frank learned the nuts and bolts of engineering. Today, the space has been transformed by his teenage son Aidan into a music and weight room, keeping the legacy of Quirarte passion projects alive.
Frank is raising his son in the same house where he grew up under the guidance of his parents and three older brothers. That garage once hosted an active workbench where BMX bikes came and went with repairs after Frank and his brother raced them in the City. Now Frank's gear, such as his Pelican photography cases, are stacked off to the side to allow his son sufficient room to explore his hobbies.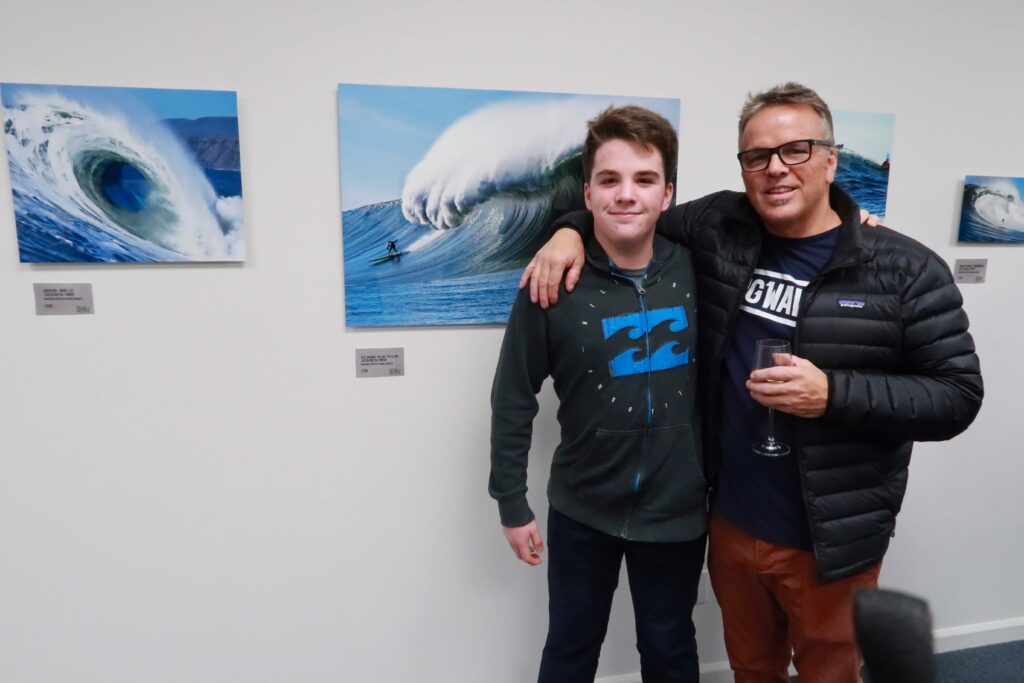 Frank's father was a machinist and an adventurer who taught his sons how to ride dirt bikes and planned houseboat vacations on Lake Oroville. When Frank's older brother Dave bought a jet ski for the lake, it broadened Frank's lifelong fascination for motor sports and engineering.
"A bicycle back then was an Erector Set," he says. "I would throw it on the workbench and learned on the fly. Today, people are astonished when they see me change the radiator on my truck."
Frank graduated from Pacifica's Terra Nova High School in 1981, but schooling didn't come naturally to him. "If I look back at it now, I definitely had ADHD," he says. "I struggled because I wanted to focus but I couldn't." He set a goal to one day become a college grad and looked for his own way of achieving it.
After scoring well on the mechanical portion of an aptitude test ("It had to be genetic from my dad," he jokes. "I was always wrenching on things…"), Frank went into the Air Force with a dream of becoming an airplane mechanic. He fondly recalls going to air shows at Moffett Field and how his father always praised the mechanics of flight.
Frank maximized his military service by taking advantage of the abundant education opportunities. Whenever he had a free weekend, he'd convince buddies to join him for EMT training while chipping away towards a degree in Airframe Mechanics and Aircraft Maintenance. When he completed his degree in 1984, a letter arrived in the mail informing Frank that he had reached his goal. "In basic terms, it said that I was a college grad," he recalls. "I still have the letter."
Frank was just about to start his dream job as a line mechanic for Delta Airlines at SFO in 1990 when then-President Bush Sr. initiated Operation Desert Storm. As an Air Force reservist, Frank returned to service to transport troops from a base in Monterey and was stationed in Saudi Arabia. He worked on the largest airlifters such as Lockheed C-141 Starlifter and C-5 Galaxy aircrafts. When the conflict ended, Delta had reserved his job for him and Frank's career took off.  
One early morning in the '90s when he lived at a house on the beach, Frank heard a car horn outside and peered out of his window to see a guy with a long surfboard drive away. When it happened again at 6AM the following morning, Frank pieced it together: "Those are dragon slayers," he remembers thinking.
Around that time the lore of Mavericks was beginning to permeate throughout surfing communities near and far. Frank surfed, but he wasn't a big wave rider himself. Rumors of goliath swells just outside the point in Half Moon Bay seduced his adventurous spirit. He went to a Radio Shack, purchased a weather cube for real-time reports and began tracking the breaks. From the cliffside, Frank watched as surfers rode waves larger than any building in town. He wanted to get involved—but in his own way.
"I wasn't ocean-worthy. I went to Jeff Clark's (the founder of Mavericks) shop and was basically a groupie," Frank recounts. "But Jeff wasn't having me at all. I became friends with his girlfriend and talked him into letting me go out in an old Zodiac boat. I proved my worth; I could drive a boat. Once I got the lay of the land, I would board caddy for those guys."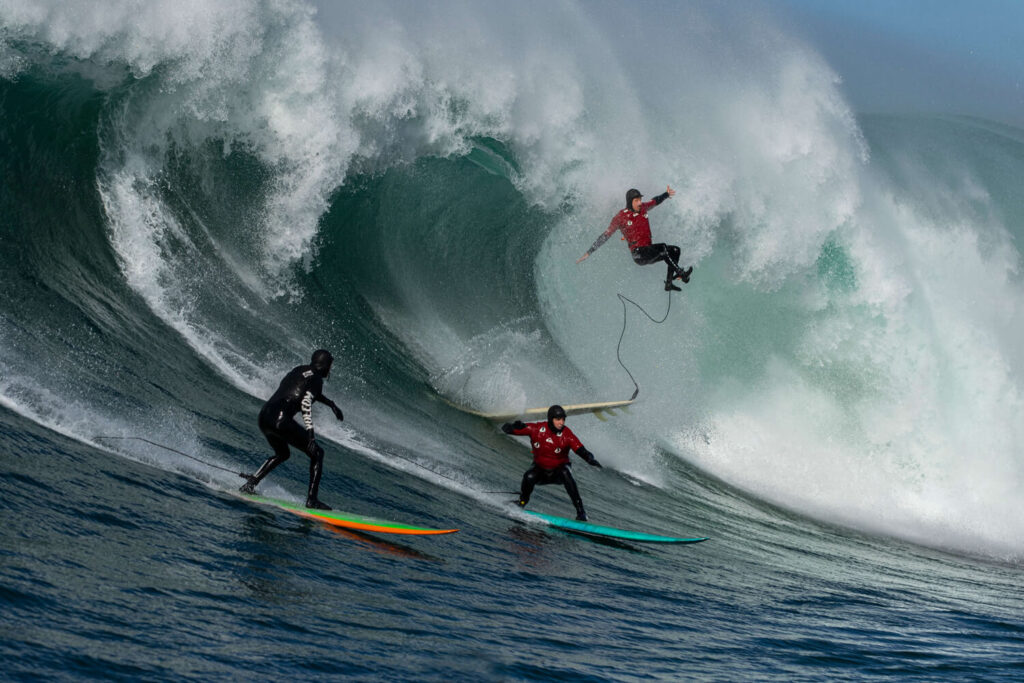 Mavericks grew in popularity. Surfers arrived from Hawaii and beyond to legitimize the break. Frank saw photographers appearing on jet skis to capture the rides and he was struck by the artistic thrill and challenge. He began asking for advice from local photographers and inherited a full Nikon outfit from a friend. His education came in scraps of advice from established photographers and learning what he did and didn't like after patiently developing extensive rolls of film.
When the Zodiac boat started to fail, Frank didn't hesitate to take his older brother up on an offer to buy an old jet ski. Soon his photo gallery expanded. Looking back today, Frank laughs at his novice roots: "When I had my first shot published, I sent the magazine hundreds of pictures over a week's time… I needed to learn how to become my own editor."
In December 1994, tragedy struck Mavericks just as it was becoming a cultural landmark when professional surfer Mark Foo drowned while surfing. His passing signaled a newfound push for safety.
"I was always asking, 'Why isn't there a rescue team?'" Frank says. "Some Hawaiians came over and gave us some real lessons and we began to train each other. In the beginning, I wasn't a good rescuer. I raced in and raced out and was overzealous. You're scared. I developed over time and now it's more technical. You don't need to race in, you can pick your line. There's a level of fear that helps you as well. You cannot be nonchalant about it—you have to be on your toes every time."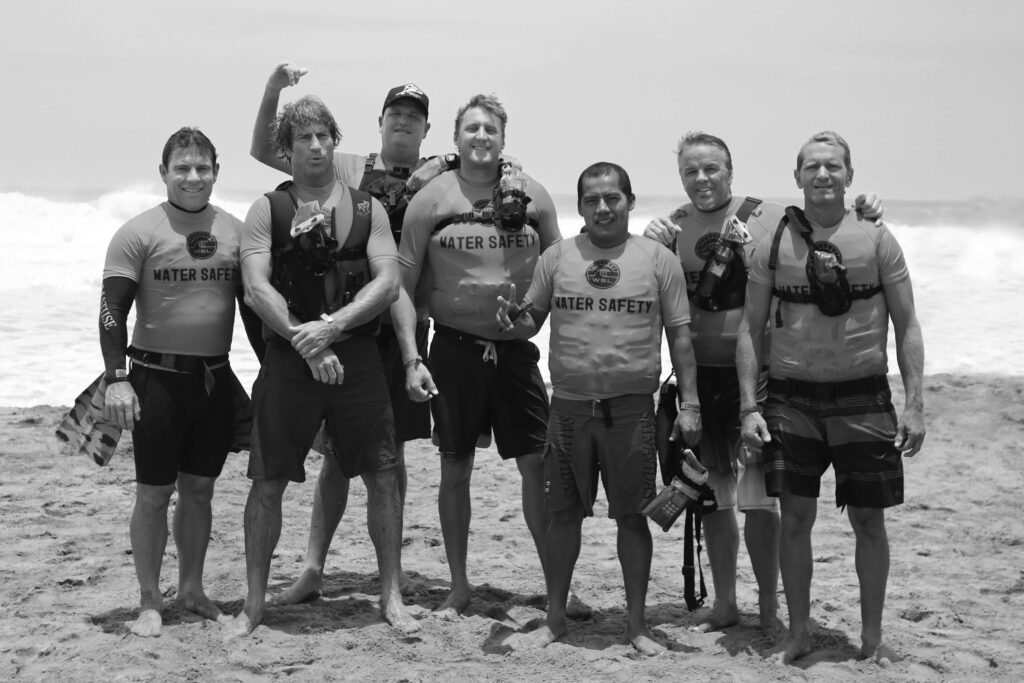 The Mavericks Rescue Team developed into a fully organized unit that supports every Mavericks season. Frank runs the team using a risk management theory that poses critical questions, among them: "Will you become part of the problem?" and "Who will save the rescuer?"
Frank refined this rescue strategy through his own enterprising efforts. In 2005, after New Orleans was devastated by Hurricane Katrina, Frank joined a friend to launch an impromptu rescue mission on their jet skis through the flooded streets. They were the only private rescue team authorized by FEMA.
"There was an army boat pulled up on a house that couldn't get in so we skied up to a crawl space," Frank remembers of New Orleans. "There was an older gentleman there and we got him onto the airboat." That one rescue turned into multiple as Frank skied from house to house. "Then it was like, 'Woah, did we just do that?'" he says humbly.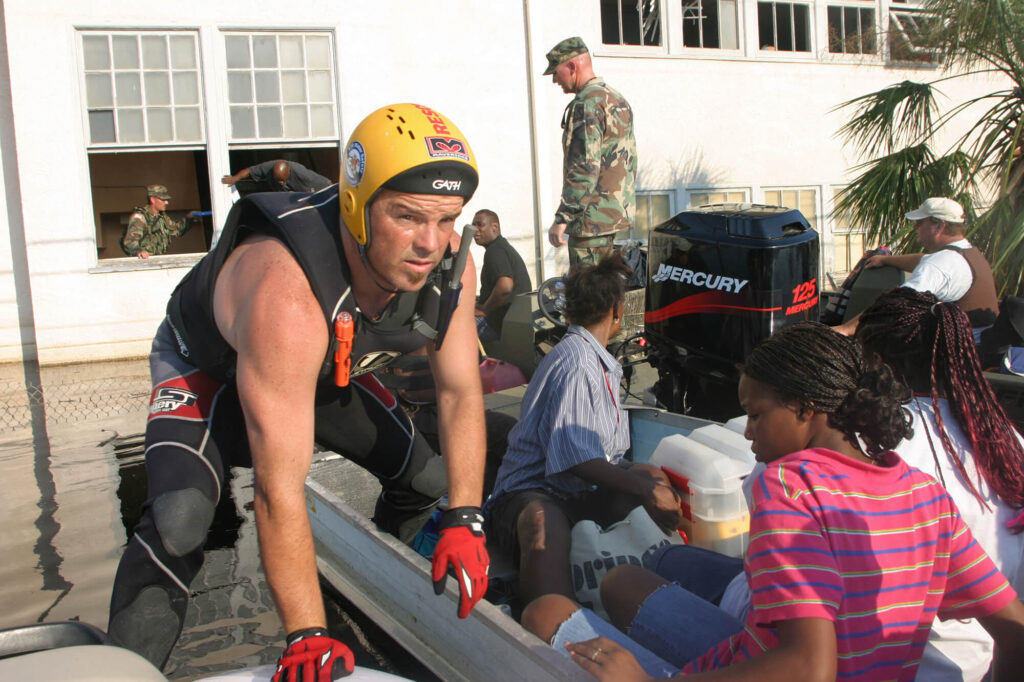 Outside the water, Frank keeps his camera with him on his travels, such as a trip to Mount Everest a few years ago that he made to honor a friend who had passed. It's also been with him for several Labor Day Weekends out on the playa in Nevada. "Burning Man can be anything you want it to be," he says. "As a photographer, it's like shooting fish in a barrel. There's so much going on out there."
Frank has his own personal risk management plan and that's to lead a more mellow life when he's not running the rescue team. He's always played the guitar and Aidan will sometimes join him on vocals for rock covers. Lately, Frank has begun to gather his thoughts and stories for a photobook to showcase his decades on the water.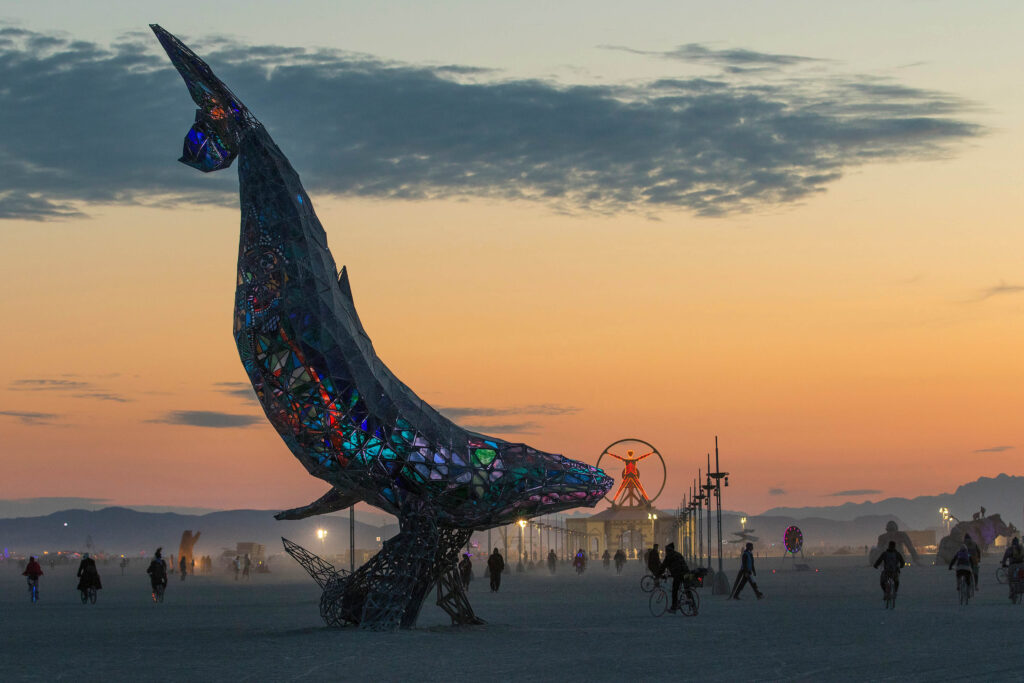 In June, Frank will work with a rescue team for Dangerous Waters Adventures on a jet ski tour in Alaska. He'll provide safety for folks as they travel across a thousand miles of wilderness and glaciers. He's eager to finally explore the Last Frontier and his camera will remain within reach for every moment of the trip.
"Photography became just as exciting as rescuing," says Frank, who fully comprehends the value of his unique blend of skills and experiences.
"The rescue abilities make me a better surf photographer because I have to stay in the pocket until the last moment to get the right shot," he explains. 
"I'm way more hands-on than a technical photographer. The digital cameras have so many functions and I'm still learning as I go, but on the water, it's pretty basic: Keep it in focus and get the exposure correct," he pauses and grins. "Oh, and don't get hit by a wave."