Words by Johanna Harlow
It's August 2022 at Linda Mar Beach, and a surfing competition is underway. Unlike your typical championship, however, the contestants are short, hairy and answer to unintimidating names like Teddy and Waffles. All perfectly normal at Pacifica's World Dog Surfing Championships, where sea-savvy canines take to the waves to lick the competition.
Quite the crowd has gathered to see kelpies and corgis hang ten. Plenty of NorCal canines compete in the event, but contestants fly in from as far away as Brazil and Australia. Organized by TasteTV, the annual event has attracted the best in dog surfing talent since 2016.
Scoping out the competition with mismatched eyes is Skyler of Santa Cruz—and beside the Queensland heeler stands owner Homer Henard. "She doesn't like swimming in the water. I think that's why she surfs so good," Homer chuckles.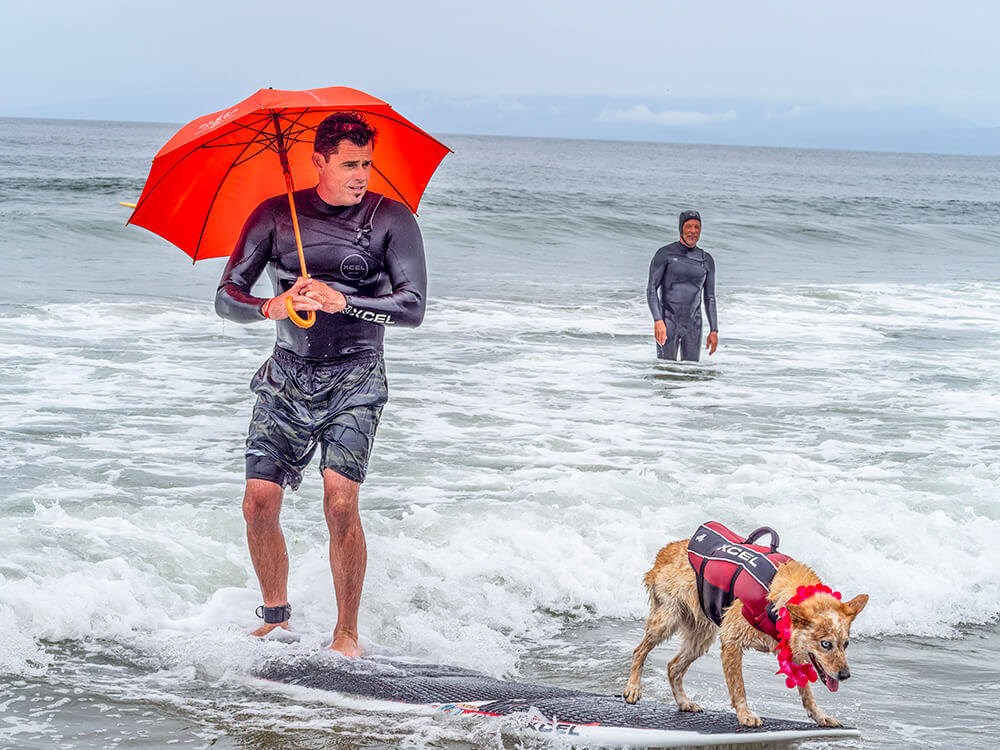 Homer and Skyler surfing tandem
On board since she was a puppy, Skyler has surfed for 13 years now. "It kind of became her thing," Homer explains. "Cattle dogs feel like they need a job." Rather than go into the family business (working the ranch like her parents), Skyler opted to master the waves. She prefers her custom-made hardboard with traction crafted by Bob Pearson, one of the top shapers in the world. "The ocean is her dog park," says Homer.
Between heats, Skyler retires to her tent to meet her many fans. "The groupies take pictures with her," remarks Homer. Holding the title as the first dog to ever get barreled (cruising through a watery tube) and featured on an episode of Netflix's show Pet Stars, Skyler has gained nearly 34,000 followers on Instagram (follow her exploits at @skylerthesurfingdog).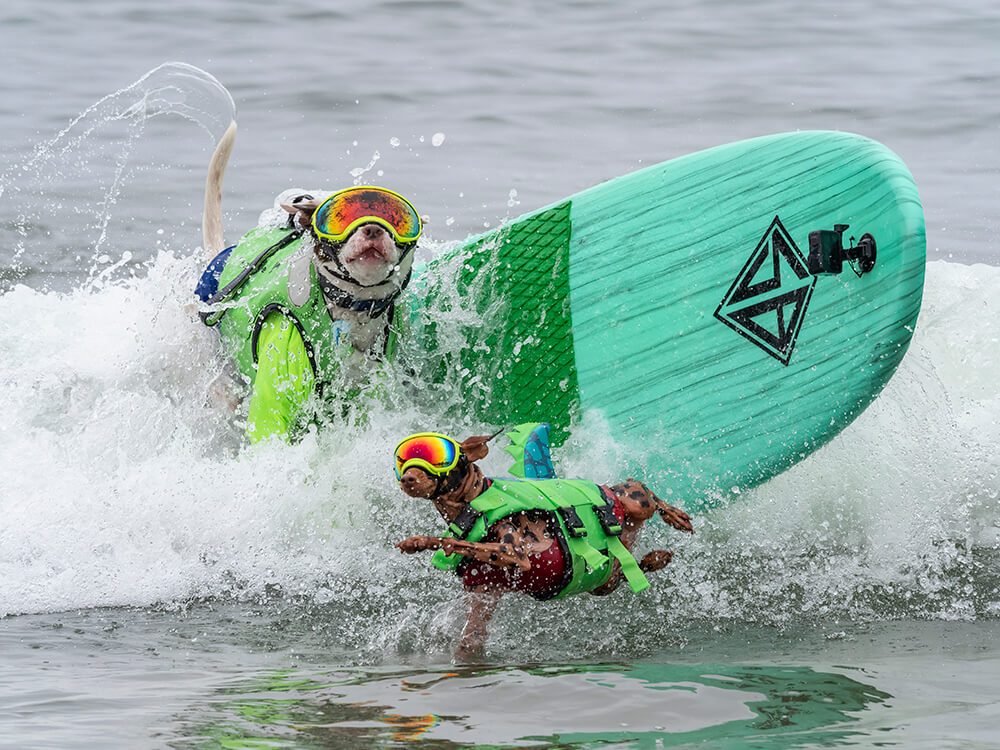 "Skyler's huge in the UK," Homer notes. "They always have crews coming over here and they'll come and interview us and video us surfing." She is also well-known for her volunteer work, partnering with surf-therapy organizations like Waves of Impact, Operation Surf and Mauli Ola Foundation to encourage kids with disabilities and wounded veterans to take to the waves. "They're like, 'If this dog can do it, I can do it too!'" Homer shares with a smile.
Back on the beach in Pacifica, owners continue to wade into the water with pups in tow. Responsible for setting up their dogs for success, they will need to select the perfect swell. Too small and your Lab will be fated for a lackluster performance, too big and your whippet will wipe out. Thankfully, life vests are on hand (or over tail) to keep dunked competitors buoyed. Human spotters stand by to ensure safety. "These dogs are stoked," Homer observes. "You can't make a dog surf. If a dog doesn't like the ocean, it'll run away."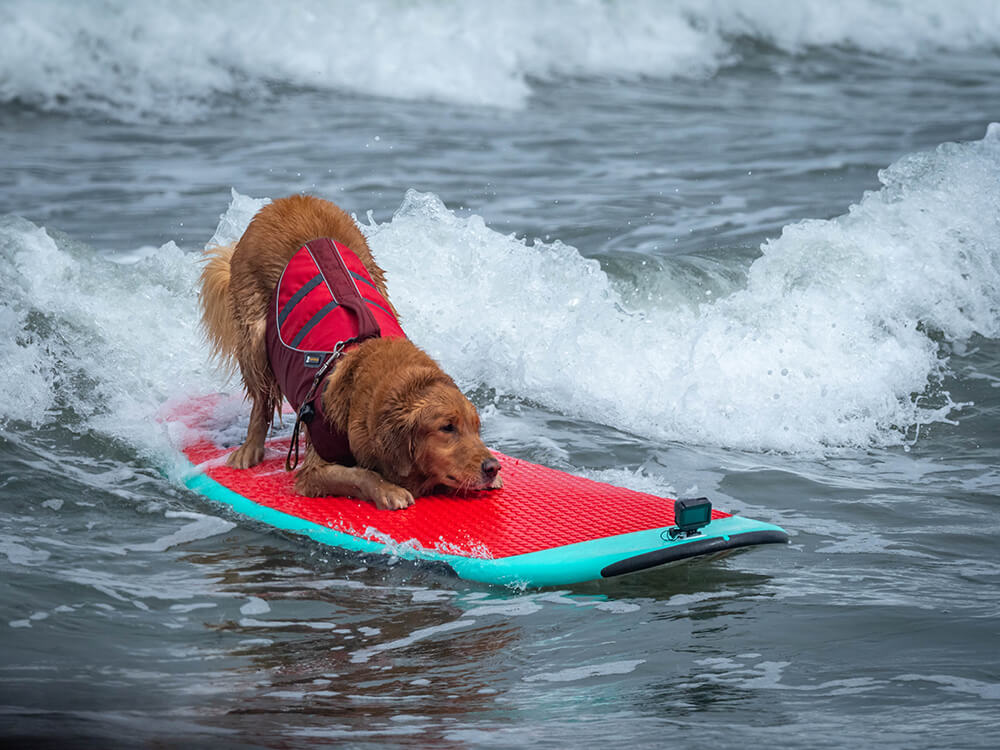 On shore, judges score based on ride length, technique and bonus tricks. They also take demeanor into account. (Is the dog calm or panicky?) Skyler's unruffled assurance and confident stance have always served her well. During a prestigious competition at Huntington Beach, she once scored two perfect tens—the first to do so in the event's history. "She's leaning into the turns and is reading the wave," Homer describes. "She'll lift up one paw to go on rail in one direction and then she'll put the other paw up to go the other way."
What's better than a dog on a board? Several dogs on a board! The competition heats up when the announcer broadcasts dog-dog tandem rides. As pooch pals team up in groups of twos and threes, the chaos mounts and more than one pack is dumped into the soup. Photographers (some of them international) heft cameras with lenses like mini cannons. Several wade into the waves in wetsuits.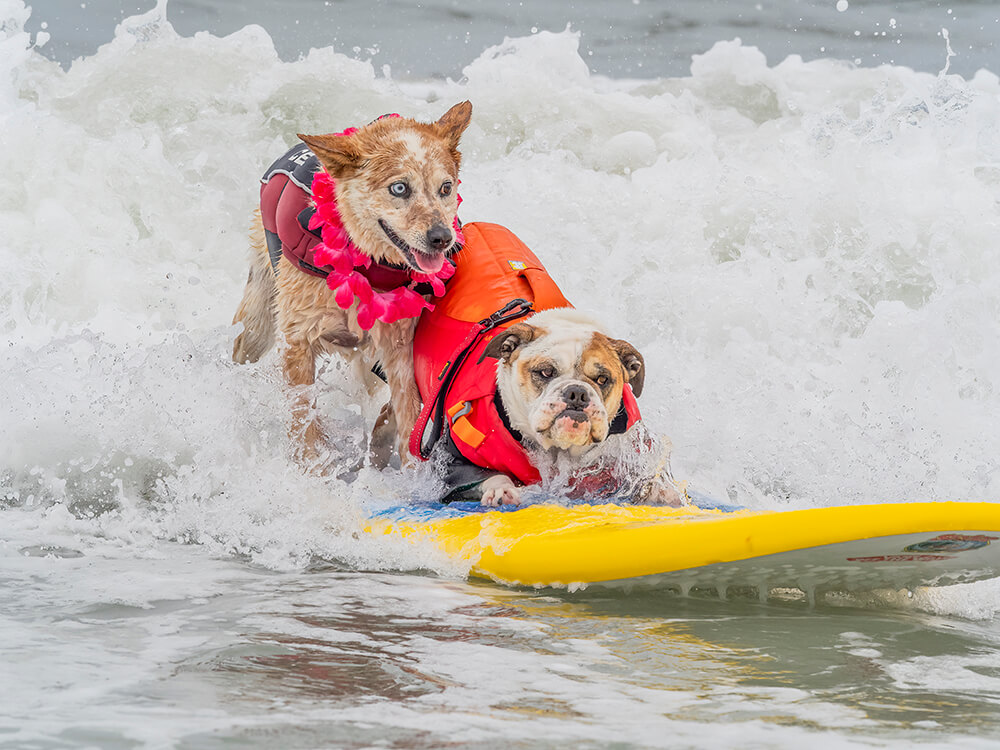 Clearly, the surfing dog scene is no joke. Homer vividly recalls showing up to his first competition all those years ago. "People were serious about it. They had full pit crews… It was nuts! Dogs had outfit changes." Elaborating, he adds, "A lot of the dogs are glamoured out. They wear sunglasses. They've got gold chains and leather jackets. And you're like, 'Whoa!'"
That said, the canine camaraderie is evident. "They don't get all weird and standoffish," Homer observes. Skyler and her bulldog buddy Rothstein will surf tandem today. The two often meet up for surf dates. "His owner John wants Rothstein to hang out with Skyler because Skyler's like the Gerry Lopez of dog surfing, you know what I mean?" Homer grins. "He wants her to rub off on him." Rothstein was jumping on boards long before John, but Homer has recently given John lessons so he can keep up.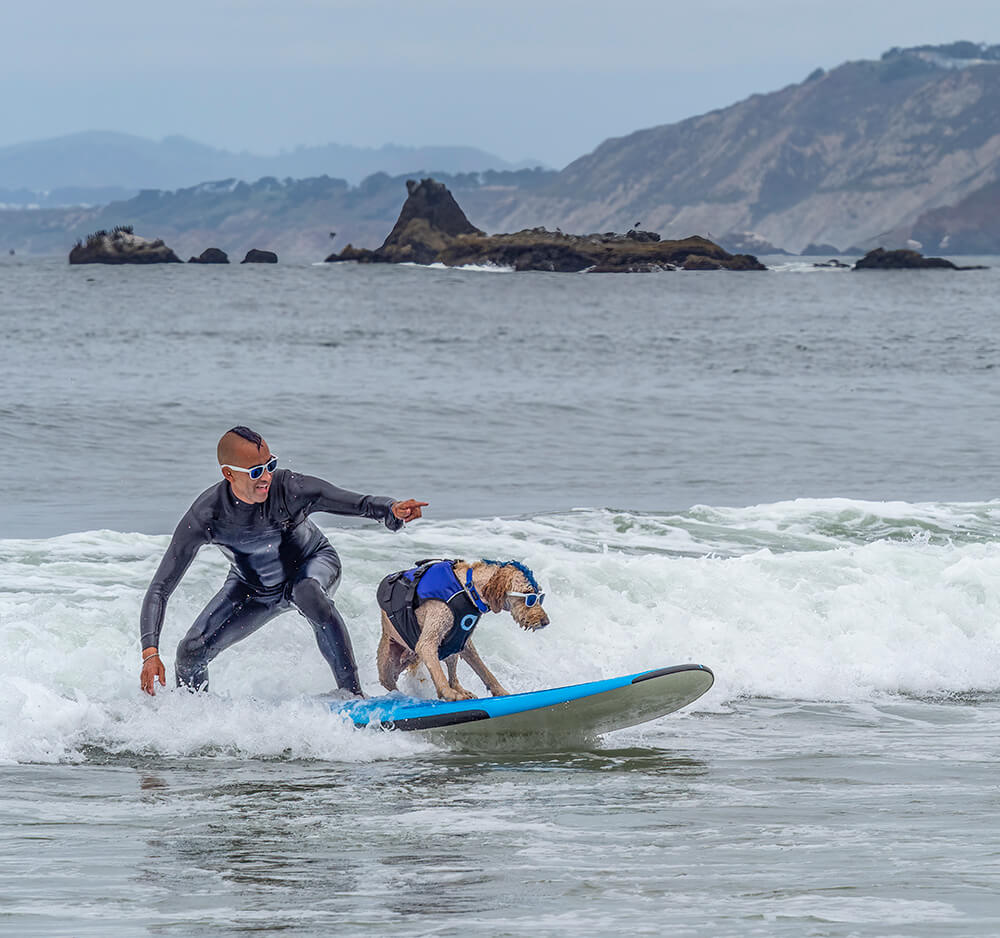 Next on the doggy docket: man and man's best friend. One regular tandem duo taking the board together is Kentucky and Derby (guess which one's the dog and which one's the human). Owner and goldendoodle cruise on in wearing sunglasses and matching blue mohawks. Next comes a scrappy youngster and his pit bull, both clad in neon green. And then a well-built old-timer with his stocky Lab. For his own ride with Skyler, Homer flips up an umbrella, "doing the Mary Poppins." The crowd eats it up.
The day's festivities also include "Yappy Hour" as well as a fetch competition and a pet fashion contest (meaning you might sight a Frenchie in a coconut bra or a Chihuahua with a mermaid tail).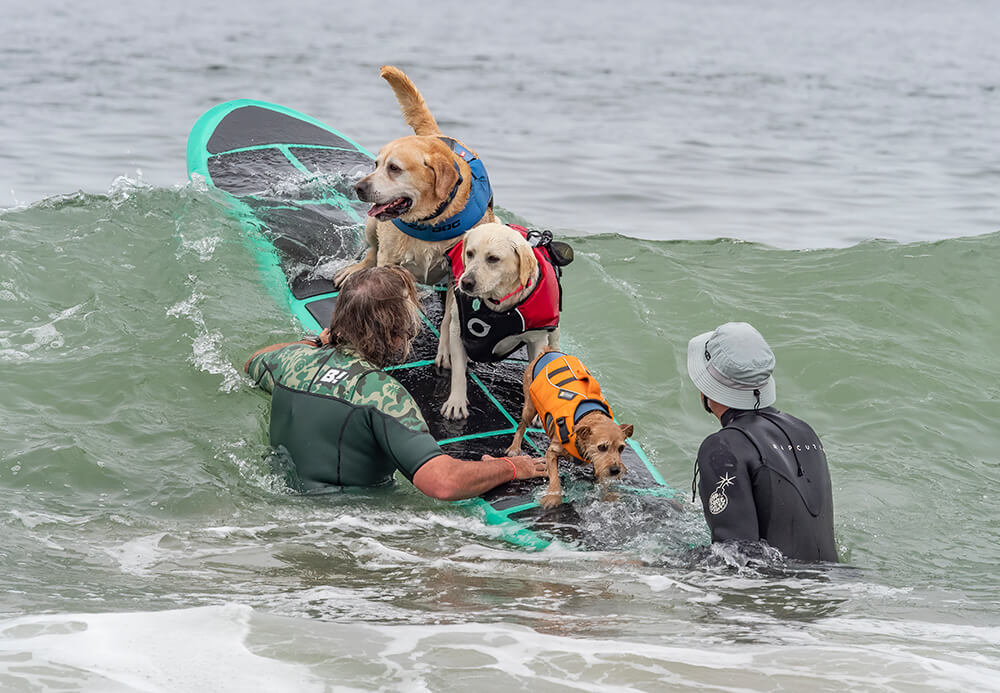 As the festivities wrap up, Homer and Skyler win gold in both the solo and dog/human tandem rides. "The dogs know," Homer says. There's no doubt that Skyler lights up as the medal is placed around her neck to cheers from the spectators. "She comes home and she's got a little pep in her step," notes Homer. Skyler knows there's a celebratory McDonald's ice cream cone and steak dinner in her near future, which doesn't hurt either.
Cheer on the Underdog

2023 Dog Surfing Championships
Linda Mar Beach, Pacifica
August 5, 9AM - 12:30PM
www.surfdogchampionships.com