"Real" is a word that Jason Zhan, chef-owner of Sushi Shin in Redwood City, uses often. The philosophy of authenticity in his work is so important to him that it's reflected in the name of his restaurant. "Shin has three different meanings in one word: real, new and heart. That's why I chose it," he explains. "I wanted to make real sushi, based on the Edomae style, but not too fancy. At the same time, I want to add my new ideas, my own style." 
Growing up in Shanghai, China, Jason always loved food. He knew at age 16 that cooking professionally was his calling, and three years later, he left Shanghai for New York City to attend culinary school. To support himself, he took a job washing dishes in a Chinese restaurant. Within six months, he was spending more time at work than in the classroom, so he left school to focus on building his culinary career the old-fashioned way. "We believe that a true chef always studies at the restaurant, starting in a basic job, like dishwasher," he says. "If you want to learn the real skill, you have to be tough."
Wanting to try his hand at other types of cuisines, he moved on to a Japanese restaurant, again starting as a dishwasher. "I didn't really know sushi," he reveals, but the light and healthy style appealed to him, as did the interaction between sushi chef and customer. The restaurant served what he calls American-style sushi—California rolls, dragon rolls—but once Jason learned about Edomae style, he committed himself to learning the traditional methods.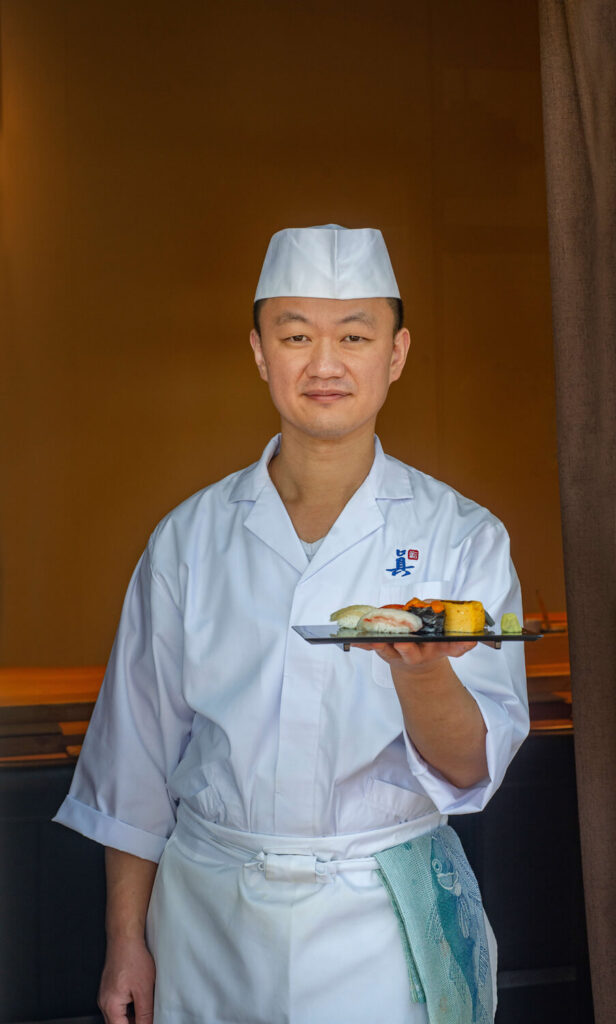 Edomae sushi, a style developed in the 19th century, has become the gold standard for sushi purists and aficionados in the 21st century. Lacking refrigeration for their catches, Tokyo Bay fishermen relied on classic food preservation techniques—curing in salt or marinating in vinegar or soy sauce—to preserve their hauls. Savvy food-stall vendors paired the fish with a ball of rice and dab of wasabi, selling it as fast food for working people. 
The next step for Jason was to find a teacher—a sushi master. His research led him to Hideo Kuribara, well-known for traditional Edomae-style sushi at New York City's Ushiwakamuru restaurant. Their first meeting didn't go well. "Kuribara-san kicked me out," Jason recounts. "He thought I wasn't serious." 
Jason returned to the restaurant every day for weeks, and every day Chef Kuribara turned him away. Eventually, Jason's tenacity paid off: the master offered Jason the opportunity to attend a free sushi class, which led to a dishwasher position at the restaurant. It was a pivotal opportunity that set the course for Jason's future.
With a goal to master his craft and eventually open his own place, Jason set himself up for a rigorous education, working in several of New York City's top sushi restaurants between 2011 and 2016, learning about customer service and other sushi techniques, before finally returning to Ushiwakamuru in 2016.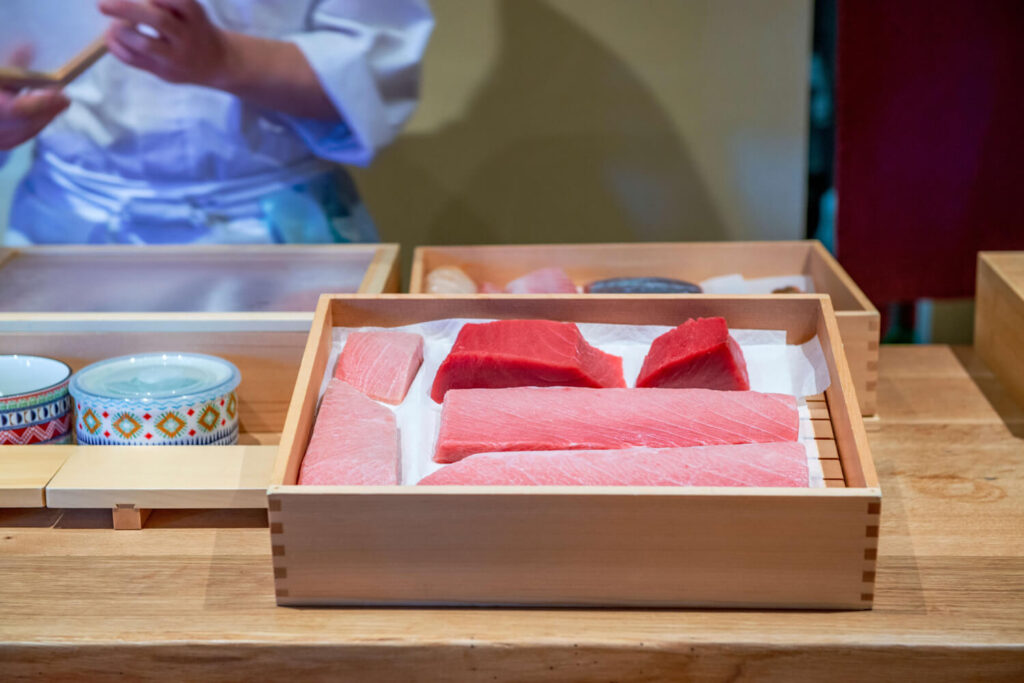 But after a decade or so in New York, Jason's wife, Betsy Cheng (the two had met while working together at a restaurant), had had enough of cold winters and wanted to move to a warmer climate. After Jason connected with a cousin living in San Francisco, the couple relocated in 2017. Once settled, Jason started the search for a space to open his own restaurant. Finding the don't-blink-or-you'll-miss-it space on Broadway Street was a perfect fit.
Jason planned and oversaw the space's interior design, including the custom-made, U-shaped cypress sushi bar that fills the dining space. Comfortable and intimate, the restaurant seats a maximum of nine guests and offers two seatings for Omakase dinner service only. The small space allows Jason to create the type of chef's table dining experience that drew him to Japanese cuisine in the first place. 
Sushi Shin opened in January 2020 and quickly developed a loyal customer base, becoming a hard-to-book dining experience with excellent word-of-mouth reviews. "We were booked three months ahead," Betsy recalls. Two months later, that all came to a halt with the pandemic, but the unplanned break had a positive twist for the couple. "We had a newborn, so we were very busy. It was good for us to stay home," she says. 
Omakase, translated loosely as "I'll leave it to you," is a chef's choice dining experience of 18 small plates or dishes that highlight fresh seafood, most of which is seasonal and comes directly from Toyosu Fish Market in Tokyo, Japan. There's no menu, and Jason describes each course as he presents it to guests. Betsy manages service on the diners' side of the sushi bar.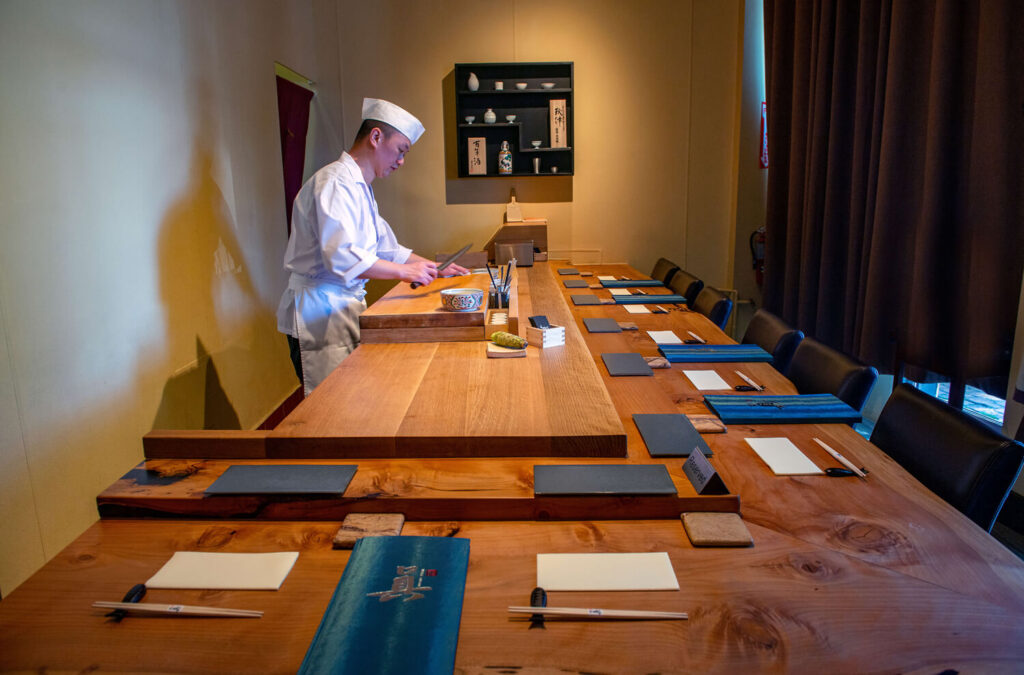 "We try to let the customers experience all different cooking skills, not just raw fish," Jason says of the variety of courses. One-bite dishes include luscious, melt-in-your-mouth Blue Fin otoro, as well as Jason's signature items, like the sweet Tasmanian trout marinated in house-made smoky soy sauce. Non-sushi courses could include his new creation, a silky egg custard (chawanmushi) with Maine lobster prepared two ways, or miso-shrimp soup. 
Attention to detail is evident in every course, from the gentle brush of salty soy sauce that tempers the creaminess of Canadian spotted shrimp to the house-toasted nori that complements the plump, seawater-fresh uni from Japan. A house-made milk pudding with black sugar syrup provides a light and satisfying end to the meal.
Diners are offered alkaline water (pH 9.5), chosen for its healthful properties, and tea at the beginning of the meal. The beer list includes seven beers, ranging from light Asahi to a fuller-bodied Echigo Stout. Sushi Shin's sake menu, organized by style, is designed to complement the season's seafood options. There are also always a few special, limited-edition bottles available.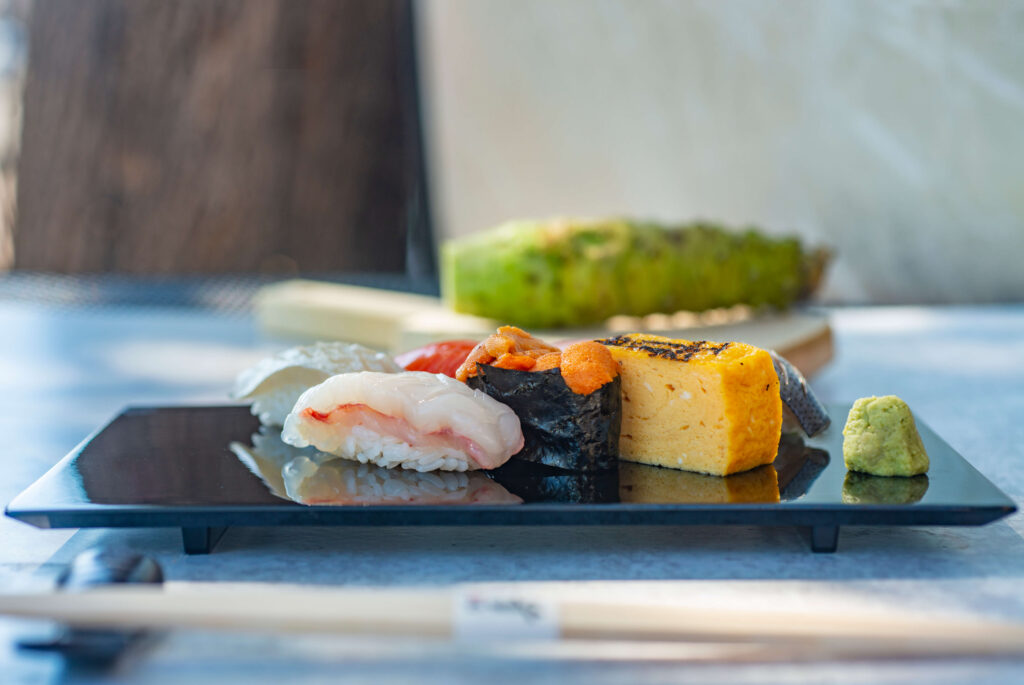 In the future, Jason envisions sharing his skills with motivated students who are passionate about sushi and understand the importance of that third meaning of "shin." "When you start training, it's not training for the skills, it's training for the heart," he explains. "If you have a good heart, a strong heart, and don't give up easily, people will teach you the skills, the techniques." 
But for now, with reservations filling up quickly, he and Betsy are completely focused on their customers—and creating exquisite Omakase dinners. "My happiness," he summarizes simply, "is to create something people like."