If visitors from out of state casually announce they'll return to Woodside Priory School for next year's auction to attain one of your handmade grandfather clocks, it's probably safe to receive their remarks lightly and without expectations of a follow-up.
But Father Martin Mager's handiwork is timeless. His ornate timepieces speak for themselves—sometimes literally, at the top of the hour, through the melodic steel plucks of the Westminster Chimes. Therefore, it wasn't inconceivable, sometime in the late 1980s, that the couple from Arizona returned to the Benedictine college-preparatory institution the following year to place the winning bid on the towering timekeeper. Fr. Martin himself drove the clock to Arizona to set it up, the final and personalized touch he applies to every clock he makes.
On the clock's face, beneath an illustration of the constellation which slightly shifts by the days and hours, is its name:
The Priory No. 6
1989
Made in the USA
Sometime around 2015, Fr.
Martin received a phone call from a furniture consignment store owner in Oregon. "Are you the guy who builds clocks?" he was asked. The Arizona couple had since divorced and Priory No. 6 had somehow migrated to the Pacific Northwest. Fr. Martin decided it was worth the retrieval and alongside Tim Molak, the Priory's head of school, the duo drove north to meet the seller somewhere around Salem. Their meeting place was far from suspicious but, then again, anything can happen in a Denny's parking lot.
"I kept saying, if anyone sees this, we're going to jail," cracks Fr. Martin about the nature of the transaction. "The clock comes out and we gave him the money. It was so funny; it was like a drug deal. We didn't even stop for a sandwich!"
Priory No. 6 now stands proudly in the dining room of the King St. Stephen Monastery at the top of the school's 40-acre campus nestled in the timbered vale of Portola Valley. The clock is restored and awaits its next journey across state lines; it's destined for St. Anselm College in Manchester, New Hampshire, where Fr. Martin earned his bachelor's degree and where he first found the inspiration for becoming a Benedictine monk.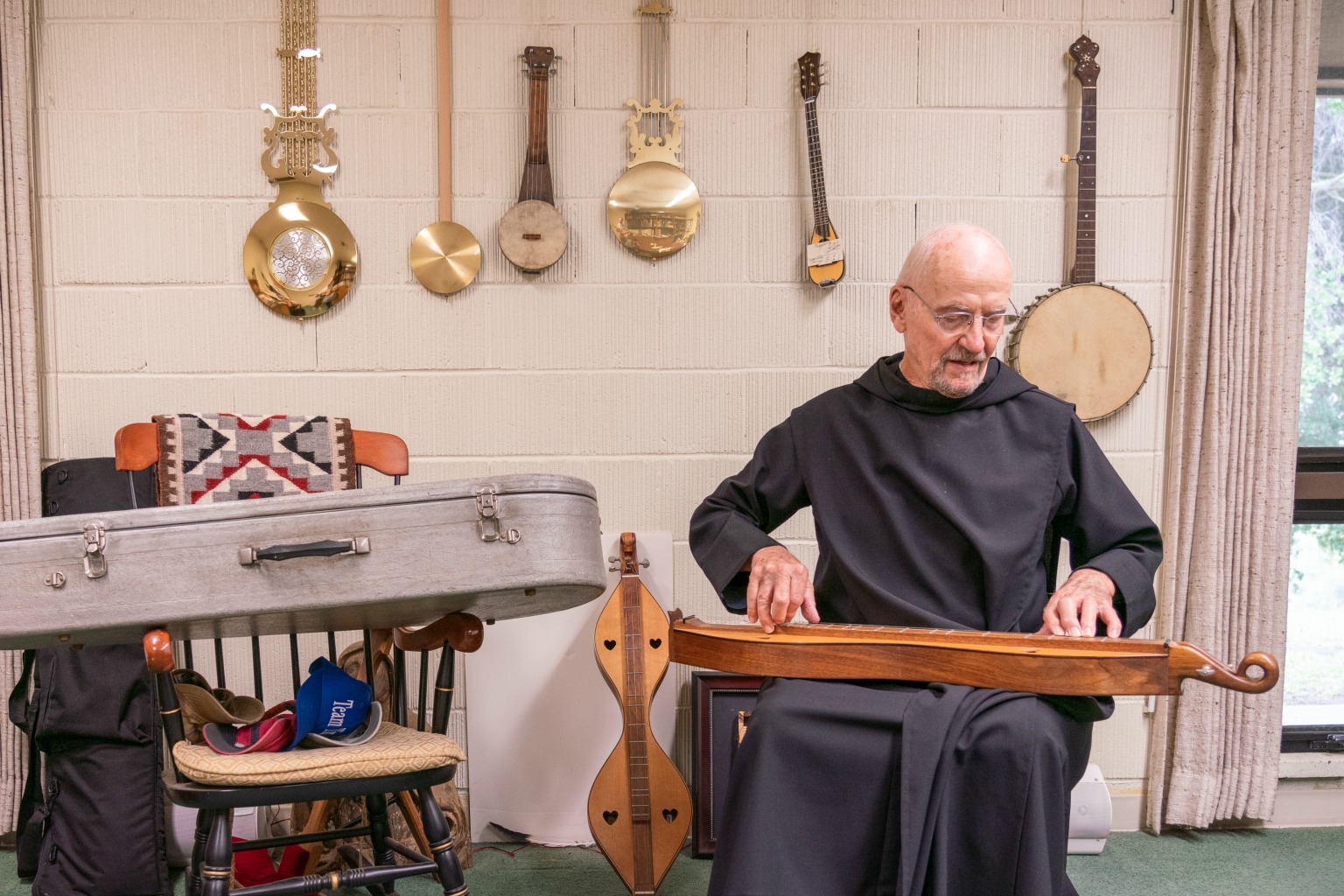 The son of a Catholic butcher who instilled a penchant for scrumptious craft ale, Fr. Martin was born in 1934 in Newark, New Jersey. He gravitated to the church after college, drawn to the lifestyle after being inspired by teachers in high school and college. "I liked the way they respected their students," he says. "The way they engaged in manual labor with vigor. And the balance of their lives… pray, work and be human." Fr. Martin arrived at Woodside Priory in August 1975 where he taught, among other subjects, social justice, ethics, art and photography.
Fr. Martin launched every photography class at the start of the year with the same assignment: Go out and shoot the alphabet using only nature, architecture and 24 frames of film as your resources. (With respect to the 26 letters of the alphabet, he'd exclude the I and O.) "How do you get a G?" he ponders today. "The idea was to get students to begin asking how they see and find stuff."
However, there was one interest that frequently led him back into the airy woodshop on campus that's part of the school's hands-on learning center. There, you'll find pictures of previously completed clocks hung on the shelf like trophies, halfway-constructed dulcimer instruments and a small tablet of plywood with "save for doorframe job" scribbled in Sharpie. This is where Fr. Martin created over 50 wooden pews now used daily in the campus chapel among countless refurbishing and handyman projects.
Fr. Martin is a woodworking autodidact, learning from a few mentors or YouTube, and in turn, he guides students through projects reflecting their own interests such as longboards and musical instruments. He relies on Woodcraft in San Carlos for securing specialty tools and, when it comes to projects, "If it's made out of wood or has strings on it, I'm there," he says.
"I see working with wood as this: Wood was something that was alive, as a tree," he explains. "The beauty of a tree is we're touched by it and then it's cut down. When you reconfigure it into something like a musical instrument, it has a second life. That's how I look at it."
Fr. Martin made his first clock in 1982 and is currently on number 36. The grandfather clocks are sold in the school's springtime auction and are often the fundraiser's pièce de résistance. The process for creating each clock by hand can take him up to 200 hours over the course of a year. Fr. Martin lifts inspiration from the Shakers and the clockmakers of early colonial America, however, with a modernist twist such as golden finials. He always begins with the side walls before building up to the bonnet, ensuring a sturdy base that can outlast tremors.
Although Fr. Martin spends so much time with each clock, his musings refrain from contemplating the ticking of time in exchange for considering more practical functions for these heavy, adorned centerpieces.
"I never thought a lot about time in terms of clocks but it occurred to me that a clock is not so much for telling time, rather, it's a statement," he says. "These grandfather clocks came out in the Colonial Period. Colonial homes had center hallways and people would gather around the clock to make important decisions. It's more than just a timepiece; there's a social dimension."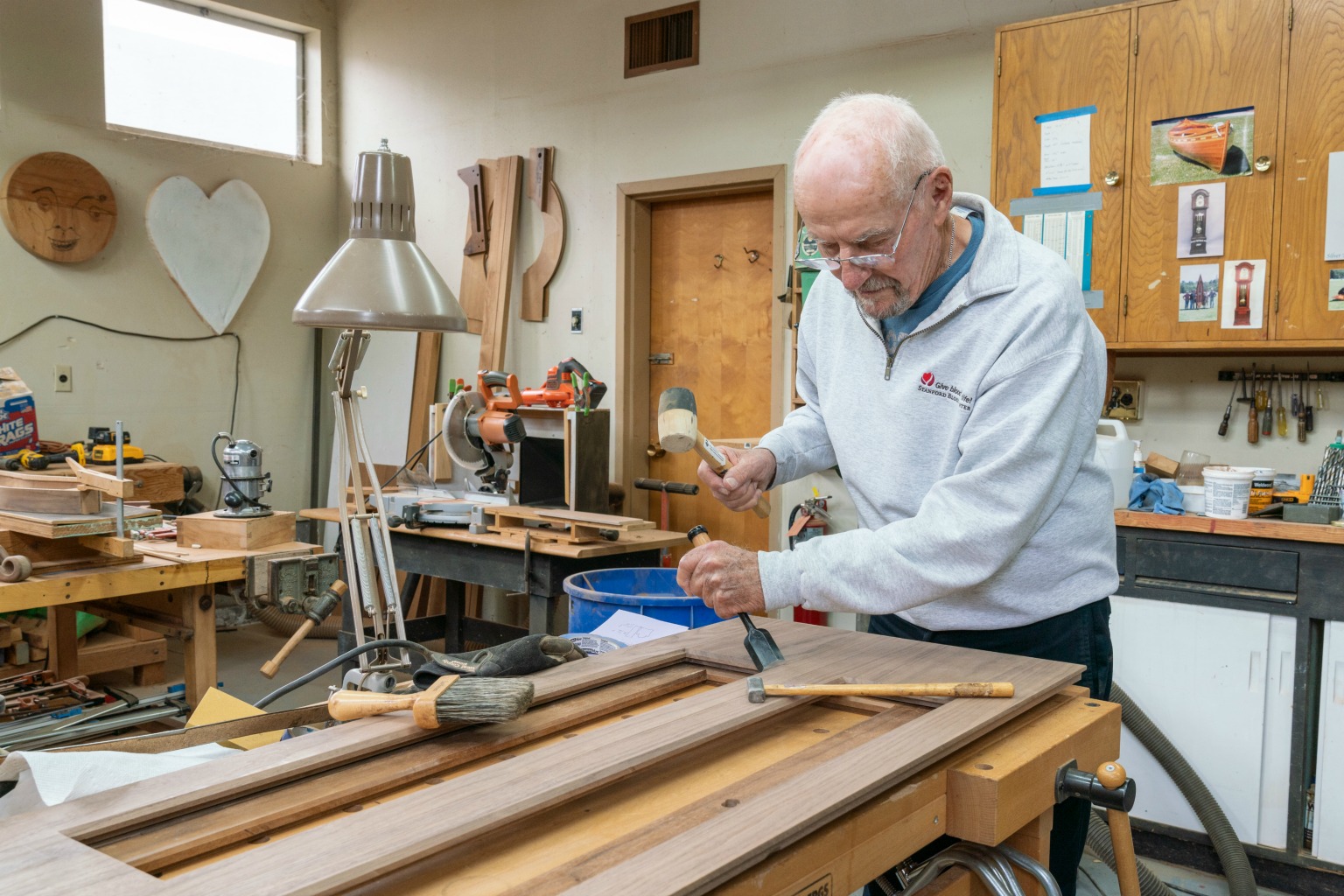 Fr. Martin retains visiting rights for each of his clocks (either to help refurbish them or to allow him to marvel at some of the details he had forgotten over the years) and likens his creations to the scores of students he's taught and mentored through the school.
"When you work with something for the amount of time you do, you put yourself into it," Fr. Martin says. "Once it goes to the auction, you have to let it go; it's like saying goodbye to your students. And then you look forward to the next one."
Before he chisels, before he lathers a piece of fresh mahogany with a finishing, Fr. Martin turns on his version of a radio. It's an outmoded iPhone equipped with Pandora where stations for bluegrass and country provide aural company. The miniature refrigerator in the corner holds a few bottles of Blue Moon Belgian ale and a flashing digital clock on the shelf reads 2:15AM, even though sunshine permeates the entire room. "Nobody cares about that," Fr. Martin quips, as he returns to his workbench.
Fr. Martin recently received a few slabs of handsome black walnut pieces from a church friend, which he'll use for the walls in next year's clock. He usually begins the process deeper into the school year but this autumn he decided to get a head start. Fr. Martin knows that if he applies a finish to this wood, it'll grow darker and more distinguished with time. Luckily for him, time is his specialty.