For Takeo Moriyama, chef-owner of Kemuri Japanese Barú in Redwood City, cooking is a lot like composing music.
It's a process of parsing an idea: trying combinations of notes, adding and subtracting elements, layering them and then adding a final touch that brings it all together. And yet, Takeo never planned on a career in the restaurant business.
Born and raised outside Tokyo, Japan, Takeo first came to the U.S. in 1999 to study music at Cabrillo College in Aptos. A fan of rock music, he plays a variety of instruments, including keyboards, drums and bass. He also says, unabashedly, that he loves composing.
After finishing his studies in 2003, Takeo returned to Japan, knowing that he eventually wanted to come back to the U.S. and establish residency. When he did return three years later, a friend who was opening a restaurant in San Jose offered Takeo a job in the kitchen. Takeo had no experience cooking professionally—he'd never even taken a class, let alone opened a restaurant—but he was a passionate, self-taught home cook. "I loved cooking for myself," he says. "If I ate something I liked in a restaurant, then I would go back home and figure out how to make it."
That process of figuring out how to make something started when he was young. His father was from Miyazaki on the island of Kyushu, known throughout Japan for its fresh, local food. Takeo's mother made what Takeo calls "Kyushu food" at home for the family. She also put her own spin on classic Japanese dishes.
"My mom made a beef stew with daikon radish, although it's traditionally made with carrot. It was a surprise for me, and I love it. When I go back to Japan, I still ask her to make it," he says.  Although Takeo didn't cook with her, the surprise and flavor of her dishes drove his curiosity to discover how to prepare some of those dishes himself.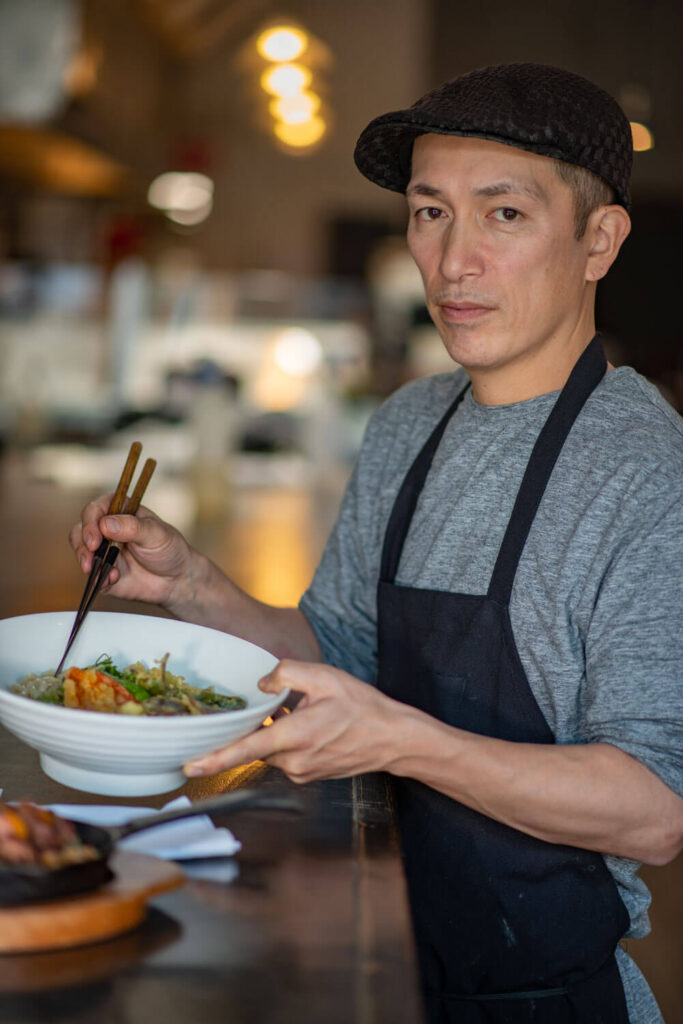 Armed with a love for cooking, an innate sense of creativity and the determination to figure things out, Takeo went to work in the kitchen at Sumiya Japanese Charcoal Grill in San Jose in 2006. The first year was rough.
"It was a lot of work," he says, shaking his head at the memories. He learned by doing—and by seeking support from the tightly-knit community of Japanese restaurant owners in the South Bay. "I would go to a restaurant and ask the owner how to make something, and they were helpful," he says. Takeo ended up running Sumiya's kitchen and training other cooks. He also learned to prepare food on the restaurant's yakitori grill, eventually specializing in this cooking style. When Sumiya's owner opened a second restaurant, Gaku, Takeo worked at both spots.
Around 2013, he developed the idea for a Japanese-style gastropub (izakaya) serving small plates; smoke (kemuri) would be the menu's central theme. "I wanted to change people's minds about what Japanese food is—that it's not just sushi," he says, noting that sushi is eaten only on special occasions in Japan. He also started developing and testing menu ideas early on.
"I had maybe 20–25% of the menu that I'd been working on, then over time I added the rest," he says. With the support of some loyal Gaku customers, he made plans to go out on his own. The original vision was of a large, modern interior with an open kitchen and lively bar in Oakland's Temescal neighborhood; however, finding the right space became a challenge, so the search moved to the South Bay, and then to the Peninsula. In 2014, Takeo finally found an available space in Redwood City that ticked all the boxes.
Reworking the interior was kept in-house. Takeo had in mind the look he wanted—industrial and modern—so he managed the design process himself. The result is a blend of traditional Japanese design elements with a modern-industrial sensibility. The plaster wall treatment, wooden bar fronting the open kitchen and dark-wood accents throughout Kemuri are a nod to traditional Japanese restaurant style. Metal cafe chairs, pendant lights and table bases and shelf supports made of pipes convey the modern-industrial look Takeo envisioned.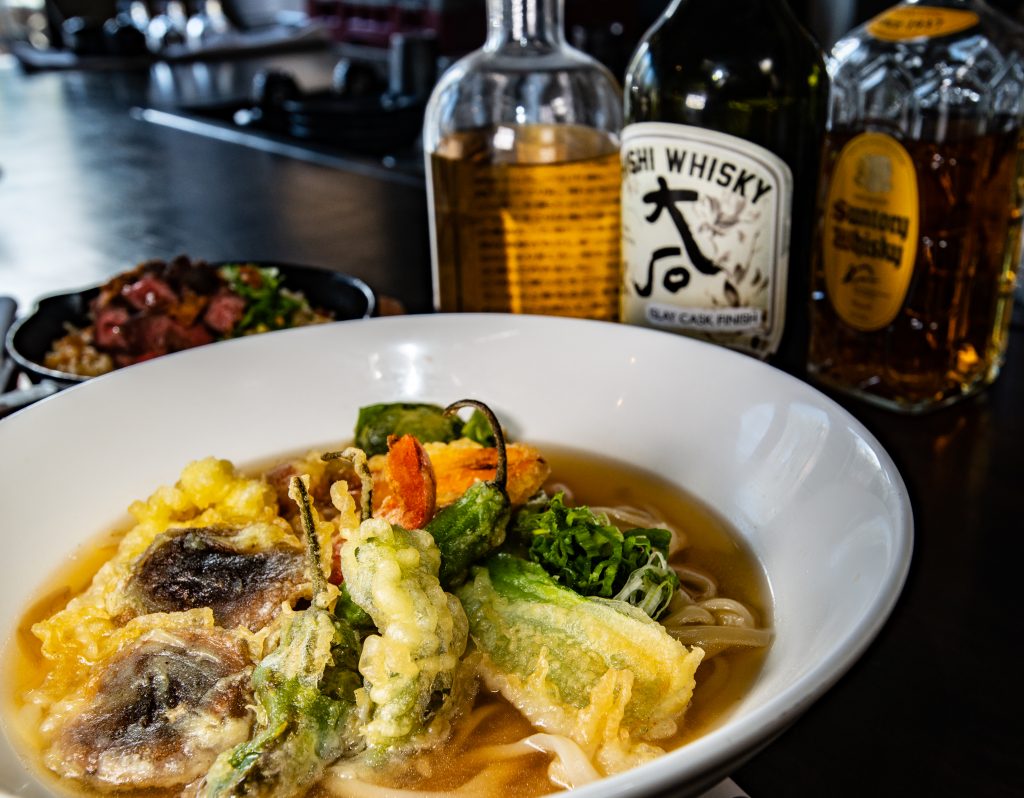 The restaurant opened in April 2015. Word of mouth helped build the business during that first year—and continues to factor into the restaurant's success. All dishes incorporate the restaurant's namesake ingredient in some way: through grilling, in-house curing or as a nuanced addition to sauces and condiments. Kemuri serves both lunch and dinner, although the menus for each differ somewhat. Because lunch customers tend to eat and go, the lunch menu focuses on dishes better suited to individual diners, such as salads and rice bowls, rather than shareable items.
The dinner menu, with its assortment of small shareable plates, allows diners to fully experience Takeo's creations. Binchō-tan grill options include a variety of meat, seafood and vegetables cooked on a high-temperature grill, heated to 1,800º F by oak-based binchō-tan charcoal. These fat, gray charcoal sticks give the grilled items their unique flavor, while high heat quickly cooks the food's exterior, leaving the interior tender. Other dishes might get what Takeo calls "flash smoke," a technique that uses hickory chips and a smoker he "MacGyvered" from well-worn cookware.
As with most small-plate restaurants, two to three dishes per person are recommended. Dishes to try include Marinated Red Caviar and Buratta, Octopus Carpaccio Salad, Beef Tongue from the grill and Yaki Oni-Benedict. Along with the regular dinner menu, Takeo offers a seasonal specials menu that is inspired by the Japanese food calendar and created using local ingredients.
And then there is omakase—translated as "I'll leave it to you." This off-menu option is available for two to four diners by advance special request only. Takeo, working with his sous chef, will create a unique meal of 5–7 courses that doesn't include any dishes from the regular menu.
While Kemuri's food menu is certainly a draw, don't miss out on the bar program; drinks are meant to be part of the izakaya experience, whether you pop in for a snack and a cocktail or settle in for a big night out. The drinks menu was designed to complement the smoky elements of the food, and there's something for everyone, with an emphasis on Japanese labels: beer, sake, whisky, shochu, as well as Japanese-inspired and seasonal cocktails. If you want to go all-in on the smoke, try the Smoked Manhattan. For a counterpoint, try the sweet-sour Kemuri Sour cocktail.
Although he never planned to own a restaurant, Takeo seems to have found his groove, creating new dishes and fine-tuning the menu "little by little," as he puts it, much like a musical composition that is never quite finished.