Sipping from a tiki cocktail glass while listening to a Hawaiian musician effortlessly singing "Somewhere Over the Rainbow" in the style of the late Israel Kamakawiwo'ole, you've forgotten that it's a chilly mid-fall Peninsula evening. Eyeing diners wearing floral-print Aloha shirts, you recall an intense overhead sun, cooling trade winds and warm ocean waves experienced on Hawaiian vacations past.
Noelani's Island Grill has been virtually transporting diners to paradise since 2013. To fulfill its motto, "Sharing a Taste of Aloha," the San Carlos restaurant located on bustling Laurel Street combines friendly service, inviting ambiance, island-inspired food and tropical drinks and Hawaiian music. Thrilled to bring joy into people's lives through her restaurant, owner Noelani Maestrini says, "Sometimes people need an escape, and they come here, and you serve that beautiful tropical drink, and they just go 'Aah.' Something as simple as an orchid or a drink umbrella can really brighten someone's day."
An open-air outdoor lounge area at the front of the restaurant facilitates drinks with friends, old and new, with an indoor dining area providing the backdrop for Hawaiian musical performances. At the bar, miniature Aloha State license plates decorate the chair backs. While waiting for your drink order at the bar, thumb through a Hawaiian/English dictionary to translate a word or two. The newly-enclosed back patio is an oasis for private parties or overflow seating. Reminders of Noelani's home state, like the Hawaiian island chain cutout above the kitchen's swinging doors, can be found throughout the restaurant.
Growing up in Hilo on the Island of Hawaii, Noelani has been working in food and hospitality as long as she can remember. Her parents ran a bakery pizzeria where she spent her formative years helping out in the kitchen. "I was this little girl wearing just a diaper sitting on a bucket watching my mom bake bread," she says. When Noelani was older, she helped her mom make deliveries of macadamia shortbread bars and pies to local supermarkets and hotels.
Looking to explore beyond the islands, Noelani moved to the Peninsula in 1998 to attend Notre Dame de Namur University in Belmont. She worked in local restaurants like Piacere Restaurant in San Carlos and developed a following for her bartending skills. When Noelani decided to open her own restaurant, naming the place after herself was a sound marketing move. Meaning "Heavenly Mist" in Hawaiian, "Noelani" sounds elegant and is easily pronounced by English speakers. Noelani and her husband Marco Maestrini assumed full ownership of the restaurant two years ago. Marco works in the background as the financial backbone and support system for the restaurant, while Noelani is the face of the operation. They live in Menlo Park with their two-year-old and enjoy quick access to ohana living nearby.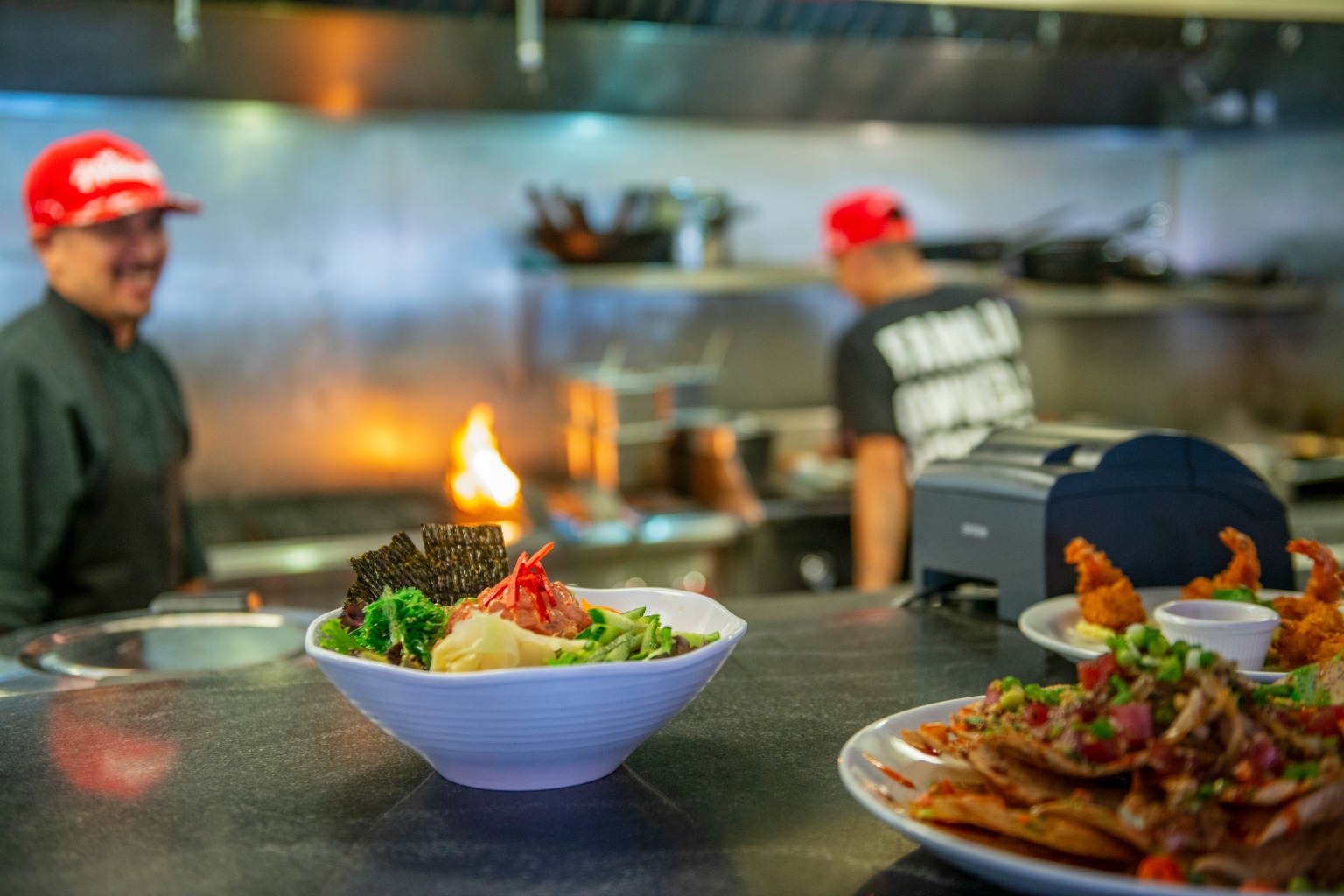 In creating the menu for the restaurant, Noelani based the food dishes on what she grew up eating. She's reinvented local Hawaiian dishes like short ribs, chicken katsu and poke bowls. "I make the recipes my own with something different or just make it the best katsu you've ever had."
Mochiko Chicken, a Japanese-influenced Hawaiian dish, uses Mochiko rice flour for breading. Noelani was inspired by this island favorite and updated the recipe to create her signature Shaka Chicken. "I took an existing food item and just twisted it, whether it's how we marinate the chicken that eventually gets battered and fried, or then taking it up a notch to sprinkle it with Furikake seasoning and drizzle it with our house sauces," she explains. The entrée, along with a scoop of white rice or Spam fried rice and a scoop of potato macaroni salad, rounds out an ono Hawaiian plate lunch.
Noelani thrives at the bar, her personal niche where she uses the same approach to crafting tropical cocktails as she does with the food menu. She didn't invent the Mai Tai, but she's certainly exceeded expectations with her full-kick version, the Kona Plantation Mai Tai. Ordering refills of the potent fruity-sweet, rum-heavy drink is maxed out at three drinks per person. The Volcanic Eruption, a bar favorite, is a drink Noelani created from scratch for Skyy Vodka's liquid chef competition. "The ingredient that makes it special is on the rim, Li Hing Mui powder," she says. The powder is a mix of sugar, salt and plum, a sweet-savory island craving that's arrived on the mainland, thanks to Noelani. Along with an extensive list of tropical cocktails, six draft beers are on tap with labels from Kona and Maui.
Under the haze of a tropical drink buzz and a satisfied tummy, it's time to leisurely enjoy a Hawaiian dessert. The Big Island Pie is a layered ice cream treat available by the slice or full pie in vanilla, a weekly special flavor or popular Kona coffee ice cream. The pies are handmade in-house and require several steps to assemble the Oreo cookie crust, layers of ice cream and chocolate fudge. Warm, sugar-covered malasadas, Portuguese donuts, are an understated choice that pairs nicely with a scoop of pineapple coconut ice cream.
If the island-inspired food and drinks don't get you thinking of Hawaii, the live Hawaiian music will. Seven different Hawaiian musicians trade off serenading the Thursday through Saturday evening dinner crowds. Noelani credits local Hawaiian musician Steven Espaniola with bringing music to the restaurant in the early days. Impressed by the already flowing island vibes, Steven decided to enhance the immersive experience through his and other musicians' performances. Hawaiian slack key guitar, ukulele and falsetto are all musical delights one might get to hear during his sets.
JD Puli, another Hawaiian musician, has been performing at Noelani's since 2015, once or twice a month with a regular slot on first Saturdays. "I always enjoy bragging about Hawaii. Being able to share Hawaii through music is just amazing and a big blessing to me," JD says. JD plays the backing music for hula dance troops, and his hula friends often follow him to Noelani's to hear more of his smooth-soaring vocals and to dance. "Sometimes there are 20 hula dancers in the aisles, and the wait staff has to maneuver their way around them to serve the other guests," says JD. "When there's a hula going on, that gets a big reaction. Everybody breaks out their phones to record it or take a picture."
Conversations are sparked and memories of Hawaii shared at Noelani's Island Grill. "Oftentimes I walk by a table, and I can hear them talking, and they're talking about Hawaii. It's always neat to see," says Noelani. "I've been able to take the hospitality industry that I love and turn it into a business to share with people where I come from and surround myself with the things that I miss."