words by Silas Valentino
A couple of years later, as his company prospered, John Geary was to remember that serendipitous conversation with his father one afternoon about accessory dwelling units.
The Sacred Heart School graduate was on the phone with his dad, a real estate developer, listening to grumbles about a stalled construction project near San Juan Bautista. John perked up when he heard how the city demanded that the project include a third more of the originally planned units. His father was perplexed about how to build more structures while keeping costs low.
John thought small. 
At the time, he was a 20-something-year-old working as a consultant in Chicago, but John and his colleague and friend Eric McInerney were exploring the idea of a joint venture. Although the roommates were not initially dead-set on launching a business of their own, they had complementary skills. Having met through their first job out of college, they became fast friends, with Eric exhibiting passion for architecture and design and John keenly focused on developing and perfecting a process.
This first-hand insight about the shift in the construction narrative in California grabbed them both equally.
"That's when we had a lightbulb moment," John says. "Traditionally, around housing, you'll see a city ask for fewer unit counts—not more units. We then put on our consultant hats and asked: 'What are ADUs?'"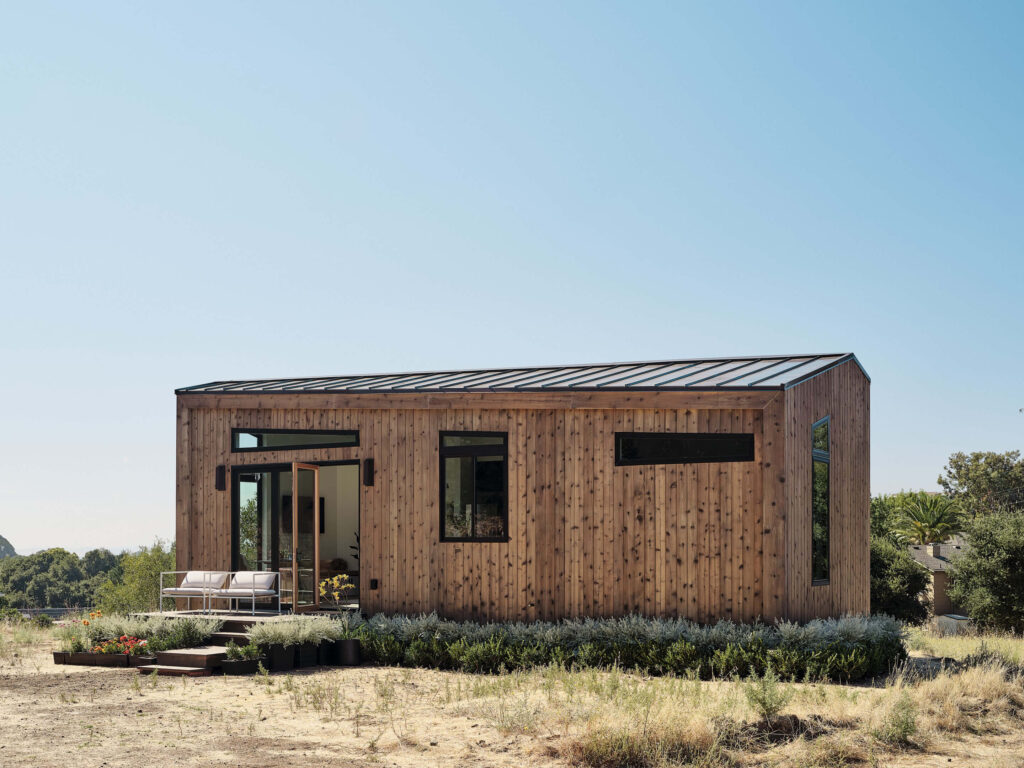 The duo analyzed California regulations for installing accessory dwelling units, often condensed to ADU, which is appropriate considering that they're abbreviated living spaces. 
California, in trying to address the need for additional housing units in towns and cities where there is a lack of buildable land, saw the prospect for adding liveable spaces to existing properties. The state leads in ADU innovation and passed new laws in 2020 that require cities and counties to develop a plan to incentivize and promote ADU creation while also streamlining the process of permitting and installation.
Installed in backyards and typically one or two bedrooms with a full bathroom and kitchen, ADUs have become a tool for cities to increase the supply of affordable housing and are also a boon for homeowners to boost the value of their properties. Nicknamed "granny" or in-law units, ADUs can also serve as guest cottages or secondary suites since they're permanent structures providing additional living space in the backyards of existing homes.
So, tapping into this trending-hot approach for creating additional housing, John and Eric founded Abodu, pronounced abode-du, in 2018, as a company to become synonymous with ADU. 
Based in Redwood City inside an open-floor building previously stacked with home appliances, Abodu transformed the space into a showroom where two examples of their models await walkthroughs and scrutiny. The company offers three models: a studio, a one-bedroom and a two-bedroom; prices start at $189,000 and range to $259,000. The company aims to replicate the ease of buying a prefab home with a keenly facile process for permitting and installation. 
"Why not make that even easier for the homeowners? If a homeowner wants to buy an Abodu, the permit is issued in a day," John says, citing San Jose and Palo Alto as cities that have taken the lead in streamlining ADU permitting. "And there are more cities coming down the pipeline."
Abodu homeowners on the Peninsula reflect a range of motivations—whether it's a couple purchasing a one-bedroom unit to allow for extra workspace and a guest bedroom or a widow in Millbrae looking to enhance the value of her property.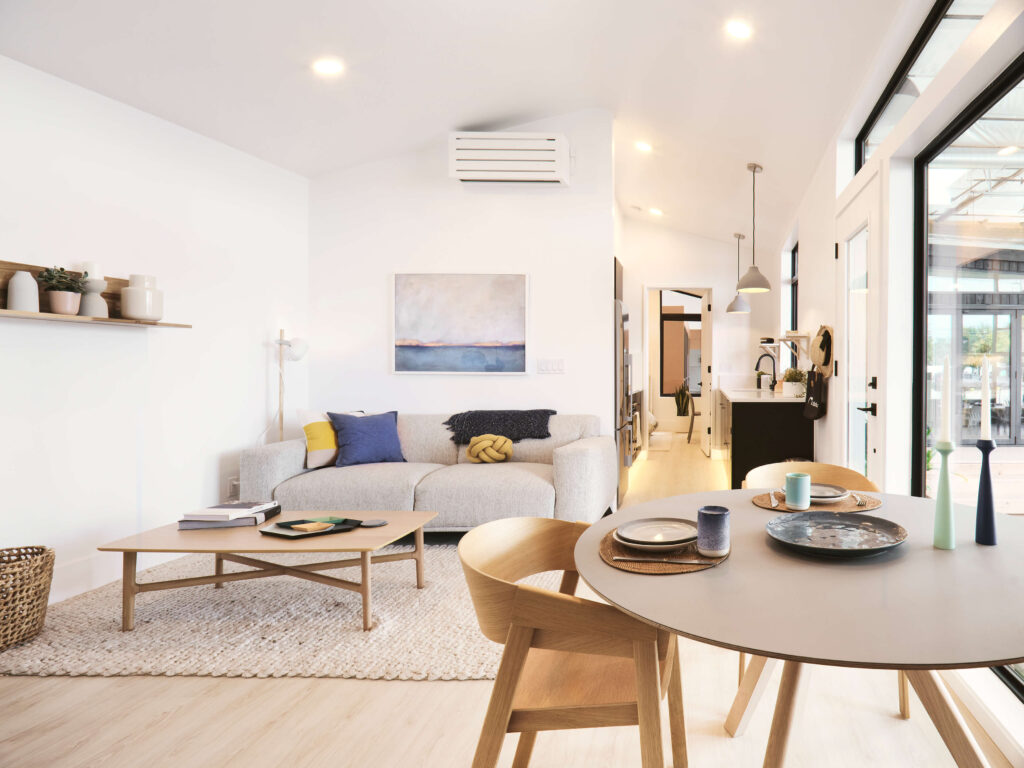 Abodu arrived just as California communities were stretching to reach their Regional Housing Needs Allocation targets, the state mandate that requires towns and counties to plan for the housing needs of residents. ADUs are instrumental for meeting housing demands in part because it's the homeowner, not a mass developer, who builds them. This localizes construction while minimizing impact on neighborhoods. John calls it "subtle density" as he disarms worries about building in an established community. "ADUs are widely accepted because they're not blocking views or taking up five acres to build," he reasons.  
From start to finish, a typical Abodu project takes around four months. The construction of an Abodu unit occurs offsite in a network of factories across the West. The unit arrives at the property on the back of a truck while a crane awaits for the house hoisting. The unit is placed on a foundation before Abodu sends in a contracting team to fully install, electrify and activate the home.
Gawking at a crane delicately placing a dwelling unit into a backyard has become a spectacle in some Peninsula neighborhoods. It's not unusual for folks to step outside onto the street to gaze at the bewildering display. "It's a bird, it's a plane, it's an ADU! Thanks Abodu for dropping San Jose's first pre-approved ADU downtown!" wrote Mayor Sam Liccardo of San Jose in a tweet last year, accompanied by a picture of a levitating Abodu.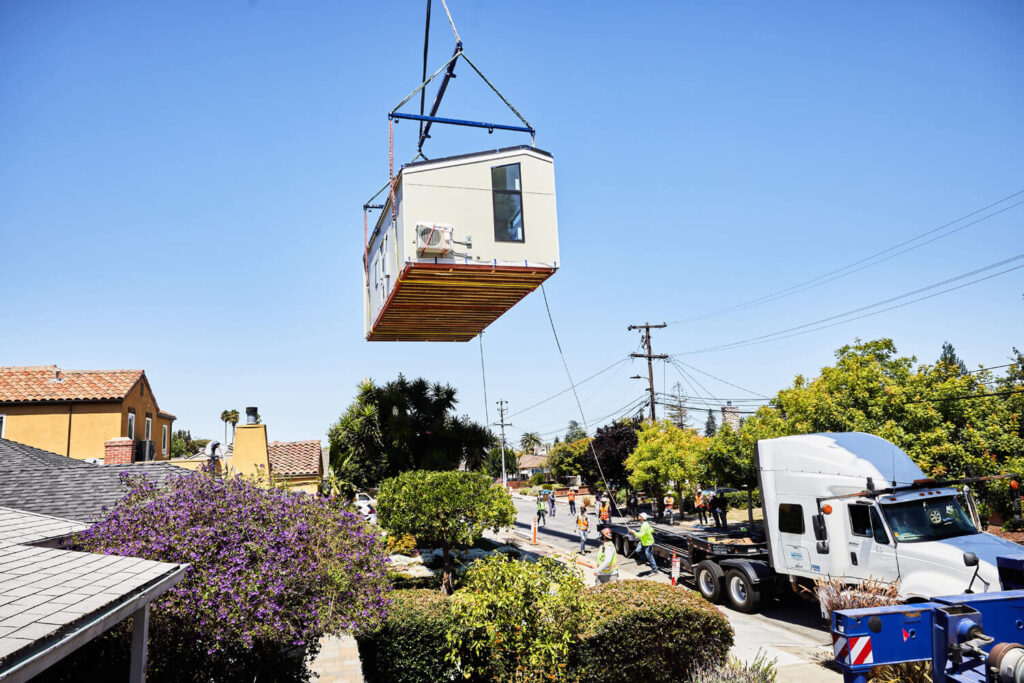 John describes his company as a win-win-win for homeowners, cities and his business wherein needs are met while no party is exploited. It's a company value worth promoting since Abodu is at the vanguard of the industry. Although the company is relatively new, it's already an elder statesman of ADUs.
"As a two-year-old company, we're already a dinosaur in the industry and the longest one working in the area. There's no Walmart or 500-pound gorilla in the room to look at to emulate," John says. "One of the biggest challenges we have to define is what does a company like this categorically look like? It's small iterations as you go."
When touring an Abodu unit, the company's emphasis on design and livability reveals itself. There isn't an unused square foot in the floorplan but the livable layout is not cramped or claustrophobic. The studio unit has a hideaway bed tucked behind the couch while the two-bedroom unit has more closet space than some San Francisco apartments. The windows are cut to maximize natural light while the appliances (even down to the minute level of the cabinet pull levers) are optimized for style and function.
It's the homey touches that distinguish Abodu from creators of prefab tiny homes or basic converted living spaces. John explains how the company creates a home for the inhabitant and not necessarily the homeowner or builder. 
 "If a homeowner isn't installing an ADU for themselves, it can be a baseline level of nice," John says, justifying Abodu's ultramodern design. "There had been a disconnect between purchasing an ADU unit and living in the unit."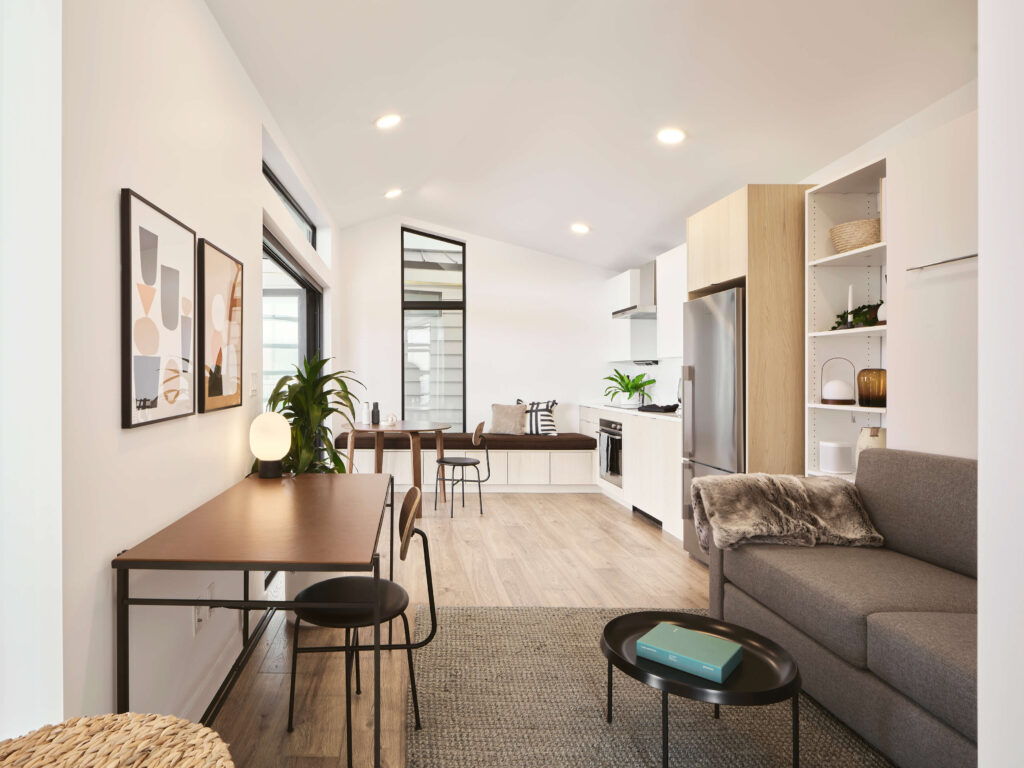 John's early roots in construction uniquely prepared him for this career. His summer job in high school, when he didn't have two-a-day football practices, was helping on construction project sites around the Peninsula—whether it was scooping up nails or clearing out drywall.
"What I loved was seeing all of these trades on site. You'd have several homes being built at once where there were ones already framed but needed plumbing, or homes that needed the electrician to come. It was really cool to see that progression; why does it take three weeks to go from framing to plumbing?" John says. 
His observation details a shift in the narrative for building on the Peninsula that spans generations.
"What's fascinating is that my dad would talk about a project for five years because it took that long to get fully titled," he says. "The fact that it only takes a day to get an Abodu permit is incredible."