Growing up in Bern, Switzerland, Ursula Schnyder fondly remembers coming home from school each day to a warm, inviting kitchen. Every afternoon, her mother greeted her with the same snack: dark bread, a glass of milk and a small piece of Swiss chocolate. That daily indulgence became one of Ursula's sweetest childhood memories—to the point that decades later, it reshaped her destiny as an adult. "My mission is to create Swiss chocolate like nobody else here in this country," Ursula says. "I really wanted to bring that here, to show this Swiss craftsmanship of chocolate."
Although Ursula recalls being drawn to the kitchen at an early age, her parents steered her in a "more practical" direction. She heeded their advice and pursued a career in journalism. Through her work as a foreign correspondent, Ursula, along with her husband and two children, moved to Palo Alto in 1994. As both life and career advanced to 2010, Ursula found herself writing a story on the food revolution in the Western U.S. for a national Swiss newspaper, Neue Zürcher Zeitung. "I reported to the Swiss readers that Americans actually eat more than just french fries," she says wryly. As Ursula spent time immersed in the culinary world, the feeling of being at home grew in force.
Ursula remembers thinking, "What am I doing? I really want to be in the kitchen." That recognition inspired her to quit her job and chase her childhood passion, leading to the creation of SWEET55 in Half Moon Bay. Why SWEET55? Ursula was 55 when she started the business, and the name represents the ability to reinvent yourself and launch a "second career," regardless of age.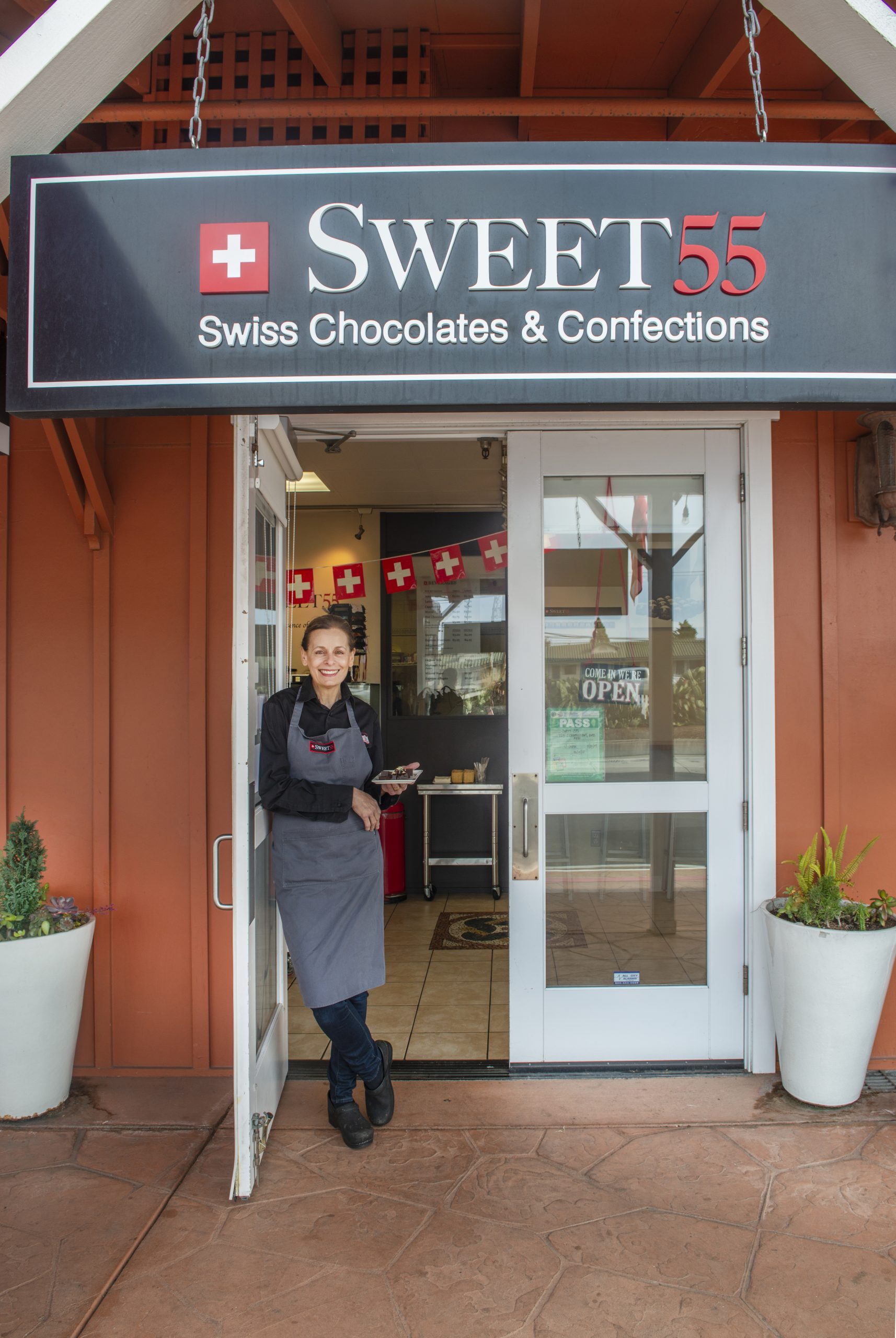 The first step in Ursula's new adventure was professional training. She spent six months at the San Francisco Baking Institute followed by two years in Switzerland training under an award-winning Swiss chocolatier. However, she acknowledges that other vital ingredients contributed to her success. "I rely on my curiosity, creativity and love for the food," she shares. "Additionally, my mother's steadfast belief in me is a strength that I always carry with me."
Ursula launched SWEET55 in 2013. Initially, she worked out of a small test kitchen she built in her backyard cottage in Palo Alto. "It was a fantastic opportunity for me because this allowed me to develop my products without any commercial pressure," she says. In 2014, she moved into a shared commercial kitchen in Redwood City. After two years, SWEET55 needed more room, so Ursula began to search for a new venue. When a space was offered to her in Half Moon Bay, she jumped at the opportunity: "The cooler climate is actually really good for chocolate."
SWEET55 has a small, inviting storefront with a kitchen behind it and then a large storage room. A glass window separates the kitchen from the store so customers can witness the chocolate-making process. Surrounded by a plethora of equipment and sheets of chocolate ready to be cut, Ursula oversees it all with buzzing energy and a powerful presence. In one corner stands the coating machine, fondly named "Rolls Royce." As the chocolates are loaded onto the wire mesh conveyor belt, a constant stream of creamy, divine chocolate flows like a fountain of silk.
The first step in SWEET55's chocolate-making process is procuring the couverture—high-quality chocolate sourced directly from Switzerland. It's critical to know how to temper the chocolate—bringing it into a working state—just right. Tempering is not just melting chocolate over heat. According to Ursula, it's a complex skill. "Technique is a very important component," she explains. "There is an art to it that you have to learn and develop through hard work."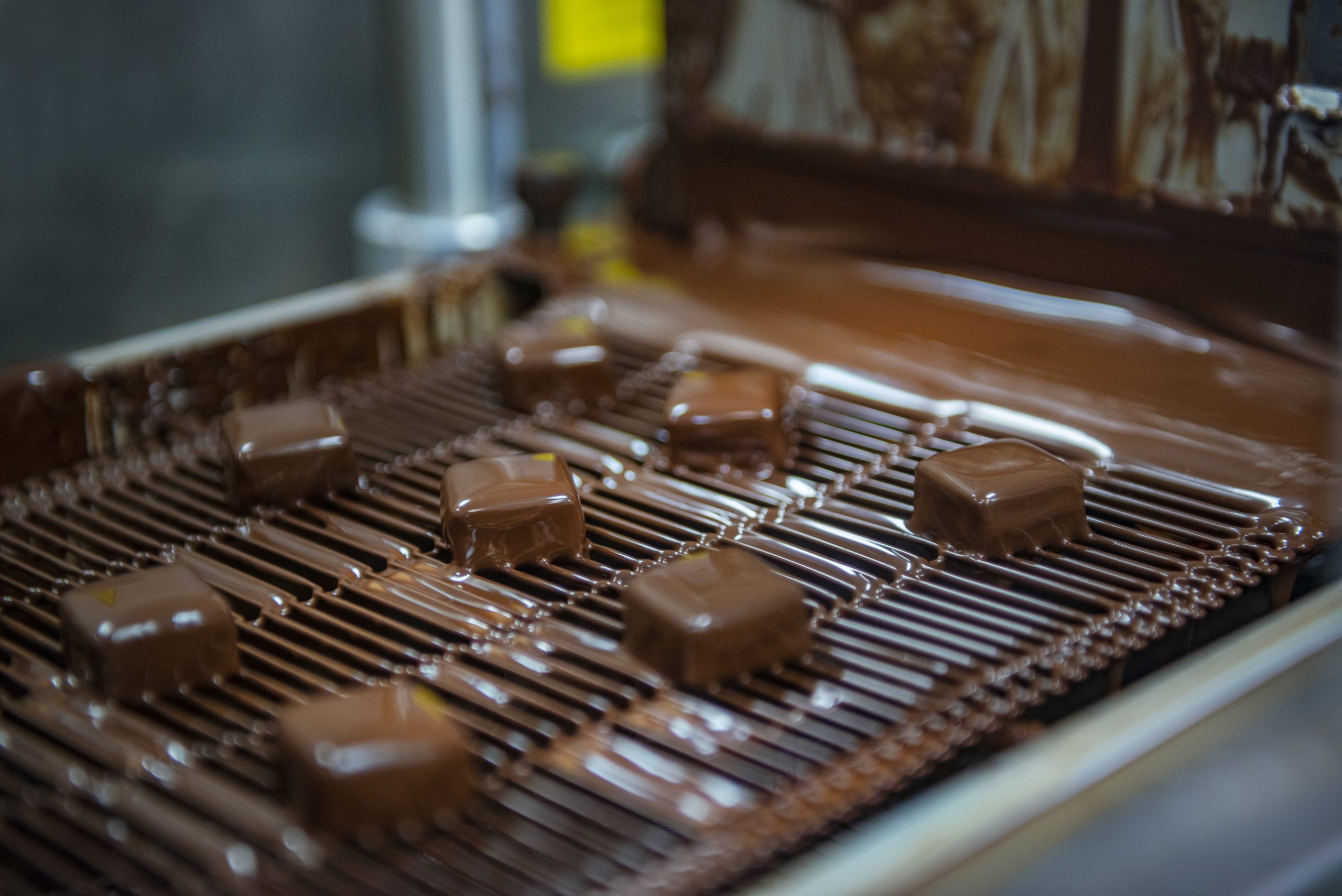 SWEET55's mission, and tagline, is "enhancing the essence of chocolate." Ursula achieves this by adding a creative mix of ingredients to the base chocolate. SWEET55's logo is another distinguishing element: an outline of the Eiger mountain, one of Switzerland's most challenging climbs. Conveys Ursula, "I like the idea of using this mountain to symbolize the challenge of starting a business later in life."
SWEET55's flagship Eiger chocolate—almond gianduja with orange caramel crunch—uses 3D printing technology to precisely contour the real face of the mountain. The Caramel Muscovado, another of Ursula's own inventions, has a dark chocolate shell and is filled with award-winning caramel that carries a hint of balsamic vinegar and alpine salt. Before you bite into any of SWEET55's assortment of treats, you'll want to admire the exquisite hand-painted details, gold dusting and splashes of color. And while Valentine's Day isn't celebrated to the same extent in Switzerland, Ursula produces a variety of exquisite chocolate hearts—a mix of online and in-store selections—including romantic confections airbrushed in pastel French floral patterns.
Complementing the beauty of the chocolate is SWEET55's packaging—Ursula is very deliberate with the boxes she designs, effectively creating art within art. Corporate clients, online and storefront sales all contribute to the business, along with chocolate master class and tasting workshops. World-famous cellist Yo-Yo Ma, a chocoholic and SWEET55 customer, sent Ursula a CD with a handwritten thank you note, "To Ursula, OMG, they are heavenly." Celebrity and James Beard award-winning chef Lidia Bastianich also came to the store. "These are the best chocolates I have ever had," she proclaimed, to Ursula's delight.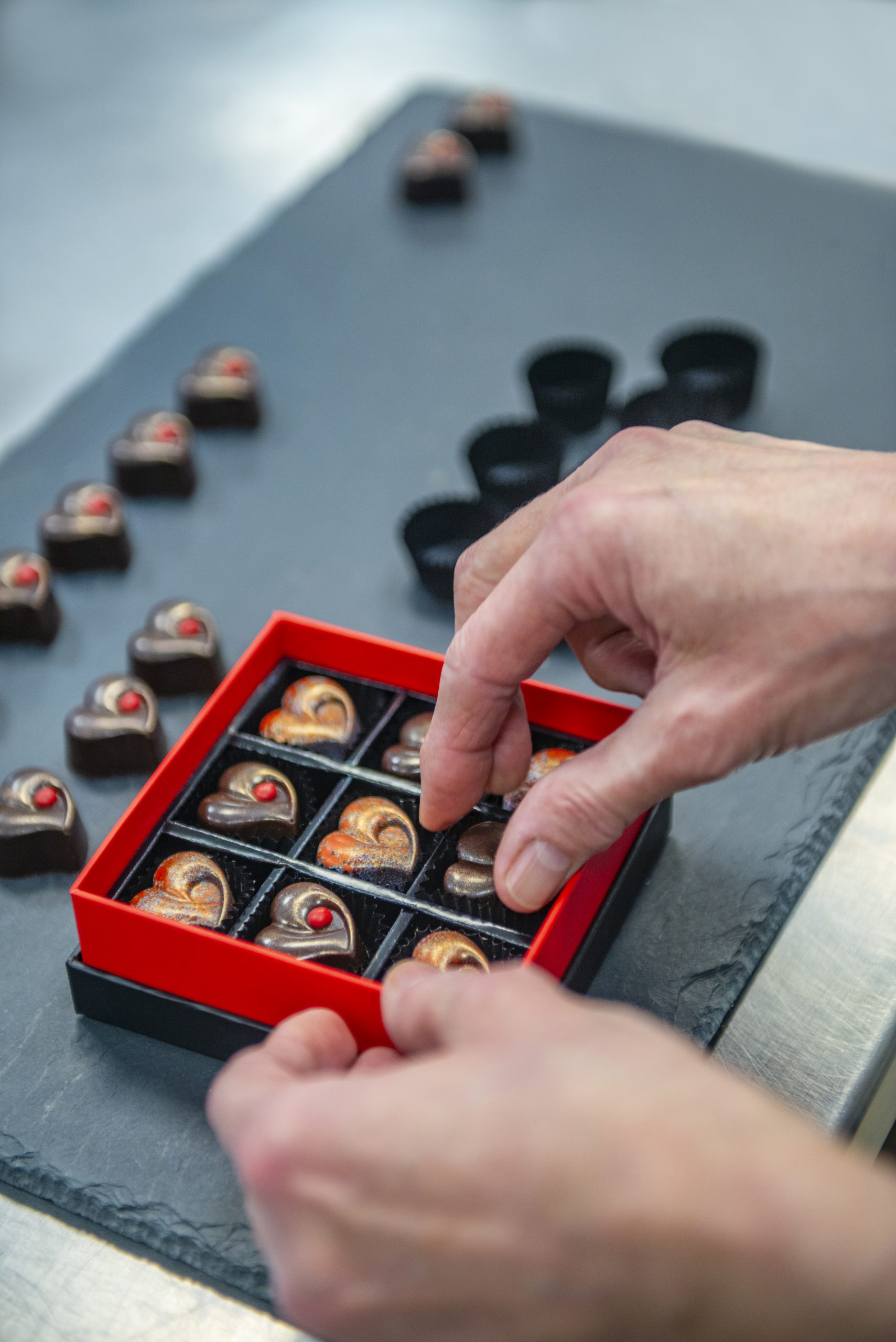 While there's an industry trend towards dark chocolate for reputed health benefits, Ursula feels strongly about SWEET55's focus. "We are not in the health business—we are in the happiness business," she says. "We are creating a product that makes you feel good and that's super enjoyable to eat."
If you stop by the store, along with specialty chocolates, you'll also find a selection of coffee drinks and Swiss confections including Nussgipfel (nutty croissants) and Swiss Bricelets (thin, crispy wafers baked in a special waffle iron). Noting the shop's growing list of regulars, Ursula likes to imagine customers creating their own special memories. She smiles at the thought of a child being greeted after school with a hug… and a delicious piece of SWEET55 chocolate.