Gourmet Haus Staudt
Redwood City
Embrace the sunny splendor as we head into summer by indulging in the German pastime of frühschoppen, a tradition that roughly translates as "an alcoholic drink before midday in company." Where else on the Peninsula is better equipped to honor this Germanic ritual of combining suds with buds than Gourmet Haus Staudt? The longtime downtown fixture is half grocery store, half full-fledged restaurant and bar. The backside biergarten offers a row of wooden picnic tables for exploring the 20 beers on tap and is an ideal outdoor hang for dipping into some German grub such as bratwursts and a doughy pretzel so mighty it barely fits on the tray. The outside area is dog-friendly (with water bowls waiting), so it's also a perfect post-hike destination. 2615 Broadway, Redwood City. Open Monday from 3PM to 9PM; Tuesday and Wednesday from 10AM to 10PM; Thursday to Saturday from 10AM to 11PM and Sunday from 12PM to 7:30PM.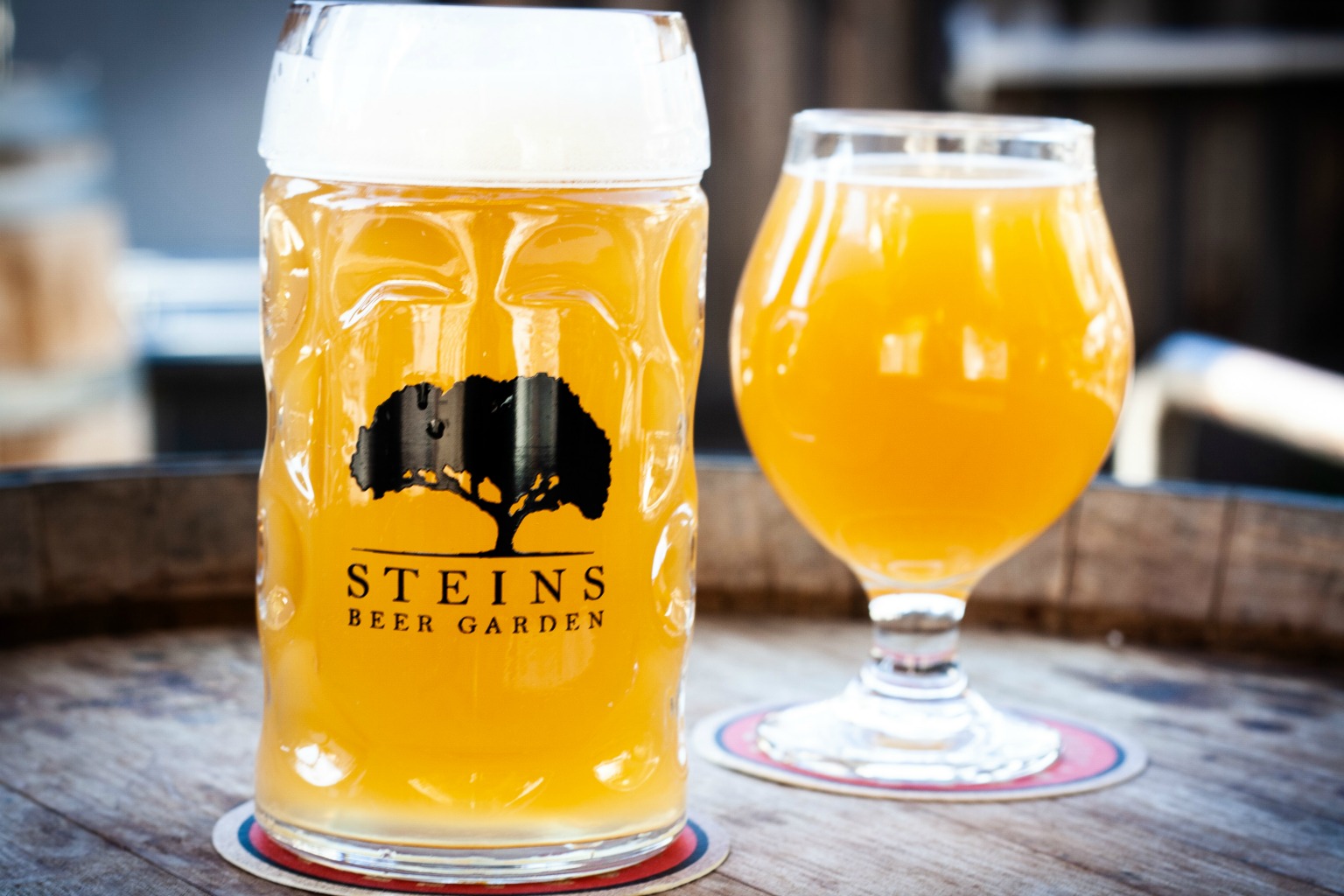 Steins Beer Garden
Mountain View
The first thing to know about Steins Beer Garden is that the beer list for their 32 taps is available online, it's updated throughout the week and it runs deep with global flavor. Sure, there are some local favorites like Almanac Beer Company's VIBES pilsner from just across the Bay in Alameda, but this taproom has a passport. The Doppelbock Dunkel dark bock hails from Andechs in Southern Germany, the Berliner Weisse is a new spin on a classic Berlin sour, while the Hitachino Nest White Ale is a Belgian-style brew that mixes orange peels and nutmeg made in Japan. At Steins, a lifetime of globetrotting for beer tasting is reduced to a single afternoon in Mountain View. 895 Villa Street, Mountain View. Open Monday to Thursday from 11AM to 11PM; Friday from 11AM to 12AM; Saturday from 10AM to 12AM and Sunday from 10AM to 10PM.
47 Hills Brewing Company
South San Francisco
A microbrewery worthy of a few rounds before an SFO departure, 47 Hills Brewing Company covers all the bases for a gratifying beer garden: a dog- and kid-friendly atmosphere, an airy taproom and polished outdoor seating, an inspired beer list ranging from a New England IPA to a strong Belgian quadruple ale plus a 1954 Chevy "handyman wagon" parked indoors to add a little laid-back character. Not to mention the dozens of surfboards suspended throughout the room, which cast a carefree spell over this easygoing brewery. Since opening in 2012, 47 Hills has won over crowds with its full menu of bar staples (truffle fries included) and idiosyncratic brews such as the Yelling at Cars! pilsner. Accosting automobiles has never tasted so refreshing. 137 South Linden Avenue, South San Francisco. Open Tuesday to Friday from 3PM to 10PM; Saturday and Sunday from 12PM to 10PM and closed on Mondays.