Words by Johanna Harlow

Be it with Mexican chiles, chipotle or chicharron, get inspired for Cinco de Mayo.
san agus cocina
Palo Alto
Make the acquaintance of Chef Manuel Martinez through San Agus Cocina. Both the menu and space reflect the chef's childhood in Mexico City's San Agustin borough, including a mural with sights and flavors from his hometown. Meanwhile, the menu is a love letter to Mexican street bites (antojitos), which means an abundance of taco options with meat prepared in a variety of tasty ways. There's carne asada and birria (for beef lovers); al pastor, carnitas and chorizo (for those who prefer pork); chicken tinga and, if you're feeling adventurous, lengua (beef tongue). All are served on picture-perfect wooden boards. 115 Hamilton Avenue. Open Sunday to Monday from 12PM to 9PM; Tuesday to Thursday from 12PM to 9:30PM; Friday to Saturday from 12PM to 10:30PM.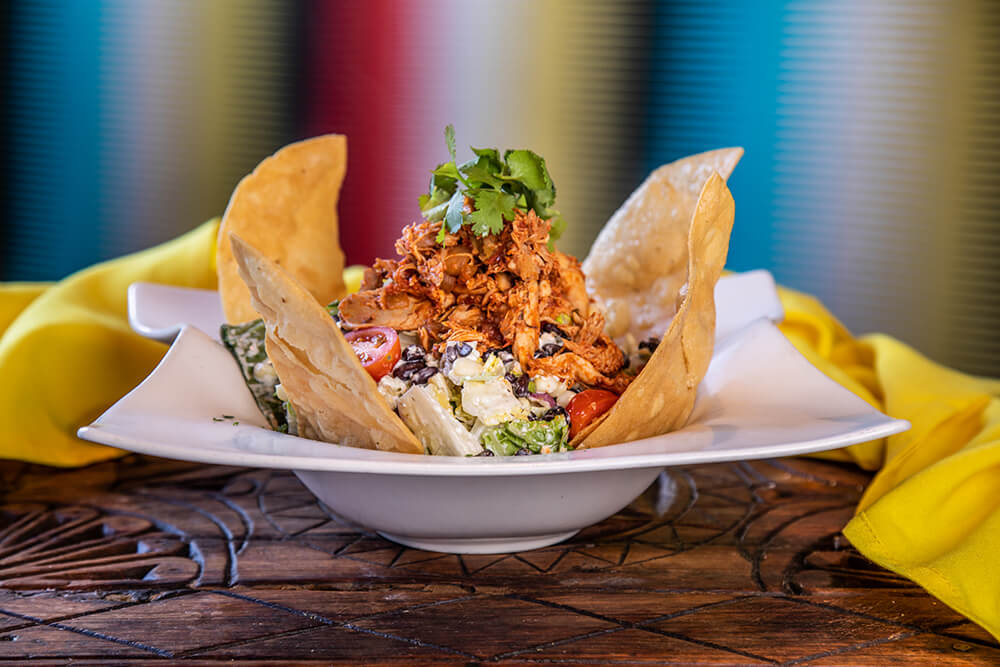 Photography: Courtesy of Dahlia Mexican Grill
dahlia
San Mateo
Dahlia—a restaurant residing in a former 1920s bank—has exchanged bonds for burritos in downtown San Mateo. A bold take on contemporary Mexican cuisine, the menu blends Peruvian, Argentinian and Nicaraguan techniques and ingredients. Visit in the evening for the sinfully tasty Devil's Shrimp (sauteed prawns with habanero peppers) alongside a prickly pear margarita—or swing by on a Sunday morning for huevos rancheros and a pot of cafe de olla (traditionally brewed Mexican coffee with cinnamon, cloves and piloncillo cane sugar). Within, the muraled walls display giant dahlia flowers (which are not only the restaurant's namesake but also Mexico's national flower). 164 South B Street. Monday to Thursday from 11AM to 9PM; Friday from 11AM to 10PM; Saturday from 10AM to 10PM; Sunday from 10AM to 9PM.

Photography: Johanna Harlow
cafe del sol
Menlo Park
¡Bienvenidos! Café Del Sol ("sol" translating to "sun") lives up to its name, radiating mom-and-pop coziness with sunshine yellow walls and a warm waitstaff. With its fresh take on classic Mexican recipes, you'll enjoy a host of authentic options—right down to the chips and salsa (the green salsa and mango salsa both have their devotees). In homage to its locale, the Menlo burrito is a combination of chicken and beef bolstered with chipotle sauce, salsa fresca, sour cream and guacamole. You might also consider the tantalizing enchilada de mariscos (grilled seafood blanketed in an earthy adobo sauce and a drizzling of chipotle tequila cream). 1010 Doyle Street. Open Monday to Saturday from 10:30AM to 2:30PM and 4:30PM to 9PM. Closed Sundays.