Serving Up a Family Legacy of Food

 

and Hospitality on the Peninsula
words by Anni Golding
If you've lived or worked on the Peninsula even for a minute, then you know about Cafe Borrone, the popular European-style cafe in Menlo Park. Maybe you've stopped in for breakfast, lingered over a first-date dinner or just hung out on the patio, enjoying a frosted mocha. 
 Created by Redwood City residents Rose and Roy Borrone, the eponymous eatery has been a local favorite for more than 40 years. Customers who visited the cafe as kids now bring their own children. 
 Native San Franciscans Rose and Roy moved to Redwood City in the mid-1960s, and in the span of seven years, had five children: Tina, Alisa, Marina, Peter, and Kristi. "My parents always entertained long before the restaurant," says Marina. "I don't remember ever not having a full house."
 Roy, a businessman with a creative bent (he's also a painter), worked in insurance and real estate and also managed bands. "My mom was constantly cooking for all of these musicians who were coming over," recalls Kristi.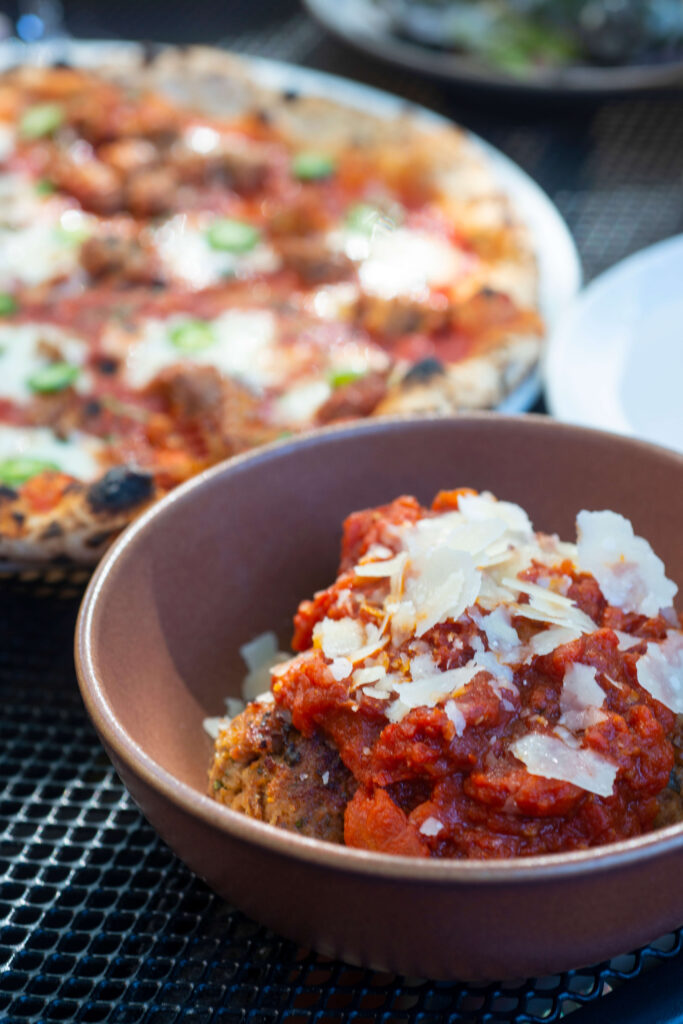 They opened the first Cafe Borrone in 1979 in a downtown Redwood City building that Roy owned. Rose ran the kitchen with family friend Bob Day, while Roy "loved being at the front of the house, in the center of attention," remembers Marina. 
 However, these were the days of "Deadwood City," when "there just wasn't much going on at night," says Peter. So, in 1989, Rose and Roy took the opportunity to relocate to Menlo Park, reopening the eatery as a counter-service cafe next to Kepler's Books. And the rest is Peninsula history. 
Rose and Roy are now retired from the restaurant business, but three of their brood—Marina, Peter and Kristi—are committed to carrying on their parents' legacy of good food and warm hospitality.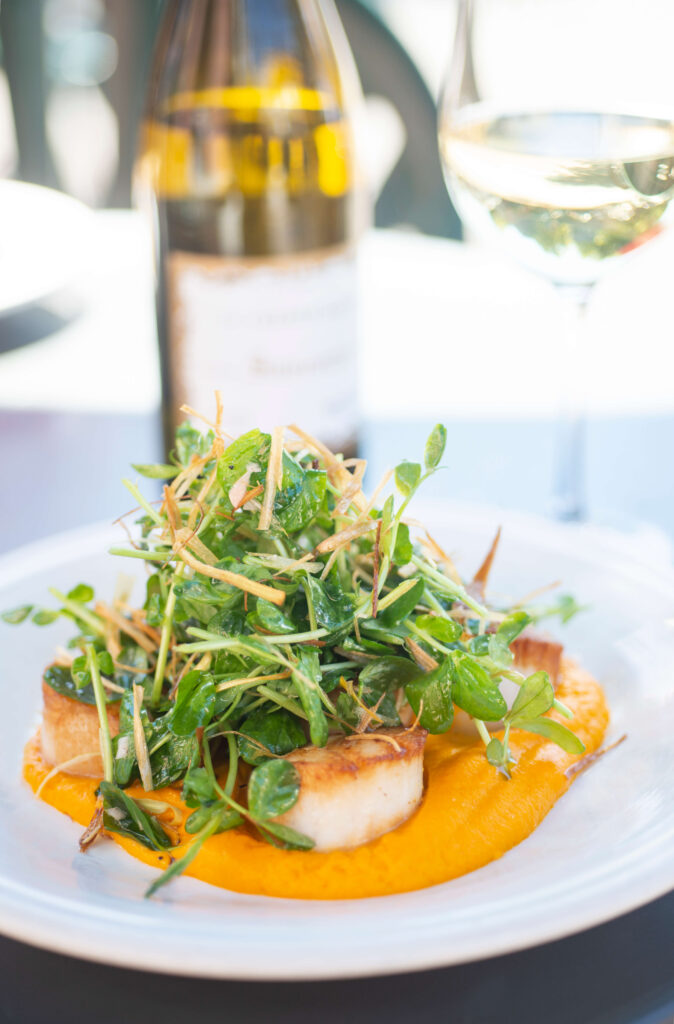 Marina
It's no small feat to keep a restaurant going for four decades, especially in the current climate. Overhead costs are high, margins are notoriously thin and customers can be fickle. And yet, Cafe Borrone remains a part of the Peninsula dining scene, 42 years on. 
 Marina Borrone was eight years old when her parents started the cafe, and just 22 years old when she took over running the business. Being a restaurateur was never her plan, but a year after the cafe opened in Menlo Park, Roy had some health issues, and Marina started taking on operational duties while still a college student. After graduation, she jumped into a full-time management role, while Rose handled the kitchen. It was a good fit. "I saw it as an opportunity to get to dabble in each area," Marina explains. "You get a little bit of HR, you get a little bit of the books, you get a little bit of the front of the house and you get to be in the kitchen."
 Her older sisters, who had less interest in taking on the management side of things, followed their own passions and contributed to the cafe in other ways. Tina, a trained pastry chef who created many of the cafe's luscious treats, preferred to be in the kitchen, and Alisa had a passion for landscape and design. "I would go to Alisa to design a poster," or for other projects, says Marina. 
 From the beginning, Marina had her own vision for the cafe, which included maintaining the ambience and community that originated with her parents, while moving the business forward. She created infrastructure, slowly transitioned the menu to use more organic ingredients, and in 1998, completed an expansion that doubled the size of the kitchen and increased interior seating.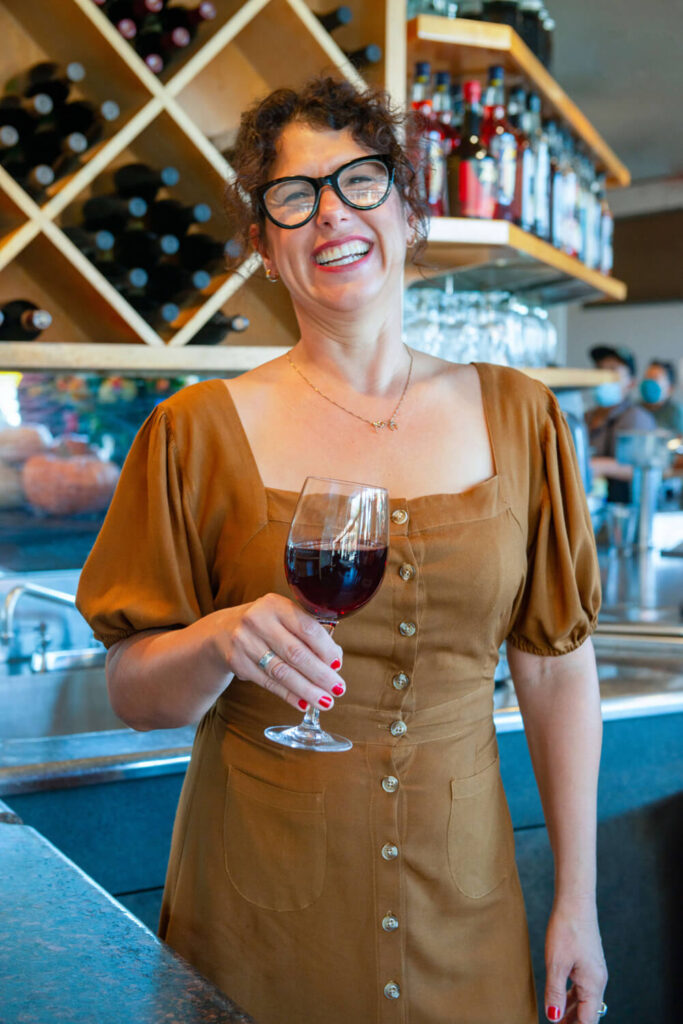 Over the years, the cafe has been a hub for family members, not only personally but also professionally. It was a training ground for siblings Peter and Kristi, as well as for their spouses Courtney and Zu. "Everybody worked for me," notes Marina, "and they learned a lot. They learned systems. And they all learned from my expectations and structure."
Marina admits that running the cafe has not been without its challenges. She's juggled the pressures of overseeing everything at the eatery—which pre-pandemic employed a staff of 70 and saw 600 customers a day—with being a single mom to three boys. "I'm very hands-on," she says. "I do everything here."
 Pandemic-related shutdowns hit the cafe hard, and there was a real possibility of losing the business. A self-described go-getter who never wanted help, Marina turned to GoFundMe to ask customers and community for support. Donors came through, "jumpstarting us to pay off bills and get deliveries again." 
 If there's one positive aspect of the mandated closings, it's that Marina was able to rest and reassess. Since reopening the cafe, she's reduced the operating schedule to five days a week and plans to keep it that way for the foreseeable future. She's also closing the book on Borrone MarketBar, the short-lived passion project she created behind the cafe. It involved a significant investment of time, creativity and funds, and she's held onto the assets since ceasing operations. But now, "I'm selling it. I just decided that I need to make this happen; I can't juggle everything," she says matter-of-factly, adding, "I'm outnumbered by teenagers," referring to sons Oliver (19), Max (16) and Nico (13).
As to what's next for the cafe, she's modifying the liquor license to "maybe have a couple Italian drinks, like Campari." She's also considering paring down the menu, although longtime favorites, like the Frosted Mocha (which her dad created "on a whim" during the Redwood City days) and the Chicken Salad Sandwich aren't going anywhere. 
 In May 2021, Marina hired Julia Sommer as a general manager to take on the day-to-day management so that she can focus on big-picture issues and have more time "out front" to connect with customers. For Julia, who grew up in Menlo Park and worked at the cafe while attending Stanford, it's a homecoming of sorts. She started coming to the cafe as a baby with her stay-at-home dad. "When I was born, he would bring me in almost every day," she says. 
Coming off a decade of ups and downs and having recently celebrated a milestone birthday, Marina is excited about the future. Last year, she signed a new lease for the cafe, re-upping for another 30 years, and she plans to keep moving forward. "My parents started this when they were 50," she says, referring to the cafe's Menlo Park incarnation, "so to me, it's just the beginning."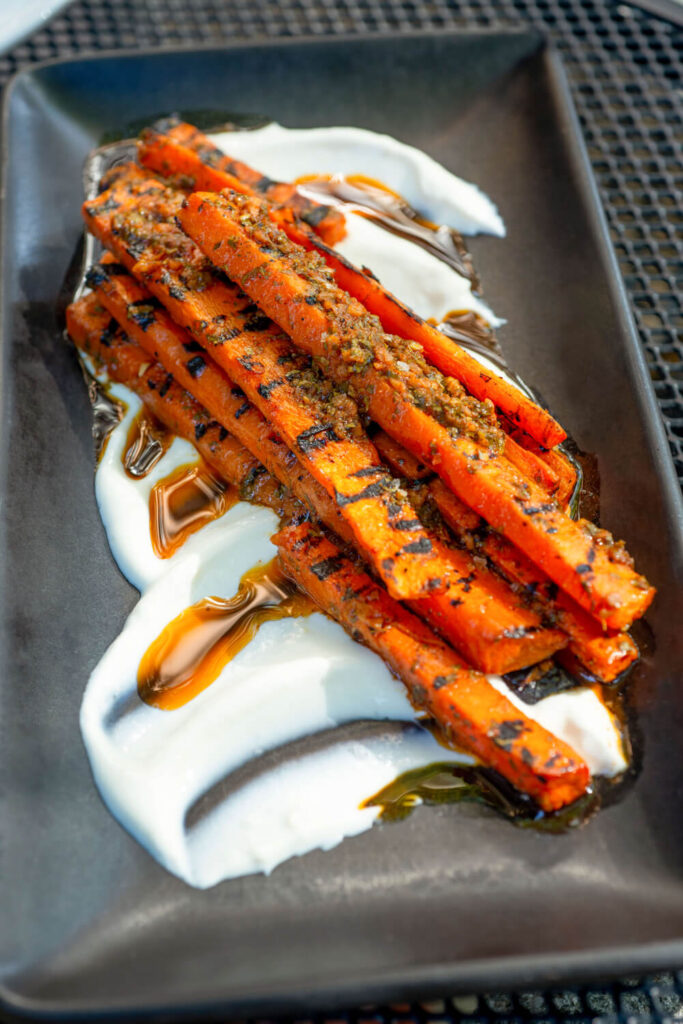 Peter & Courtney

 
"I spent my childhood down here," says Peter Borrone, sitting with his wife Courtney and their two young children outside Vesta, their popular Redwood City restaurant. "There was a little tiny deli on that corner right there," he recalls, pointing across Broadway. "I would go there and get chocolate milk or sandwiches." 
 Peter was six, just a little older than his own kids are now (Theo is five and Josie is three), when his parents first opened Cafe Borrone in the same building that today houses Vesta. How's that for coming full circle? 
 Both Peter and Courtney grew up in Redwood City, but didn't meet until Peter hired Courtney one summer as a seasonal employee while she was home from college. A passion for dining experiences drew them together. "We have this mutual fondness for dining, restaurants and food, and that was a big part of our bond early on," Courtney shares. 
 The idea for Vesta developed while Peter and Courtney were living in Southern California for a few years during the early 2000s. At that time, artisan pizza places that also served share plates, like Pitfire and Gjelina's, were on the rise in the greater Los Angeles area. The idea struck a chord with the couple. "That's how we like to eat—share style," explains Courtney.
 "It had always been in the back of our minds to do something foodwise," says Peter. At the time, no one on the Peninsula was doing wood-fired pizzas; they saw a business opportunity. Their dream place had all of the elements of an upscale dining experience—good food, ambience, nice lighting—but was fun and approachable at the same time. Peter's parents offered to co-sign a loan for the couple to get started. "So," says Peter, "it was time to pack up and come back here."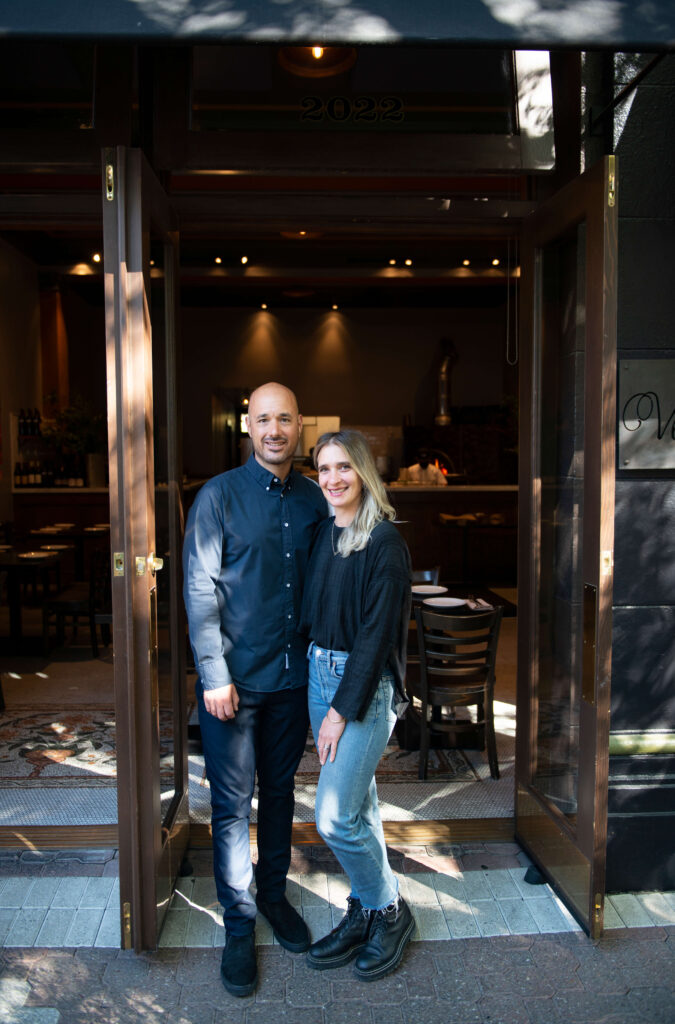 Opening their eatery in the old Cafe Borrone spot was a given for Peter. Roy, however, was not a fan of the idea. "He said 'Go to Palo Alto or go to San Carlos. There are people down there all the time,'" recounts Peter. "He didn't want us to fail." But this wasn't his father's Redwood City; the downtown area was on the cusp of a revival.
 Still, Peter and Courtney had their work cut out for them. "We worked on the menu and the space for a year and a half before we opened," Courtney recalls. They took classes to learn how to make pizza dough and then tested out their creations using the wood-fired oven in Rose and Roy's backyard. Learning to cook with wood fire is tricky. Unlike a deck oven, you can't just turn on the heat or control it with a dial, you have to stoke the fire, let it build and then manage the temperature while cooking. 
 Renovating the building was a major project as well. They tore out work that Roy had done on the space 30 years prior to make space for their design vision and called on a community of long-time friends and local tradespeople to help with demo and remodeling. Sister Alisa provided design help, consulting on colors for the space's interior.
 Vesta opened in the summer of 2012. During the first year, Peter and Courtney worked from open to close most days. "Courtney was in the back making dough, then jumping on the salad line at lunchtime. I was working at a pizza oven with maybe one other guy, and then I'd wash my hands and run up and greet somebody," Peter says.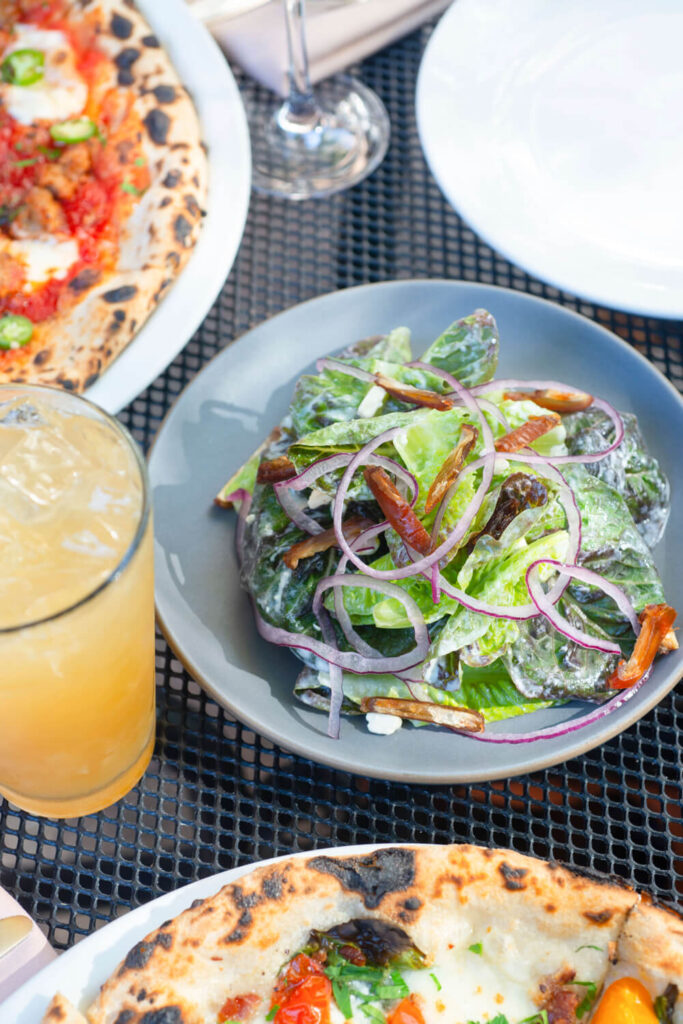 The hard work they put into developing the menu paid off. Their sausage-and-honey pizza and share plates like the grilled carrots are now local-famous. An emphasis on using local and organic ingredients, built into the business plan from the beginning, has become even more important to the couple since becoming parents. "I want to stand behind everything we're serving—that it's something I'm okay with my children eating," emphasizes Courtney. "There's a lot of thought that goes into every single thing we serve."
 The restaurant has stayed busy since opening. Now one of the OG's of the Redwood City dining scene, it's been a key part of the city's downtown renaissance. Rave reviews have extended beyond the Bay Area: To date, the Michelin Guide has recognized them with six Bib Gourmands. 
 With a staff of 50, Peter and Courtney no longer have to work open to close. Work-life balance has taken a priority, and they keep Sundays free for family time. They've considered opening another concept but will hold off at least until Josie starts school. For now, they're tabling the idea, enjoying the family, business and community they've created.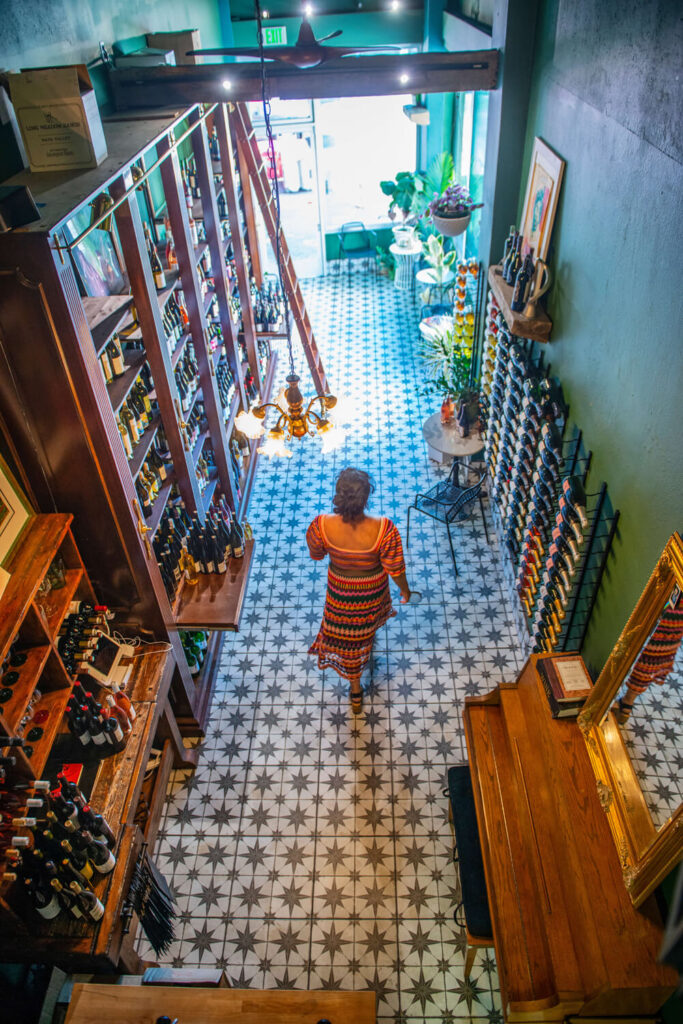 Kristi & Zu

 
If there's one thing that Kristi Borrone and husband Zu Tarazi have learned from their time in the food and beverage industry, it's how to pivot. The former owners of Station 1, Kristi Marie's and BottleShop are now onto their fourth Peninsula business, the startup wine shop JuiceBox.
Kristi and Zu met as teenagers, and that first meeting was it for Zu—who is also the youngest of five and grew up in Sunnyvale. He was smitten. The two attended Foothill College together, and he took a job at Cafe Borrone to be near Kristi. Working at the cafe was an education in customer service. "Roy and Rose really set this expectation of what hospitality is," he reflects.
In the decade following, Zu and Kristi married and had two children, Camila (now 19) and Santino (now 15). Zu honed his wine skills, becoming a certified sommelier, and held management roles at the cafe and John Bentley's restaurants.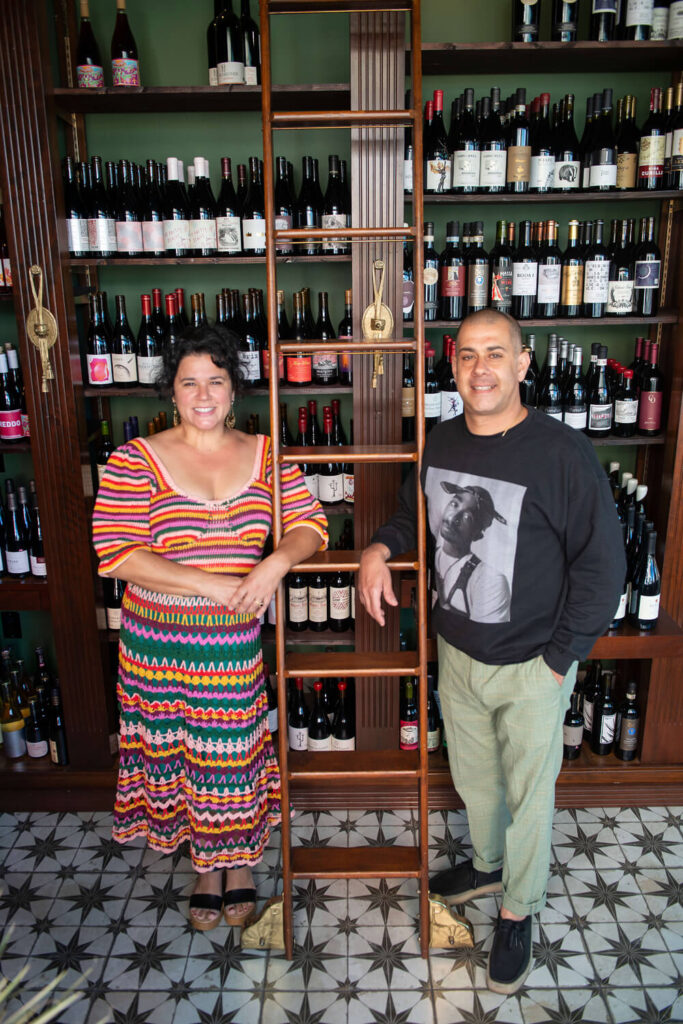 The couple became first-time restaurateurs in 2010, opening Station 1 in the former John Bentley's space in Woodside. A creative prix fixe menu emphasized local organic ingredients, complemented by Zu's curated wine list. The restaurant earned a thumbs-up review from San Francisco Chronicle food critic Michael Bauer. 
Several years into Station 1, they had the idea for a grab-and-go spot across from the CalTrain station in Redwood City. "We wanted to do something that was simple, fast and delicious," Kristi says. While converting the former hair salon into a nook-sized cafe, they were also reaching an impasse in lease renegotiations for Station 1. Something had to give: They opted to focus on Kristi Marie's and closed Station 1. 
Kristi wasn't an experienced baker, but she was motivated and drew on the resources around her to learn what she needed to know. It was the same approach they'd taken with Station 1: learn as you go and don't be afraid to try. Kristi Marie's quickly became a local favorite for its OG Breakfast sandwich, burgers and friendly service. The 7AM to 2PM schedule allowed Kristi to be home for the kids, especially as Camila was starting high school. 
In 2018, Zu opened BottleShop, a wine bar with retail sales and live music, just a few blocks down the street from Kristi Marie's. However, the COVID shutdown exposed unresolvable business issues with the partners, and Zu bowed out. Going into 2020, Kristi was in the process of making another pivot herself. As much as she loved Kristi Marie's, it was an exhausting proposition. They decided to sell it, and Kristi had already joined tech startup Level as chef and operations manager when the shutdown happened. The new buyers backed out, leaving Kristi and Zu with a lease and no business.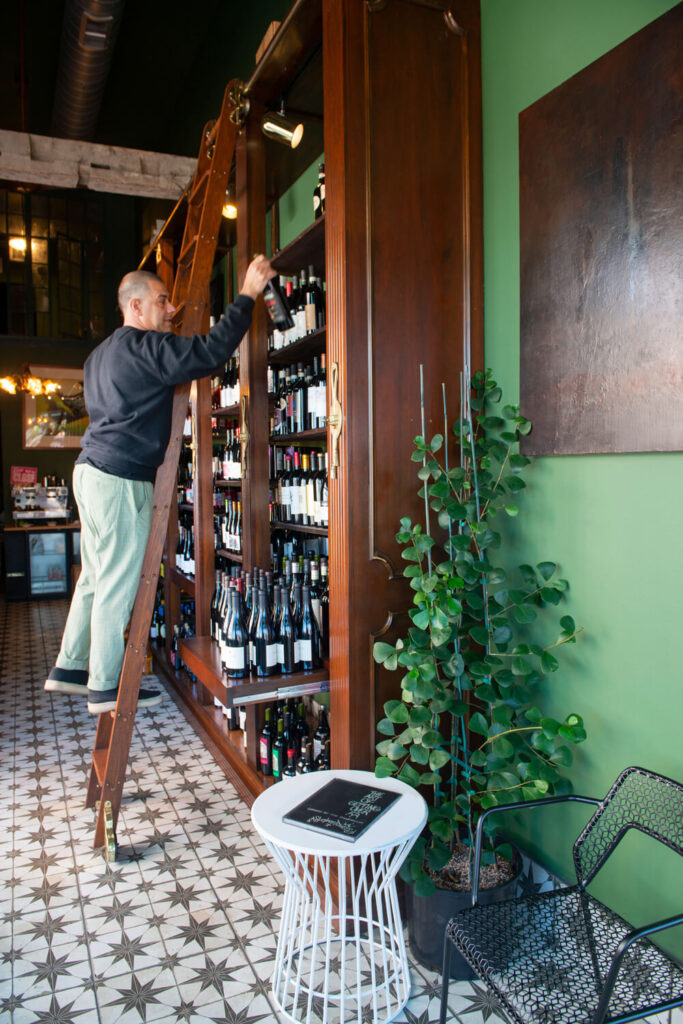 They took a beat, thought about what to do next, and Zu says with a laugh, "I thought it was just a good idea to roll my show down the road." He means that both figuratively and literally. The figurative: They decided to turn their leased space into a retail wine shop with a small by-the-glass list. The literal: Zu rolled the piano he had bought for BottleShop down Broadway, across the train tracks and right on into JuiceBox. Problem(s) solved. 
 Zu emphasizes, though, that while he'll offer a short list of wines by the glass to enjoy at the shop, there will be no food menu. Online retail has been available since mid-2021, along with order delivery within an eight-mile radius. As soon as they're able to fill the interior with the still-backordered furniture, they'll open the doors for in-person sales.  
Kristi's new role with Level is "so fun," she says, but she also misses interacting with customers on a daily basis: "We have met so many people that I can't imagine not having in my life, whether we worked with them or they were guests. It's been so fantastic. I saw it with my parents, too, the way that different people came into their lives because of the cafe."
 Maybe it's indicative of the Silicon Valley culture or Gen X flexibility, that ability to adapt when things aren't going exactly as planned, but making a leap is something that Kristi and Zu have no qualms about. "I think both of us, given where we are in our family dynamics, we're willing to give things a shot. We feel like we can do it," muses Zu. Kristi agrees: "Maybe we could have regrets, but I just think that it's because of all these steps that we are where we are today."