Heather Elementary School students are in for a surprise when they return to school this fall. The San Carlos hillside school's vague Southwest vibe of adobe beige walls and slate blue trim is now undeniably desert-chic thanks to a new whimsical cactus garden mural.
Backtracking to the first week of summer, Palo Alto artist Flo de Bretagne is dressed in layers, a sweatshirt over turtleneck and paint-splattered jeans, a modern art piece of their own, as the morning's coastal fog slowly dissipates. She sits on a drop cloth in the school's hallway, painting in the spiky details of a bubble-gum pink cactus.
Prickly pear pads frame bulbous succulents painted with a vibrant color scheme—a polka-dotted barrel, a two-toned pink candelabra raising its arms and teal organ pipes are among the cacti posed against an azure sky. Flo drafted a design for the school's stamp of approval, but when it comes to transferring her idea to the wall, she doesn't use a projector or grid. "Freehand is prettier," she says. "Nothing is perfect in nature."
Kid-height backpack hooks extend into the mural wall space, painted over to become one with the artwork. Flo has a history of incorporating items attached to walls into her mural designs. At Selby Lane Elementary School in Atherton, she transformed a utility box into "the box of knowledge" held up by a child. A drainage pipe, in another mural, became part of a painted tree trunk. With over 100 mural projects completed at schools around the Bay Area in the last ten years, she knows how to work with imperfect surfaces to create inspiring works of art.
The French art movement, art brut or outsider art, founded by Jean Dubuffet, has a big influence on Flo's art. The movement celebrates art done by people with no formal art education, such as children. "People create art as a way of expressing themselves. I try to keep real authenticity in my work and really express what is important to me," Flo says. "As a child, I grew my imagination and creativity just as a way to handle structures and rules."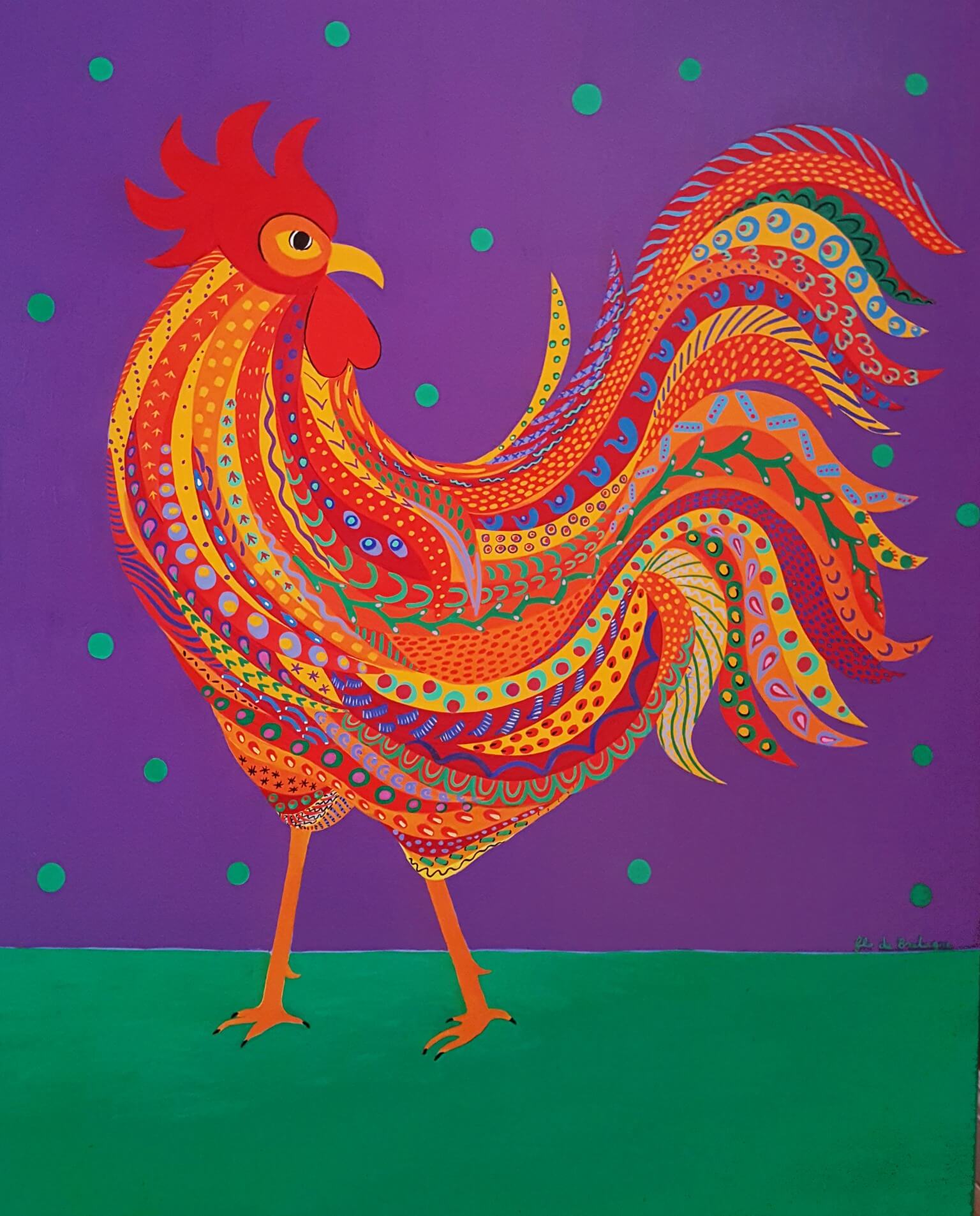 Flo spent hours drawing in her bedroom growing up in Paris. Her mother was a history teacher and her father, an antique collector. Living in the heart of the art world, she could tour as many art exhibits and shows as she wanted. "My parents introduced me to art because they loved color. Their house is full of color and paintings. Every wall has a different color, so I think that's where my sense of color is coming from," she says.
Like Jean Dubuffet, who returned to art in his early 40s, Flo planned to have a career in something sensible, and then return to art later in her life. She double-majored in law and business, where she built up her organizational skills. Then a painful bout of sciatica struck. "I had the diplomas in my pocket and I was offered a great job, but I couldn't walk," she says. Flo used her recovery time to rediscover painting. "I absolutely loved it and realized there was a lot I wanted to do with painting. That's when I switched to become a full-time artist." Flo went back to school to study art and graduated from a Paris art university.
In 2005, Flo made the move from France to the Peninsula with her husband and young family. After a visit to the U.S. as a teenager, Flo knew she wanted to live here. "I love the American mentality. People are very positive and open-minded. It encourages you to do really interesting things."
That open-mindedness allowed Flo to paint her first school mural. In 2010, Flo approached her daughter's school, Walter Hays Elementary in Palo Alto, about painting murals. "I had no experience. The principal looked at my website and saw my work on canvases and she said, 'I love your work, so yes, go for it, paint murals.'" The project encompassed nine murals, each representing one of the school's core values. "I proposed to the principal that every child in the school participate. It was a bit crazy, but we did it," she says.
When she's not painting murals, Flo creates color-infused playful works on canvas at her home studio. Her large-scale acrylic paintings, measuring as long as 72 inches, are inspired by such themes as animals, landscapes, flowers and trees. Seeds, which she considers her signature work, represent seeds of change, hope and new life. Over the past four years, Flo's home decor art, designed for placement over headboards, couches and fireplaces, has earned her several Best of Houzz awards. "Many of my paintings sell to private homes because my paintings are full of emotion and they resonate with people's emotions," she says.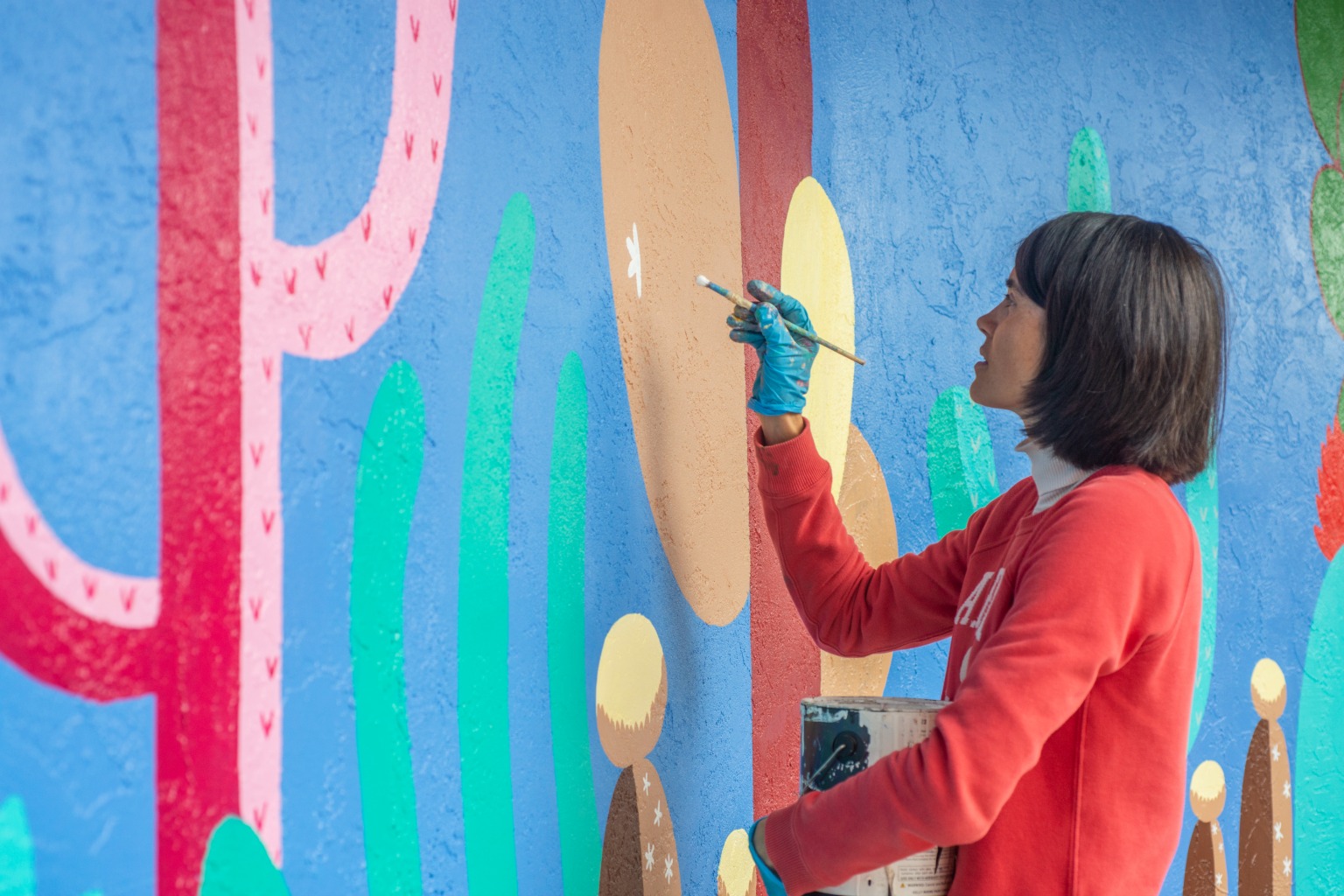 Flo's joyful paintings are frequently displayed in various art galleries and public settings like cafés, town halls and libraries on the Peninsula and in France. "I like to show my work in the places where people go in their everyday lives," says Flo, naming a few recent hosts like Cafe Borrone in Menlo Park and her summer-long exhibition at a beautiful French castle in the Champagne region, Condé en Brie. Flo's tribal-patterned alpha animal series, one depicting a powerful elephant waiting patiently for a family of geese to pass, are paired with her storybook landscapes of the French countryside.
Before jetting off to France for her show opening, Flo put the finishing touches on the cactus mural at Heather. It takes several weeks, even months, to complete a mural, after the planning stage is wrapped up. Flo can only paint around five hours a day because the work is tiring. Although she is speedier on her own, she welcomes corporate groups to sponsor her murals and send employees over to help her paint as a team-building activity. Teams from Apple, Facebook and Salesforce have all made contributions to Flo's creations.
"I love painting murals because they have a direct and quick impact," she says. "It's a real transformation." Students watch Flo working with perseverance as the murals take shape. "There are messages in the painting and in the process of the painting."
That's why Flo ran a successful Kickstarter campaign this year that raised $20,000 from over 100 backers to fund five new murals at three budget-strapped Peninsula schools. Based on the reaction she gets, Flo's mission to brighten drab walls and inject color into education is a success. "Since day one, when I start painting at a school, the students jump for joy," she says.
uplifting art