The sensory experience of stepping into Essentique is as meticulously crafted by its owner, Mandana Navi, as the natural skin, hair and body care products that line the shelves. The white walls soothe, leading your gaze to the child-sized Buddha sitting serenely at the back of the space. Tactile foliage on a living wall graces the entryway, inviting respite from the hard edges of the Palo Alto business district. Bottles in shades of brown and white invite you to spritz a toner or roll a little spicy scent along your wrist. 
"There is an intimacy to the products we use on our skin and hair," explains Mandana, as she pumps a silky dollop of hand cream scented with amaranth into my palm. "You can't make people understand what you have to offer. The customer has to take his or her own journey. When people need something specific and that need is met, they appreciate it so much."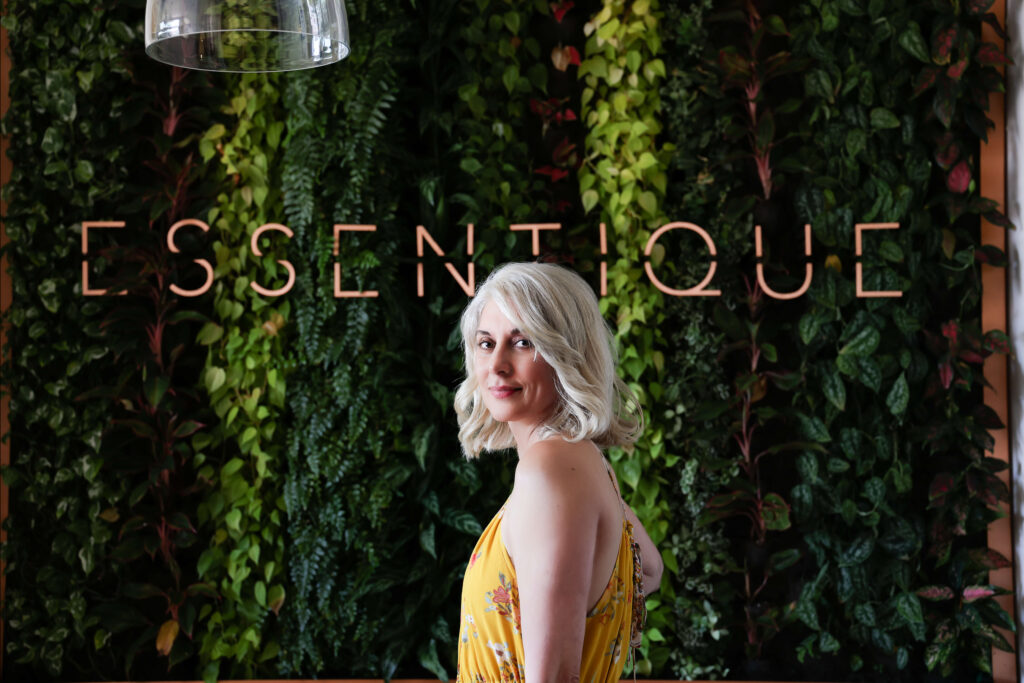 Mandana, who grew up in Iran, was interested in self-care from a young age. "Persian women take good care of themselves," she says. "They really care about beauty and health." When she wanted to lighten her hair, her mother wouldn't let her bleach it, so Mandana experimented with what she had access to in the natural world. "I discovered that with dried apple tree leaves and chamomile tea I could lift the color from my hair," she recollects with a smile. "That may have been my initial spark."
It would take time and a particular kind of dedication for Mandana to grow that spark into the locally handmade product line she now creates, while managing every aspect of her business spanning marketing, research and development and front-of-house sales to hosting team building workshops where clients can create their own essential oil mixes. She pulls long hours, works almost every day and doesn't regret a moment of it. "I make everything with love," she says. "It's my passion."
Mandana started out with a biology degree, which included coursework in botany. "I think something in me must have known all along that this is where I would end up," she muses. She worked in an infertility lab in Canada before earning her MBA, still not quite knowing where it would take her. It wasn't until she was living in Palo Alto, taking a lot of yoga classes, that inspiration began to bloom. "I loved that moment in yoga when they would dab a little essential oil onto your forehead or neck," she recounts. "I was really aware of the way the scent would wake up my senses."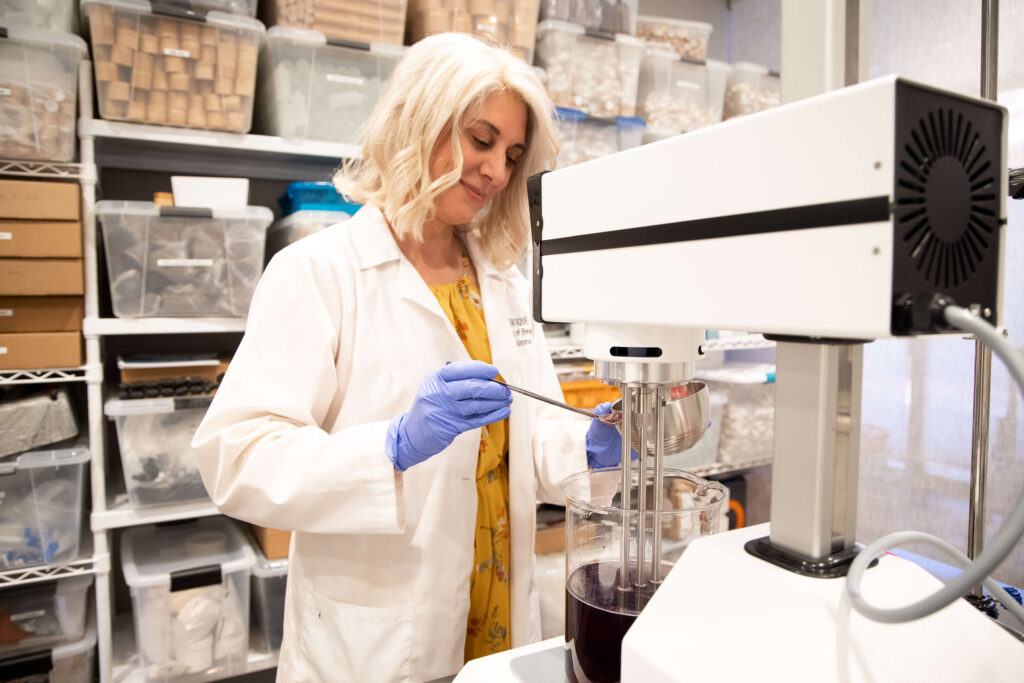 Scent, Mandana says, bypasses the rational mind and heads straight to the limbic area of the brain: "That's why smells can make you so emotional and bring up so many memories." She began to experiment with essential oils to soothe muscle aches and create smells that spoke to her. Australian Sandalwood. Basil. Bitter Orange. Lemongrass. Cinnamon Bark. "Self-care is about so much more than beauty," she says. "It's about caring for your whole being, nurturing your spirit as well as your body." 
It is no accident that the personal, the intimate, the bespoke, are central themes in Mandana's work. Many of the products on her shelves she initially designed for just one person. A client of hers suffered from a scaly scalp, so Mandana crafted a serum to soothe the itch and heal the skin. When a friend published her first novel, Mandana made a spicy-scented perfume inspired by the story for its launch. She created a cleanser for the teens she hires to work part-time behind the register. "They had breakouts," Mandana explains, "so I researched how to balance the sebum in the skin and I came up with an extract of sea kelp that helps with inflammation. They love it."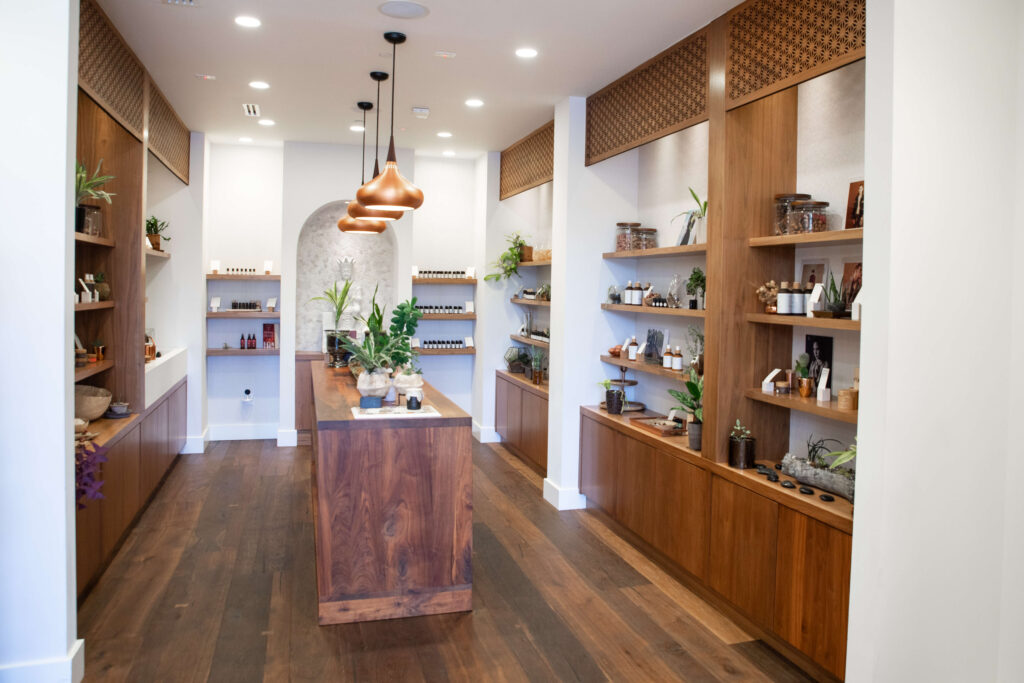 Crafted in small batches to ensure freshness, Mandana's creations draw from more than 100 natural and plant-derived ingredients ranging from Abyssinian oil and Pracaxi butter to willow bark extract. A glance at the final packaging reveals offerings like Luminescence, a hand and body polish derived from walnut shell powder and argan oil, and Dew de Dew, a moisturizing hair wash laden with bamboo and turmeric extracts. When asked which of her products is her favorite to make, she's stumped for a moment. "Some recipes take longer, some are so hard to figure out," she responds. "But they're all satisfying in their own way. And when they meet the needs of the client, well, that is precious."
Mandana spends every Monday when the shop is closed mixing up her standard product line in her lab and doing research and development on the recipes that still need perfecting. Even in the early days of forming her business, Mandana believed that making the bold move of having a storefront was essential, which led her to open Essentique on Park Boulevard in September 2016. "The efforts I make could seem extreme from a distance," she notes, "but, I care so much about the finished product. I value the transparency and personal touch of having a shop where you can enter, smell and try."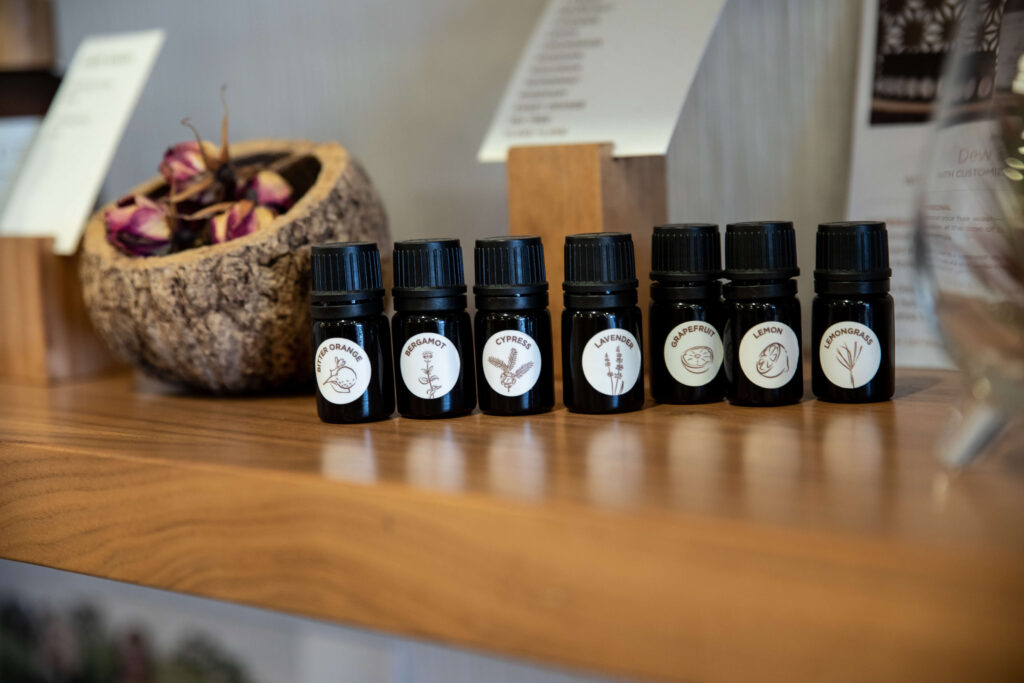 Continually crafting concoctions and experimenting with new equipment, Mandana is currently trying to crack the code for a non-toxic sunscreen and develop a product line for babies. She can imagine a world in which she opens a business in Paris where her sister lives, or in New York City, where she loves to take weekend jaunts.
But her connection to the community she's cultivated is what drives her passion—along with the joy she feels watching eyes light up after a sniff or a gentle rub. "I can never fully explain how what I do is so different from everyone else," she says. "I need people to discover it for themselves."