Looking out from Suite 136A in Stanford Shopping Center, a glance in any direction reveals a familiar name. To the right is California Pizza Kitchen, directly across is Williams Sonoma and to the left, See's Candies, Tiffany & Co. and Bose signs immediately catch the eye. Tucked in the midst of the big brands is a small 450-square-foot up-market boutique called Mélange, recently opened by a self-made fashion designer determined to hold her ground.
"There is nothing else quite like this in the shopping center. There are very few small businesses, entrepreneurs like me here," says owner Chandan Allen. "I waited a long time to get to this, and the store is just the right size and location."
Step through the door of Mélange and the first impression is one of elegant simplicity. Striking red, geometric chandeliers adorn the ceiling while clothing racks tantalize with color block splashes of navys and teals, corals and pinks, and in the far back, the couture selections.
"This whole collection is about Proteas," Chandan explains, gesturing to a dress embellished with the South African flowering plant known for its bright and showy colorful blooms. Why Proteas? To fully understand Chandan's many influences, it's helpful to start with the store's name, "Mélange"—French for "mix" or "blend—since it captures the essence of Chandan. "Mélange is a combination of my heritage," she says. "The India craftsmanship, from where I grew up and have my manufacturing, and Europe, which is where I trained."
Growing up in Mumbai, Chandan says the fashion bug bit her quite early. "When I was little, I was obsessed with knitting. I would sit with the grannies and crochet for hours. I mean, who did that at that age?" she reminisces. As she got older, Chandan traced basic patterns and pieced together creations using her grandmother's sewing machine: "I realized I really loved it and I wanted to go to fashion school."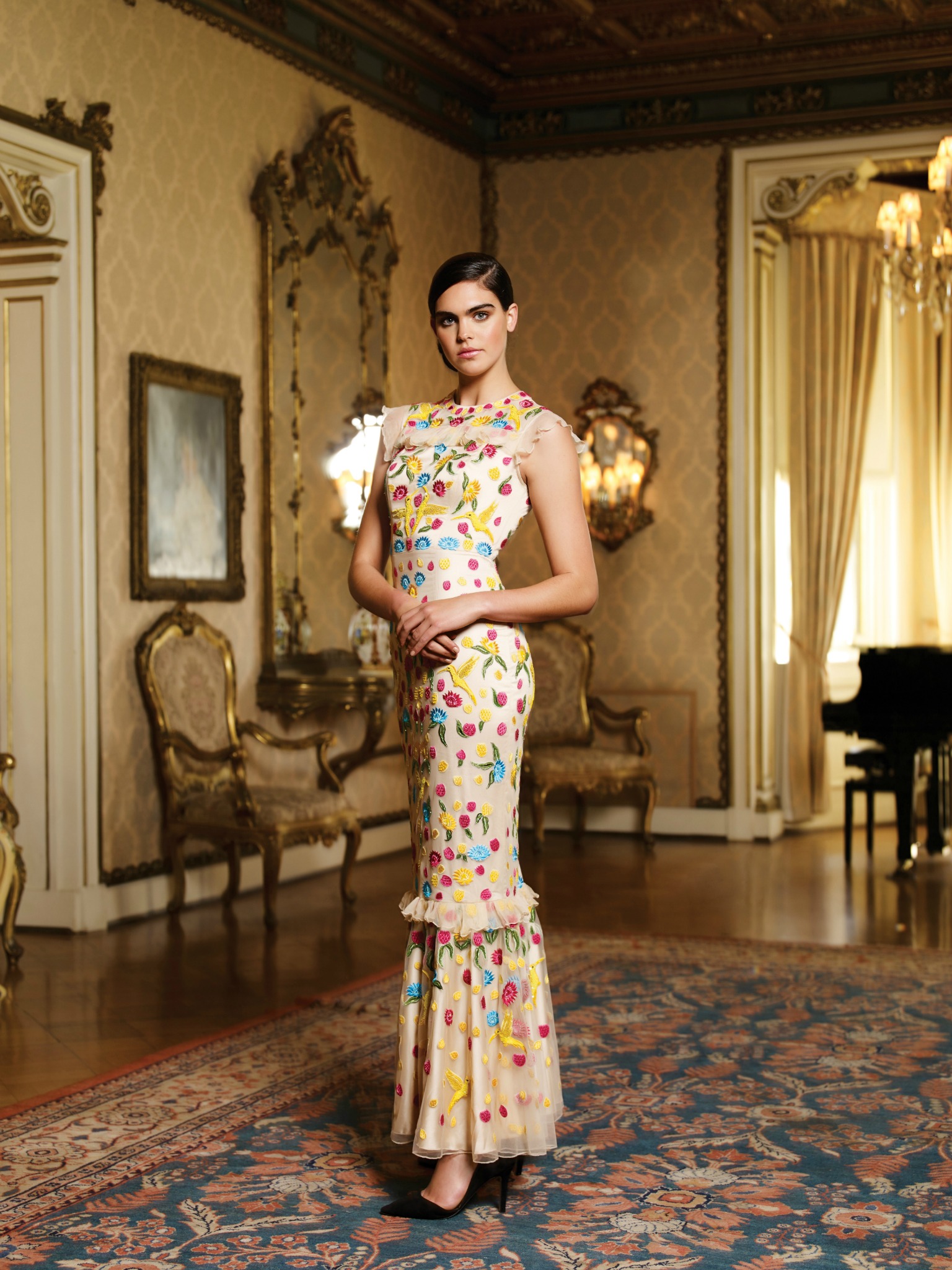 Berzelia Gown
"This gown set in nude is a canvas of the array of hummingbirds and Protea flowers in colorful motifs placed carefully throughout the ensemble. This dress is handcrafted with various embroidery techniques to give it that exquisite look perfect for a fall opera or a symphony night."
However, Chandan's parents steered her in a more sensible direction. "They said I should do a degree in commerce. Fashion school was a complete 'no-no' in those days," she says. "So I got an honors degree in commerce and then I did my diploma in business management."
After meeting her British husband, Mark Allen, while "working on a stint together" in India, Chandan moved to London, where the "fantastic world of fashion" opened up to her. A move to Scotland followed, and Chandan got her first taste of more formal training. "It was just a warm-up," she says. "It really gave me a platform to start my journey."
Intent on a career in fashion, Chandan gained admission to the prestigious Central Saint Martins in London, following the same path as legendary European designers like Stella McCartney, Alexander McQueen and John Galliano. Although Chandan's fashion course was cut short by the birth of her first daughter, she applied her design and technical knowledge in the Allen family's next move, this time to South Africa.
In 2009, while living in Capetown, Chandan officially launched Chandan Allen Designs Pvt. Ltd. Recruiting family in India to handle business operations, Chandan set up a full production house in Mumbai, enlisting pattern masters, cutting masters, tailors and embroiderers—and designed her first collection. "It was called the Essence of Africa, and it was all South Africa's flora and fauna, with Birds of Paradise, crocodile prints and tribal elements," she says.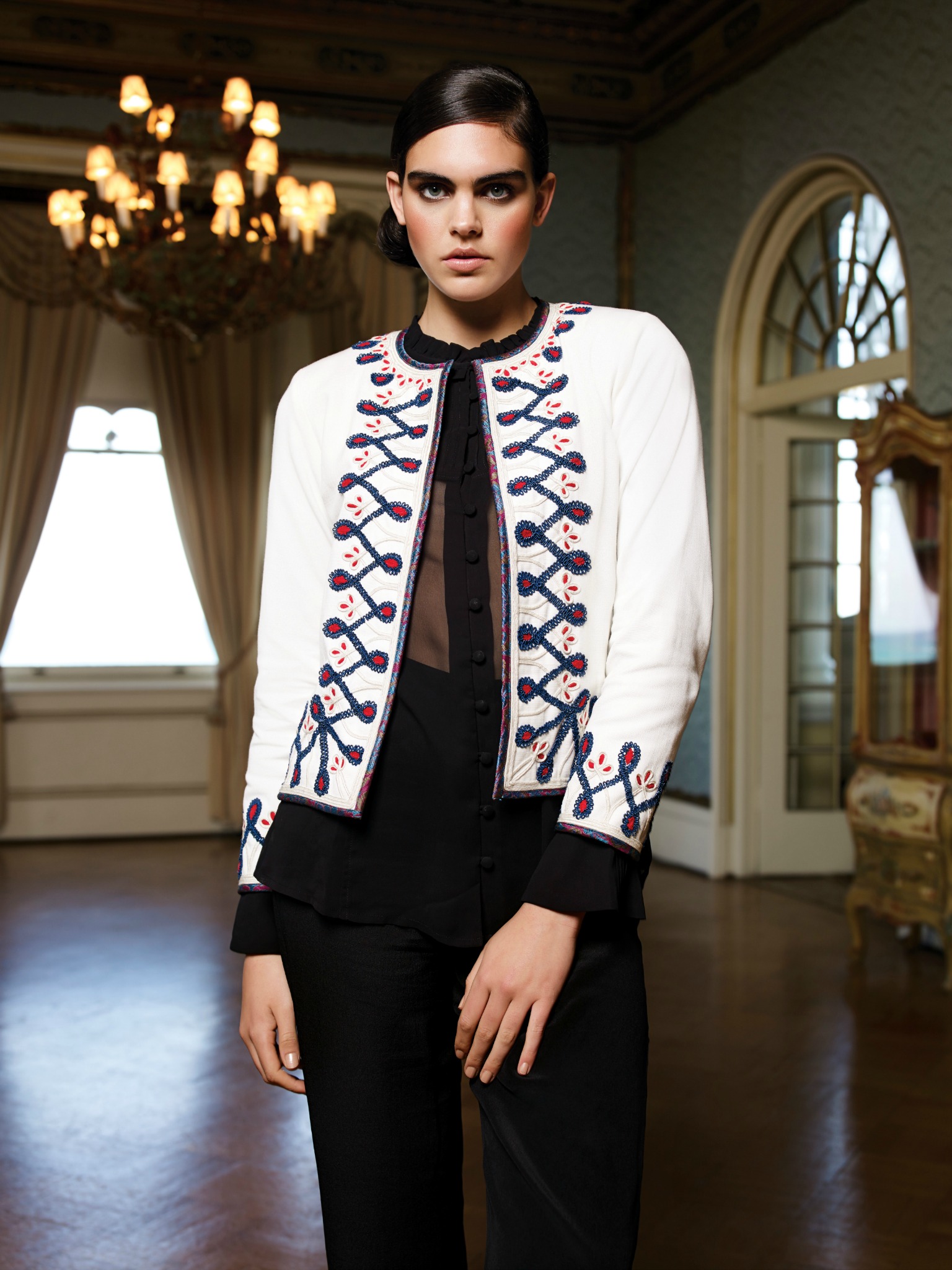 Anselia Jacket
"This jacket is a classic jacket with intricate embroidery in the center and on cuff. The simplicity of this jacket makes a casual evening special with no extra accessories needed."
Initially retailing through South African boutiques, Chandan launched her own store, the first Mélange, in 2012. "I had a lot of help in Capetown and it was just very liberating," she reflects. "In Africa, people smile from the heart." Then, in 2014, with three daughters in tow, it was moving time again. Mark took a sabbatical to be a Sloan Fellow in the Stanford MSx Program, and the Allen family relocated to Menlo Park.
After getting the family settled, Chandan turned her focus to the Chandan Allen website, trunk shows and private sales, along with designing her collections. "'Chandan Allen' is my smaller couture collection, maybe 15 pieces; they are like works of art. You're wearing it to a gala or a symphony or the opera. That's where I release my creative side," she notes. "I also created another brand called 'The Sancy,' which is still luxury but more accessible, ready-to-wear and the price point is a bit lower."
Now five years into Peninsula life, Chandan launched Mélange at Stanford Shopping Center in June, in what felt like a fitting tribute to the 10th anniversary of the start of her business. "Having a track record counts. I'm confident in my designs," she says. Still, Chandan acknowledges that the key to Mélange's success will be fully understanding and serving the local market.
"Getting direct feedback from the clientele is so valuable. I put the collection together thinking that it was for the working woman, the more established woman for sure, who wants to dress smart—and without going home, be able to transition to a happy hour or evening event," Chandan says. "My designs have been taken more as special occasion wear. California is more relaxed and casual, so I'm taking all these notes and trying to keep the classic silhouettes that are very popular but just tuning them down so they're more accessible and then bringing back things that people like."
What can we expect from Chandan's fall collection? "So far, my collections have been about the places that I have lived," she says, although she expects this to evolve. "The next collection is a tribute to the 19th-century Scottish artist Charles Rennie Mackintosh. My prints are all about his artwork but we've given it a modern twist."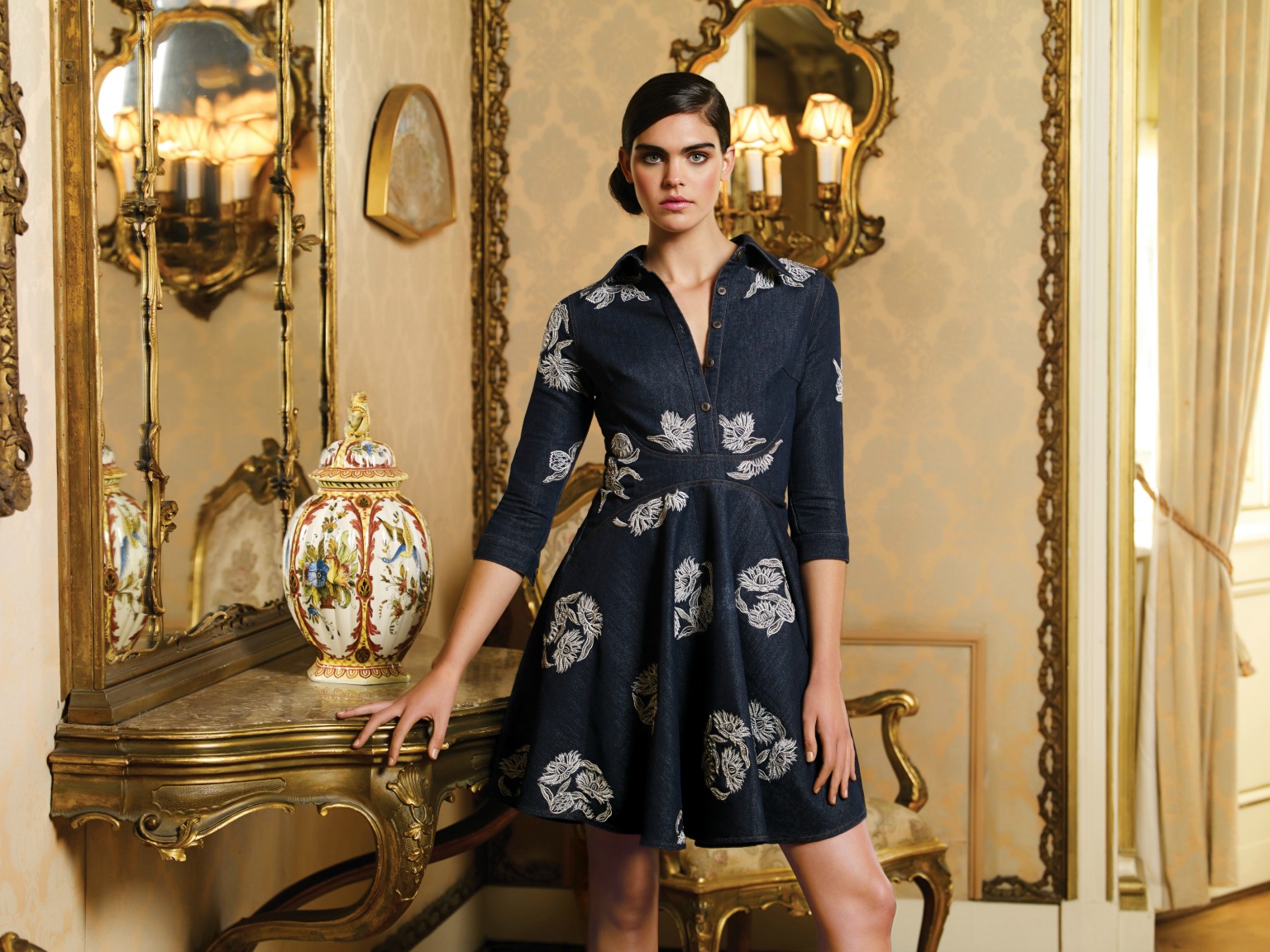 Protea Dress
"This denim dress has the Protea flowers embellished all over it and is perfect for a cool day with a light breeze. The heavier denim gives that extra warmth and the sleeve length adds to a snug feel. Fun, fashion and comfort are clearly reflected in this dress."
Also priorities are Chandan's commitment to sustainable business practices and finding ways to give back through local charitable organizations. "The community has been the biggest strength for me since I moved here," she says. "The help and support have been unparalleled and I say that from a perspective of having lived on
four continents."
With 14-, 12- and 6-year-old daughters, Chandan maintains a constant juggle between her home life and Mélange. "I do work long hours. When I finish here, I have to start work with India, so it really goes on until 12AM, even 1AM in the morning. It's very exhausting but it's a testament to how much you can do," Chandan says. And while Stanford's anchor stores may measure their square feet in the tens of thousands, Chandan is eager to show what she can do with her 450. "I'm not worried about all the big stores here. I'm committed to building my brand because I know it's all about people discovering us." melangestyle.com