It's 4AM when the lights come on at Backhaus.
The bakers arrive, taking bread and pastries that have proved overnight and arranging them carefully in the oven. At 6AM, the front-of-house staff arrive, prepping the espresso machine and stocking the "bread wall" on display behind the register. At 7:30AM, customers rush in, hoping to snag rustic country loaves, pistachio raspberry croissants or apricot and oat streusel scones before they sell out.
Following a time-honored German tradition, co-owners Anne and Robert Moser repeat this ritual daily in downtown San Mateo.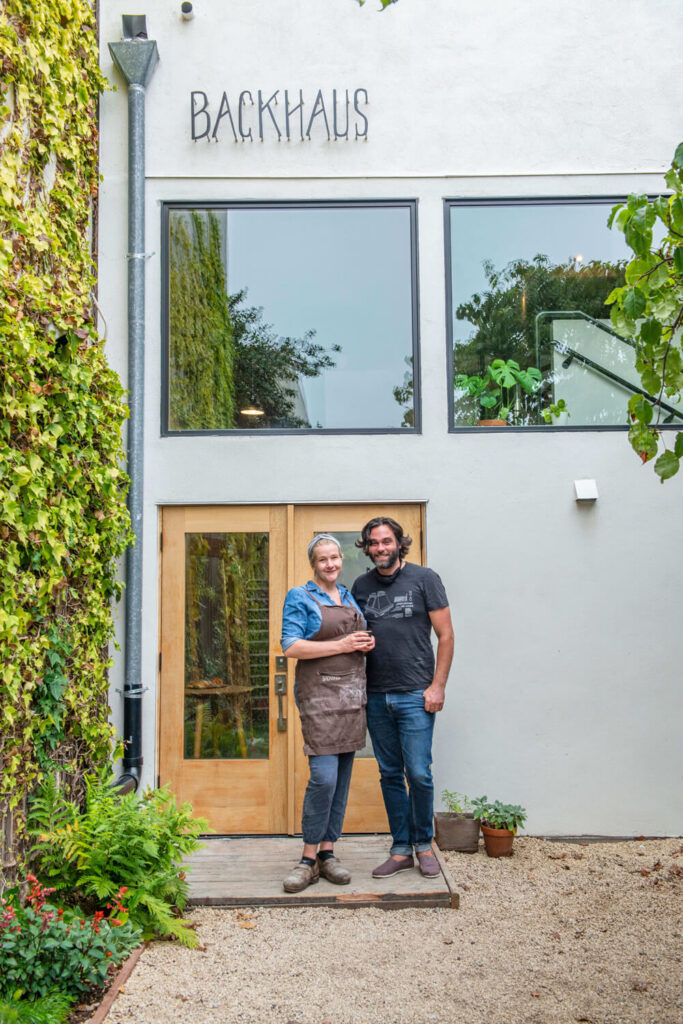 The couple met in Germany, Anne's home country, in 2006. Robert, a California native, was studying abroad at the time. In Germany, their friendship quickly blossomed into romance and when Robert returned to California, Anne followed, studying in Monterey for two years to receive her master's degree in translation.
After a brief return to Germany, Anne immigrated to the U.S. in 2013 and the pair got married the following year. In California, Anne found herself missing the bakeries back home, which play a central role in every German household. The inspiration behind the name Backhaus, German for bakehouse, also originates from a desire to create community through bread.
"It's not so much what the bakery is but what it means for the community," says Anne. "Bakehouses used to be a separate building in a village or a town that just had an oven in it. That was a place where people in the community got together and they would hang out while their bread was baking."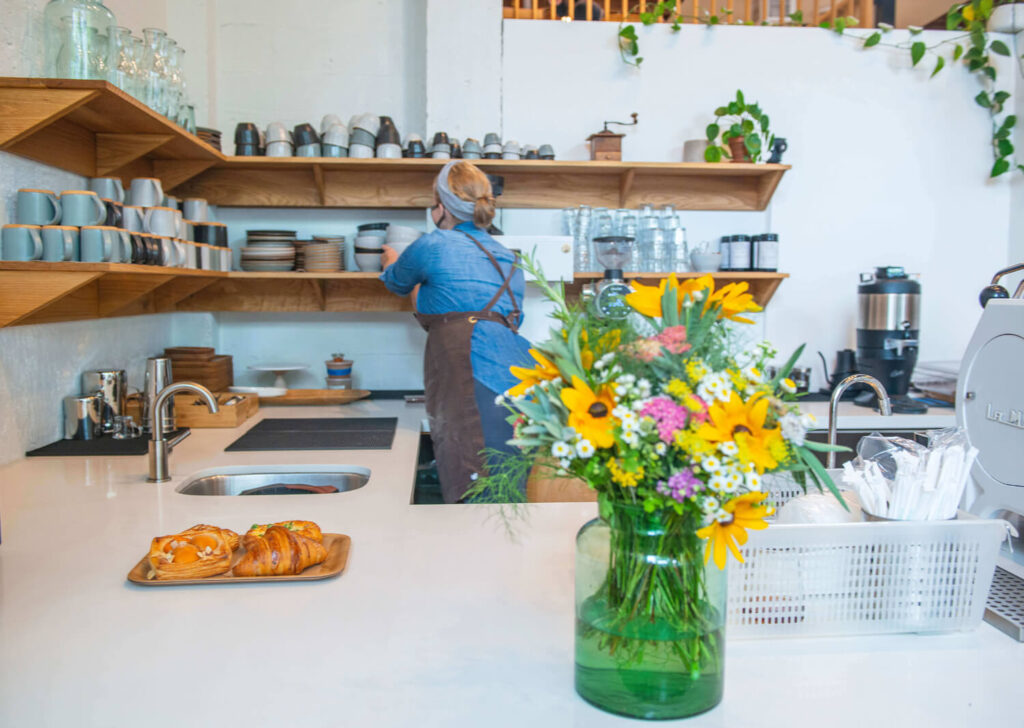 Anne's bread baking journey started with a cookbook: Tartine Bread by Chad Robertson. With no bakeries or grocery stores nearby, she decided to bake her first loaf. "The two of us and my brother-in-law actually ended up just devouring the loaf fresh out of the oven with butter and it was so good," recalls Anne.
Following the success of her first loaf, Anne dove headfirst into her newfound passion for baking—to the point that she was overwhelming neighbors and friends with her crusty creations. She attempted channeling her zeal into a blog, "A Bag of Flour," but realized that she really wanted to take her hobby to the next level. "I had talked with friends about how nice it would be to own a café or something like that, but I had never worked in that industry, so I felt like that ship had sailed," says Anne.
This mindset changed when she discovered an online interview with Josey Baker, a home baker who transformed his passion into a café, The Mill, in San Francisco. "I watched it and my heart started pounding," she remembers. "If he could do that, maybe there's a chance that I could do that."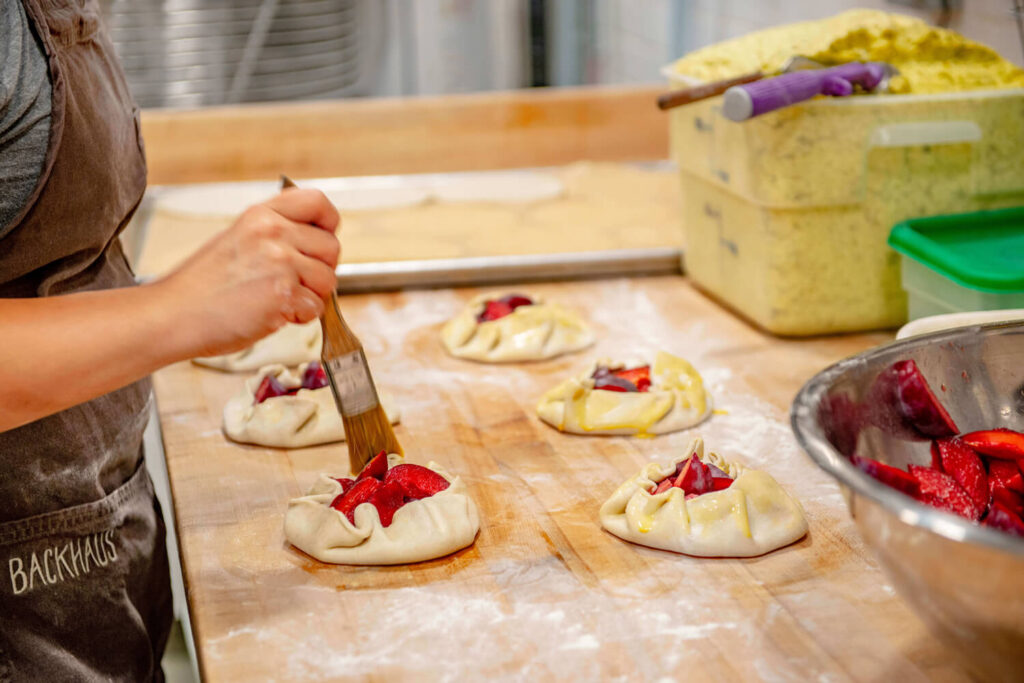 With feedback from her friends, Anne turned her bread obsession into a bread subscription service with a cottage food license. Robert, who also worked from home at the time, delivered bread to their customers' doorsteps.
"It sounds very romantic to run a little bakery out of your house," says Anne, acknowledging that the reality was much more challenging. With only one oven and no mixers in their rental house, Anne could make eight to ten loaves in a day, while still working as a freelance translator. At night, she slept on the couch and had a timer going off every 20 minutes, so she could take each loaf out and put in the next one.
"It happened quite a few times that I was so tired that I wouldn't hear my timer go off and I would burn a loaf," admits Anne. "I would wake up too late and pull the charcoal brick out of the oven."
After five months of running Backhaus out of their home, Anne decided to move their operation to KitchenTown, a commissary kitchen in San Mateo where businesses pay by the hour to use the space.
"It's a huge step to go from basically no equipment in your home to having an actual bakery," she says. Anne started going to KitchenTown from 8PM to 4AM, first by herself, and then with Robert. "It was also really nice to be surrounded by other makers; it felt like we were all on this journey together of growing our companies to the point that we could afford our own space."
With the help of KitchenTown, Anne and Robert brought Backhaus to the Burlingame Farmers Market in October 2016, and then the San Mateo Farmers Market in January 2017. The pair would often work through the night and then sell at the market in the morning. After almost three years at KitchenTown, Anne and Robert decided to open a brick and mortar, with help from their loyal customers through Kickstarter.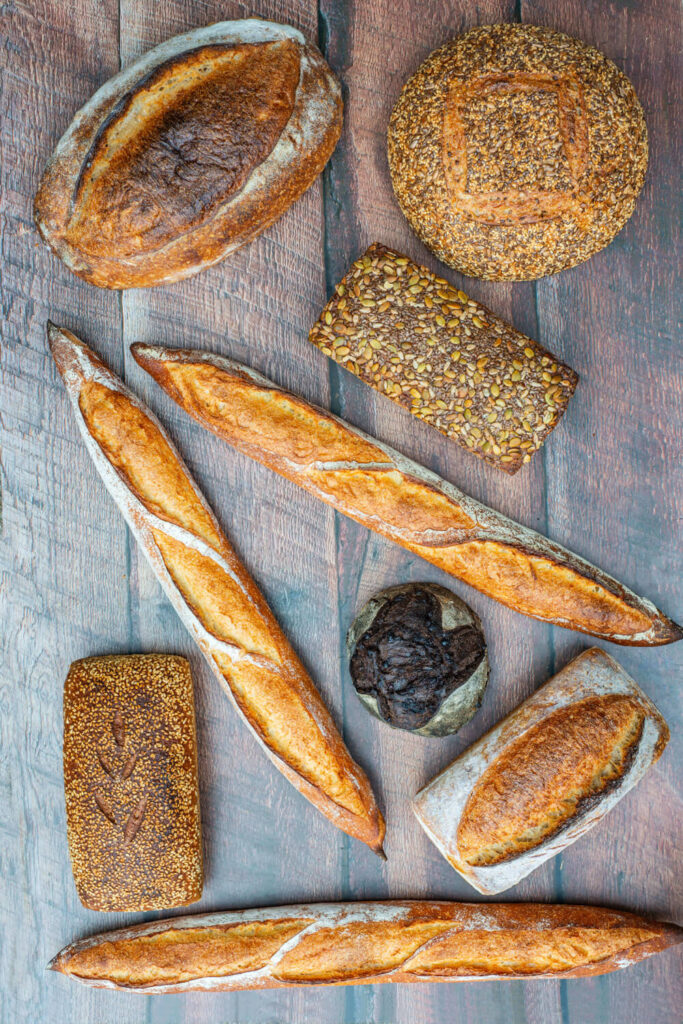 As of June 2019, Backhaus sits proudly in downtown San Mateo, serving bread, pastries and coffee to the community. "We never wanted to be a German bakery, but just a bakery with German influence," says Anne. With a growing team of bakers from different backgrounds, she welcomes their creativity. "It's still a little bit surreal, and we're not taking it for granted how the community has embraced us," says Anne. "I still pinch myself sometimes."
In return, Backhaus is giving back to the community. "From the start, we've talked about supporting causes that we believe in," says Anne. Backhaus regularly donates leftover bread and pastries to the Samaritan House in San Mateo and has also held fundraisers for the Australian wildfires and the NAACP Legal Defense Fund this year. Anne emphasizes that she is always open to using Backhaus as a platform to raise money for causes that her team feels passionately about.
The menu at Backhaus changes with the seasons, since the team sources local ingredients and makes everything from the jams to the fillings from scratch. Expect to find classics like baguettes, apple turnovers and almond croissants—but also keep an eye out for kouign amanns and maple pecan braids, which Anne cites as one of her favorites.
As for the future of Backhaus, Anne and Robert hope to open a second location when the future of the hospitality industry looks brighter. In the meantime, their experience with sleepless nights is about to serve them well, as they prepare to welcome a baby girl into the Backhaus family in late September.
Reflecting on the creation of Backhaus, Anne is incredibly grateful for the support she's received from family, friends, customers and most importantly, Robert. For Robert, however, the decision to open a bakery was simple—Anne moved over from Germany for him, so it was only right that he help her bring a touch of her home to the Peninsula.
bake it
Pear & Dark Chocolate Scones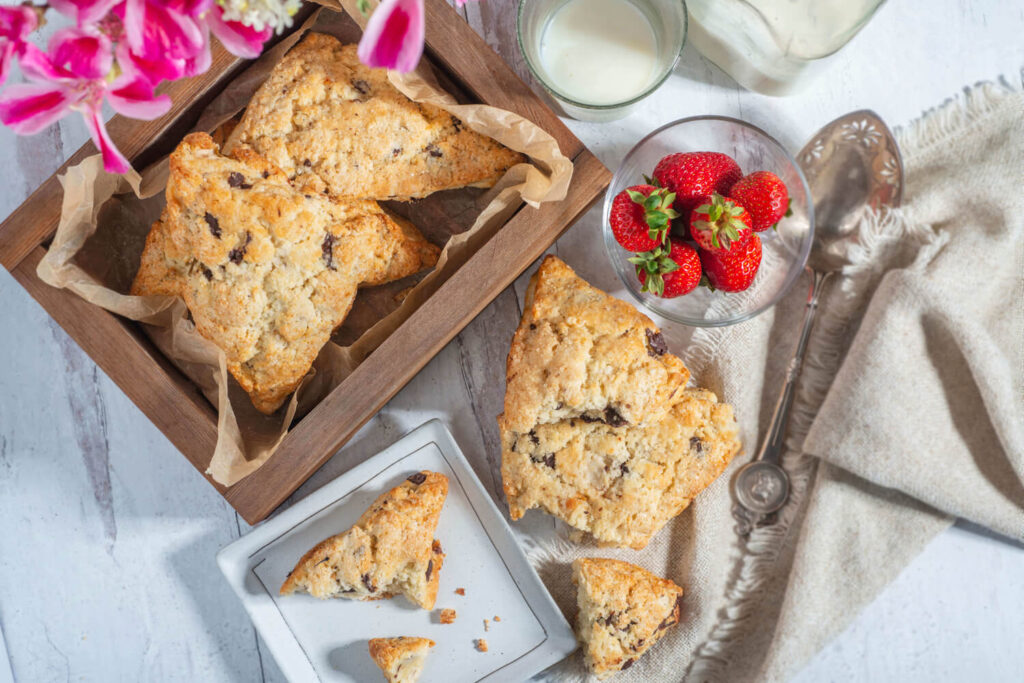 Ingredients

3½ cups all-purpose flour

½ cup sugar

½ tsp kosher salt

2 tsp baking powder

1¾ sticks butter

1 cup buttermilk

1 medium pear

¼ cup dark chocolate
(60%-80%) chips

¼ cup heavy whipping cream

3-4 Tbl turbinado sugar
DIRECTIONS
• Preheat oven to 350F.
• Wash pear and remove core. Cut into ¼- to ½-inch cubes.
• Combine flour, sugar, salt, baking powder and baking soda in a large bowl.
• Cut cold butter into ½-inch cubes.
• Option 1: Add dry ingredients and butter cubes to food processor and pulse until the largest butter chunks are the size of peas.
• Option 2: Add butter cubes to dry ingredients and use fingers to pinch butter cubes into thin butter flakes.
• Add pear cubes and chocolate to dry ingredients.
• Add buttermilk and gently mix by hand or with wooden spoon until dough is well moistened but crumbly.
• Transfer dough to a lightly floured work surface, gently press into a disc shape and cut into eight triangles.
• Transfer scones to a baking sheet lined with parchment paper, brush with heavy whipping cream and sprinkle with turbinado sugar.
• Bake at 350F for 24 minutes until edges are golden-brown and the centers feel firm but springy.