Like many people and plants on the Peninsula, Pacita Ikonomou is a transplant. Born and raised in Australia, Pacita moved with her husband and young daughters to Seattle in 1995. From Seattle, they moved to Nashville and then back to Australia, followed by a return to Nashville and then to Toronto with a stop in Pennsylvania before landing in Menlo Park in 2009. Since originally leaving Australia, Pacita has stayed in one location as short as nine months and as long as  seven years.
Pacita was particularly proud of her Pennsylvania garden, so she dug up and shipped many of her plants to her new home in California before she fully understood the East versus West Coast climate difference. The rhododendrons, hydrangeas and camellias took off right away but suffered a setback when the drought came and Pacita had to cut back on her watering. "That's when I had a lightbulb moment," Pacita recalls. "As much as I wanted to bring my whole Pennsylvania garden with me to California, I couldn't. And not just because I couldn't fit them in my suitcase."
Pacita's garden today reflects the diversity of her Greek-Filipino-Australian heritage, emphasizing plants from "summer-dry" regions (only 2% of the world's land mass) that share California's Mediterranean climate. This climate is typically characterized by short, mild, rainy winters (with rainfall varying wildly from year to year) and long, warm to hot, dry summers.
But Pacita's real love is succulents—those distinctive, always eye-catching, and yes, increasingly trendy plants characterized by thick leaves and stems that can store a lot of water. Stemming from the Latin word sucus, meaning sap or juice, succulents range from familiar forms like cactus and jade to a myriad of monikers like "Silver Ruffles," "Ox Tongue," "Crown of Thorns," "Pinwheel Desert Rose" and "Baby Toes." Although her home and garden are full of succulents (most of which originally came from the four summer-dry areas around the world), Pacita is always looking for another unique color, shape or texture to add to her collection.  Road trips are plotted around out-of-the-way nurseries, and she continues to bring home plants in her suitcase. After one particularly memorable find, she flew home carrying a two-foot-tall "Sticks on Fire" succulent in her lap.
Pacita had just trained to be a Master Gardener in Pennsylvania before she moved west, so she was dismayed to learn that she would have to attend another 14-week program to be certified as a UCCE Master Gardener in California. "I thought I knew a lot about gardening," Pacita says. "It turns out that the training in California is very different. There was nothing in my training in Pennsylvania about sustainability, water conservation, drought-tolerant plants or Integrated Pest Management. I also learned about how to select a site for a garden—the angle of the sun is different here and changes through the seasons. I have to move around my container succulents so that they achieve the optimum light and heat."
According to Pacita, understanding your plant and its requirements is the key to successful gardening. "Right plant, right place," she summarizes. "I bought my first succulent at Sierra Azul Nursery in Watsonville, brought it home and it soon died. I thought all succulents wanted full, hot sun and little to no water. You need to read plant labels and do your research for best success. If you give a plant what it needs, it will love you back."
Touring Pacita's garden, it's easy to see how her love of traditional garden plants fueled her transition to succulents. "Echeverias look just like roses and come in many color variations," she explains, pointing out color combinations in her garden ranging from green and green-blue to lavender and mauve. And, among the leaves, a mix of styles—from flat, traditional to striking waves—many spouting tips tinged with red, blue, pink and even lavender.
"There are thousands of varieties of succulents. I am always looking for unusual pots to complement my plants or other ways to display them," Pacita says. She re-purposed a roof gutter into a succulent container and uses succulents to create holiday decorations. And while many succulents look good as solitary specimens in a pot, she also fashions larger containers with groups of succulents. "I follow the 'thriller, filler and spiller' formula for creating no-fail interesting combinations. Consider form, color, contrast, texture, focal point, repetition and balance," she says, referencing the design principles that she learned at the Art Institute of Seattle. She also recommends combining plants with the same needs for sun, water and growing season, while factoring in their overall size at maturity. "My gardening goal is to enjoy gardening with less work, time, money, energy and water," she says. Looking at Pacita's wonderland of lush and visually captivating creations, she clearly has a master's touch.
Pacita will be teaching Succulent Care and Design on February 10 at the San Mateo Arboretum. Visit sanmateoarboretum.org/classes–events.html to register for this free class.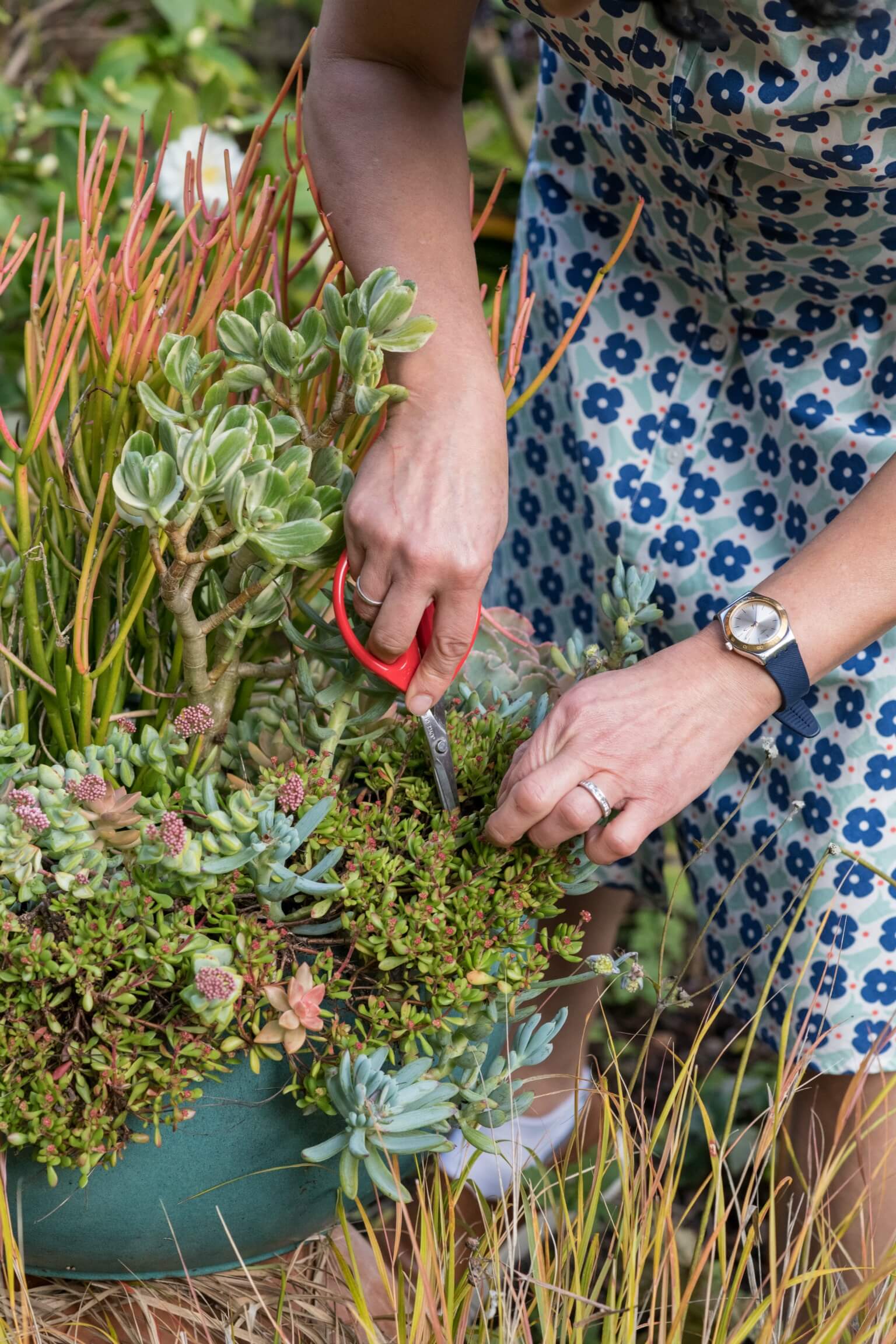 pacita's tips
Growing Succulents in Containers
+ Pots must have a drain hole and be slightly larger than the plant.
+  Use a premade succulent mix for soil or amend traditional
potting mix with 50% coarse pumice, crushed lava rock or perlite.
+ Most succulents need three to four hours of morning sun (not the hottest, sunniest place in your yard!).
+  Water in the morning when plants approach dryness (about once a week in the growing season).
+ Keep water off of leaves.
+ Many succulents can take some freezing temps; others must be placed in a protected place when temperatures drop.
+ Prune, divide and transplant during the growing season, typically February and March.
+  Feed with a half-strength balanced fertilizer (like 10-10-10) in spring and fall.
+ Repot every two to three years.
Creating Succulent Arrangements
+ First pick a "Thriller" – This is the "star" or leading role, the Audrey Hepburn, of your arrangement and should be large, tall or dramatic. It should be the first thing people notice in your arrangement.
+ Next, pick a "Filler" – These are the "supporting actors" and should fill in around the "Thriller." Ideally, they should
complement the "Thriller" in color, texture or form. Plants
should be spaced to allow for good air circulation.
+ Finally, select a "Spiller" that spills over the side of the container like "String of Pearls," "Donkey's Tail" or a trailing sedum.
+ Look for a container that also complements the plants in
shape, color and size. Make sure that it is not too big or too small.
+ "Top Dress" your arrangement with colored rocks or marbles for a finished look.