As we celebrate Valentine's Day in February, we're reminded how epic love stories flourish in romantic settings. In the 1980 fantasy/drama Somewhere in Time, a grand old hotel in Michigan is the backdrop for a time travel romance between a playwright and an actress. Luckily, here on the Peninsula, we can rely on our cars to transport us to historic locations that combine bygone days, stunning locations and comfort for a magical outcome. Here are three standout spots to tempt you.
Napa River Inn
Just an hour from the Golden Gate Bridge, you'll encounter Napa's dynamic Riverfront district, where "the water meets the wine." It's here you'll find the Napa River Inn, downtown Napa's highest Michelin-rated and Forbes Four-Star hotel. Originally built in 1884, the independently-owned luxurious waterfront site—within the Historic Napa Mill— is centrally located, with walkability to local shops, gourmet restaurants and plenty of wine country tasting rooms.
After 2017's devastating fires, the Napa River Inn anchors the area's revival. Undamaged, but integral to the fire recovery efforts and community, the hotel maintains its commitment to preserving history and the environment. Today's hotel was built without tearing down the original site. Products at the hotel are locally sourced, and even some of the bricks were formed with clay from the Napa River. Situated on two acres, the inn's three buildings each have their own distinct personality: nautical, contemporary and historical. The Historic building still has the original floors, which were once a roller rink built for ladies' fun. Now part of the parlor, this rink was a feminist statement back in the day, when many Napans enjoyed frequent social events at the Hatt skating rink.
Sixty-six elegantly decorated rooms offer comfort, coziness and old-style romance.The spa—inspired by the rich indigenous history of the area—infuses relaxation into a stay. Grape seed and olive oil ingredients are a nod to the vineyards and groves in the region. Fresh-baked pastries are delivered to your room daily by Sweetie Pies Bakery and "Global Comfort Food" is on the menu at Celadon, an award-winning restaurant with a quaint courtyard.
During your visit, enjoy wine tasting, outlet shopping, hiking, art galleries, biking or slipping into a Lexus house car for a complimentary "driver-hosted" jaunt in town. And get ready for eye-catching splashes of color. February and March welcome the mustard blossoming, so the area is aglow with the bright yellow blooms.
500 Main Street, Napa napariverinn.com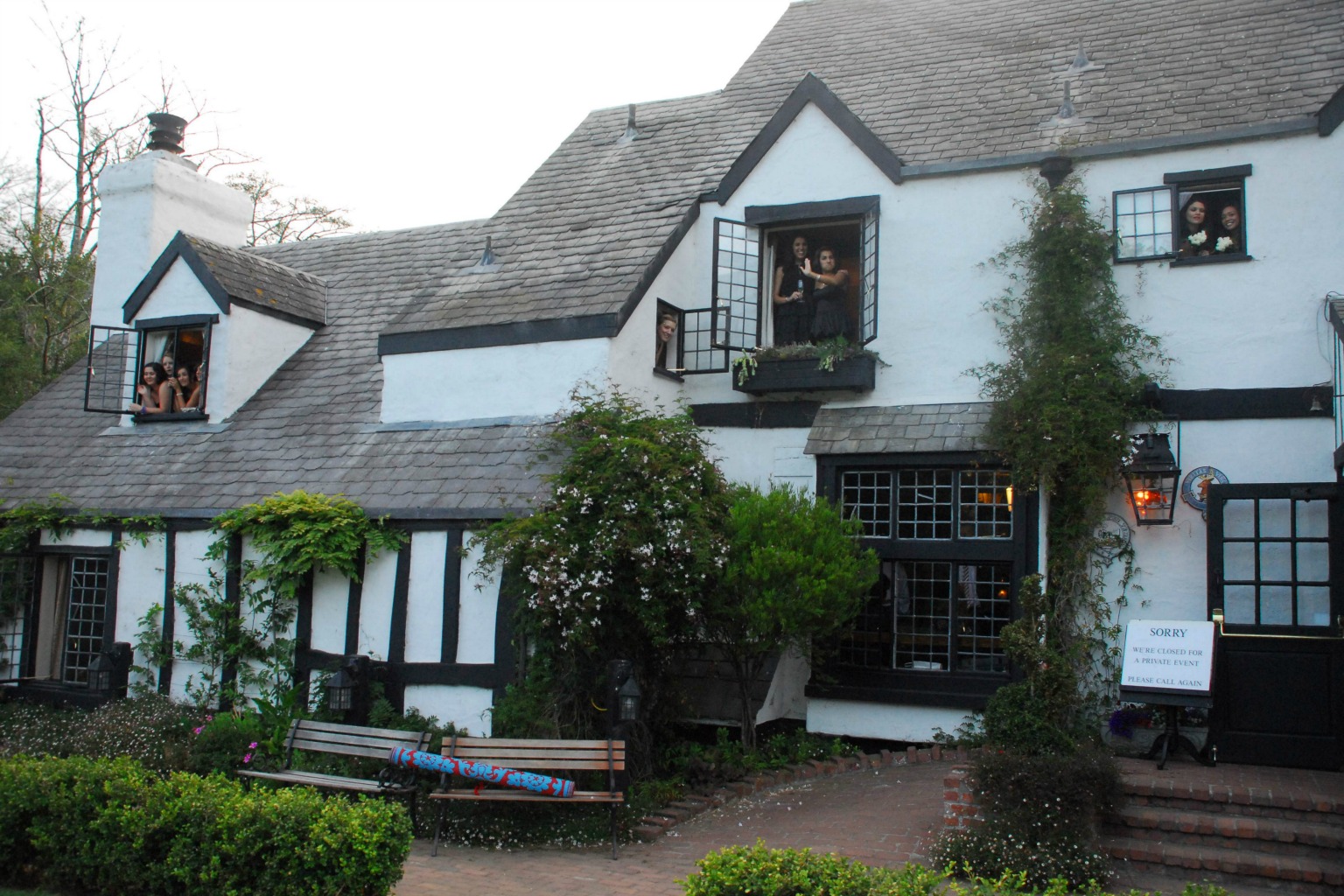 Pelican Inn
Just 20 minutes of winding Highway 1 from the Golden Gate Bridge, near the spectacular Muir Beach, this 16th-century English Tudor Inn is at once anachronistic and perfectly woven into the scenery. The rolling hills and striking cove—not unlike Plymouth, England—are a fitting backdrop for this ivy-clad and whitewashed reproduction of a traditional English lodge. Fog mixes with scents of jasmine and honeysuckle, and whether sunny or moody, it's an enchanting locale. Stop for a pint and game of darts, hike over from Tennessee Valley for a pub lunch, book a Sunday dinner or stay in one of the Inn's seven cozy, antique-filled guestrooms. The restaurant has a daily menu of classic British fare. You can tuck into Beef Wellington or shepherd's pie, and the bar offers an assortment of fine ales, draught beers, stouts, pilsners and a wide variety of wines, sherries and ports. In true English fashion, Pelican Inn also offers a royal afternoon tea menu with a dazzling selection including Lapsang Souchong, Fancy Earl Grey and Fireplace Chai. After your meal, linger on the lawn, venture over to the meditation garden at the nearby Green Gulf Farm & Zen Center or catch a walk on the beach before taking the curvy road back. If you're staying the night, snuggle in to your "half-tester," a heavily-draped canopy bed, surrounded by English antiques. Drift off with a smile, knowing a full English breakfast, complete with bacon and eggs and bangers, awaits you in the morning.
If you're visiting in February, a Valentine's dinner is sure to warm the hearts of lovebirds, and winter weather in the area can be stunning with bluebird skies and just a nip in the air, or overcast and soggy—inspiring hand-holding by the fireplace. Regardless of the weather, get out and explore: The Pelican Inn is a gateway to Muir Woods, Mount Tamalpais, Stinson Beach, Bolinas and Point Reyes National Seashore. Or make a day of elephant seal viewing. From December through March, a breeding colony of elephant seals can be observed from Elephant Seal Overlook near Chimney Rock, above stunning Drakes Bay, an hour or so away.
10 Pacific Way, Muir Beach pelicaninn.com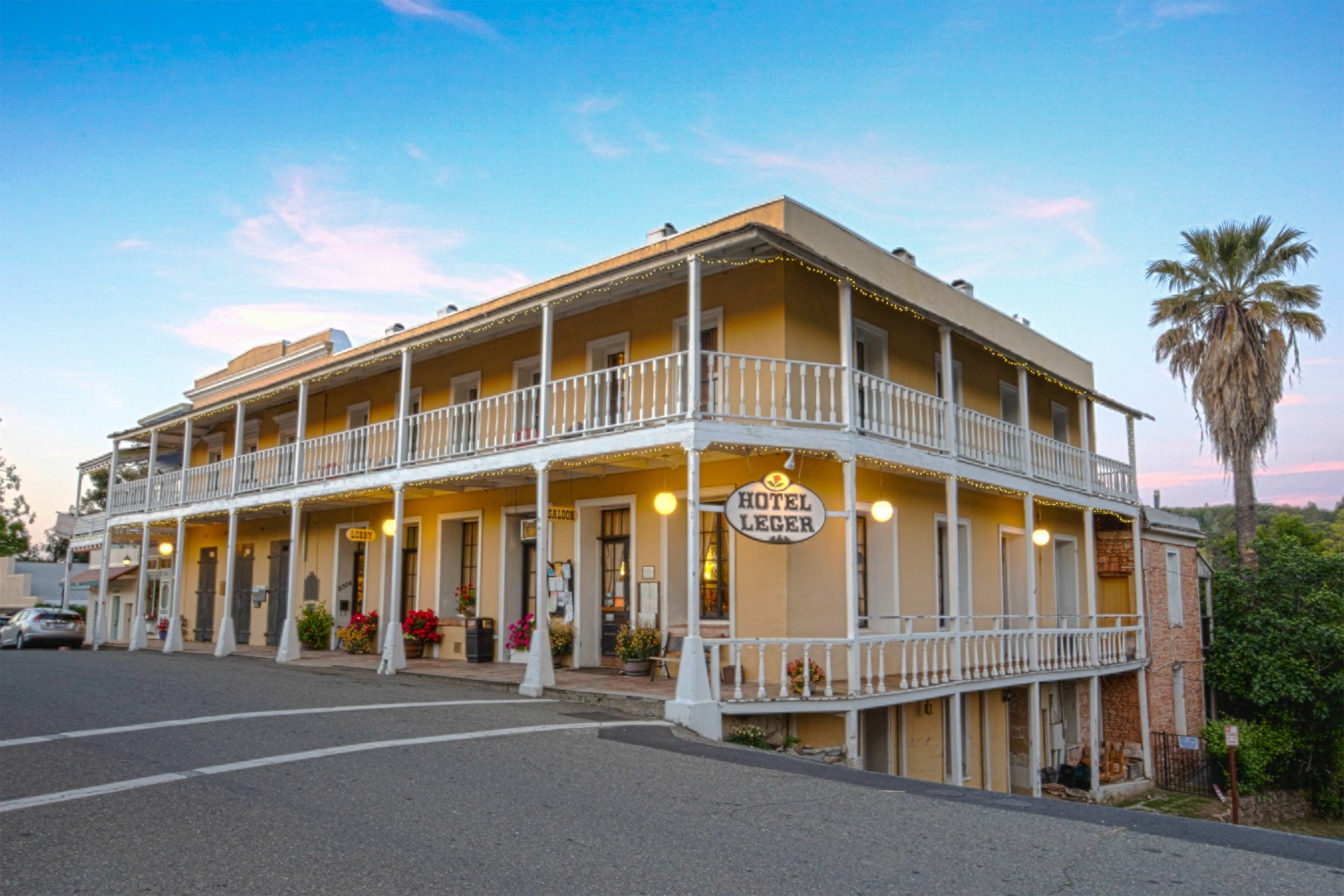 Hotel Léger
The French-named hotel, first established in 1851, was founded by a Frenchman, and is one of the longest continually operating hotels in California. The town of Mokelumne, or as locals call it "Moke Hill," is located by the river of the same name, about 10 minutes from the town of Jackson. The town and hotel were once the busiest in the Mother Lode, attracting miners and business people from around the world. Set in the Sierra foothills and rebuilt a few times following fires, today's Hotel Léger is run by employees-turned-owners Krissy Haderer and Debbie Rangell. Legend has it that the ghost of George Léger—the original proprietor—as well as a variety of other friendly spirits, occasionally make their presence known. Carrying on the French diaspora spirit, the chef, Louis Chiero—who was a personal chef for two governors—hails from Louisiana. The hotel has 13 antique-decorated rooms, some with fireplaces and balconies, and a few that welcome pooches as well. The saloon was once one of the rowdiest bars in the Gold Country (and a hangout for some of the notorious outlaws of the day). The menu is varied, including southern French fare, Italian specialities and Cajun classics, along with gourmet burgers and steaks to keep the local ranchers happy. And save room for the beignets! As you might imagine, the hotel celebrates Mardi Gras in a big way.
While you're there, beyond the snow appeal, the Sierra foothills' offerings are vast. Wineries and cideries make wonderful day trips. The Indigeny Cidery, outside Sonora, is about an hour's drive through beautiful country. This year also marks the 23rd annual Presidents' Day Wine Weekend, sponsored by the Calaveras Winegrape Alliance. Visit on February 16 and 17, and with the purchase of a $25 commemorative glass, you can enjoy free limited-tasting flights at over 22 participating wineries and
tasting rooms.
8304 Main Street, Mokelumne hotelleger.com