Words by Sophia Markoulakis
Pragmatism and efficiency aren't commonly associated with creative fields like design; but for Menlo Park-based interior designer Stephanie Zaharias, these attributes complement her creativity and fuel her drive to satisfy her customers. "I embrace my pragmatism," she says. "I got into this business because I hired an interior designer for our home. She charged us an exorbitant amount of money for throw pillows. That ordeal resulted in our first argument as a married couple—we named it 'the pillow fight.'"
That pillow fight was a major impetus for Stephanie leaving her busy tech-sales career to pursue a career in design. The career change also provided more flexibility for raising her growing family: "I said to my husband, 'I'm going to go back to school and learn about landscape architecture and interior design, and even if I don't end up working in the field, I'll be able to apply what I've learned in our own home.'"
Stephanie is on a mission to make Zaharias Design the antithesis of firms that resort to superfluous billing, and she is sought-after for her streamlined and efficient project management method. Looking back at her 20 years in the design business, she reflects on the consistent growth of her firm, attributing it to her transparency about costs and expectations and service-first approach. "It's always been a steady stream of projects, each increasing in scope," she explains.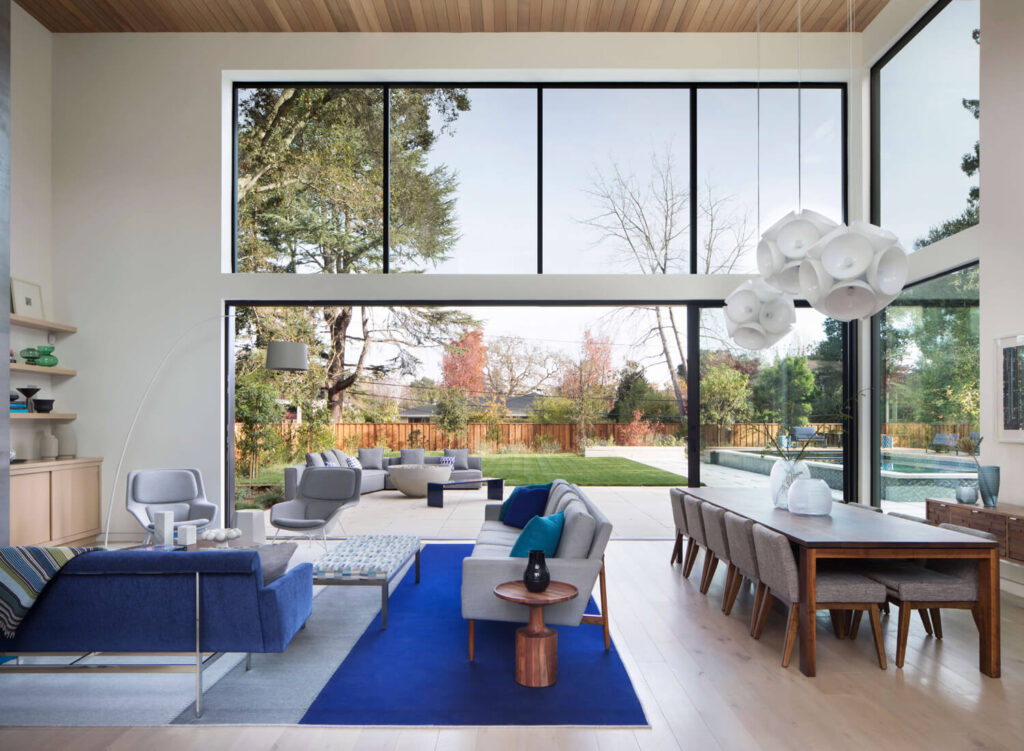 Stephanie says what distinguishes her from interior designers and home decor influencers who utilize the buzz of social media and press is her approach to obtaining clients. "I don't put a sign on my job sites with my name. I don't love self-promotion," she shares. "I prefer to have a small practice and be selective but not in a pretentious way. Rather, if I'm working with nice people, nice people tend to congregate, so I get referrals that way."
Looking at Stephanie's projects, it's clear that design subtleties like joinery, meticulous seams and uninterrupted lines are some of her trademarks. "My design aesthetic is thoughtful, unexpected and sophisticated but not in a stuffy way. By sophisticated, I mean that the fine details have been studied, so they are cohesive and complementary," she says. "I don't like loud bling and abrupt transitions, and I'm not one to follow a trend."
Stephanie leverages virtual design support such as draftspeople, which allows her to keep her overhead low. Even during uncertain times like 2020 and 2021, she's been able to manage her various projects and address their needs simultaneously. "Thanks to technology, I've had great luck with a talented pool of creatives, distributed all over the country," she says.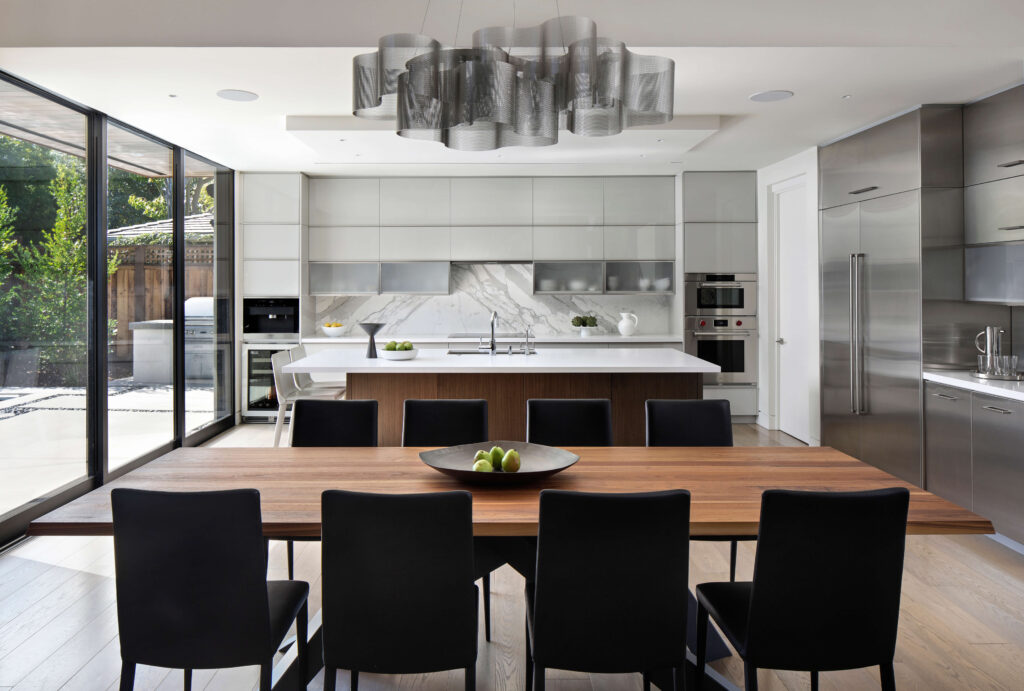 Last year's supply chain issues, which Stephanie sees continuing through 2022, inspired a more robust use of the secondary (consigned or auction items) market. For instance, she filled a recently completed 3,500-square-foot project in Sonoma with approximately 40 percent of the lighting and furnishings sourced from online outfits such as Chairish and 1stDibs. "Because of the pandemic and supply-chain issues and because this project came about very quickly, I had to get even more creative with sourcing," she says of these sites that offer items that have been gently used or were samples or returns. "Lots of furnishings that can be had on the secondary market aren't necessarily 'used' items. Many are design firm returns or custom items that ended up not suitable for a project."
The secondary market not only relieves some of the strain from supply-chain issues but it's also a more sustainable way to furnish a home. Stephanie takes it a step further, saying that using this market is a way to counter what she calls the "copycat effect" of today's aesthetic in homes. "What's happened is that because everyone has access to the same key influencers, there's a copycat effect happening," she notes. "This buy-it-now approach has fostered a complete imitator aesthetic and deadens the pursuit for individuality."
Stephanie explains that people are losing interest in "the hunt" for a special interior piece and instead opting for the "one-click" shopping approach without leaving their homes. "It's a big problem," she stresses. "Are we all going to live in these identical spaces?" She finds Europe to be trending in the opposite direction, holding firm on the sacrament of individuality within one's interior space. "I worry that one day only the elite will be interested or have the ability to source bespoke items, creating a wider divide that already exists for design and the services we provide," she says.
Growing up in the diverse Hollywood Hills area of Los Angeles and living in Europe for a year broadened Stephanie's view and appreciation for modern architecture. "I follow architects as much as interior designers," she says of the synergy needed to build and design a cohesive, liveable space.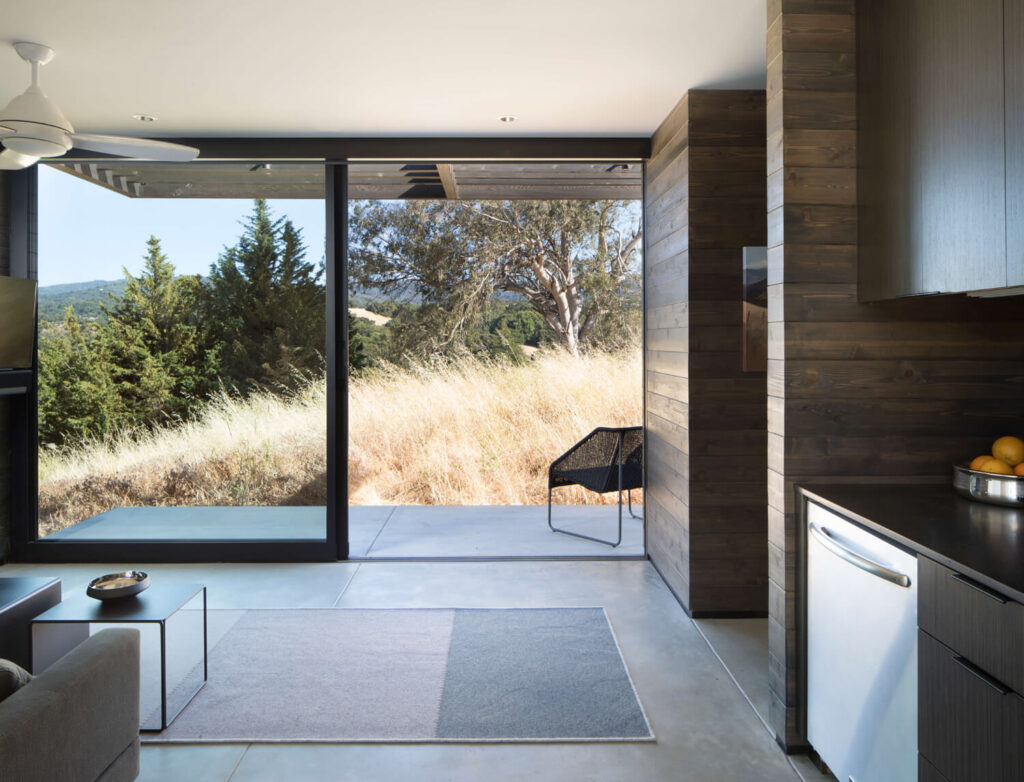 Living on the Peninsula and coming from the world of tech, she understands the need for quiet spaces: "Because of the intense pace of this area, a lot of my clients need calm when they get home. I work really hard to tailor a home to my client's needs, often an escape from Silicon Valley's dynamic atmosphere." Stephanie likes to keep technology out of sight unless otherwise advised and employs techinques like installing outlets in drawers. "I hide as many things as I can," she says. "My clients love not seeing cords."
Even as Stephanie designs ways to unplug from technology, she also encourages connection. "When I interview a prospective client," she notes, "I'll ask things like how long they linger at the table or whether they like to snuggle on a sectional."
Using space wisely, regardless of a home's square footage, is another trademark of Zaharias Design, and one Stephanie personally embraces. "Our family of six has lived in the same smaller home in Menlo Park for 22 years by choice," she says, "and I make sure that when clients expand, their ability to preserve family intimacy is still there."