Words by Lotus Abrams
The first thing visitors tend to notice when they arrive at a new home tucked into a cul-de-sac in a 1950s neighborhood of Hillsborough is that there's something different about the walls. Minimalist and dense like concrete yet softer and more organic in appearance, the distinctive walls are crafted from rammed earth, a method that has been employed for thousands of years (the Great Wall of China was built using this technique) and is seeing a resurgence in modern, eco-friendly construction. The home is the first rammed-earth project for San Mateo-based TRG Architecture + Interior Design, owned by architect Randy Grange and interior designer Leslie Lamarre, a husband-and-wife team who utilize many organic, natural and sustainable elements in their projects.
TRG's client was motivated to purchase the Hillsborough property because of its proximity to the homes of some of his close friends, but the original house was inefficiently sited and would have been difficult to remodel to achieve his desired indoor-outdoor aesthetic. Instead, he opted to build his dream home—a calming antidote to busy life. TRG helped him realize his vision.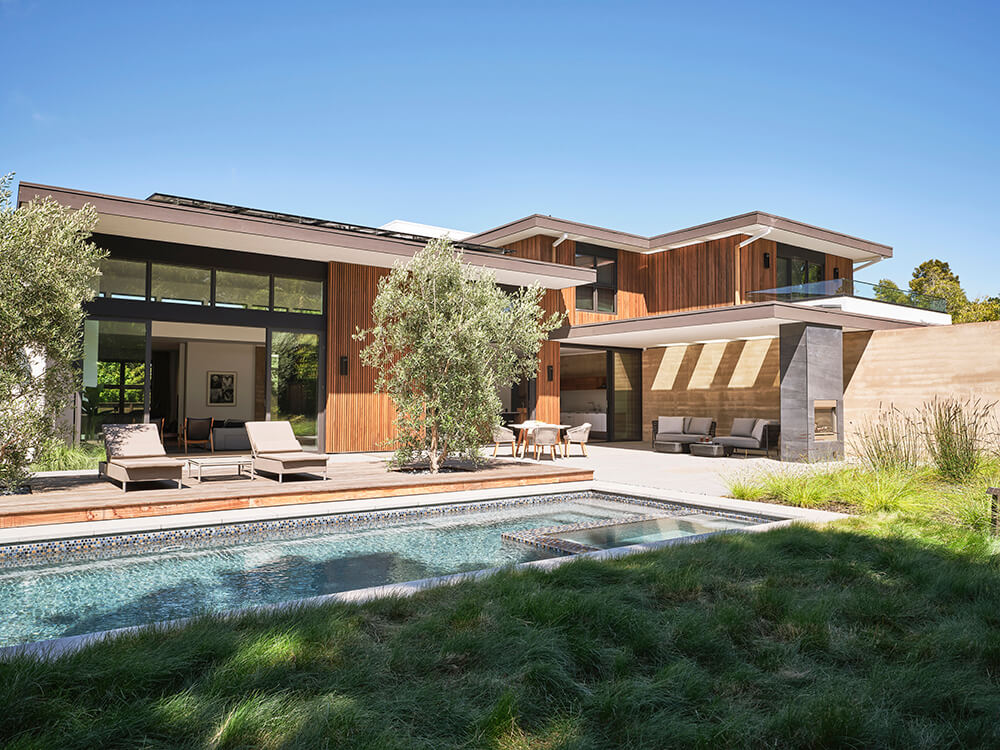 "The client came to me with some images of houses that he liked with concrete walls that are inside-outside, and also some masonry walls where the wall goes from the outside to the inside and becomes an interior finish," recounts Randy. "I suggested the rammed earth because it provides the same effect yet is warmer, earthier and more environmentally friendly."
Rammed-earth walls are made from soil pounded or "rammed" at very high pressure. The material is eco-friendly, as dirt is a renewable resource, while cement produces high amounts of CO2 during the manufacturing process. The high thermal mass of rammed-earth walls also effectively slows down heat transfer between the inside and the outside, keeping interior temperatures stable.
Prior to this home, there had only been one other rammed-earth project in Hillsborough, but TRG sailed through the approval process. "The design review board loved it, and the building department was so cool about it, so it wasn't the challenge I thought it was going to be," remarks Randy, who teamed with CBW Construction on the project. TRG also relied on an engineer and a rammed-earth specialist in Sonoma to ensure everything went as planned during construction. "The rammed-earth walls were the first thing that went up," Randy says. "It took a couple months more than you would normally spend upfront, but then the house went together just like any other house."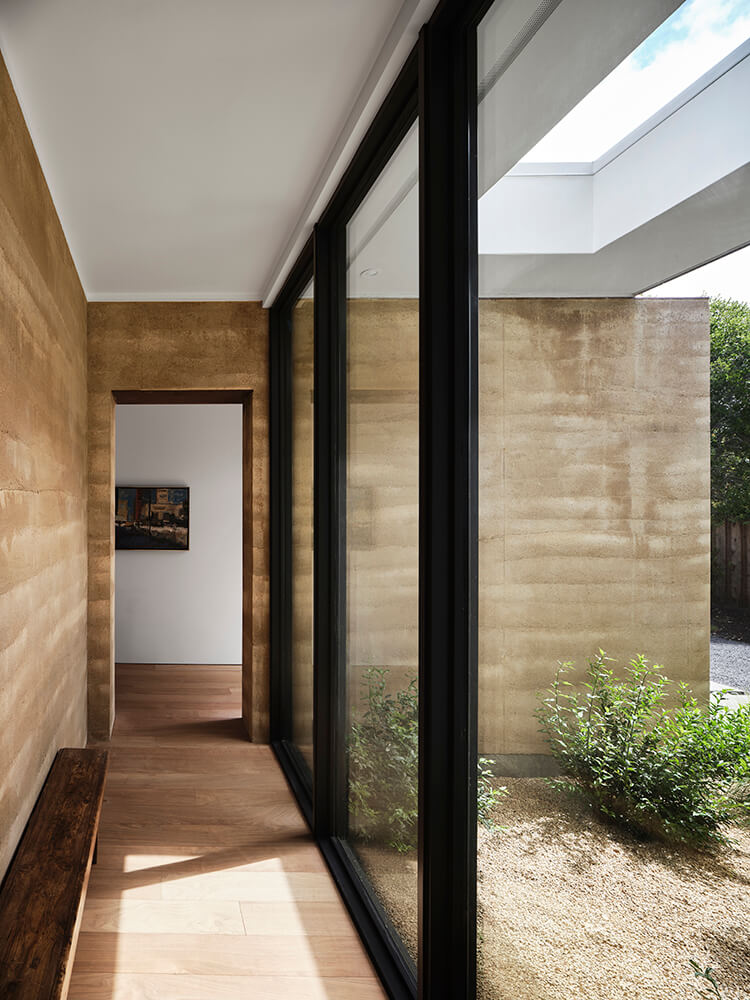 The new 5,270-square-foot, four-bedroom, four-and-a-half-bath home features 18- to 24-inch-thick walls (versus the typical 10 to 12 inches for cement), which not only make the home structurally sound, but also create a dramatic contrast to the glass window walls. The house takes full advantage of the site, too, with a staggered footprint that follows the curve of the road, and the design employs horizontal lines that complement the neighborhood's existing ranch homes.
Adding a soothing element to the design, a series of intimate Zen gardens designed by Keith Willig Landscape Architecture are strategically placed outside the home. "When you walk through the house, you're always in contact with one of the rammed-earth walls that are coming in from outside as well as glass, so it created space for these little Zen gardens," Randy notes. "You really don't walk more than 10 or 15 feet inside the house without seeing another one of the gardens."
In addition, the home's entrance features a raised ipe wood bridge over a Japanese rock garden punctuated by an ancient olive tree. The rest of the property and the pool are surrounded by gentle berms created from dirt excavated during the construction process and filled with native grasses and drought-tolerant plants. The home is also equipped with solar panels discreetly located out of view.

Inside, the rammed-earth walls set the tone for the interior design, and Leslie worked with the client's own interior designer to ensure everything came together. "The home has a quiet palette so as not to take away from the predominant element of interest, which is the rammed-earth walls," she says. Wide-plank timber flooring is used throughout, and the second-floor office captures a small view of the Bay. The gourmet kitchen features Henrybuilt cabinets, and a modern chandelier from Stickbulb hangs above the dining room table. "It's minimalist with a flare," summarizes Leslie.
Now solidly grounded in his new neighborhood, the client is thrilled with the result. "He had a vision about what he was looking for," Randy affirms. "He especially loves the heaviness of the walls."