Words by Johanna Harlow
No restaurant fuels the imagination (and appetite) quite like Buck's in Woodside. Welcoming guests at the front door, a six-foot Lady Liberty holds an ice cream sundae "torch" aloft. A Mona Lisa in a cowboy hat and a mounted bison in a sombrero hang on the walls, while a sizable Pegasus, an astronaut and a pack of flying nuns dangle from the ceiling. Under your feet, the patterned carpet is embroiled in crocodiles. Drawn to this hub of creativity, the innovative minds behind Tesla, Hotmail, PayPal, Netscape and eBay came here for their early meetings, pitching groundbreaking ideas over bacon and French toast. But what if you grew up here? What sort of impact might long-term exposure to a place like Buck's and its unconventional atmosphere have?
You'll have to ask Tyler MacNiven, second son of Buck's founder Jamis MacNiven. "This is definitely like a living room for me," Tyler shares as he passes a 12-foot unicycle and a shark painted with Hot Wheels flames, before folding his long legs into a booth seat. "I was pouring coffee here when I was 12."
After circulating through a myriad of jobs at the diner—serving, bartending, managing, kitchen duties—Tyler recently took over the running of Buck's (and several more restaurant ventures) with his two brothers.
But catch your breath now, because there's more—much more. Tyler has also filmed documentaries in Japan, Iran, Cuba, Mongolia and India. He cameoed in an iconic Hollywood film. And he won a million dollars with his teammate on Season 9 of The Amazing Race, a CBS reality game show. Buckle up for the tale of Tyler's gloriously wild ride.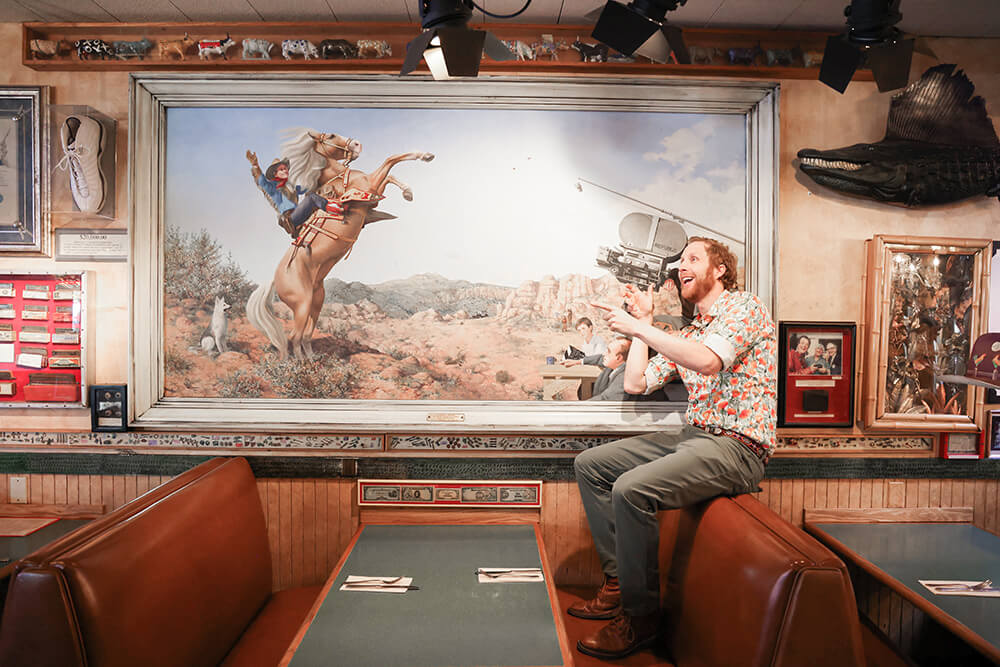 Filmmaker
When Tyler was introduced to his first camcorder at 18, the two became inseparable. "I started making movies with my younger brother during the summers when I'd come home from college," Tyler recalls. "We had so much fun making movies and laying down soundtracks and playing different characters." Boisterous memories were forged as the two gallivanted through the woods in cowboy outfits during the making of action-packed old Westerns, along with the occasional thriller or comedy.
While studying politics at UC Santa Cruz, Tyler gave stop-animation a try. The first, a vignette of people walking various appliances around the block by their power cords, was followed by a second that portrayed a character's budding romance with his computer. "When the computer unfortunately suffers a tragic demise, the floppy disc retains all the memories they had together," chuckles Tyler.
For his next project—an epic battle of computers versus television sets—Tyler procured his cast from a bountiful junkyard. He recruited a number of friends and fellow filmmakers to move these scrappy "warriors" in a heroic charge—before falling on each other and grappling in mortal combat.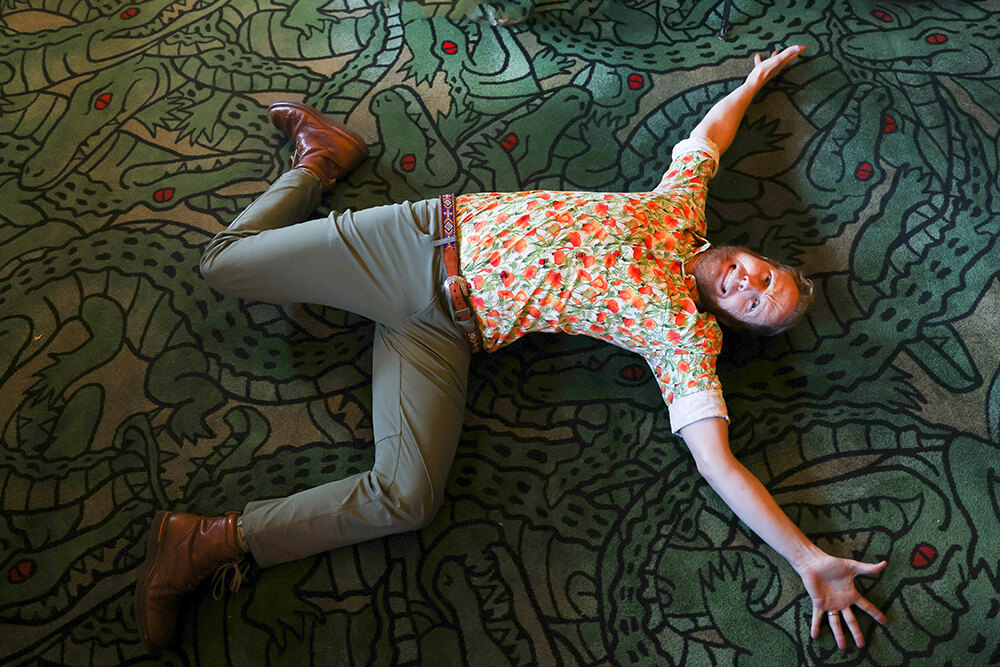 documentarian
After graduation, Tyler set out with backpack and handycam to make a five-month, 2,000-mile pilgrimage from one end of Japan to the other. He chronicled his trek from Kyuˉshuˉ to Hokkaidoˉ in a travel documentary titled Kintaro Walks Japan. "Kintaro," meaning "Golden Boy," tips its cap to Tyler's wild blonde curls—all the more conspicuous when he's looming head-and-shoulders taller than the dark-haired locals around him.
Though sometimes he pitched camp, Tyler encountered countless strangers who invited him back to their homes for the night (perhaps swayed by the local newspapers, and later TV channels, that covered Tyler's story). "I kept saying, 'If you give yourself to the journey, the journey will give itself to you,'" he shares of what turned into 60 homestays. "I said, 'Japan take me.' And Japan just embraced me."
Though communication was limited, the camaraderie between traveler and hosts was unmistakable. "They would cook me an incredible meal—and often they would bring out a bottle of sake that they'd been holding onto for some time," he reminisces. Frequently, he found himself passed around to meet parents, kids and grandparents. Even the neighbors would get invited to meet the crazy foreigner.
Despite the glowing news publicity, Tyler found it difficult to find a distributor for his documentary upon his return to the States. Undeterred, he burned 1,000 DVDs, hawking copies in San Francisco and at the family restaurant. The guerilla tactic paid off and his film found its way onto the Google Video streaming platform as well as into a few film festivals (getting voted "Best of Fest" by audiences at the Santa Cruz Film Festival). For a month, international travelers aboard American Airlines also watched Kintaro in-flight.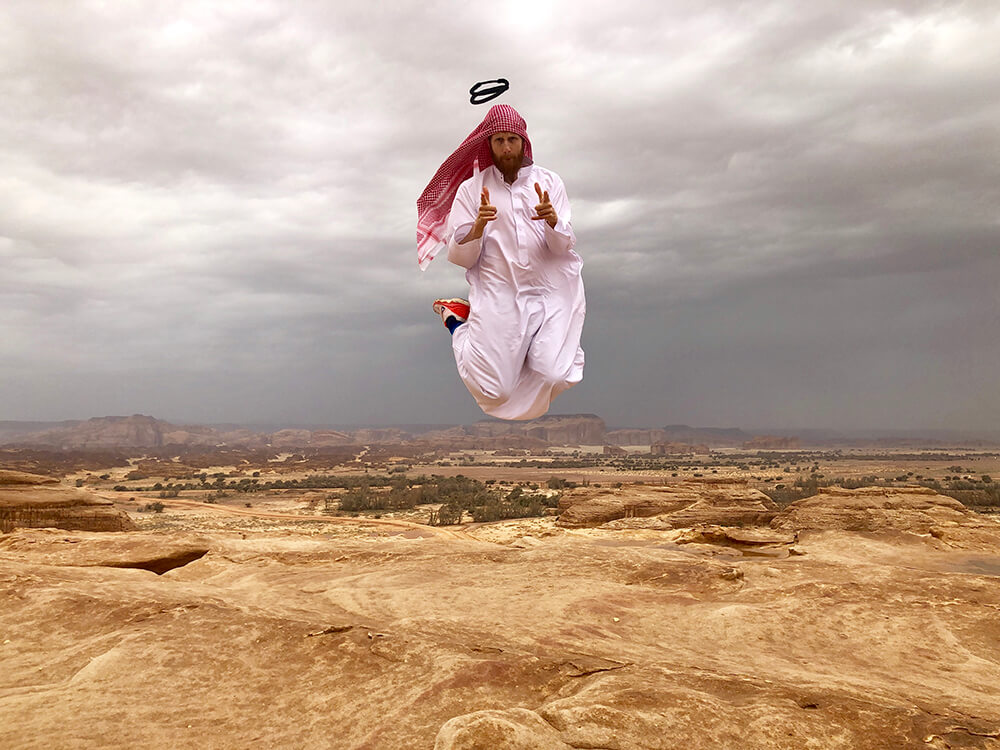 Emboldened by his success and ready to encounter another country in a non-traditional way, Tyler filmed I Ran Iran. But the documentary was cut short after only 100 miles. "The Iranian people were so gracious," Tyler insists. "Unfortunately, the Iranian government wanted to use the run as a political stunt… I wasn't there to do that." Undeterred, Tyler set off to document himself hugging a thousand Cubans—then wrestling 100 Mongolians.
This last project was inspired by Tyler's discovery that nearly everyone in Mongolia is down to grapple. "Men, women… Doesn't matter what age, wrestling is the national sport," he explains. "What a really interesting way to figuratively and literally embrace a culture by going out there and challenging them to wrestling matches." The project morphed into Wrestling Mongolia, an adventure comedy that Tyler made with friends. "Don't watch it," Tyler laughs.
Contestant
Of course, there's also Tyler's most publicized endeavor: his time spent as a contestant on The Amazing Race in 2006. On the reality television game show, Tyler (along with his teammate and friend BJ Averell) tackled countless problem-solving tasks and physical challenges as they made their way across 10 countries, 36 cities and 59,000 miles.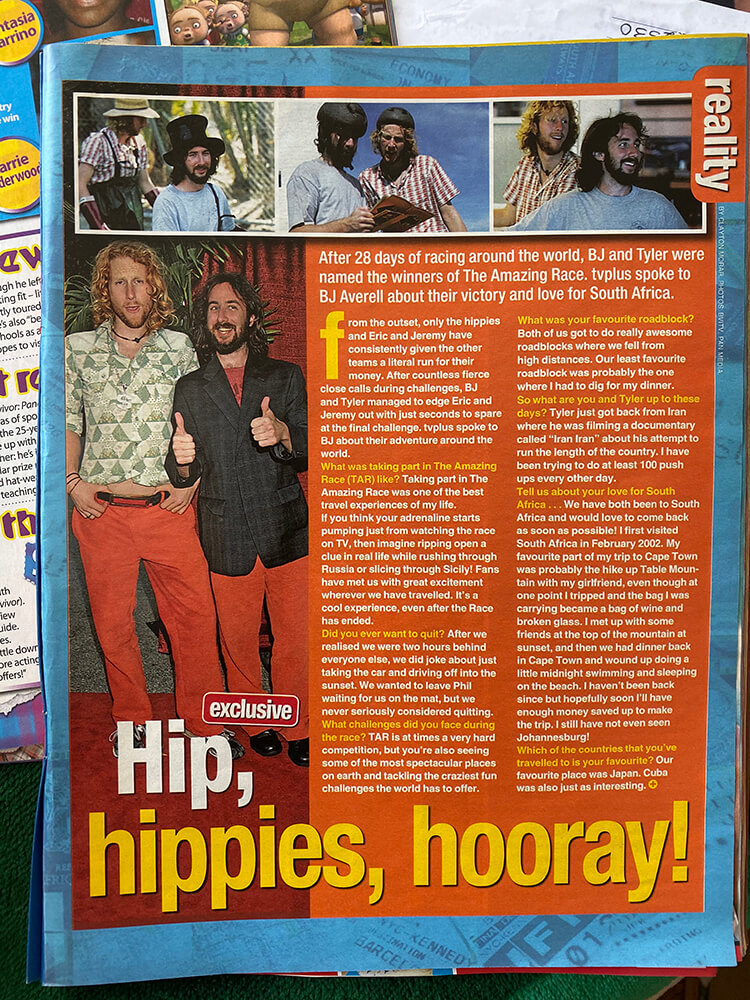 It wasn't long before the shaggy duo earned themselves a team nickname: The Hippies. "You know what the definition of 'hippie' is?" Tyler asks. "Someone with long hair who's having more fun than you!" He adds that long before his UC Santa Cruz days, his parents instilled that free spirit. "It was already deeply ingrained in my DNA. There's hippie all the way down to the nucleotides," Tyler declares. (Coincidentally, after the race, Tyler would cameo as a thieving hippie in The Pursuit of Happyness starring Will Smith. His precious minutes of screen time include stealing Will's equipment and dashing off in flared pants.)
That easygoing manner by no means discredited Tyler and BJ as fierce competitors. "Let's have a good time and win," the duo agreed. But who wouldn't go all in with a $1,000,000 incentive on the line? "That's a motivator—especially when you're 26, working at your parents' restaurant!" Tyler quips. "I had $900 in my bank account."
Fun was always in the mix, Tyler insists—even when they endured the tedium of digging through 117 sand dunes for their next clue in sweltering Oman, or raced with a ripe 30-pound swordfish on their shoulders to a market in Italy, or cut their tongues while eating a heaping bowl of crispy crickets in Thailand. "You can't always control what happens to you," Tyler notes, "but you can control how you respond to it."
And when they won, the tougher tasks made their victory that much sweeter. "When I think about The Amazing Race, it feels like going to an amusement park," Tyler marvels. "Was getting on that roller coaster challenging? It was nothing but exhilarating."
Restaurateur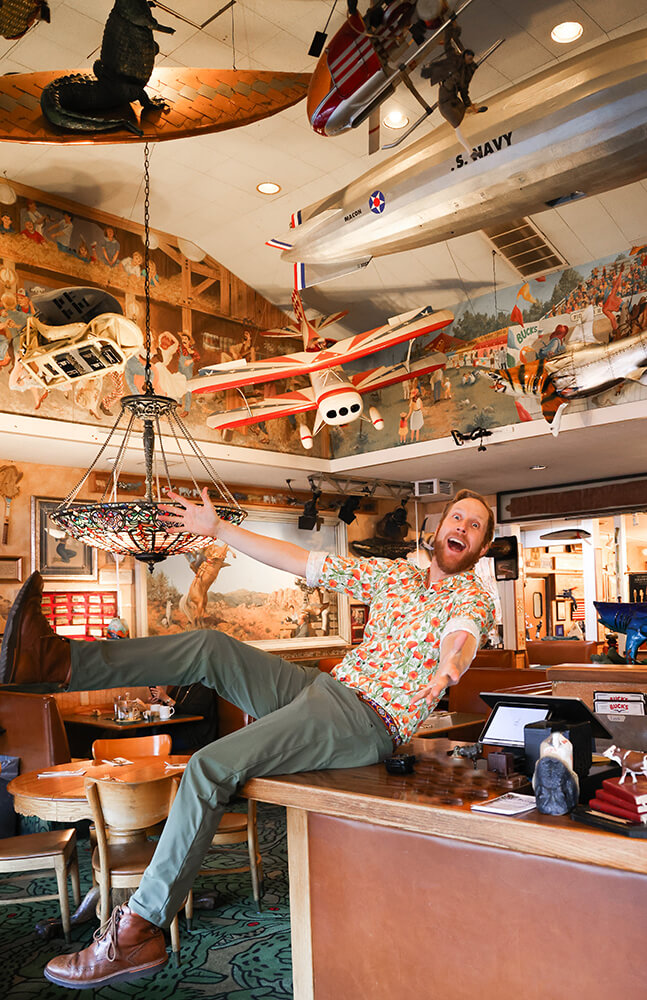 After the show, Tyler invested a chunk of his winnings toward his film career. "But I wasn't able to really work the business angle of that, nor did I want to," he concedes. Around this time, his attention shifted to what his brothers Dylan and Rowan were up to back in the restaurant biz. "They were really growing as leaders and as members of the community," Tyler recalls. "They were learning so much and being challenged in these really interesting ways and carrying on our family tradition. And I just kind of got envious of that."
Deciding it was time to return to his roots, Tyler teamed up with his brothers. Today, they oversee four San Francisco restaurants (including West of Pecos, a Santa Fe-inspired eatery) as well as Pizzeria Deluna (a concept that partners with hotels to serve gourmet pizza to guests). Tyler also co-founded Sunbasket, a healthy meal kit delivery service that now sends out hundreds of thousands of meals every week.
Of course, the brothers also run the fantastical restaurant that started it all: Buck's. "Growing up in Buck's showed me that you can have fun while doing whatever you're doing," Tyler reflects. He recalls testing out an electric roadster in the parking lot that would one day become an early model for Tesla, and he can point to the exact table where Sabeer Bhatia pitched the idea for Hotmail. "[Sabeer] wrote on a napkin 'Free Email' and slid it over to [venture capitalist] Steve Jurvetson. He looked at it and said, 'Yes, let's do this!'" Tyler recounts. He adds, "Being a young kid, I didn't really understand the larger context of what was happening. I remember feeling like it was totally normal."
And that's why returning to this synergetic setting felt so natural. "Many of the folks who come in are people I grew up with, and the parents of the people I grew up with, and the kids of people I grew up with," Tyler says.
Though Tyler might not film as much these days, he still makes time for the occasional passion project. Take his espionage-themed "save the date" wedding video made with his then-fiancé, now-wife Kelly. It's a pun, Tyler explains. What if "save the date" didn't mean reserving the day, but rescuing it? To free their "hostage" date, Tyler and Kelly ensnare bad guys using a wedding veil for a net, set off a wedding cake explosive device and distract the enemy with a bouquet toss (the cronies can't resist the urge to tackle each other for it). "We wrote the whole thing within ten minutes," Tyler remarks. The video has racked up more than a million views.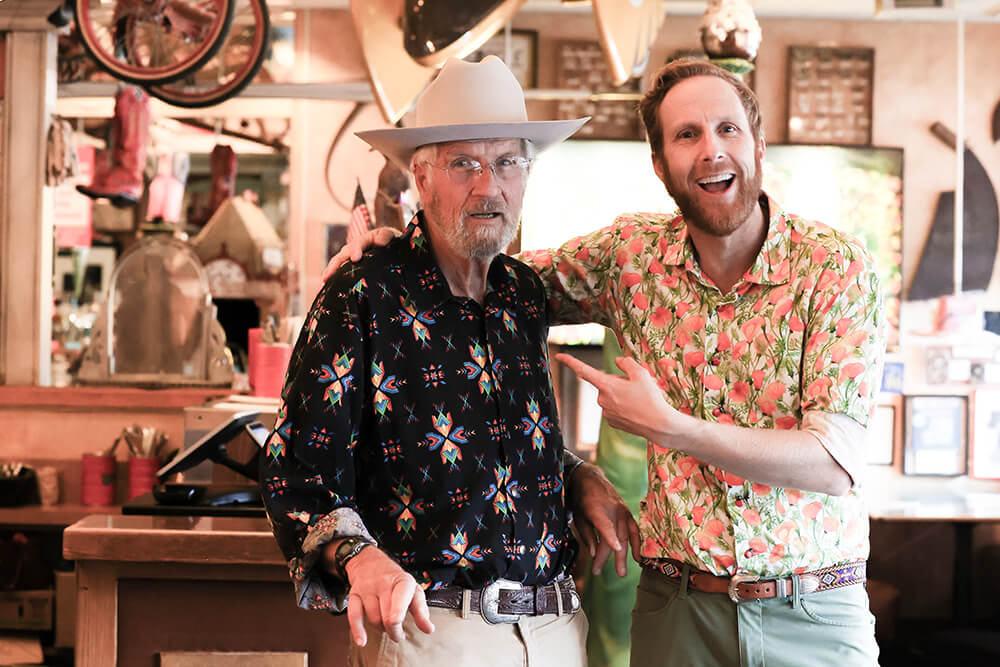 Though Tyler's father, Jamis, never pursued a cinematic career, Tyler says he admires his father's knack for captivating a crowd at Buck's. "My dad always said he was in the entertainment business. That man—he's a magical carnival. He brings the circus to town!" Tyler shakes his head with a grin. "I'm a subdued version," …claims the man wearing a shirt abloom in poppies… with ladybug buttons down the front.
If Tyler has learned anything from returning to his roots, it's this: Discovering new places doesn't require a plane ticket. "I found that being in the restaurant business is kind of like reverse traveling in a way. Instead of going out to see the world, open the doors and the world will come in to see you," smiles Tyler. "There's definitely a small-town feel here for sure. And also a big-world feel since people from all over the world come here."
As Tyler reflects on coming full circle, his eyes drift to neighboring diners—conversing over coffee cups and swapping stories over sausage links as Lady Liberty and the sombrero-wearing bison watch on. "If you have an appetite for humanity," he muses, "this is a great business."