Words by Johanna Harlow
Ramen's reign as the Bay Area's Japanese noodle of choice will go unchallenged no longer. Enter udon—ramen's plumper, chewier counterpart. "Udon has been the stepsister to ramen," chuckles noodle virtuoso Jerome Ito. "Now, udon is starting to shine more and people are learning more about it."
Jerome explains that traditionally, both styles feature signature dashi broths. "Ramen, you're getting these rich, thick flavorful broths—which are great, but on a daily basis, they're very heavy," he says. "Udon has always been a little more subtle."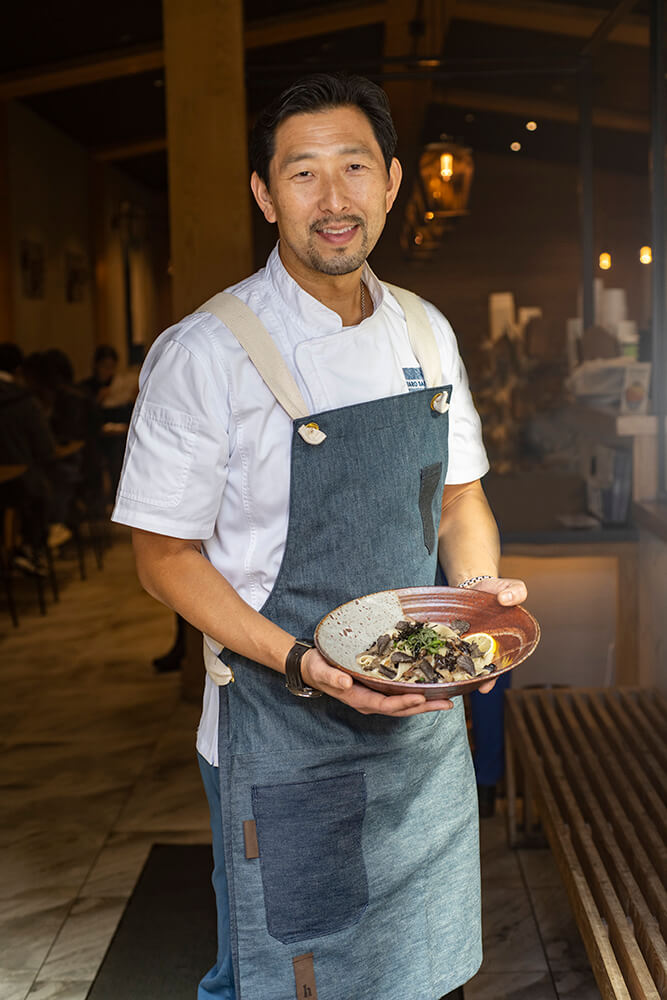 And he should know. As founder and executive chef of Taro San Japanese Noodle Bar in Palo Alto, Jerome and his team press, stretch and cut long slabs of dough through a Shinuchi noodle machine as hungry guests watch on. From the pot, a sensuous swirl of cooked noodles find their way into hot brothy baths or come to rest on mats with cold broth served on the side. No naked noodles here, each dish comes accessorized with toppings—ribeye beef or seared duck breast, daikon radish and tempura flakes.
By no means a newcomer to the culinary scene, Jerome previously worked as head sushi chef at Mountain View's Bushido Izakaya, then at Google, overseeing a team of 60. He also founded Go Fish Poke while his wife was pregnant with their first child. Five locations, three kids and five years later, Jerome began to noodle on another concept.
Since the beginning, the women in Jerome's life have played pivotal roles in shaping this chef's culinary career. "Funny enough, I was inspired because of a lack of Japanese cooking," he recounts of his childhood. "My mom's very much, 'Get it done and bang this meal out.' If you've seen Rachael Ray's 30-Minute Meals, that's her… I grew up on a lot of spaghetti." As a fourth-generation Japanese-American, Jerome was hungry to embrace his culinary heritage.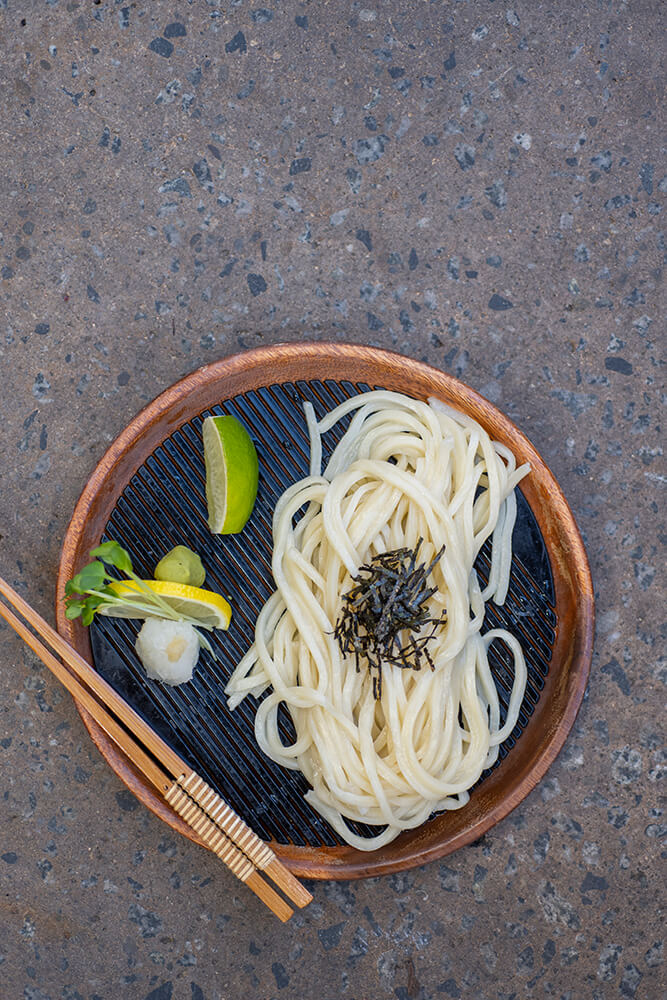 But really, it's Linh Tran-Ito—his encouraging foodie wife—whom he credits most for his success. "She's my tester," he relays. It was Linh who set the idea for Taro San in motion after gifting her husband a couple's udon-making class with Japanese chef and author Sonoko Sakai for Father's Day. That experience (and his young daughter's voracious appetite for the world's most slurpable dish) prompted travels to Singapore and Japan to train at the Yamato Noodle School.
His entire family flew out to support him. After Jerome wrapped up class each day, his mother watched the kids while he and Linh set out to conduct noodle research at local restaurants. The two paid close attention to dining room aesthetics, scribbled field notes on dishes and snapped plenty of pictures. "We ordered a lot… The whole table would just be bowls of udon!" Jerome laughs. And to cover the most territory possible, they never returned to the same place twice. "When we travel, it's gonna be the last time we ever eat there," he affirms.
After returning to the States (with eight suitcases full of Japanese dishware and cookware), Jerome and Linh began fleshing out the menu. Of the entire process, Jerome singles out this stage as his favorite. "It was the countless nights of testing recipes for Taro San with my wife," he nostalgically recalls of the after-hour sessions in the Go Fish Poke kitchen. "She was the biggest critic and support for developing the entire menu top to bottom."
When Jerome secured a location at Stanford Shopping Center, the dream crystallized into reality. He and Linh designed a minimalistic yet sophisticated Japanese-Scandinavian interior for the restaurant—the kind of space that engages from the front entrance mural depicting Tokyo and Osaka landmarks to the eye-catching wood-slat design on the back wall. Fresh flowers adorn every table.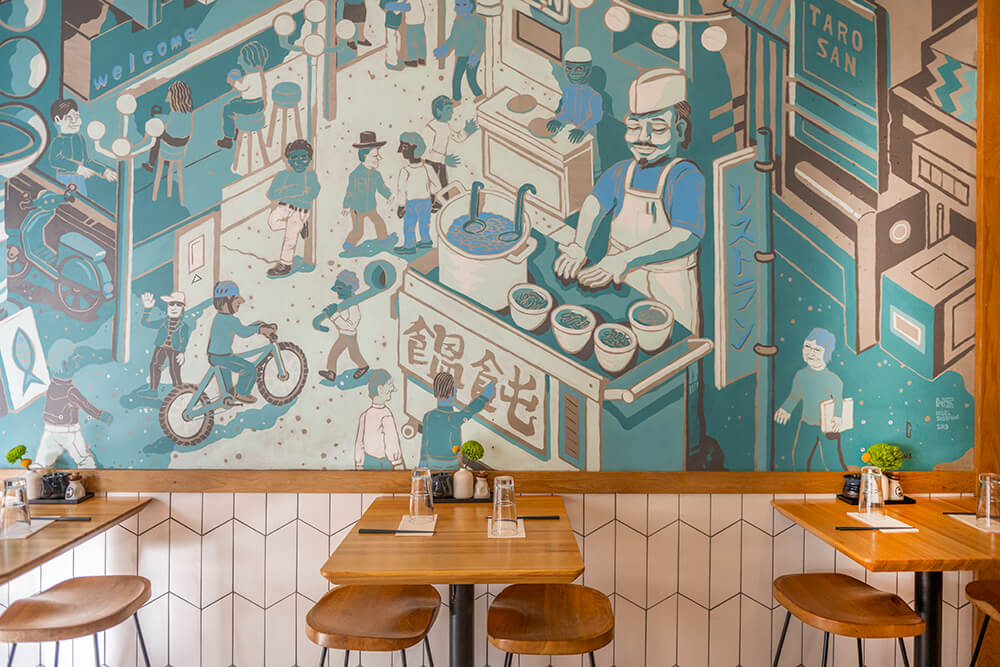 When the restaurant opened its doors at the beginning of 2019, Jerome focused more on traditional udon. However, his culinary curiosity began to spin out dishes with innovative twists. "How thin can I make the noodles?" Jerome asked himself. "How thick?" "Why do I have to stick to such traditional broths?" "Why can't I do ramen broths with udon noodles?" "Can I make a less-heavy ramen broth?"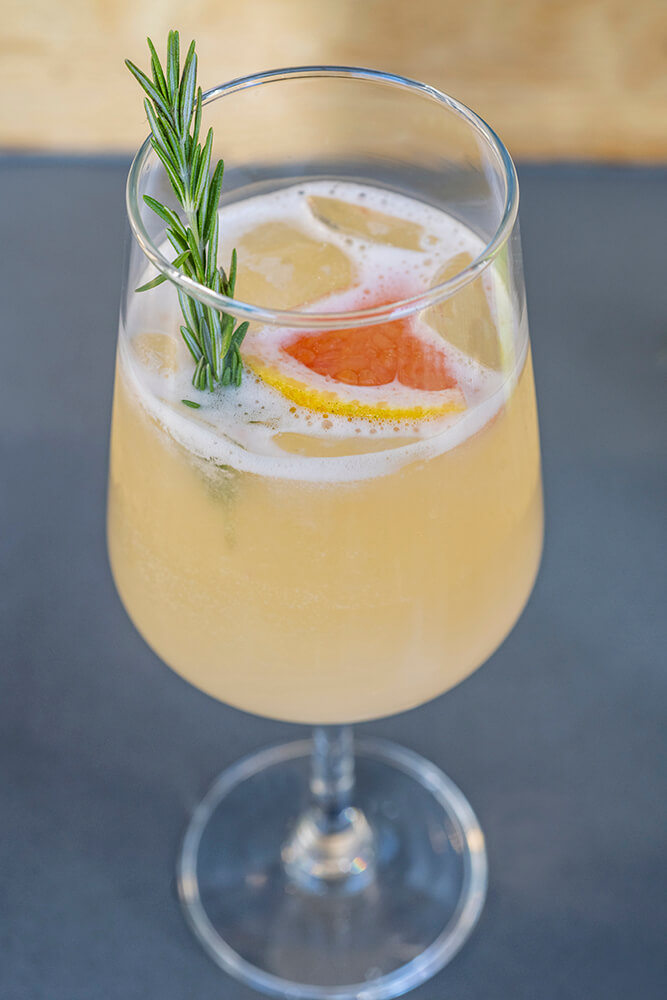 Beside typical udon noodles, Taro San offers thinner, more delicate tsukemen-style noodles as well as hearty, hand-cut pasta similar to inch-thick Italian pappardelle. "We're using all Japanese ingredients and we're still using very traditional Japanese techniques—but we're just going outside the box," the chef emphasizes. Or, perhaps more fittingly, outside the bowl.
This attention to quality has spurred Jerome to serve thinner noodles with cold dipping broths on the side (like in both the duck tsuke and zaru udon). Heat and an extended time in broth cause sogginess, particularly with the tsukemen style. "It's a very delicate noodle," he explains. "It breaks apart very fast."
Don't even get Jerome started on the inferior quality of frozen udon. "Once you try fresh udon, it's like, 'Whoa! Totally different game!' You get the chewiness, you know?" For this reason, Jerome also sells uncooked noodles for customers to bring to their own kitchens. "My kids are pretty particular about their udon," Jerome smiles. "My daughter says, 'No, I don't want the store-bought dry one.' I'm like, 'Oh my goodness, I've created a monster!'"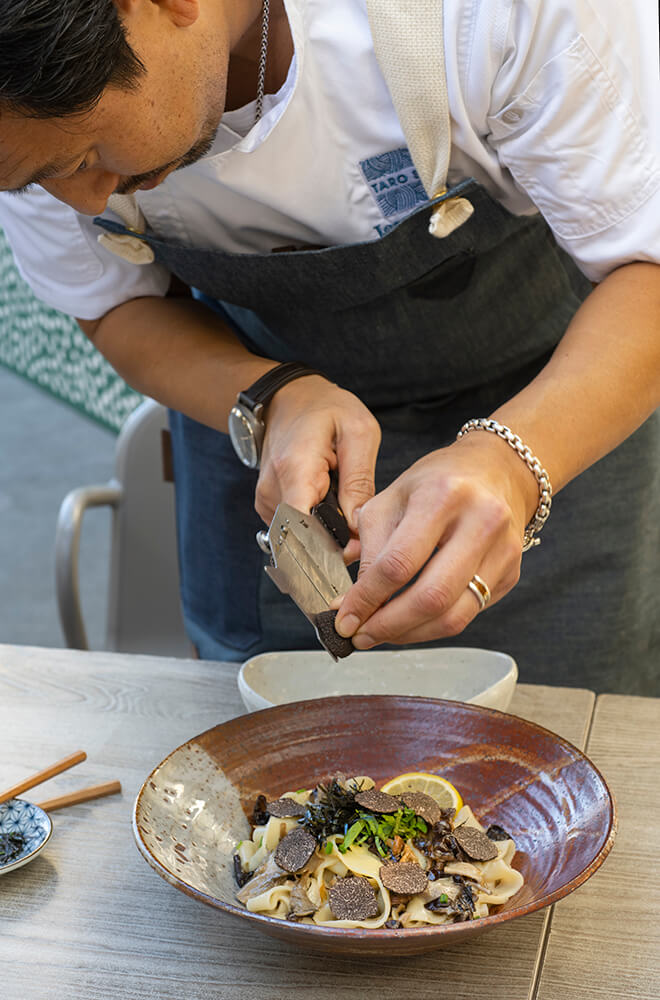 A maestro with textures, Jerome composes dishes for your tongue to ponder. Take the comforting tori udon, which contrasts attention-grabbing, crispy chicharon with the softer textures of tender chicken breast and thigh, chewy noodles and cooked spinach. Jerome also takes great care with his vegetarian California rolls, mimicking the texture of crab through trumpet mushrooms and adding the perfect cucumber crunch.
Perhaps most impressive is his truffle udon. The dish marries thick, hand-cut noodles with a medley of mushrooms, each with their own subtle differences in flavor and consistency. Slivers of coveted truffle are joined by shiitake, eryngii (king oyster mushroom) and wood-ear as well as petite clusters of shimeji and enoki. The creamy sauce makes it decadent without sitting heavy in the stomach.
Perpetually cooking up ideas, Jerome, the family man and restaurateur, will continue to put remarkable food on the table. "What makes chefs amazing is their creativity! Otherwise food would be very boring and one-dimensional," Jerome observes. "Let's push the limits!"
Get to slurping