words by Sheri Baer
There's nothing like the salty scent of sea air, the sound of lapping waves and the feel of ocean breezes gently caressing the face. Taking in the wonderland of tidal treasures at Fitzgerald Marine Reserve is a serene, peaceful, even meditative experience. For those above the water, that is.
"It's a battle zone down there," remarks San Mateo County park ranger Rob Cala, piercing any illusion of sea critters living in blissful harmony. "It's just violence. It's war. They're all fighting each other and looking at each other thinking, 'Nommy nom nom. Who can I eat?' It's pure survival."
Educating visitors about that Darwinian intertidal smackdown is just one of Rob's many duties in this Marine Protected Area established in 1969. And if he doesn't have you enthralled at "Nommy nom nom," just ask him to put a visit to Fitzgerald Marine Reserve into perspective.
"It's Voyage to the Bottom of the Sea," Rob pronounces with a dash of drama. "The bottom of the ocean is being revealed to us when the tide goes out—basically, we're going to walk on the bottom of the ocean."
Rob insists that "everybody knows about Fitzgerald," and indeed, Fitzgerald's acclaimed tide pools draw an estimated 100,000 people a year. Still, for many Peninsula residents, the existence of this coastline crown jewel may come as a revelation. While embattled intertidal inhabitants aren't necessarily eager for more foot traffic, thanks to careful stewardship, Fitzgerald Marine Reserve continues to welcome curious, appreciative and respectful visitors.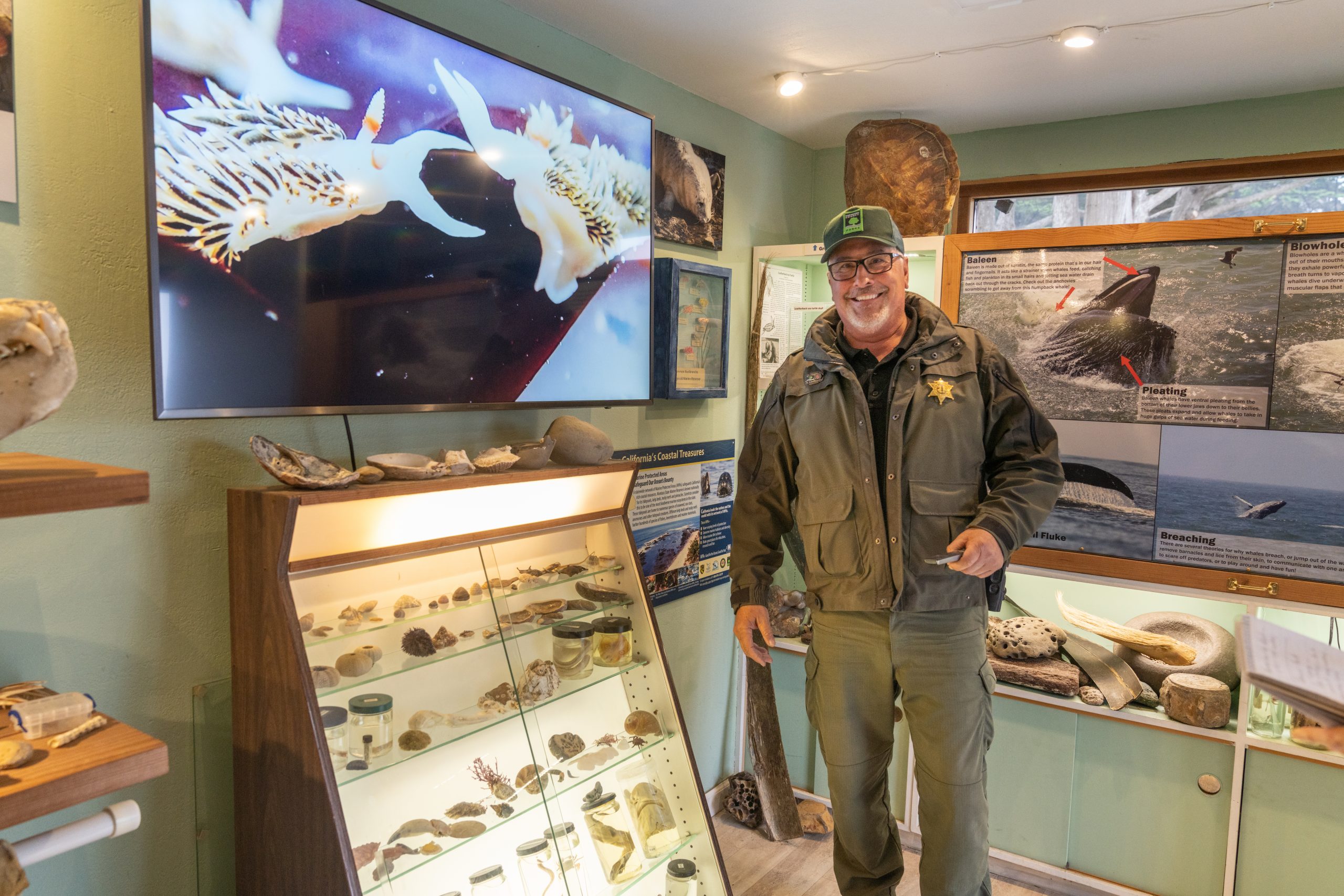 TIMING YOUR VISIT
Every season reveals its bounty, but winter is the clear winner for optimal low tide opportunities—low tide being the point when the most reef is exposed. If exploring the tide pools is your main objective, you'll need to match up your schedule with the pull of the moon's gravity. Go to Tideschart for Fitzgerald Marine Reserve tide tables. With 0 being mean sea level, tides of 1.0 feet or lower are best, and below 0 opens up the entire intertidal zone—the area between high tide and low tide marks. (Visit during a 2.0 or higher tide and you'll find most of the reef underwater.) Plan to arrive one to two hours before the low tide but no earlier than 8AM. Keep in mind, a conveniently-timed low tide on a weekend or holiday can attract as many as 1,000 visitors. Venture out on a less obvious day, and you'll be rewarded with a more intimate marine life experience.
EXPERIENCE THE WONDERS
Start with a short stop at the Visitor Center, a small hut jam-packed with captivating sea life curios, photos and educational videos, much of it created or curated by Rob Cala.
"These two are cannibals. They're checking each other out," Rob tells us, as he provides real-time narration to a video clip of nudibranchs (think sea slugs) that's playing on a screen. Eight years ago, Rob, a San Mateo County native, migrated his photography, video and filmmaking background into his dream job of being a park ranger.
Visitor Center hours vary, but you'll always find a 13-minute intro video playing outside, along with brochures and laminated self-guided tour cards you can borrow and return. And don't hesitate to chat with rangers or volunteer naturalists as you see them—they're eager to advance Fitzgerald's mission of educating visitors and protecting marine life.
Veer right from the parking lot and you'll find easy access to a tide pool area beyond the main ramp. Veering left, you'll encounter a footbridge that leads to trails through the oft-described enchanted Cypress Forest, an overlook at the top of the bluff (bring binoculars for better viewing of harbor seals and whales) and a stairway down to the beach and more tide pool adventures.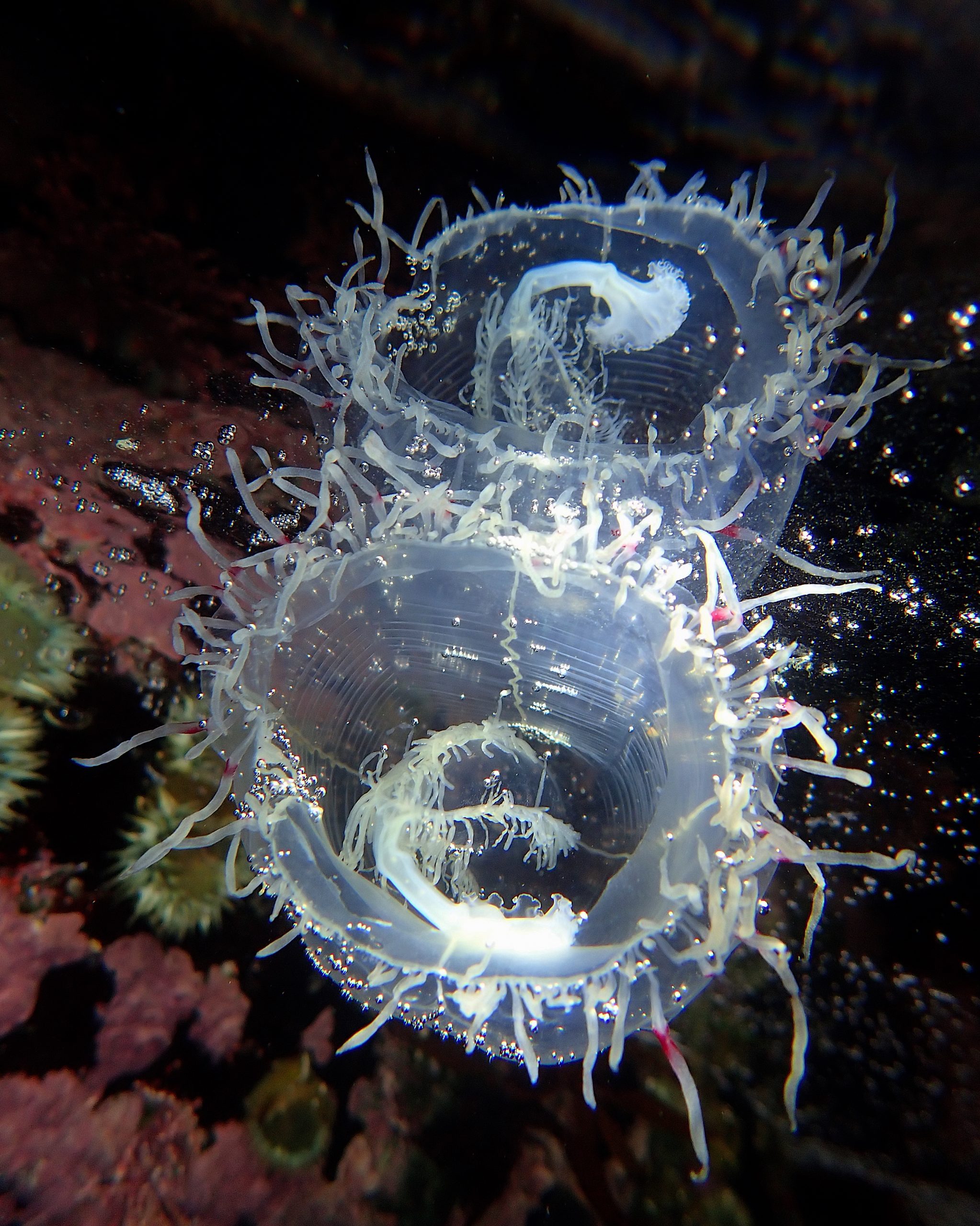 "Tidepooling consists of walking along a slippery reef, stopping and looking around and seeing what you observe," counsels Rob. "The key to the tide pool experience is slow and steady and let things reveal themselves." More valuable advice: Wear treaded shoes that can get wet and carefully watch every step. Black tar algae is called that for a reason!
Here's a small sampling of the vibrant cast of characters you might see: Aggregating anemones that clone themselves. Ochre sea stars finally re-emerging after a decimating disease. Gumboot chitons, the ocean's equivalent of foot-long pill bugs. Sculpin fish that dart about the pools. Kelp crabs munching on their favorite green seaweed. Colorful nudibranchs munching on each other. And, as many as 350 seals hauled up on the beach, with pups making an appearance from March to June.
"It's all observation and slow exploration. There's a bit of zen," says Rob. "Even on a cold, foggy day, I'll hear, 'Oh my gosh! There's so much color!' That's the magic of the tide pools."
GETTING THERE
Depending on traffic, the route couldn't be easier. Take 92 West to Half Moon Bay and when you hit Highway 1, turn right and drive 6.5 miles north to Moss Beach. It's a quick trip, but there's every reason not to rush. Once you've determined your ideal ETA at Fitzgerald, add in some extra padding so you can enjoy the journey.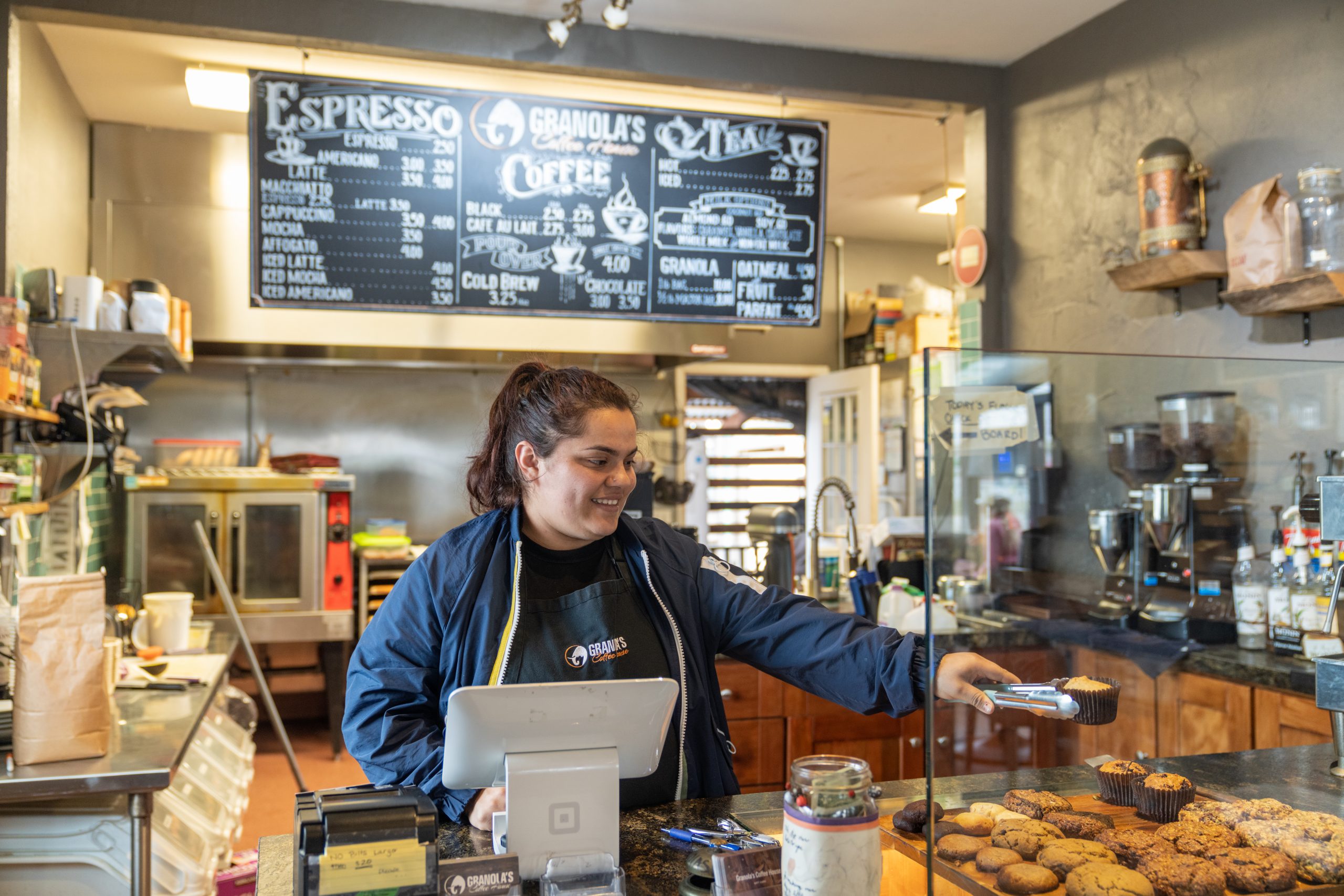 STOPS ALONG THE WAY
Just one mile north of the 92/Highway 1 intersection, you'll see Granola's Coffee House (116 N. Cabrillo Highway, Half Moon Bay) on your left. This small cafe, known for its signature homemade granola, has a cozy dining area with comfy chairs and natural wood slabs for tables—along with a tricked-out airstream trailer for outdoor seating. Order up an espresso macchiato or one of Granola's custom smoothies (from Blue Avocado to Nutty Banana) and chill for a while at this favorite local spot.
About four miles north of 92, you'll see The Press (107 Sevilla Avenue, Half Moon Bay) on your right, another popular coastal hangout. Owner Angela Scatena arrives at 1AM to hand-roll, boil and bake fresh bagels from scratch. Open at 4AM, The Press draws its share of pre-dawn commuters and local fishermen—but later arrivals will still find fresh house coffee, all-day breakfast and delicious sandwiches validating the cafe's slogan, "There is nothing that grilled cheese and tomato soup can't cure."
Just across the street, Pillar Point Harbor (1 Johnson Pier, Half Moon Bay) is one of California's last working fishing harbors and the docks are packed with boats bringing back their catch. Dungeness crab is in season until May, and visitors line up to get it cheaper-by-the-pound directly from fishermen. The nautical-themed Princeton Seafood Company Market and Restaurant (9 Johnson Pier) will clean and cook your crab for $4.50—or for $10, they'll crack and serve it to you right there. Owners Albert Dunne and Heidi Franklin also offer a mix of seafood favorites, including delicious bowls of creamy clam chowder.
Princeton Seafood Company shares a new outdoor patio with Joanne's Ice Cream Cafe and Ketch Joanne Restaurant & Harbor Bar (17 Johnson Pier), both run by Heidi's mom, Joanne Franklin. Established in 1974, Ketch Joanne is a coastside classic serving up stacks of pancakes and local catch throughout the day, along with cocktails at night.
STRETCHING TO SUNSET
Rather than rushing back from your tidal discoveries, cap off your day with spectacular sunset views. A half-mile Bluff Trail walk or one mile drive south will land you at Moss Beach Distillery (140 Beach Way, Moss Beach). Or drive four miles south to Miramar Beach Restaurant (131 Mirada Road, Half Moon Bay), a one-time Prohibition speakeasy that offers plenty of legal spirits. As the sun dips below the horizon, put up a well-deserved toast to the remarkable beauty and resilience of our intertidal friends.