Running late. What do I need to bring? Workout clothes. Hiking shoes. It'll cool down at night. Leggings. Throw in a fleece jacket. Pool. Spa. Steam room! Bring a swimsuit. Oh yeah, chargers. Grab the (unread) book on my nightstand. Get out the door. Go! Go! Go!
Breathless, my mind racing, I throw a duffel bag into the trunk and jump in the car. Pulling up Google Maps on my phone, I plug in Canyon Ranch Woodside. And blink at the drive time. Suddenly, I'm not so late. Less than 30 minutes door to door. The visual depiction of my route also prompts a double take—starting in the familiar grey grid of the Peninsula and evolving into vast, enticing shades of green.
As I cross over 280, the trees start to multiply with each curvy turn. Reaching Skyline Boulevard, I pass Alice's Restaurant and glance at the map. I'm again astounded at the Peninsula's proximity to our forested backyard. Just 1.5 miles later, I'm turning into the gated entrance: Canyon Ranch Woodside.
The Canyon Ranch brand is certainly a familiar one, evoking images of luxury spa vacations in Tucson, Arizona, and Lenox, Massachusetts, along with day spa and even cruise ship offerings. After re-envisioning and remodeling what was formerly Skylonda Lodge and the Stillheart Institute, Canyon Ranch is venturing into new territory. With its November 2019 debut, Woodside marks Canyon Ranch's first California property and foray into a more intimate and immersive retreat experience.
Walking down the entrance pathway, a series of carved words on consecutive rocks pose a question: HOW – FAR – DOWN – THE – RABBIT – HOLE – ARE  – YOU – WILLING – TO – GO?
I'm about to spend three days exploring the answer.
WELCOME TO THE WOODS
I take a seat in a cozy nook known as The Hideaway for a "Welcome Reception and Orientation." I'm handed a mug of hot cider and my eyes wander to the dense canopy outside. Jeanine Conforti, director of sales and marketing, notices my shift in attention. "When you come to the forest, you're cradled by the trees," she observes. "It's a time for being more introspective, to look inwardly to who you truly are."
Woodside should not be thought of as a luxury resort, Jeanine emphasizes. It's a wellness retreat, which she defines by five F's. "The first F is forest," she says. "You're in the middle of 16 beautiful acres of redwood forest." The second F is fitness, which Woodside presents in a holistic way. "What we do is something called functional fitness, so you're able to utilize your body the way it naturally moves," says Jeanine. Food comes next, a plant-forward menu sourced from within a 50-mile radius. As she explains,"We know all of the people who supply our food." Friendship is the fourth F: "What we find is that people come here with similar intent, so you generally are meeting like-minded people." And the fifth F is… fun. "Think of it like an adult summer camp," counsels Jeanine. "Do whatever it is that you want to do. Go out and play in nature or sit in front of a fire pit with a blanket and read. We give you the tools to make a lot of choices, and you decide how to spend your day."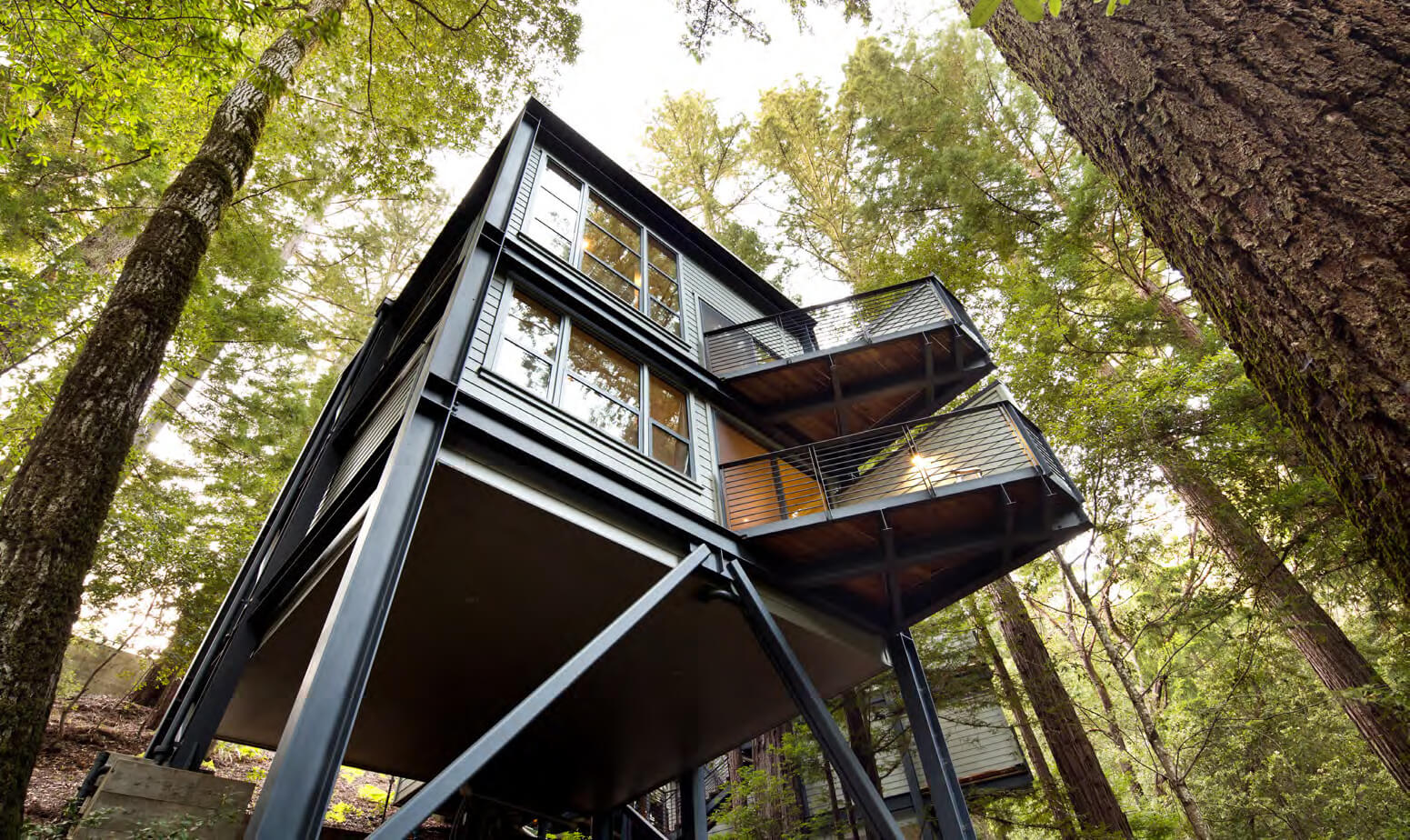 PLAYING IN THE FOREST
Woodside's daily schedule is packed with a rotating mix of some 20 activities, with personal downtime always an option. The body's circadian rhythm is honored here. Senses come alive at first light, so even the 6:30AM Sun Salutation finds its share of downward-dog aspiring guests. I show up in the lobby for a 45-minute Pole Hike, offering a tour of the property's trail networks, flora and fauna. I'm met by Tim Murray, Canyon Ranch Woodside's senior outdoor sports guide. As Tim sizes up fit and makes pole adjustments, he notes the value of two extra points of stability and the 20% increase in cardiovascular (upper body) workout. "I like to go at a good clip," I respond, when asked about pace.
As we navigate wooden steps, forest paths and creek-traversing bridges, I find myself looking down at my feet and missing the views around me. Accustomed to forging ahead, I become grateful for the way we pause and chat along the way. Tim talks about the mixed evergreen forest, comprised of redwood, Douglas fir and Pacific madrone. We pass an outdoor fitness course, prayer flags, meditation benches and a melodic waterfall. I learn about the health value of phytoncides, a chemical emitted by trees and plants—and why time in the forest helps boost the immune system, possibly lowering blood pressure and enhancing quality sleep. But, as Tim says, "To get the effects from nature, you have to be in its presence."
With that inspiration, I choose my next activity: Forest Walking Meditation. With Gianna Vani, a mind body practitioner, guiding us, our small group slows the roll, way, way down—to the point where I'm not watching my feet because I'm so in tune with the ground. "Exhale and shift your weight, coming onto your back toes. Inhale. Lift the foot and then ground down, heel to toe," instructs Gianna, as she demonstrates the technique. Trying not to feel straight out of Monty Python's Bureau of Funny Walks, I deliberately and mindfully execute each and every step. Sensory supercharge. I hear a woodpecker in the distance, feel the sun beaming down on my head, pick up the scents of lavender, rosemary and honeysuckle in the light breeze and become enraptured by the mini-fern-like moss blanketing a tree.
Indeed, like a kid at summer camp, I peruse, choose and partake. What shall it be? Power Flow Yoga or Core + More? HIIT IT! or Fitness for Your Feet? Qi Gong in the Forest. Evening Breath and Meditation. Roll and Release. Panoramic trails abound all around, and every morning and afternoon bring offerings of more rigorous hikes. I join a small group exploring Whittemore Gulch Trail at Purisima Creek and wish I had more time to take in Russian Ridge, Tafoni Reserve Trail and Windy Hill.
Over a three-day stay, my usual cacophony of mind chatter begins to quiet. Insights arrive at unexpected moments. When I show up for a Labyrinth Walk, Jennifer Clarke, a mind body practitioner, reflects, "We all enter and leave life the same way. We all know the beginning and the end. But how do you walk the path? How do you handle the turns?" Taking slow steps through an elaborate stone design in the property's fire lane becomes a meditative exercise in the most practical of spaces.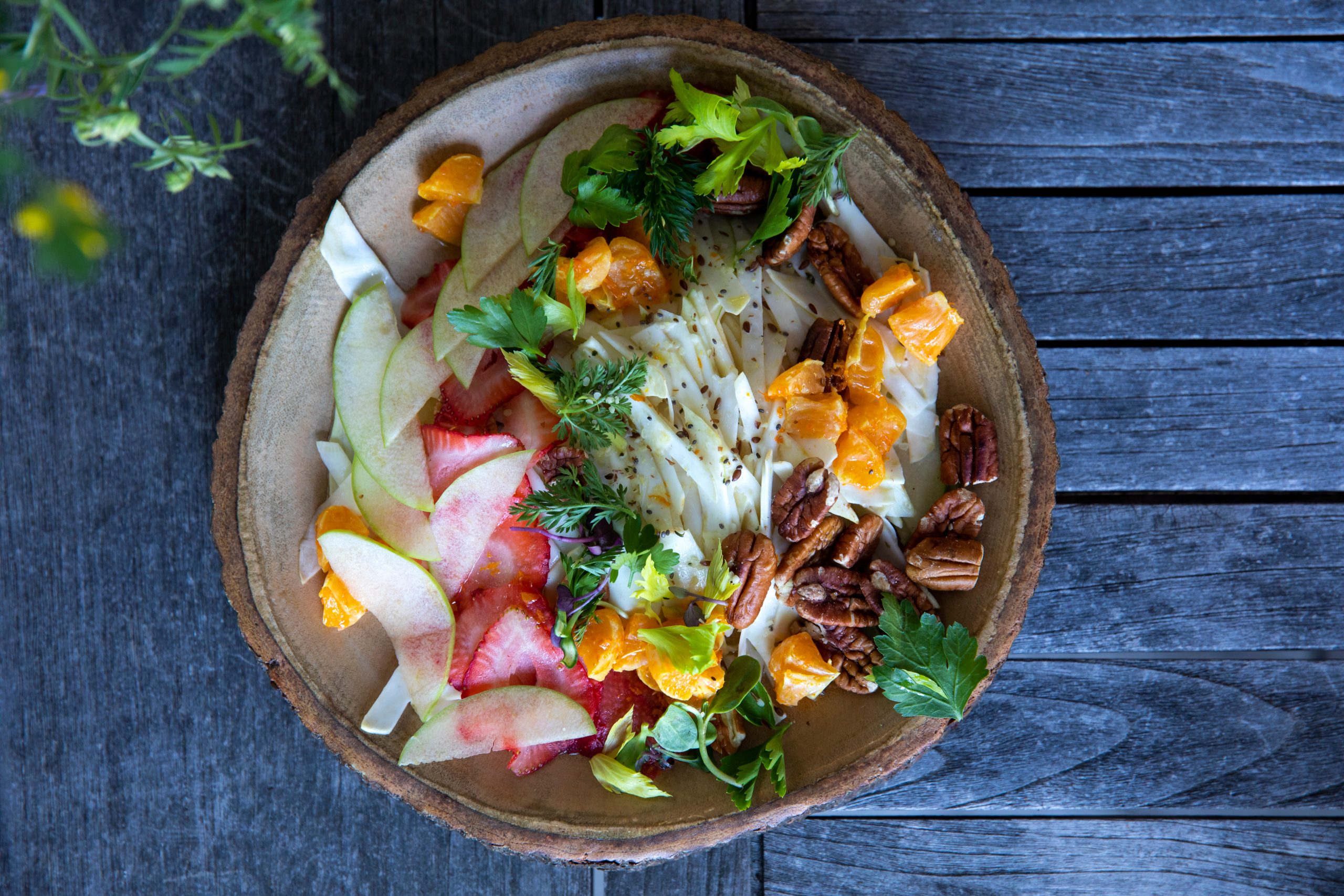 FUELING THE BODY AND SPIRIT
Three times a day, I gleefully head for The Hearth, Canyon Ranch Woodside's inviting indoor and outdoor dining area. When Jeanine was reviewing the fourth F of Friendship, she specifically called out The Hearth. "You signal to people," she told me. "If you're sitting at a two-top or a four-top, you'd like to sit alone or have your own experience. If you sit at the communal seating, you're open to talking and meeting other people."
I've come alone, but there's never a shortage of company. I meet a couple from Los Angeles, who share that they're "happy to have found escape time without a long flight." I swap travel tips with a financial attorney who has flown in from Chicago. Two sisters—one living in Monterey and another in Oklahoma—chose Woodside for a reunion. I recognize two women from my Hatha yoga class. They live on opposite coasts and are here to get mother-daughter time. I meet plenty of locals too—taking overdue breaks from high-pressure jobs in Palo Alto, Mountain View, San Francisco and San Jose.
One of the days I have lunch with Isabelle Jackson Nunes, executive chef at Canyon Ranch Woodside. Chef Isabelle grew up in San Jose and trained in Bay Area Michelin restaurants before moving into the corporate sector of food. Motivated by the mission of "sourcing food from people I believe in," Isabelle joined the team at Skylonda Lodge and embraced the transition to Canyon Ranch. "We're so busy," Isabelle points out. "We eat and we don't think, so we want the food experience here to be educational, memorable and nourishing."
Chef Isabelle aspires to source all of her ingredients from within 50 miles—citing vendors like Fifth Crow Farm, Markegard Ranch and Blue House Farm. Every meal reveals new tastes and discoveries: Carrot Cake Pancakes with Currant Syrup. Markegard Beef Chorizo Flatbread. Jackfruit and Poblano Rajas. Braised Rancho Gordo Beans. Roast Freedom Ranger Chicken. The "plant-forward menu" means a higher ratio of greens to protein. "We encourage a vegetable-heavy diet, a Mediterranean approach to nutrition," Chef Isabelle explains. "We don't have to deprive ourselves of flavor. You can eat healthy and still indulge."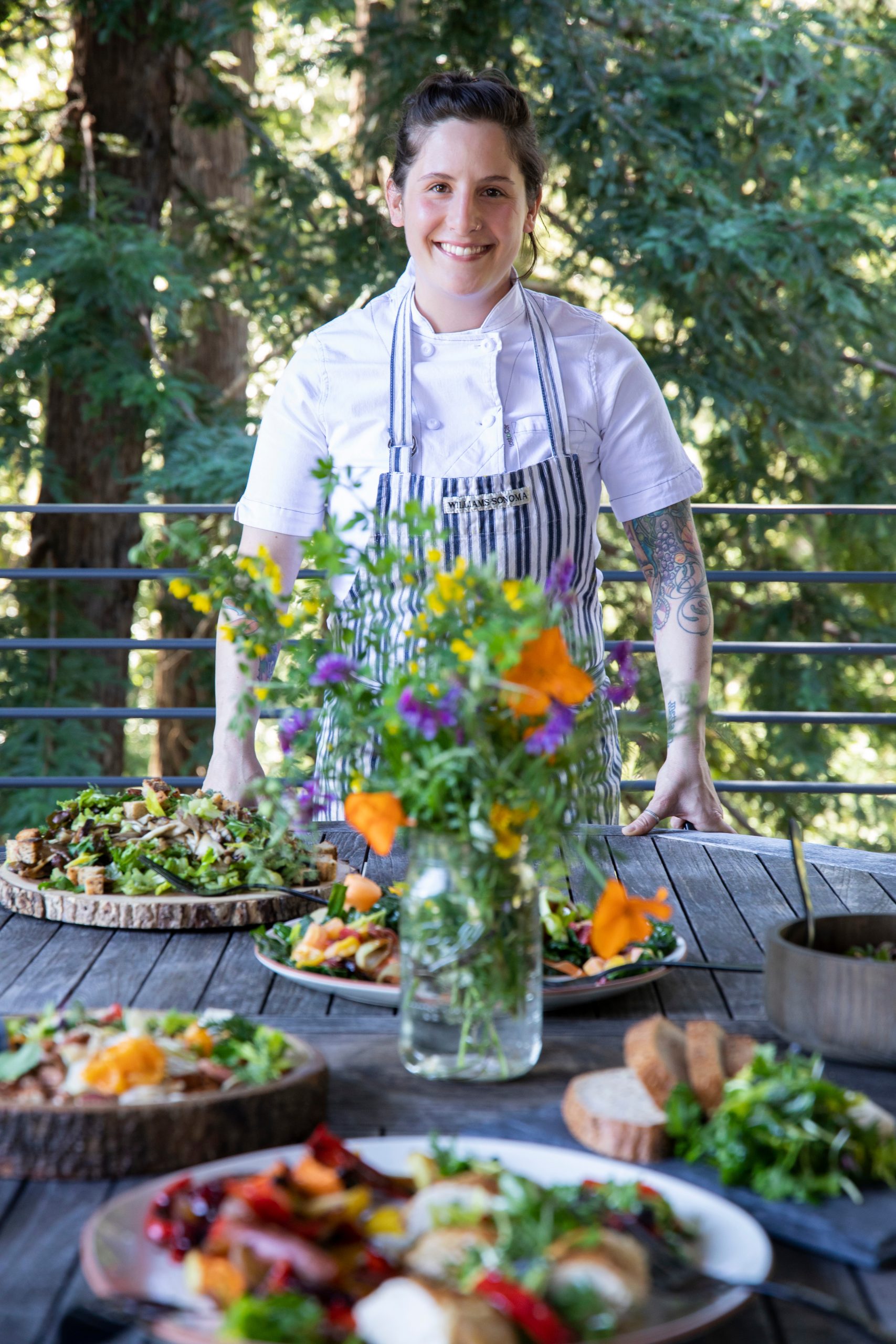 THE HEAD HITS THE PILLOW
After dinner one night, I head up to The Loft for Drumming Circle, which lures me with the description, "No musical training necessary." Graced by a vaulted beamed ceiling and glorious views, the expansive Loft serves as an all-purpose space with comfy curl-up couches, tables and chairs. Ben Dineen, another mind body practitioner, gives a short tutorial and then starts up a rhythm. Intimidated at first, I let my eyes close and find myself interjecting my own thumps and taps. Sensing no judgment, I begin to get more playful, until collectively, we start to slow the pace. And then… silence, as we seem to intuitively know when to stop. Heading back to my room, I realize the Drumming Circle effectively drummed out any last mind chatter inside my head.
Canyon Ranch is an intimate retreat. There are just 38 rooms here, divided between retreat rooms in the main lodge and glass-clad "treehouses" lofted into the redwood canopy. The spacious accommodations provide soothing, restful sanctuaries, albeit equipped with Wi-Fi, TVs, large soaking tubs and in-room iPads. Designed to bring the outdoors in, rooms are accented in earth tones, most with private balconies.
My Treehouse Deluxe King has floor-to-ceiling views. Looking out to secluded acres of forest, no privacy shades are needed—allowing the body to fully tune in to nature. Falling asleep almost instantly, I wake by habit the first night, but I feel a sense of peace, rather than the usual insomnia-inducing stress. I inhale and exhale contentedly and before drifting under again, I notice how the central stars in Orion's Belt are framed perfectly by my room's upper window panes.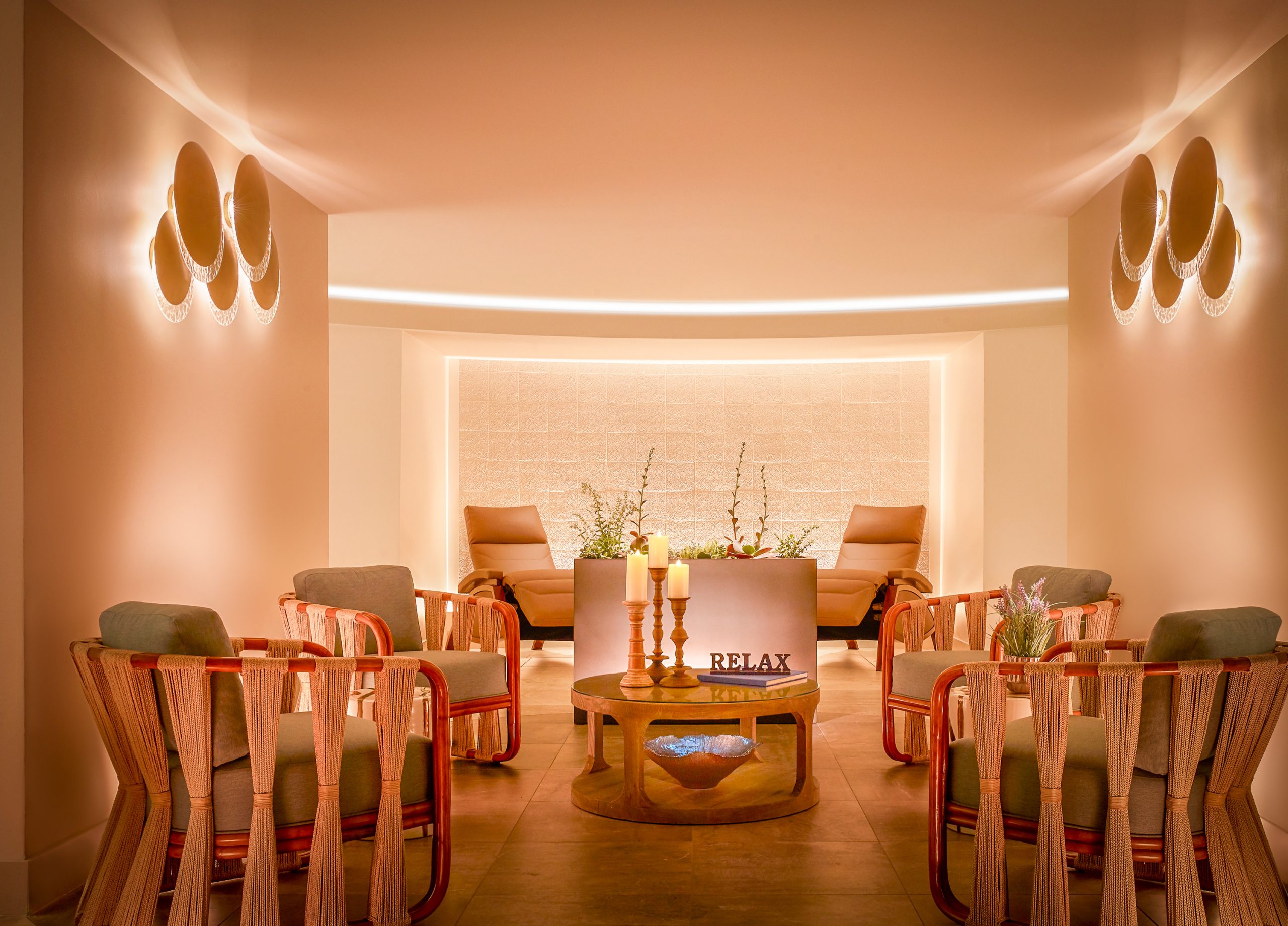 ESSENTIALS, EXTRAS AND EXITING
Nightly room rates, which are scaled per person, include all meals, daily activities and full run of property amenities. Optional enhancements are always available—ranging from guided group mountain biking and winery tours to Equus Coaching sessions at nearby Ciara West Equestrian ranch. Specialty treatments—including restorative facials, custom massages and bodywork—are offered in the spa. Canyon Ranch Woodside also provides personalized training opportunities, along with private health coaching and consultations.
On my third day, the grey grid of the Peninsula beckons me back. I see Jeanine in the lobby as I'm preparing to depart, and she nods in satisfaction at my notably refreshed disposition. "I wish we could take before and after photos," she tells me. "When guests arrive, we see what their lives are like in full gear; they haven't completely detached yet. By that second or third day, we look at them again and there is just a transformation—they're able to release so much and just experience deep relaxation."
Starting up the car, my now half-read book tucked in my backpack, I reflect back on a yoga session in The Loft with Gianna. Before the final Namaste, as a gentle breeze bathes the room, Gianna reminds us to remember what we have cultivated inside of ourselves. "Revisit your inner smile and allow it to bring a sense of calmness, a sense of peace," she tells us. Driving out of the gate and turning onto Skyline Boulevard, I consciously make an effort to crystalize that memory.
Inhale. Exhale.
canyonranch.com/woodside