If it's your first time in The Record Man, the visit will likely begin with a tour from none other than the man himself.
Gary Saxon, founder and owner of the Redwood City music institution since 1988, has made a name for himself for two distinctions.
The first is that he doesn't put a price tag on any of his albums. Customers come up to the counter expecting to pay anywhere from $3 to $30 per album, depending on how many copies of the album are in stock and what the going rate is online. It's an unconventional system, the only of its kind, but Gary is a fair businessman who ultimately seeks to please.
The other aspect of The Record Man that separates it from just about any other record shop in the Bay Area is what is stacked between the shelves of this two-story, multi-room house-turned-store: one million records for sale. That figure seems far-fetched—after all, a million makes for good branding—but it's easy to lose count after only poking through the front section near the door specifically marked for The Beatles and Elvis Presley. Gary keeps these two artists in the front of the house because customers have sought out their albums for over 60 years, and some things have never changed.
From there, the tour weaves through tight canyons of albums. Rooms are divided into genres with rock 'n' roll backed up against jazz while gospel, international and miscellaneous records wait for the pickings upstairs. The shelves are stacked, alphabetized hodgepodges of recorded music embodying the last six or more decades.
Repurposing a stepping stool as a chair, Gary plops down in the international jazz corridor with his German Shepard Hunter within petting reach. Brawny with a raspy voice only acquired after living a long life—or in Gary's case, two lives—he sometimes wears an eyepatch over his right eye, a repercussion from the radiation treatment he underwent for cancer last summer.
Over the last decade, Gary has endured a form of skin cancer called squamous cell carcinoma along with a heart attack and a stroke. He's healthy today, as is his business, which also bucked its challenges to ultimately persevere as a vibrant pursuit. Collecting vinyl is a hobby indebted to consumerism, sure, but any record collector would agree that the reason they return to shops like The Record Man is not just for that moment when they dig up an aural gem, but for the social interactions that sprout within these cramped hallways, crammed with music in the form of polyvinyl chloride.
It's this communal spirit that's at risk as the future of The Record Man enters a period of uncertainty. Gary sold the building last November under the condition that he could keep the store running for two years to allow him time to devise a plan for what to do next. But 2020 creeps closer every minute.
"I'm interested in keeping this going but if I can't find anybody to partner with, I'll have to fold up the tent. I'd like to get a warehouse but I don't want to open it up in a place like Fresno. If I could find one on the Peninsula it would be a godsend," he says, before repeating a phrase he thought of a few days prior:
"You don't miss your water until the well runs dry and you don't miss your record man until he says goodbye."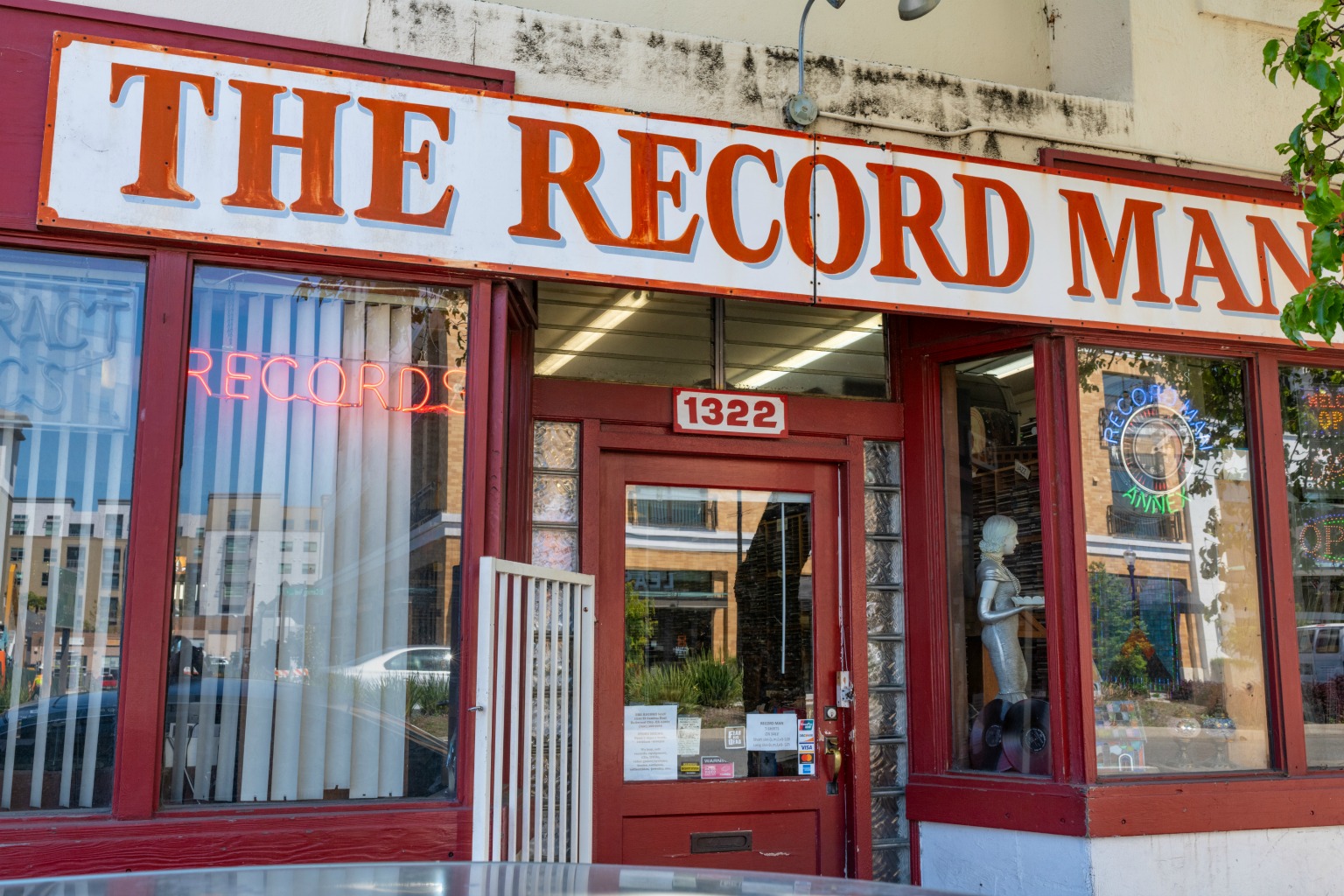 While The Record Man's tomorrow remains unclear, the nature of vinyl records in general has never been better. Nearly 17 million vinyl albums were sold in 2018, according to Nielsen Music, a number that is up 14% from the previous year. This is vinyl's 13th consecutive year of growth and it's a new benchmark for vinyl sales since Nielsen Music began tracking numbers in 1991. The largest record chain in the country is Urban Outfitters, a clothing store popular with younger generations who've embraced the medium, and records continue to resonate casually in popular culture.
"Every time Jimmy Fallon has a band on The Tonight Show, he shows a vinyl record before they play," Gary says.
Between The Record Man and Vinyl Solution Records in San Mateo, collectors on the Peninsula, such as Ed Berljafa of San Carlos, are actively participating in this subculture.
"The other day my buddy had his 52nd birthday and I went over to The Record Man to buy him five records," he says. "To this day, if I see a garage sale I'll stop to see if anybody has records. Usually it's $10 for a whole box, and if you find two you want, it was worth it. I still get giddy when I find that record I really want. My wife will say, 'Don't you have that already?' And I might, but this is a cleaner one."
Ed, who works as a carpenter, refashioned his garage into a vinyl "cave" to store his collection of over 3,000 albums and a sound system he's stitched together over the years. He began amassing his vinyl pool while working at the bygone Rod's Records in San Carlos as a college student and now his teenage son is dipping into the hobby.
"When I was buying records in college it was $2.99 and I can prove it—the sticker can't come off the cover," he says. "I regret not collecting more reggae, blues or jazz. I have a lot of rock but as I get older, I'm more into jazz. I'll only listen to Pat Benatar every five years. But what I love about it is when I get my friends together, we'll drink whiskeys and they'll pull out a record from my collection and ask, 'Can we listen to this side?'"
Ask Gary about his record collection and he's quick to dispel all presumption. "I don't have one," he says, before directing his gaze to the mounds of music throughout his store. "This is my collection."
Raised in Redwood City, Gary was living in a commune in San Francisco's Haight-Ashbury District during the late '60s when he decided to make a change. His hair was long and he adopted the name Røeric but this life was ultimately limiting. "People can think of putting flowers in your hair but no, man, we were just a bunch of idiots getting high. Young people squandering the best years of their lives," he says.
He started setting up shop at flea markets throughout the Bay Area, first selling books before turning his primary focus onto records. He grew a customer base who, when Gary wasn't at the market that day, would ask around for "the record man." The name stuck, as did a flea market philosophy on how to run a business.
"I learned how to wheel and deal at flea markets," he says. "I have the gift of gab. I want people to like me and I like them. My grandma would talk about her dad who had a general store in Detroit. He had two barrels for selling pickles: one for penny pickles and another for two-penny pickles. They're all the same—that's merchandising. It's learning how to deal with people."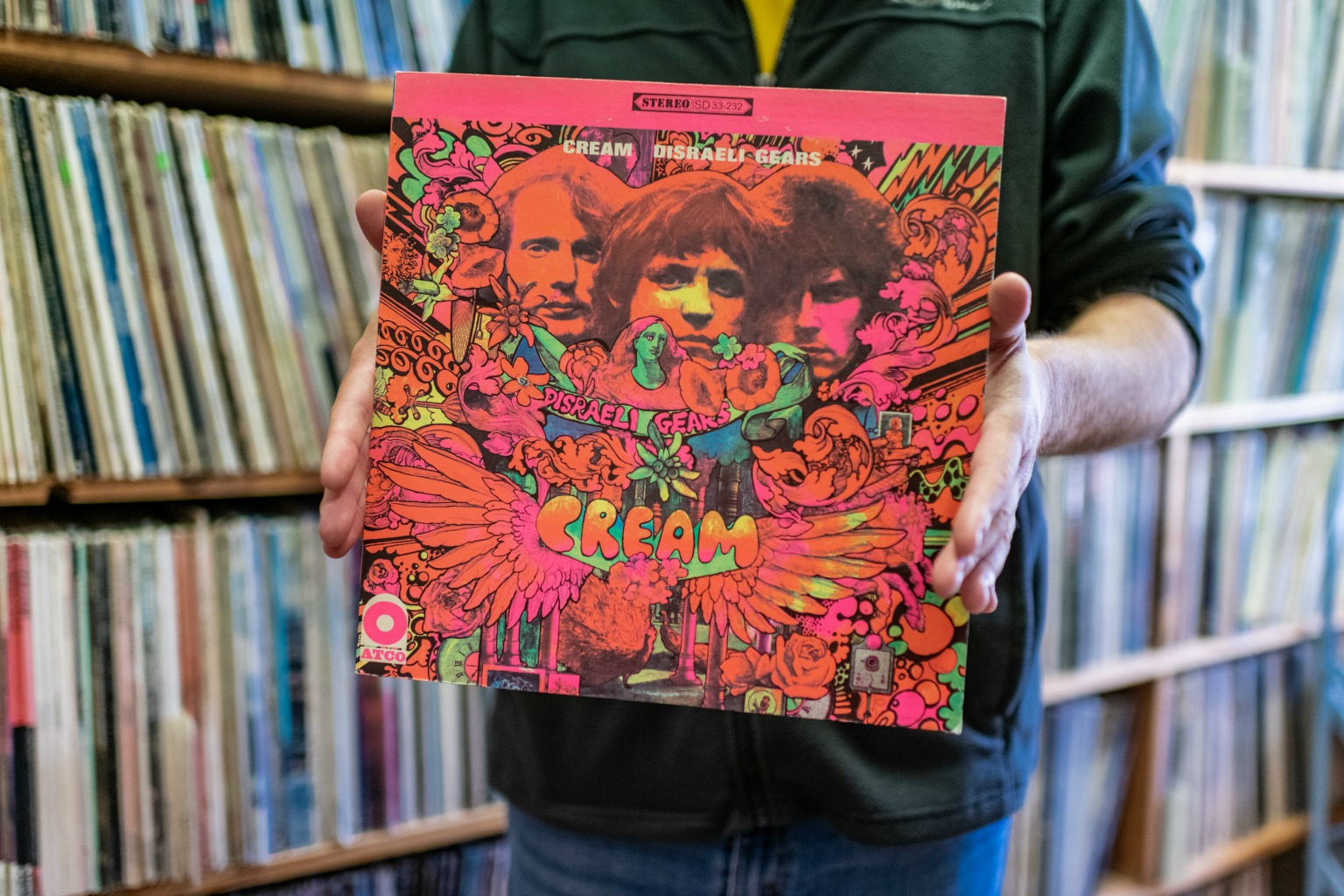 By the mid-'80s, Gary had some 30,000 records and opened the store in 1989, reinventing himself at the age of 45. He sometimes refers to himself as the "vinyl undertaker" due to the hordes of records he'll take off the hands of sellers but it's through these massive undertakings that he finds polyvinyl chloride gold, like a bootleg Bob Dylan outtake or Robert Johnson rarities.
Vinyl's resilience is heightened by the death of the compact disc, a medium that's tumbled into obscurity on the verge of vanishing. It serves as a potential warning sign for how harsh the market of music can be but Gary has come to accept such unpredictability.
"The Internet killed CDs. But now vinyl is cool and it's back again—how long, I don't know?" he muses. "This could be a bubble, but we're going to keep going until we stop." 
put the needle in the groove
The Record Man
1322 El Camino Real, Redwood City
Urban Outfitters
660 Stanford Shopping Center, Palo Alto
Vinyl Solution Records
151 W 25th Ave, San Mateo