words by Silas Valentino
The hardest part about surfing on the Peninsula, as surf instructor Omer Hasson will sometimes tell his beginner students, is just slipping into the wetsuit.
"If it's in the winter and the suit is still wet from yesterday, you feel your toes start to go numb as you put your foot in," the 28-year-old Sunnyvale native explains. "It takes commitment to be a surfer in Northern California."
But as soon as you're nestled into the neoprene suit and protected from the chilly waters, the next hurdle of surfing is getting out of the ocean. At least that's been the case for Omer. He began surfing as a teenager while summering in Israel and later fell in love with the sport in his early 20s while traveling throughout Central America.
Since he surfed the warm waves of Bocas Del Toro beach in Panama, when the carefree sea coalesced with the liberation felt as a young person emerging after his service in the Israel Defense Forces, Omer has become tethered to his board. And his board is tethered to the beach.
With his face slathered with white zinc oxide for sun protection, Omer is in the water at least six days a week, either in a solo pursuit of the next perfect wave or giving surfing lessons at Pacifica State Beach through his job with the outdoor company Adventure Out.
As an instructor, Omer has two primary goals. First, he needs to teach the basics behind surfing: lessons about ocean awareness, safety in and out of the water, wave etiquette, paddling, push-up and pop-up techniques—which add up to a lot of talking on dry land. Nevertheless, the importance of these basics is underscored every Sunday morning when hordes of surfers clog and hog the breaks, abandoning their Ps and Qs in the process.
The other half of Omer's class is spent putting that wetsuit to work and developing a relationship with the ocean. Once in the water, he wants to help impart the splendor of the sea, with all of its arcane elements, into the souls of each one of his students.
"There's a spiel I give my students that I lightly lifted from the Mark Healey surfer movie Thundercloud," he says. "Energy never dies; it's transferred. There are storms that transfer energy into the ocean and then suddenly that energy is transferred into the surfers—that's what we equate the word 'stoked' to. That energy you get from standing up on a wave and riding, taking what the wave can give you, is one of the most pure connections with nature that I've ever experienced. Even if you fall, you're still harnessing that energy."
Surfing may be classified as a hobby or sport, but ask anyone who does it and they'll tell you that it's more of a lifestyle than anything else. Omer starts his day by scrutinizing tide charts and tracking ocean-wide currents and says he's not fully awake until that first wave crashes over his head at 7AM. Surfers embrace the varying conditions of the seasons, and while the winter may be less active, the beaches are more open.
It's a lifestyle where the summers can be endless, as is the drive for discovering the extent of one's own ambitions.
"What I love about surfing is that you never plateau. Unless you're [pro surfer] Kelly Slater—but even that dude gets better each year," Omer rhapsodizes. "It's all about pushing yourself to new limits. And you can get so many skills from the ocean: It's life or death. Surfing is very spiritual; it's a connection between you and a wave. It's about seeing what the wave is going to do, rather than deciding what you are going to do and trying to make the wave fit for you. It teaches you not to take a back seat—and definitely patience, lots and lots of patience."
Omer's gravitation to the ocean began when he attended a surfing camp in Herzliya, Israel, as a 13-year-old visiting his home country. Born in Israel and raised in Sunnyvale from age five until his graduation from Homestead High School in Los Altos in 2008, Omer remembers his first surfing lesson and his fear of knocking up against a jellyfish. He loved it right away, begging his parents for a wetsuit when he came back to California, but he wasn't fully captivated until a few years later.
Omer returned to Israel after high school to serve his three years in the Israel Defense Forces, followed by an education in computer science and communications at IDC Herzliya College. In the summer of 2014, two days before his last final of freshman year, Omer was called into the Israeli army reserves after fighting broke out. During a 24-hour leave, he went online to purchase a board and found himself at the beach.
"From that moment on, I was in the water," he says. "That's when the hair and beard started to grow out. I think I was always meant to be a California surfer but it took me a while to figure it out."
Omer completed a three-month surf instructor course in Morocco after his college graduation and then returned to the Peninsula to weigh his options. He considered returning to school for a degree in medicine and began working as an assistant clinical research coordinator for Stanford University School of Medicine. During a period of uncertainty, one aspect in his life that remained clear was his devotion to surfing. And how a morning spent among crashing waves could wash away his stress.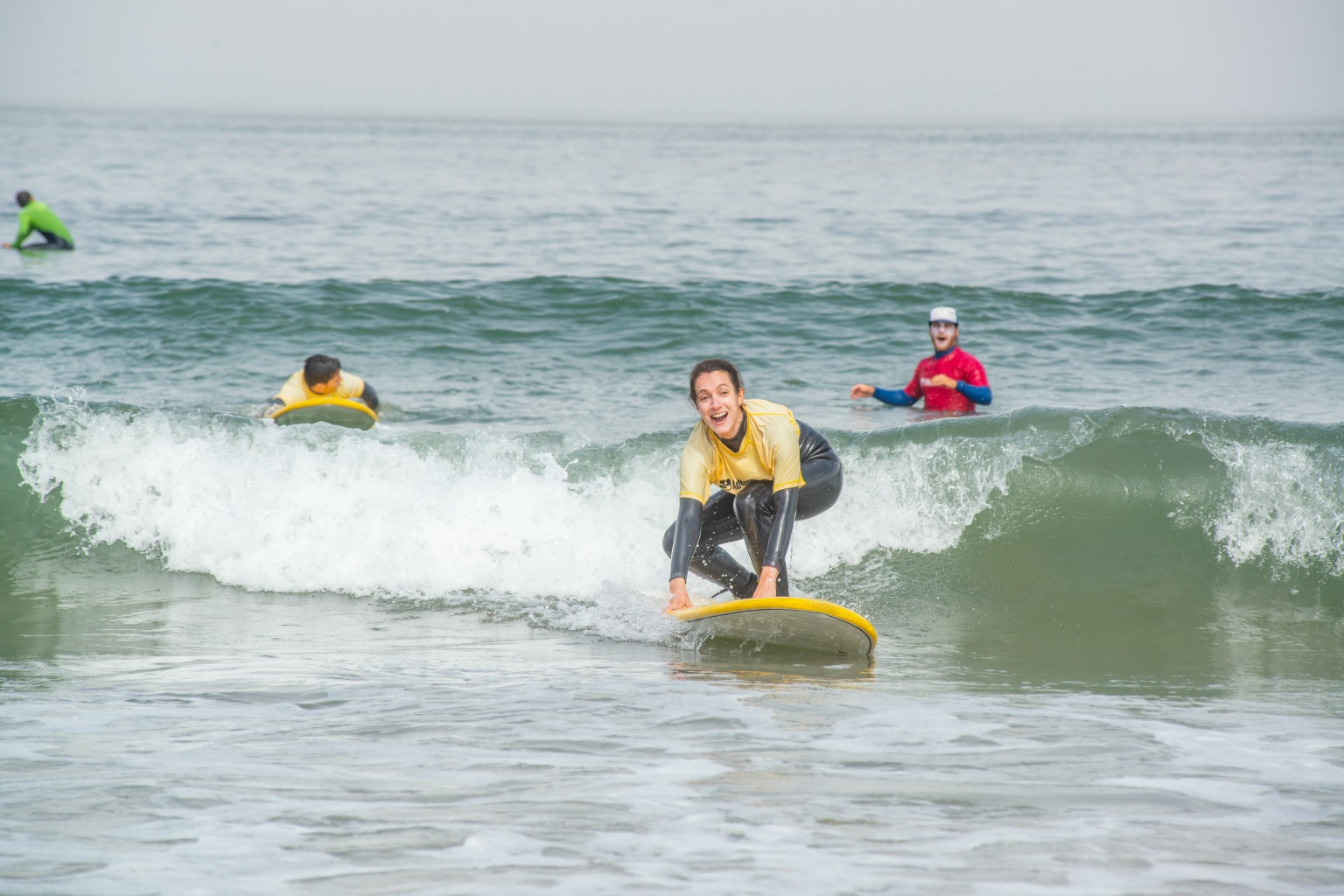 "For me, it really helped with a lot of PTSD I got from the army. After three years in the army and five years in reserve duty, with a few wars in between, I needed to go to the water. I needed to escape," he says. "Surfing was a very healthy addiction."
Omer has since connected with the local outdoor company Adventure Out, a service that leads backpacking, rock climbing and surfing classes or excursions, and began instructing classes in August 2017. He's introduced the lifestyle to everyone from tourists to children to a 64-year-old recovering from hip surgery just six weeks prior. Omer says Pacifica Beach is ideal for beginners, with a welcoming atmosphere and waves that aren't too intimidating. However, the ocean has a way of keeping everyone on the same wavelength.
"Surfing has a way of giving you the best day of your life and then the next day, you're super stoked but you have a terrible day—that's the ocean," Omer says. "If I get one good wave, I'm satisfied. Obviously, I would love 100 good waves but if I get just one or even a semi-decent wave, I'm a happy guy."
DROP IN, PULL IN, KICK OUT