Just a glimpse of a shadow and suddenly the calm sea erupts. A humpback whale surfaces with a huge spout of breath, spraying a cascade of water. Splashed by droplets, enthralled spectators respond with outbursts of their own: "Whoo-hoo!" "Wow, look at the eyes!" "It's huge!" "There's the tail coming!" "Unbelievable!"
Here's a further point of amazement: Witnessing this kind of spectacular marine life display doesn't require a trip to Hawaii, Mexico or Alaska. It's just a short car ride away.
"Monterey is one of the few places in the world where you can whale watch and have whales here reliably all throughout the year," says Gina Thomas, a naturalist guide with Princess Monterey Whale Watching. "It's National Geographic in our own backyard." With one of the largest and deepest submarine canyons in North America (the watery equivalent to the Grand Canyon), the Monterey Bay National Marine Sanctuary attracts an extraordinary array of whales, dolphins and marine life close to shore. "You just never know what you're going to see or when you're going to see it," notes Gina. "It's just this adventure of a lifetime."
Photography: Courtesy of Vivek Kumar / Cover Photograpy: Jorge Casconez
plan a day trip
For an efficient, intimate outing, Santa Cruz Whale Watching by Stagnero Charters offers daily tours for all ages. With just a jaunt over to Santa Cruz Yacht Harbor, you can join an excursion lasting 1 to 3.5 hours. Raised on the Peninsula, marine biologist Megan Petersen is one of the skippers on Velocity, a 60-foot charter boat that carries up to 68 passengers. When it comes to spotting whales, Megan and her crew rely on their senses and tried-and-true binoculars to look for clues on the surface of the water. "There's no app for finding whales," Megan explains. "You just gotta go out there and take it all in."
The Marine Life Protection Act requires boats to keep at least 100 yards away from the whales. However, if whales approach a boat, in what's called a "friendly encounter," there are spectacular opportunities to see them up close. On our excursion, we hit the jackpot when two curious humpbacks do exactly that. Gracefully, they move around our boat, surfacing above and passing below, appearing on every side. Completely awestruck, we take in their soulful eyes, powerful blow holes, dorsal fins and arching tails. We watch as they spyhop, positioning themselves vertically above the water to observe their surroundings. Throughout our encounter, we notice a distinct, pungent odor lingering in the air. "That's whale breath," Megan confirms with a scrunch of her nose. "To me," she laughs, "it always smells like rotten broccoli."
At the back of the boat, the crew uses a mini whiteboard to jot down highlights from the trip. Today's detailed list ranges from harbor seals and western gulls to a black-footed albatross and an egg-yolk jelly. "It's a joy to be out there with these animals that are just so amazing," Megan reflects. "You have the opportunity to connect with what is effectively another world."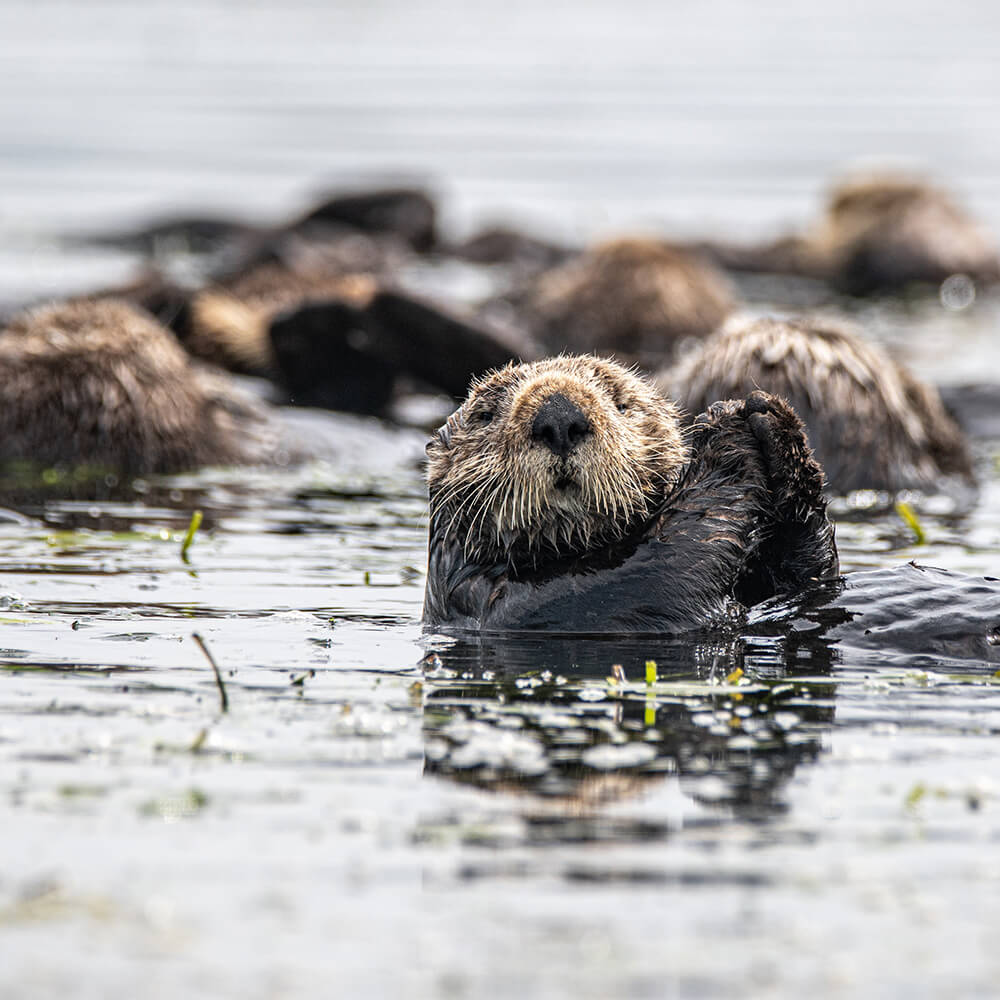 Photography: Courtesy of Sydney Minges

a whale of a getaway
Based in Monterey Harbor, Princess Monterey Whale Watching offers larger vessel excursions for up to 250 passengers, running 2.5 to 3 hours. As we prepare to board, we register the dry-erase marker notations on the Daily Sightings whiteboard: Dall's Porpoise! Minke Whales! Blue Whales! Risso's Dolphins! Big Herds of Sea Lions! Humpback Whales! "Every trip is different," observes naturalist guide Gina Thomas.
On this particular day, overcast skies and fog linger over the water as the 9AM boat departs from Fisherman's Wharf. We've chosen the early morning tour, as the water is typically calmer, so there's less chance of seasickness. Wrapped in warm layers for variable weather and armed with anti-nausea meds, we grip onto the cold metal railing for balance. We pass a jetty on the edge of the harbor covered with Brandt's Cormorants, a common coastal species. California sea lions rest on the rocks and sea otters swim nearby. We keep our eyes peeled for the main attraction: humpback whales.
Averaging 40 feet in length and weighing up to 40 tons, these gentle giants have dorsal fins that sit on slightly fatty humps. "When they make their sounding dive," Gina tells us, "they arch that area of their back steeply out of the water giving them their name, the humpback whale." We learn that patterns and markings on the underside of the tail uniquely identify each whale, much like a human fingerprint. As we stand on the deck and scan for tell "tail" signs, Gina gives a few pointers: "We use the boat as a clock, so everyone can look in the same direction. The front of the boat is 12 o'clock, halfway down the right side is 3, the back is 6 and halfway up the left side is 9."
Due to the marine layer, fog sits dense on the water. Moisture coats our faces, hands and hair, even our eyebrows. Two hours into our excursion, we're still waiting to see the star of the show. "This is 100% wild, natural behavior that we can't predict," Gina reminds us. Then, our crew gets tipped by another boat that a whale is in the area. "We are going to slow down," Gina announces, "in case that whale makes its way in our direction."
Luck and patience pay off. "There, at one o'clock, two humpback whales!" Gina calls out with excitement. "Absolutely fantastic!" Our eyes track the action as the whales swim along the surface. "There's that arch and tail flukes," Gina exclaims, as we watch spellbound from our front-row view.

Photography: Courtesy of Monterey Plaza Hotel & Spa

COMMUNE WITH THE OCEAN
Less than a 100-mile drive from the Peninsula, Monterey makes for a perfect weekend getaway, combining whale watching with main attractions including the Monterey Bay Aquarium and historic Cannery Row. A luxurious homebase in the heart of it all, Monterey Plaza Hotel & Spa sits perched right over the water. Half of the 290 recently renovated guest rooms and suites have ocean views, and we appreciate the extra touch of binoculars at the ready. At Vista Blue Spa, we take in panoramic views from the sundeck and enjoy a quiet, early morning soak in the hot tubs. After warming up with a latte from Tidal Coffee overlooking the Bay, we find the stairway to the public beach, a popular local spot where kayakers and standup paddle boarders come and go throughout the day. Just steps from the main lobby, bikers and walkers leisurely explore the recreational trails lining the coast. The hotel's central location also provides easy access to activities such as golfing, sailing and scuba diving.
In tune with Monterey Plaza's iconic setting, Coastal Kitchen offers oceanfront dining featuring a multi-course tasting menu with fresh, sustainable ingredients from local farmers and fishermen. Chef Michael Rotondo changes his culinary creations to reflect availability each season. "I try to incorporate all the different senses," he says, adding that texture "keeps your taste buds excited."
After our active day on the Bay, we relax into the fine-dining experience, soaking up the expansive ocean views. With wine pairings curated by Sommelier Conrad Reddick, course highlights include king salmon, wood roasted black cod and a 48-hour braised beef short rib with a beet juice reduction. We end on a sweet note: a shortcake with coriander ice cream. Although it's hard to look away from each artfully arranged plate, we smile at the sight of sea otters just outside the window, enjoying a feast of their own.
Photography:  courtesy of joseph weaver and monterey plaza hotel & spa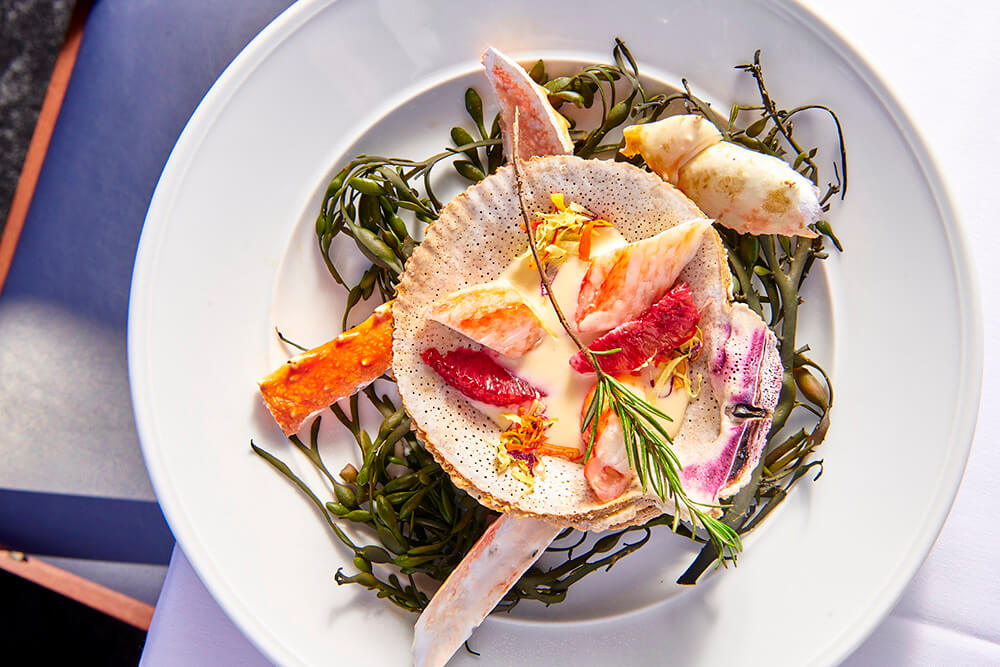 Photography: Courtesy of Joseph Weaver

Extend Your Stay
+ InterContinental The Clement Monterey – Luxury waterfront lodging with panoramic ocean views.
+ Monterey Plaza Hotel – Classic coastal hospitality with dramatic beachfront setting.
+ Victorian Inn – Boutique hotel with historic
Monterey charm just steps from Cannery Row.
Seasonal Sightings
January-May: Gray Whales
April-November: Humpback Whales
Year-Round: Blue and Orca Whales (less common),
Dolphins, Porpoises and Seabirds
www.santacruzwhalewatching.com
www.montereywhalewatching.com