A boot closet. The butler's staircase. Exposed redwood beams dating back to the Gold Rush. These are not typical features you'd expect to find in a home in San Mateo. But in a residential neighborhood, tucked back on a nearly quarter-acre lot on East Santa Inez Avenue, is a Tudor Revival house that transports visitors back in time.
"Most people have no idea what's back here," says Jeremy Slater, the current owner of the property. "The colors, the materials that they used, blend in with the nature around it, the tall redwoods in the front and the big trees in the back, so you can walk by it and not even see it."
It's true. To the casual passerby, East Santa Inez Avenue looks like any Peninsula tree-lined street today, with its mix of single-family homes and apartment complexes, cars parked tight to the curb and a white postal truck making the customary stops along its route. With San Mateo's downtown and Caltrain station just short walks away, it's hard to imagine the wide-open rolling farmlands that existed here in the late 19th century. It was that setting—rustic, lush and natural—that first drew the eye of noted British architect Ernest Albert Coxhead.
Professionally trained in England, Coxhead moved to California, where he primarily designed churches before focusing on more residential designs. Making his home in San Francisco, Coxhead, along with his architectural colleagues Julia Morgan and Bernard Maybeck, heavily influenced the emerging Arts and Crafts design movement.
In 1891, inspired by the notion of a country retreat, Coxhead designed and built a second family residence in the "rustic suburb" of San Mateo. After Coxhead sold the home to friends in 1924, the property turned over four more times—at one point inhabited by the founders of the San Mateo Unitarian Church. In 1991, Pat Osborn and Steve Cabrera purchased the home, and with renovations and updates staying true to the original design, ran it for 15 years as Coxhead House Bed & Breakfast.
Now tipping toward its 130-year milestone, with its double bowed roof and delicate leaded windows carefully preserved, Coxhead House is both a National and California State Historic Landmark. Curiosity is piqued, prompting the question, "What would it be like to live here today?"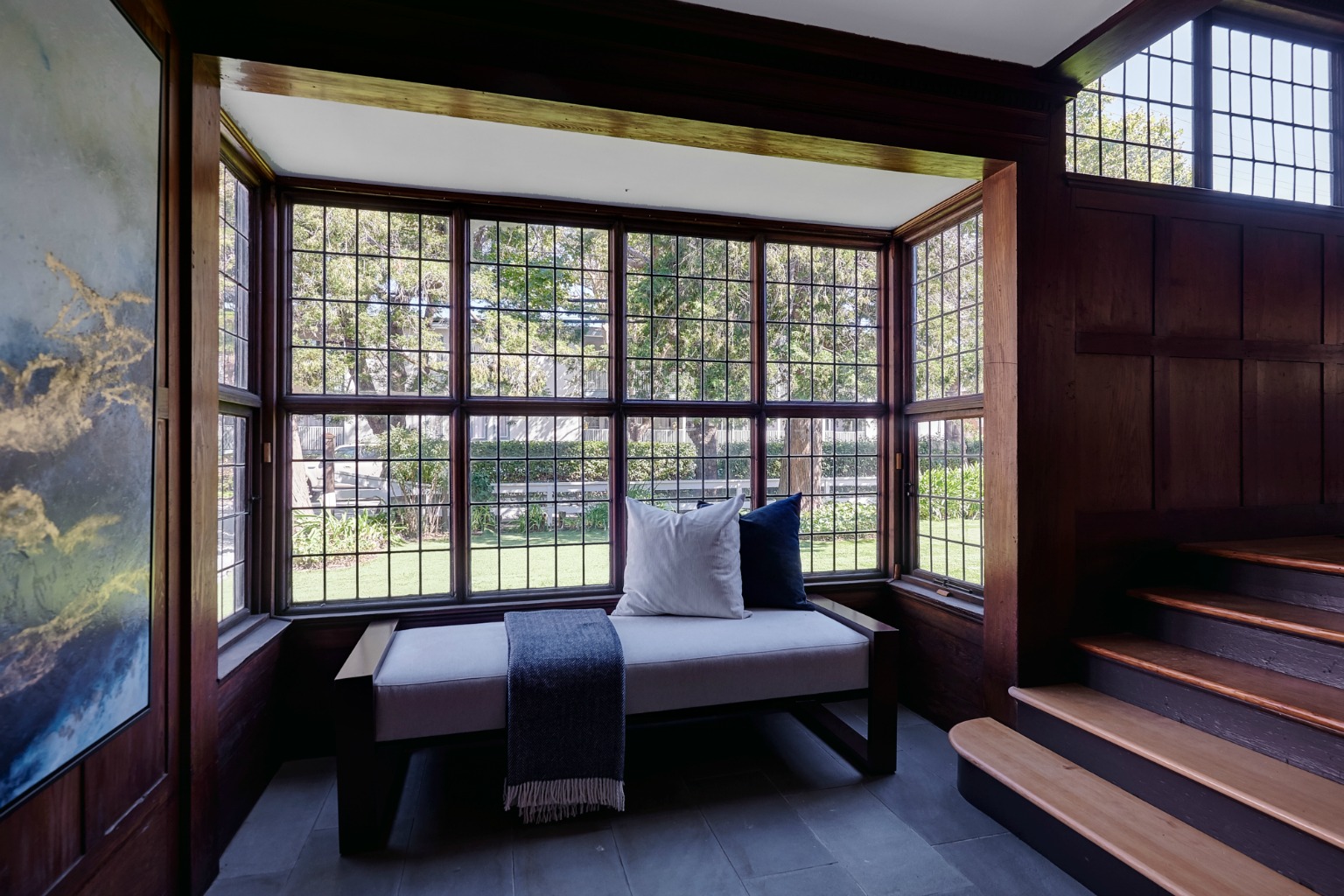 Walk down the gravel driveway, and you'll pull up at a massive wooden front door, accented by a trim of oversized brass nailheads. Glance to the right, and you'll see the door's original brass knocker. Give it a couple of taps: "Clack! Clack!"
The most recent family to keep residence here are Jeremy and Bonnie Slater, along with their twin 10-year-old boys and 8-year-old daughter. "It's your house, but it's also its own entity. You're the next person to take care of a piece of history," Jeremy says, in answer to the query. "I think the first thing that catches most people's attention is the roofline. It's got the double gables coming across so you think English Tudor. It's this big 10,000-square-foot lot of just your own country space. The other homes that surround it disappear when you're on the property."
Stepping inside for a tour, Jeremy points out both deliberate and some surprising design choices—given the context of the home's origins. "Coxhead was English, and you'd think an English Tudor would have lots of small, compartmentalized spaces. That's what you see when you walk in the front door, but I think he does it mentally to trick you," Jeremy notes. "When you walk through, it's a big, expansive open space concept that everyone wants these days, but he built it way back in 1891."
Another arresting—yet also utilitarian—feature is the home's complex rubric of leaded (and updated to zinc) framed windows, 88 by one account, panel after panel, containing geometrically pieced together panes of restoration glass. "One of the things that struck me immediately is that all of the windows are set up in consideration of the environment," Jeremy says. "It doesn't have AC, but the whole house can have a breeze come through it. And from where the sun rises to where the sun sets, depending on where you should be in the house, that's where all the light is going to come in. As long as the sun is out, there's no electricity needed for light."
Those same environmental considerations likely inspired the inclusion of five fireplaces in the 3,600-square-foot home. But while there's a bounty of certain amenities, the era in which the home was built may also have played a role in the scarcity of others. Although one of the five bedrooms does boast a boot closet (slightly reminiscent of Harry Potter's cupboard), Coxhead clearly saw no value in bedroom storage, which Jeremy attributes to a bygone lifestyle characterized by a best Sunday suit and one pair of shoes. "We got a little creative because each room doesn't have its own closet, but there are closets in the hallways. The bed & breakfast utilized a lot of wardrobes and armoires," Jeremy says. "You buy furniture that has a bit more utility built into it."
Having resided here for six years, the Slaters are now preparing to hand off Coxhead House to the next set of owners, thus presenting the current opportunity for a peek inside. Meridith Baer Home handled the staging and relished the assignment of conveying contemporary living in an historic setting. "We chose to honor the historic elements of the house and not fight it," says designer Sabrina Ferrand. "You have to respect the home. You bring in certain pieces that nod to it, making the flow cohesive while acknowledging what's there."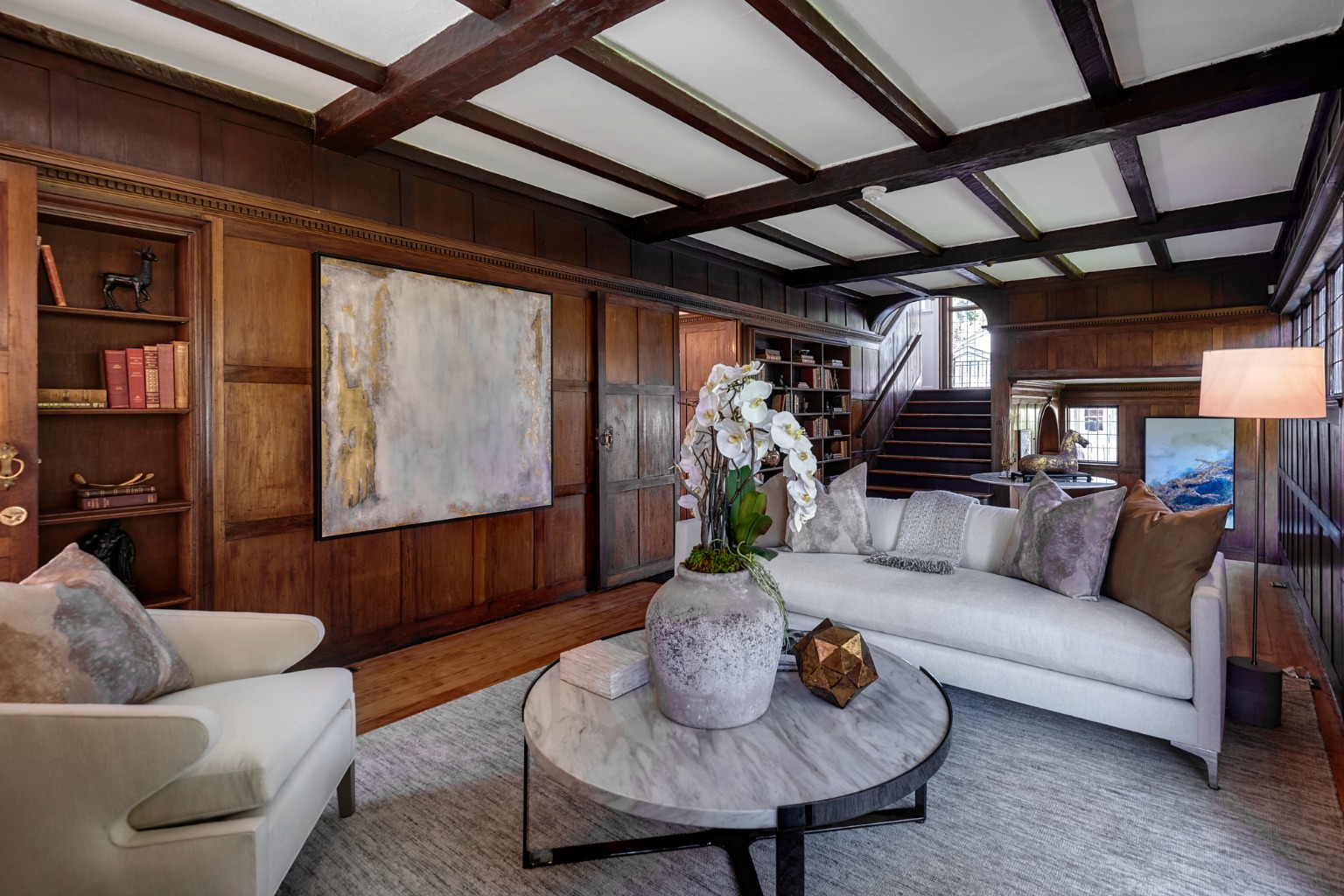 For example, the home is heavily accented with redwood-paneled walls, which while visually striking, can also make rooms look smaller. "We wanted to lighten, brighten and whiten everything. I tried to keep everything light," Sabrina says. "I did more transitional. I used a glass table, rather than wood, in the dining room. And with all the brass elements, I went heavily into gold in a more modern way, bringing gold tones, and a richness, into the space."
As a designated National Historic Landmark, the Coxhead House's historic exterior must be maintained (a requirement that comes with a reduced property tax incentive), but there's a lot of flexibility with interior upgrades. Following the enhancements made by previous owners, the Slaters took on their own list of projects, including remodeling the kitchen. "Recently, we pulled up the baseboard in one of the bedrooms upstairs and we found a 1917 penny someone had placed there," Jeremy says.
The Slaters added the penny to an artifact cabinet, which contains all the historic Coxhead House "treasures" discovered to date, ranging from a 1905 report card to an old medicine bottle still holding a syrupy-looking substance. "Builders would drink the medicine because it contained alcohol, and when the foreman would come by, they'd just put it in the wall and plaster over it," recounts Jeremy.
As to final reflections as they're about to drop the heavy brass door latch for the last time, Jeremy has this to say: "I always felt you were a steward or a custodian of the house; I always felt it was our job to take care of it as best as possible." Any regrets? "I'm still looking for the treasure chest full of gold," he says, wistfully. "Perhaps the next person will find it."
tucked-away history