Whether you've lived here forever or have only just arrived, one gauntlet of Peninsula life is the expectation that at some point, you'll learn how to make your way around a proper wine list. It just comes with the terroir-itory, if you catch my drift. So, where to begin: Napa, Sonoma or even Safeway? Or maybe you're not interested in fighting the traffic, tourists and shopping carts. Then welcome to Velvet 48, a new wine bar in Burlingame designed for aficionados and newbies alike.
Owner and Burlingame resident Jason Cooper is decidedly a wine person, though his customers don't have to be. With over 20 years in the wine industry, he observed what worked and what didn't in the marketplace and came up with a concept aimed at two customer bases: people in the know about wine who want a better selection, and people who aren't and just like to go out and drink wine.
"I wanted to put together familiar names but not like the grocery store. And then I also wanted to carry ones so that any wine industry or wine-savvy person would walk in and say, 'Wow! I can't believe they have that!' I'm in the middle of those two people," Jason relates. "I know a little bit about wine, more than probably the average person, but it takes a lot around here to really know about wine. The bar is pretty high."
Jason also saw an opportunity for a place where people could come enjoy a glass of wine without sitting at the bar of a restaurant. "I would like this to be a real wine destination for people who love wine and a gathering place for locals," he says. "I haven't seen that anywhere else, that feeling of 'I'm in a special place and I'm learning something, and isn't it nice to be here?' It's how this place came together and became more of a tasting room kind of vibe and feel."
The Velvet 48 experience starts the moment you slip down their speakeasy-like narrow entrance: everyone is greeted with a complimentary glass of Velvet 48's private label sparkling rosé. Hundreds of bottles of the stuff even decorate a large wall. "I just felt like when you go to a restaurant or a bar, it's not until you actually get your drink that you kind of settle in," Jason notes. "So I wanted to take away that waiting period and just give people something so that as soon as they got here, they're comfortable. It's something to have while you're browsing an admittedly very large list."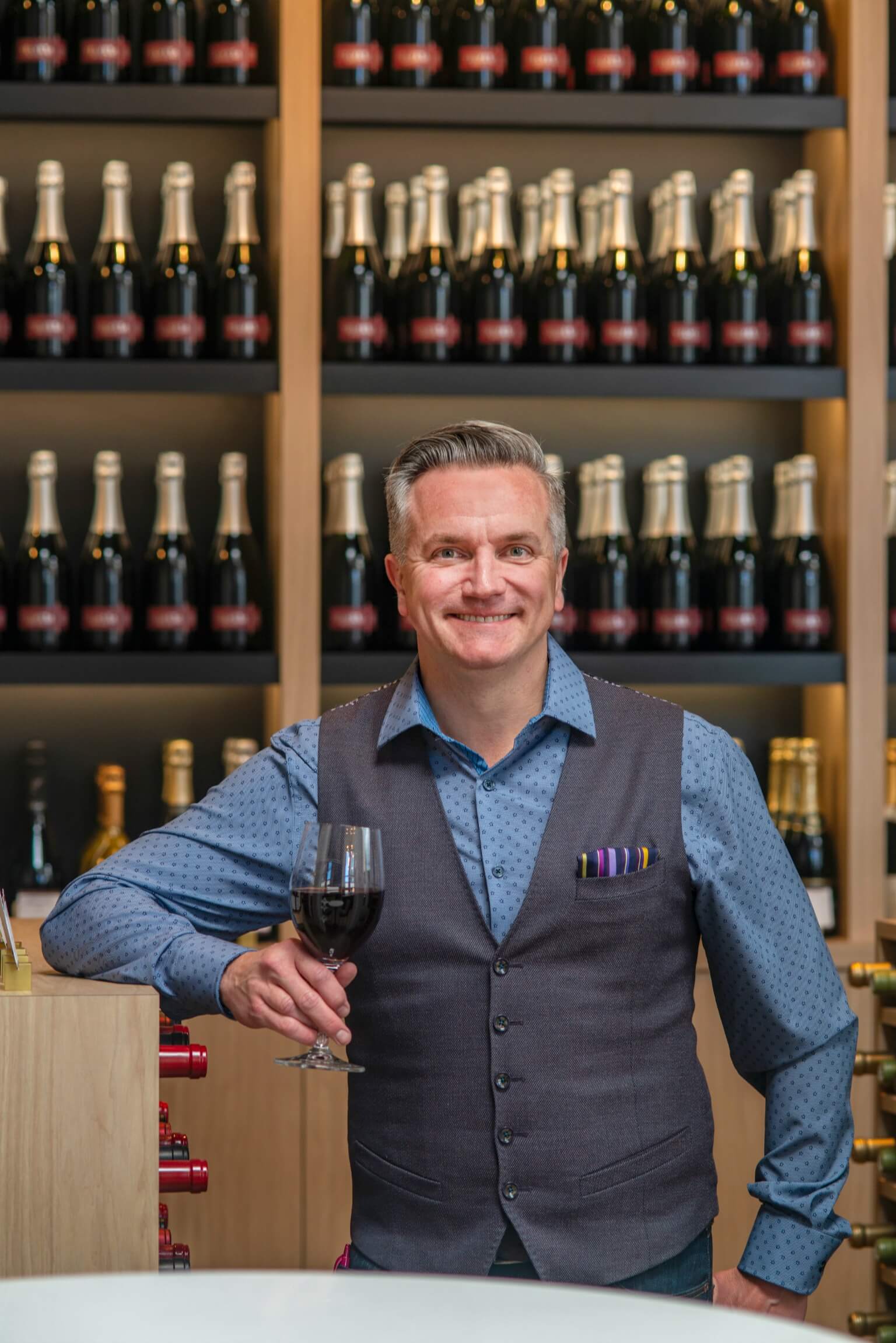 The private label sparkling rosé is also a bestseller at $30 per bottle. However, Jason emphasizes, "I want to sell high-end wine at a value, but I'm not selling five-dollar glasses of wine." The lowest prices are three $11 glasses offered per day—a white, a red and the sparkling—but they also serve glasses of MV Krug Grande Cuvee and Moet et Chandon Dom Perignon for $45. As far as Jason knows, his is the only establishment to do so besides the French Laundry.
As for the rest of the list, prepare to be dazzled: about two-thirds are domestic and the rest are imported, mostly from Europe. With a selection of 400 bottles to purchase, 50 by the glass ($11-$55) and thousands in storage, the options are seemingly endless. If you're looking to learn and experiment, Jason suggests you come in with an idea of what you like to drink, whether it's by brand or varietal, and the knowledgeable staff will suggest a taste-alike or improvement. Or, just follow your fancy.
While 90% of Velvet 48's bottle sales come from wines by the glass, patrons can also browse the standing racks to find inspiration. "One thing we do that's a little different is that we don't take a typical restaurant markup. We're sort of in between a restaurant and what a retailer would charge," Jason points out. "And if you buy six bottles or more you get 25% off. The idea is that it doesn't matter if you drink them here or take them with you."
If Jason has one overall goal for Velvet 48, it's that the wines he carries should be, well, velvety. "I wanted wines that were soft and supple and wouldn't rip the enamel off your teeth," Jason vividly describes. "And then 48 was the year my mom was born. She passed away a couple of years ago. I wanted to do something that would make her proud, with a little nod to her too." Jason's mom is not only in the name, her spirit carries over to the décor. One whole wall displays some of her collection of signed Hollywood memorabilia.
Another aim was to serve food that matched the quality of the wine. "Our food menu is really small but it's really thought-out and we've sourced some really cool things," Jason says, including cheese puff-like gougères made with gruyere. "One of my pet peeves is when they give you cold bread and butter, and the butter is rock-hard, so I wanted to do warm bread and give you soft, really good, salted butter." A cheese plate and charcuterie are among Velvet 48's more substantial offerings. The wine bar also serves four sweet dishes: macarons, creme brûlée, broken pieces of Guittard chocolate and tiramisu.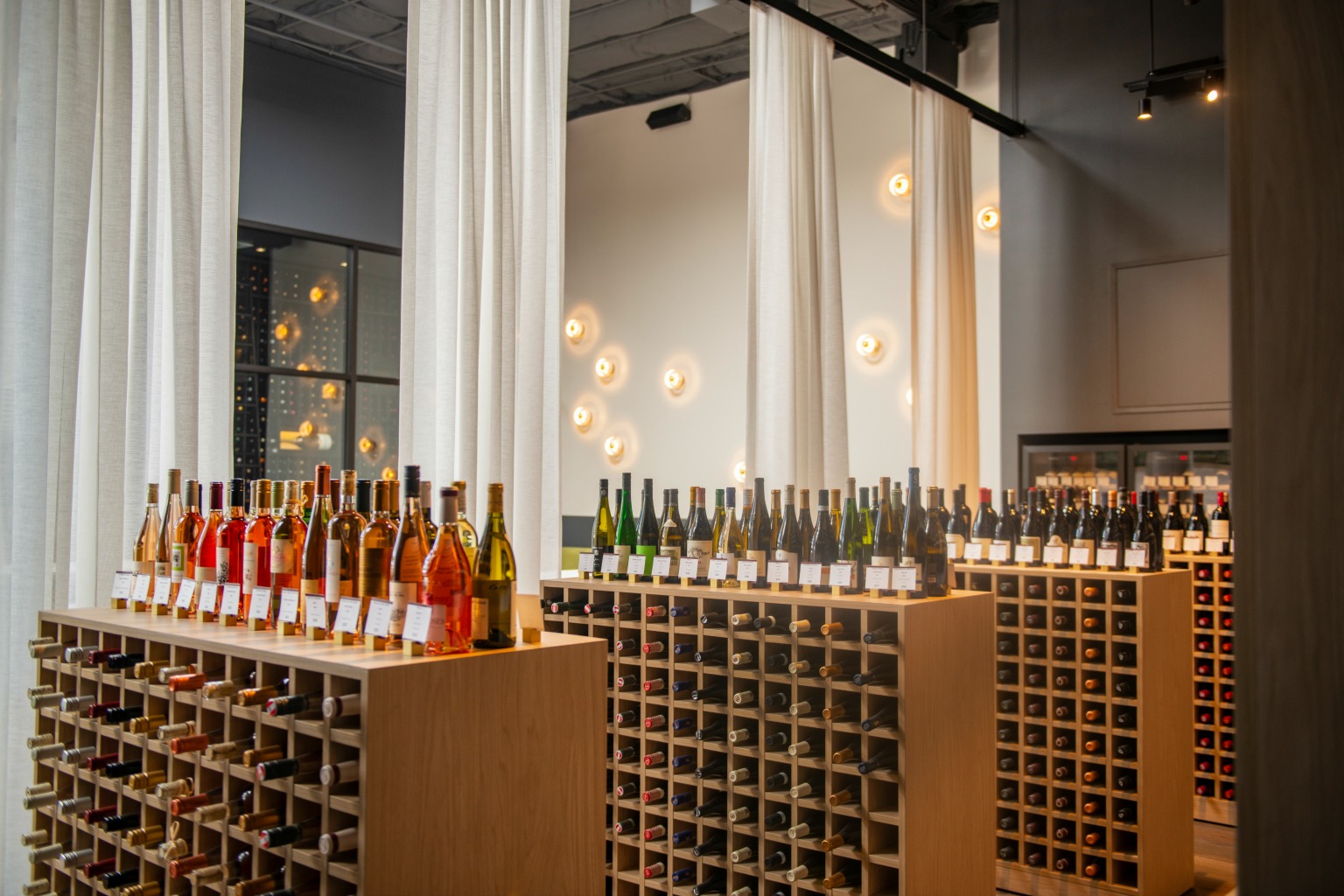 If you're accompanying an oenophile and wine isn't your thing, Velvet 48 carries 10 local craft beers in cans, plus a calorie- and alcohol-free rice lager, a best-seller in Japan. They also have a hidden TV with no plans to have it on regularly. Jason says they may make an exception for the Oscars or Super Bowl in the future, but for the time being, it's off. What a relief. Visit Velvet 48 while it's still TV-less and discover a sophisticated, neighborhood spot that's reimagining what an American wine bar can be. 310 Lorton Avenue, Burlingame  velvet48.com
Jason's Summer Wine Picks
Velvet 48 Rosés, Robert Sinskey Vin Gris of Pinot Noir, Carneros
They call it Vin Gris/gray wine because it's sort of in between. It's not white and it's not red. Dry, aromatic, a reliable favorite. $45
Figuiere Premiere Rosé, Cote de Provence, France
A little wine that when we tried it, it was amazing. Dry, lighter-styled, more delicate. An easy, light summer quaffer. $36
Montes Cherub Rosé, Chile
A little bit on the fruitier side. From one of the better known producers in Chile. Maybe a little bit more of a food wine. $25
Velvet 48 Dry Whites Cade Sauvignon Blanc, Napa
One of my favorite Napa Sauvignon Blancs. Classic, with tropical fruit, nice acidity, crisp. Great with or without food. $45
Hirsch 'Hirschvergnügen' Grüner Veltliner, Austria
If you remember the old Volkswagen slogan "Fahrvergnügen," which means for the joy of driving, this hirschvergnügen means for the joy of Hirsch. Crisp, floral, very drinkable. $26
Vietti Roero Arneis, Italy
Arneis is a grape indigenous to the Piedmont region, more obscure. You don't really see it in a whole lot of other places. It's really floral and crisp with more minerality. This is probably the most foodie of all these wines, though you can drink it on its own. $35