words by Suzanne Ennis
image above courtesy of Christian Horan
As autumn turns to winter and Sonoma County's green vineyards transition to rich russet and burgundy, the tourist crowds thin, traffic slows and reservations open up. In other words, it's time to pack your weekender bag. For leaf-peepers and gourmets, the quintessential wine-country town of Healdsburg is a destination in its own right, as well as an ideal base camp for those eager to explore farther afield. If you haven't visited in a while, you'll be delighted to discover that favorite restaurants and tasting rooms are once again open for business and, what's more, they've been joined by a host of buzzy newcomers. If this is your first time visiting, well, prepare to fall for Sonoma County's many charms.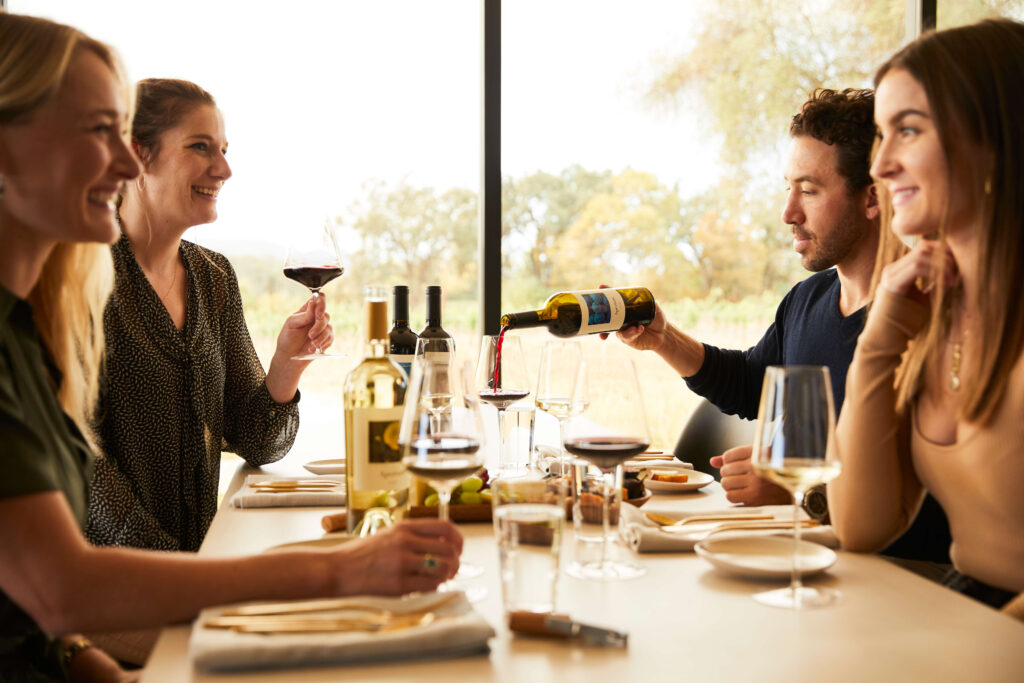 Settling Inn
A two-hour drive from the Peninsula north on Highway 101 brings you to Healdsburg, smack where the Dry Creek, Alexander and Russian River valleys kiss. On that note, if you're on a romantic getaway, check into the circa-1900 Healdsburg Inn on the Plaza, in the heart of downtown. The 12 guestrooms (many of which have fireplaces and a soaking or jetted tub) feature original architectural details paired with contemporary comforts, and guests enjoy a full breakfast each morning. A complimentary mini-picnic and a half-bottle of wine are perfect for an impromptu picnic on the plaza. 
A mile north on Dry Creek Road, the 122-suite Hotel Trio Healdsburg exudes a more modern vibe. Here, guests can plug their cars in at EV chargers, rent bicycles or catch a shuttle downtown, and even have a "robot butler" named Rosé bring necessities like extra towels and wine, contact-free.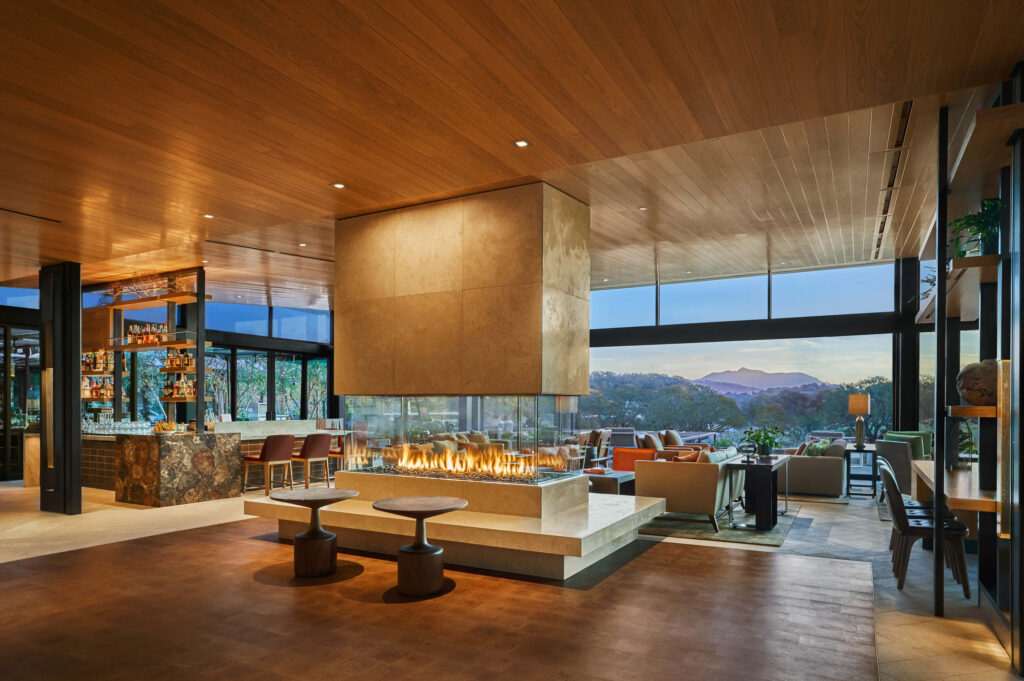 For luxury nonpareil, splurge for one of the 130 bungalow-style guest rooms at Montage Healdsburg, which opened to the public this year after more than a decade under development. Set on 258 acres and boasting 22,000 oak trees, 15.5 acres of vineyards, an apiary, pickleball courts and more, the uber-private guest rooms and forthcoming residences offer stunning views and organic-modern wine country design. Even if you don't stay overnight, you can dine on seasonal fare at the resort's signature Hazel Hill restaurant and schmooze over a cocktail at Scout Field Bar. Or you can indulge in next-level pampering at the 11,500-square-foot Spa at Montage. A decadent couple's massage, followed by a dip in the zero-edge pool overlooking the vineyards? Um, yes please. 
Just a Sip
More than 425 wineries fall within the borders of Sonoma County's 18 American Viticultural Areas (AVAs). A notable recent entry is Aperture Estate, two miles south of town on Old Redwood Highway. Winemaker wunderkind Jesse Katz founded the brand in 2009. The first winemaker ever to be included in the Forbes 30 Under 30 list, a Wine Enthusiast 40 Under 40 Tastemaker and a Wine Spectator "Rising Star," Katz is also the winemaker behind the cult-favorite Devil Proof Malbec. Clearly, he knows his stuff—as is evinced by the ratings of Aperture's Bordeaux-style wines, which you can taste by appointment at the estate's outdoor terrace and private lounge. There, you can also peruse art by Katz's father, Andy, a world-renowned photographer responsible for the wine bottles' labels. Note the aperture-shaped ceiling: another nod to Andy's craft.
Coursey Graves Winery, from winemaker/owner Cabell Coursey and located on the steep hillside of Bennett Mountain in Santa Rosa, is another newcomer. The view from the tasting room alone—past pollinator gardens, over acres of Cabernet Sauvignon, Merlot and Syrah grapes and across the valley—is worth the half-hour drive from downtown Healdsburg.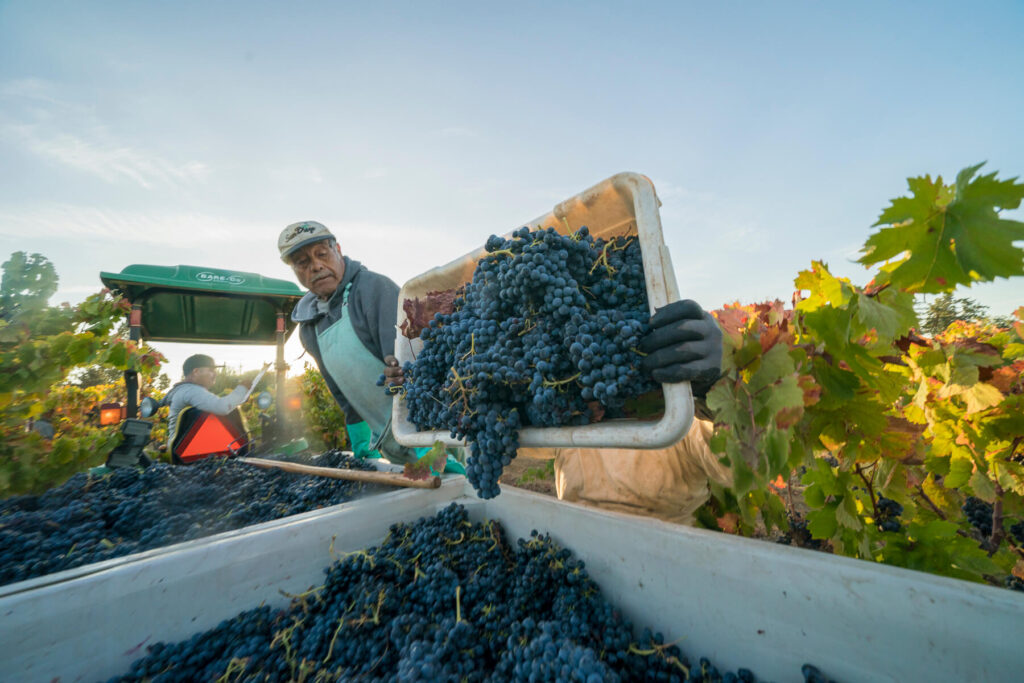 A by-appointment tour includes a seated tasting and a visit to the wine caves, which hold Italian terracotta amphorae in which some of the wine is aged. There's also a walk-in tasting offered at the new Coursey Graves Tasting Room near the roundabout at Healdsburg Avenue, Vine and Mill Streets in Healdsburg.
Less than a mile west of that roundabout is the new Bacchus Landing, a three-acre collective of boutique wineries, a small artisanal food market, an area for lawn games and an event center, all surrounding a square for picnicking and seasonal events (keep an eye out for holiday shopping events in November). Five tasting rooms, each with its own patio, feature eight wineries; the sole co-tasting room includes Aldina Vineyards, which is owned by Bacchus Landing's founders, the Lopez family. Drop in to taste their Cabernet Sauvignon alongside 13th & Third's Rhône varietals and Pinot Noir by Dot Wine.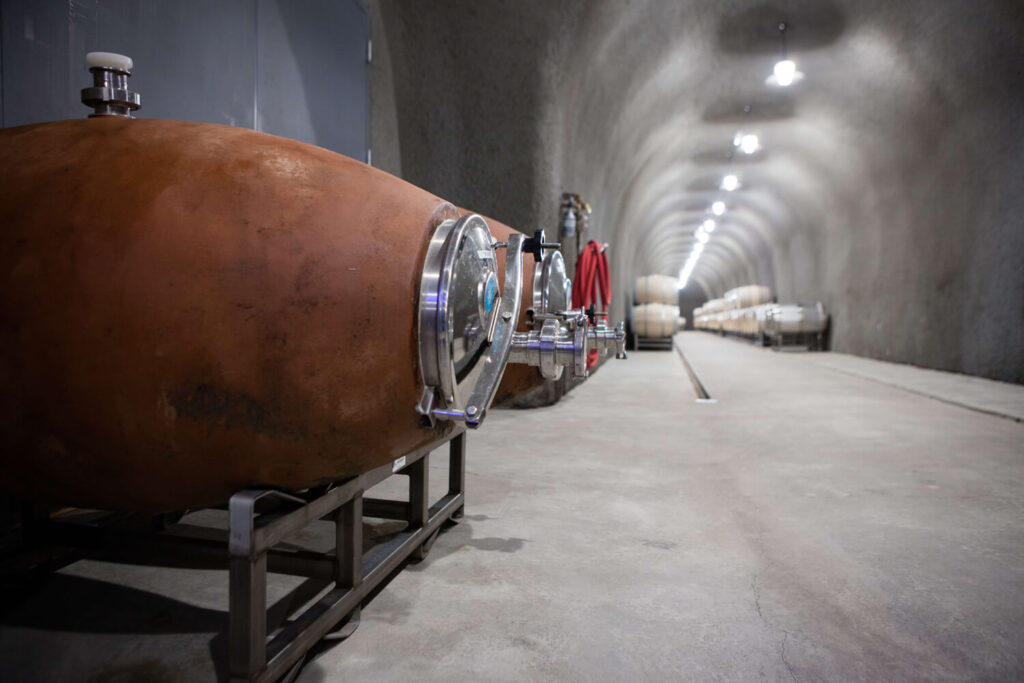 Wine and Beyond
Visiting a winery usually involves tasting delicious wines and soaking in an idyllic vineyard setting. Adding a tour and nibbles equals a satisfying afternoon in wine country. Occasionally, though, a winery earns extra credit by offering all of the above, plus options beyond wine. Case in point: Trattore Farms, on Dry Creek Road in Geyserville, just outside Healdsburg. Owned by Tim and Mary Louise Bucher, who met in graduate school at Stanford, Trattore's 40 sustainably-farmed acres are planted in both vineyards and olive orchards from which they produce 2,000 cases of artisanal extra-virgin olive oil annually under the name Dry Creek Olive Company. After perusing the vintage tractors in the hillside tasting room (trattore means "tractor" in Italian—an homage to a 1967 red Bucher tractor Tim imported from Europe), visitors can relax on a terrace with views of Dry Creek Valley, Mount Saint Helena and Geyser Peak while enjoying flights of olive oil and Rhône-style wines, which can be paired with panini and charcuterie. A "Get Your Boots Dirty" tour includes an educational jaunt around the farm on a Kawasaki mule and a Family Flight tasting. Bonus tip: Olive harvest begins at the end of October, so tour-takers in November may get to see the olive mill center in action.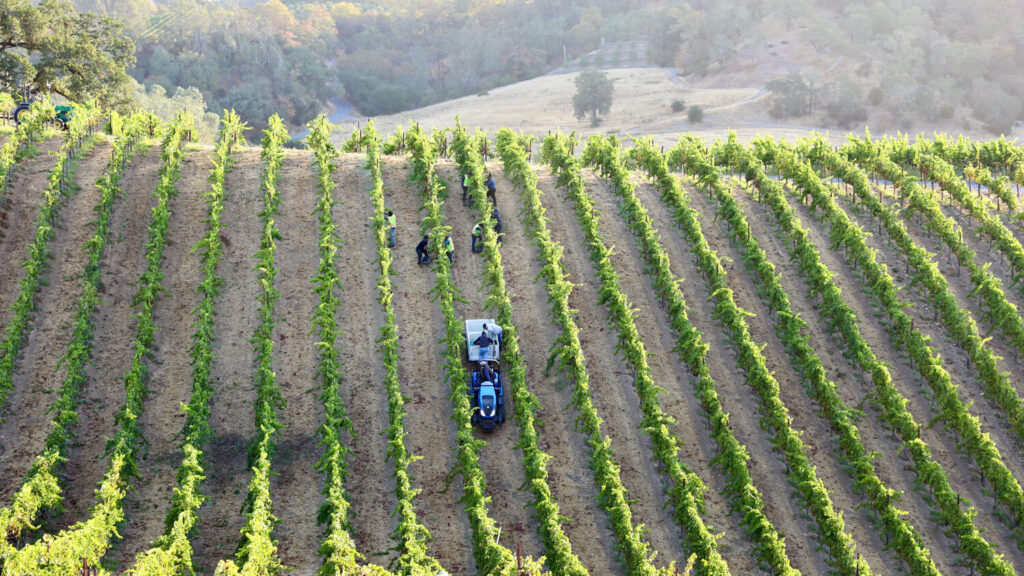 Thirty minutes away, set high above the Santa Rosa Plain, Paradise Ridge Winery offers another irresistible combination: wine and art. Opened in 1994 by the Byck family and rebuilt after being decimated by the 1997 Tubbs wildfire, the estate covers some 155 acres, 15 of which are planted with Sauvignon Blanc, Chardonnay, Pinot Noir, Syrah and Zinfandel grapes. The rest of the property is devoted to a beautiful new wine tasting/event space, 200-year-old oak trees, wildlife, meadows and a sprawling, changing large-scale sculpture garden that's open to the public. Family patriarch Walter Byck established the original garden and dedicated it to his wife, Marijke Byck-Hoenselaars, who died in 2006.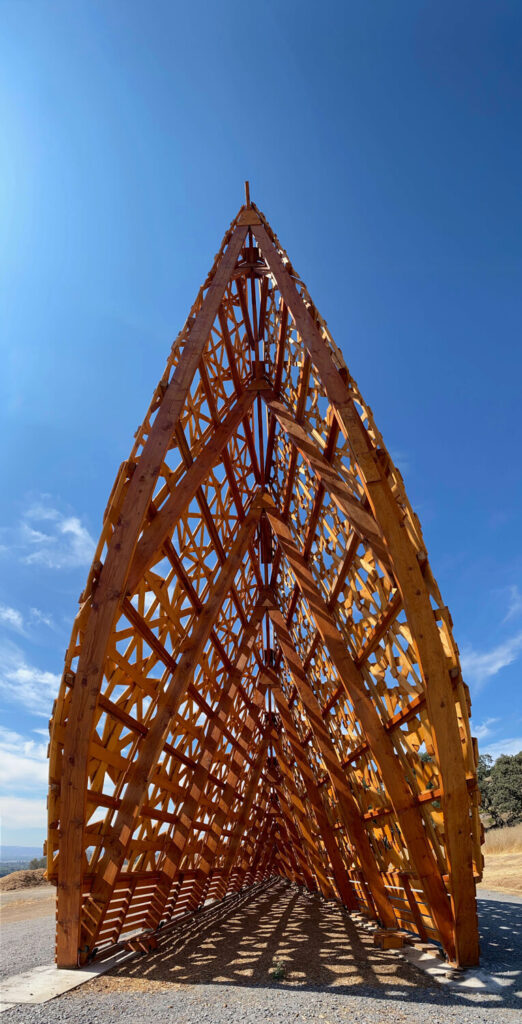 Today, the Bycks work in collaboration with Voigt Family Sculpture Foundation to exhibit dozens of sculptures in and near "Marijke's Grove," including several previously shown at Burning Man. Burners shouldn't (and, frankly, can't) miss the newest addition: a towering wooden temple entitled Empyrean, created by Laurence "Renzo" Verbeck and Sylvia Adrienne Lisse, that was originally destined for the ultimately canceled 2020 event. 
If you've checked out the sculptures and are looking for a nearby bite, check out Santa Rosa favorite Perch and Plow, which offers a great view overlooking Old Courthouse Square.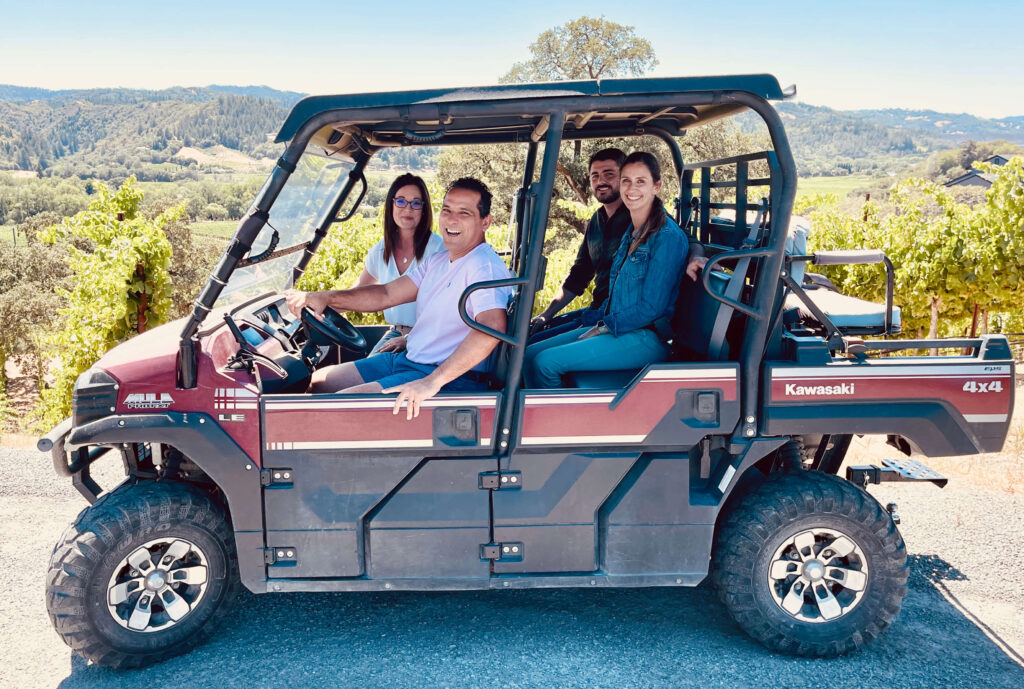 Intermezzo
For a recharge between tastings or a kick-start to your day, grab a pumpkin dulce latte and a veggie burrito at the award-winning Black Oak Coffee Roasters, which opened a second location (after Ukiah) on Center Street in Healdsburg last spring. Or head south of the roundabout on Healdsburg Avenue to newcomer Quail and Condor, a bakery from Melissa Yanc, winner of the Food Network's 2019 Holiday Baking Championship, and her husband Sean McGaughey, a sous chef at SingleThread. Pick quickly: the loaves, savories and sweets (cardamom apple tart … mmm) sell out fast.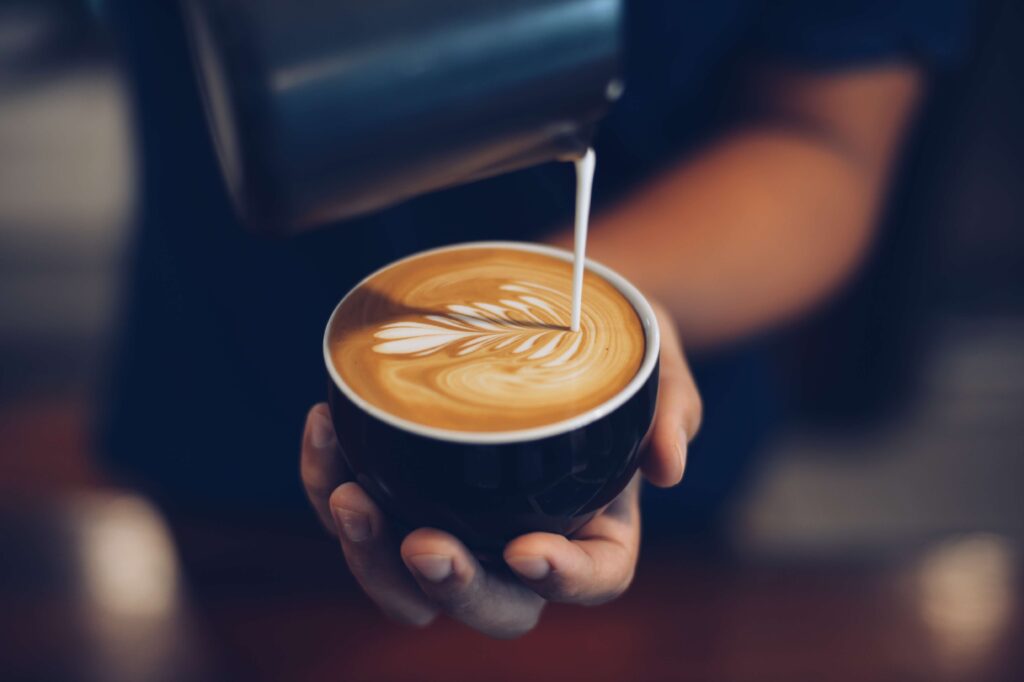 Terroir to Table
Healdsburg is an epicure's fantasyland, boasting several Michelin-recognized restaurants within its 4.5 square miles, plus plenty of worthy others featuring award-winning cuisine and talent (see Quail & Condor, above). Two new dining spots from familiar faces are adding to Healdsburg's culinary renown.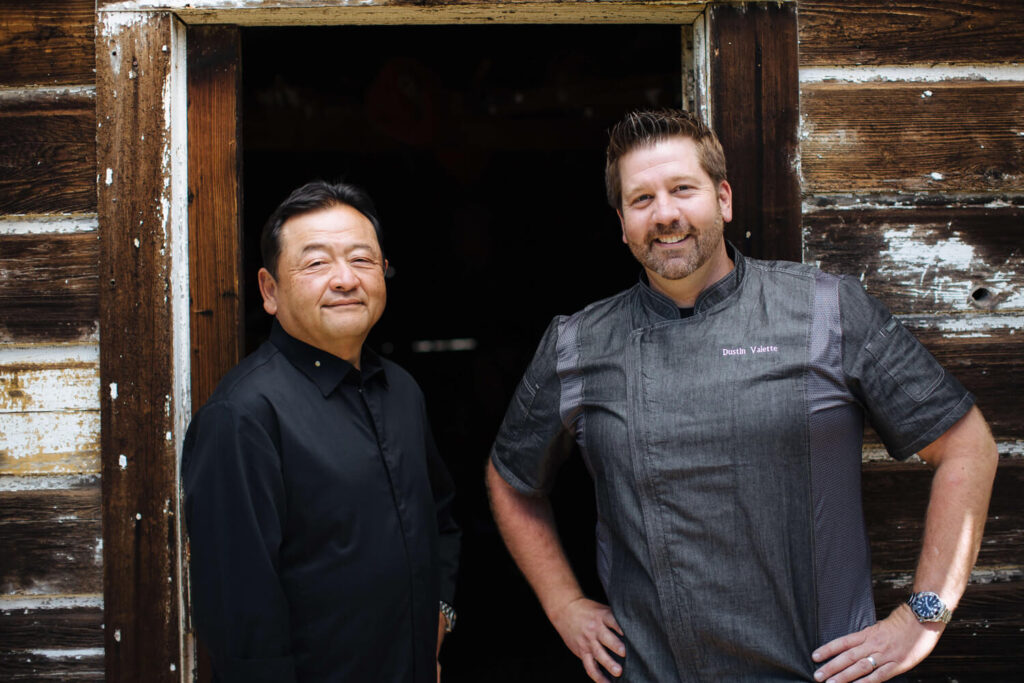 Open since this summer is The Matheson rising three stories above the Plaza in downtown Healdsburg. Owned by Chef Dustin Valette of beloved Valette, two blocks away—and, charmingly, on the site of a bakery owned by the chef's great-grandfather, Honoré Valette, in the 1920s—The Matheson serves up a sure-to-please combo of Chef Valette's creative, hyper-local and -seasonal fare; sushi from acclaimed chef Ken Tominaga; and an 88-bottle, self-service, fun-to-sample wine wall. The convivial, casual vibe continues upstairs to the Mezzanine, which offers a private dining room and reserve wine locker. Things get a little moodier on Roof 106, a fire pit-warmed rooftop cocktail lounge serving wood-fired pizzas and cocktails. 
Set to open in late fall is Little Saint, from the team behind three-Michelin-starred SingleThread farm-restaurant-inn. Created in collaboration with new property owners Jeff and Laurie Ubben, Jenny Hess and designer Ken Fulk, the plant-based restaurant, quick-service café and bottle shop seems destined for the former SHED space—and to become a big player in Healdsburg's dining scene.