Words  by Linda Hubbard
Cool and breezy winter days can make for great hiking—especially if they pack the extra punch of only-in-winter sights as these three hikes do. So, bundle up and enjoy!
Año Nuevo State Park: elephant seals
Viewing the elephant seals during their annual migration to Año Nuevo State Park on the coast is an only-in-winter treat that spans December through March. Getting a front-row view requires three to four miles of hiking—moderate with varied terrain including sand dunes. During elephant seal breeding season, there's plenty of action. The day we visited we saw a bit of male fighting, mating attempts, lots of babies and scattered jostling and sand spraying.
The docent told us that the seals don't eat or drink anything while they are ashore, living off blubber and stored-up moisture. The males can weigh up to 5,000 pounds, which is a figure that's hard to wrap the mind around. To make reservations for the Elephant Seal Guided Walks, visit reservecalifornia.com or call 800.444.4445. Tip: If possible, go before 10AM during the week to avoid the many school groups.
GOOD TO KNOW
+ Bring hooded rain gear, a warm jacket, layered clothing and sturdy walking shoes plus water for drinking on the trail.
+ Photography is permitted; staying 25 feet from the elephant seals is firmly enforced.
+ Baby strollers are not permitted for safety reasons. Families may use them for the first .9- mile walk to the staging area but must leave them there for the rest of the tour.
+ No food is allowed on the tour, but you may picnic in designated areas before or after the guided walk.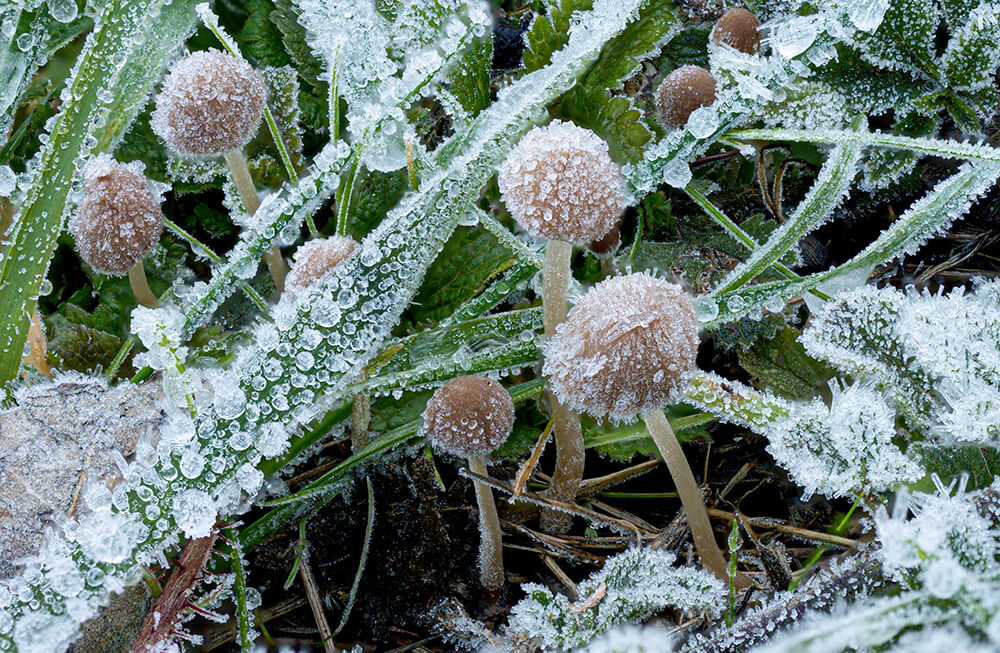 Pescadero State Park: Fungi
In winter, a hike down to Pescadero Creek is not only beautiful with its mix of old-growth and new redwoods, it's also filled with an amazing variety of mushrooms, which photographer Robb Most stumbled upon thanks to a stroke of serendipity a few years back. The official name for the 7.5-mile hike is Towne Fire Road to Brook Trail Loop. There are lots of switchbacks and an elevation gain of 1,594 feet, making it moderately challenging.
The Towne Fire Road goes near the Sierra Club's Hikers Hut—closed for repairs this January—but you cut off and go through a field to get to the Brook Trail Loop. Take the loop counter-clockwise down through the redwoods to see the fungi. The walk back up is less interesting but still beautiful. If you head out in the morning, you'll encounter a picnic table right about lunch time that overlooks a lovely valley.
GOOD TO KNOW
+ Open to hikers, cyclists and equestrians; no dogs allowed.
+ Park in adjacent Sam McDonald Park ($6) and take the trail to the south.
+ Opens at 8AM; seasonal closings are posted.
+ Restrooms onsite at San McDonald parking.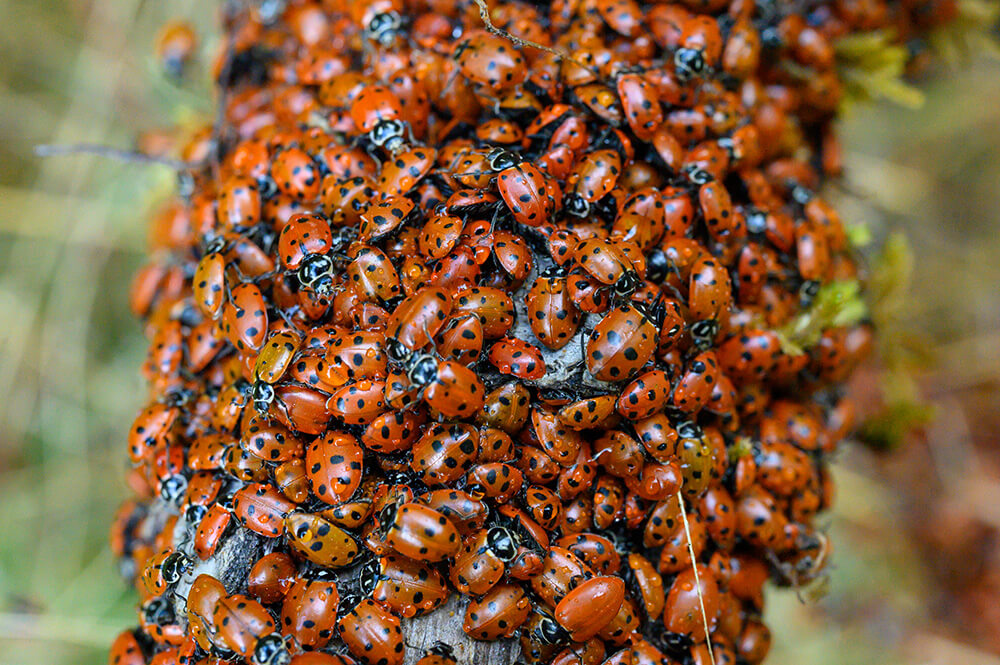 STEVENS CREEK COUNTY PARK: LADYBUGS
Like the fungi, we owe the secret of hibernating ladybugs to photographer Robb Most, who accidentally came across them, not knowing that one of his frequent trails was also their winter hideaway. Fun fact: Ladybugs hibernate in groups and they are referred to as a "loveliness" of ladybugs. Ladybugs hibernate where predators aren't likely to reach them and away from harsh winds where temperatures remain above freezing.
The trail down to the ladybugs starts at Stevens Creek Trailhead on Highway 35 (Skyline Boulevard). The Grizzly Flat Trail is on the east side of the parking lot and goes down a fire road for 1.8 miles to Stevens Creek. It is quite steep, so not for the faint of heart. The ladybugs Robb discovered are just before you reach Stevens Creek. Look and photograph them but do not disturb them in any way. Going back up the 1.8 miles is challenging. For a longer loop, take the Grizzly Flat Trail to Table Mountain Loop, which is 7.6 miles and passes the ladybugs.
GOOD TO KNOW
+ Open to hikers, cyclists and equestrians; no dogs allowed.
+ The parking area is located approximately three miles south of Page Mill Road.
+ There is a large map of the area at the parking lot.
+ Open from 8AM until sunset.