words by Silas Valentino
The painting in question, hanging on the barroom wall of Selby's, is at eye level for whomever snags the last leather chair at the left end of the bar. But its minimalism could easily deflect focus.
There are many other references to 20th-century Modernism gracing the room, designed in tribute to Gertrude Stein's cluttered-yet-orderly salon in Paris. So a black tie loosely wrapped around the neckband of a laid-out white-collared dress shirt is hardly an attention-grabber—especially  when juxtaposed with the allure of a nearby John Coltrane painting, rare photographs of Audrey Hepburn and Gloria Vanderbilt or any of the other 150 original artworks that adorn these restaurant walls.
Nevertheless, this unassuming painting was in fact the pièce de résistance for Tim Stannard and Stephen Brady as the duo conceptualized Atherton's newest elegant eatery. The fancy shirt tousled against a black backdrop is a felicitous blend of opposing directions (luxury vs. leisure) but it's precisely where this team from the Bacchus Management Group wanted to take Selby's: where contemporary fine dining intersects with classic hospitality and care, where timeless décor blends into the fray of the modern day.
"Developing a restaurant is a process—it's not linear. It's multi-faceted and things fold over and land on top of each other," Tim says of Selby's, which opened at 3001 El Camino Real in late July.
"This is our sixth project working with Rob [Delamater] from Lost Art Salon [a commercial art gallery in San Francisco] and we've developed a rhythm. We'll set aside an entire day on a weekend to sip green tea and look over thousands of paintings, photographs and sculptures. That picture [of the shirt] was the one where we were flipping through images and Stephen said, 'Stop! This is exactly what we're going for.'"
Tim is a founding partner of Bacchus, which manages several award-winning restaurants throughout the Bay Area, and he's lived in Woodside for the past 11 years. Stephen is an interior designer who has worked with Ralph Lauren Home and Williams-Sonoma and the two have collaborated since opening The Village Pub in Woodside.
That project was in 2000 when Stephen lived in New York, forcing the duo to improvise with phone calls and postage stamps to envision the restaurant. Tim would snap photos with a disposable camera of the Village Pub site and FedEx them across the country for Stephen to mark up with ideas using a pen.
Two decades later, following Bacchus's debut of restaurants such as Spruce and The Saratoga in San Francisco and the Mayfield Bakery & Café in Palo Alto, Tim and Stephen plotted Selby's with much greater ease now that Stephen is local. Alongside chef Mark Sullivan, they've crafted a club that serves continental American cuisine in a glamorous dining atmosphere. Selby's is the continuation of classic 1930s and 1940s establishments like Chasen's, the Brown Derby and Romanoff's.
Their intention was to repurpose the towering, ornate wooden doors at the entrance of the restaurant (the sole remaining artifact from the previous tenant Chantilly, which shuttered in 2017) as a portal to lead into the lavish world of Selby's.
"We wanted to first develop the 'felt sense'—how does it feel when you open the door to the restaurant?" Tim explains. "We want all our restaurants to be a 3D experience. Everything you come into contact with—whether it's your eyes, ears, taste buds or fingers—it should all be harmonious. From the music to the candles, it all has to be in sync. That's a big part of how we start a process. It's standing in what usually is an empty building and figuring out the felt sense."
This obsession for detail is visually evident across the 10,000-square-foot, two-story building where signature light fixtures and a Modernistic chandelier in the main room from San Francisco artist G. Magnus Schevene literally shine.
Patrons will quickly pick up on the acoustic padding on the walls that promotes civilized conversation while they're treated to concierge service from an inspired staff. Scott Kennedy, director of private dining, will only have to learn your name once before remembering exactly how to best serve you.
The menu lifts inspiration from modern, global continental cuisine that shifts with the seasons. (Bacchus runs a ranch in Woodside where much of the produce used in their restaurants is sourced.) The summer menu begins with a few delectable bites of Kaluga caviar complemented by cured Hokkaido scallops from Japan and Olivier's Salad, a traditional Russian starter that trades lettuce for diced vegetables.
A glass of Chardonnay pairs with the wild mushrooms en papillote alongside a dry-aged roast crown of duck sourced from 38 North All-Natural Poultry in Petaluma. The meal concludes with sips of Madeira and a slice of chocolate cake that executive pastry chef Janina O'Leary tops with salted caramel and fudge sauce.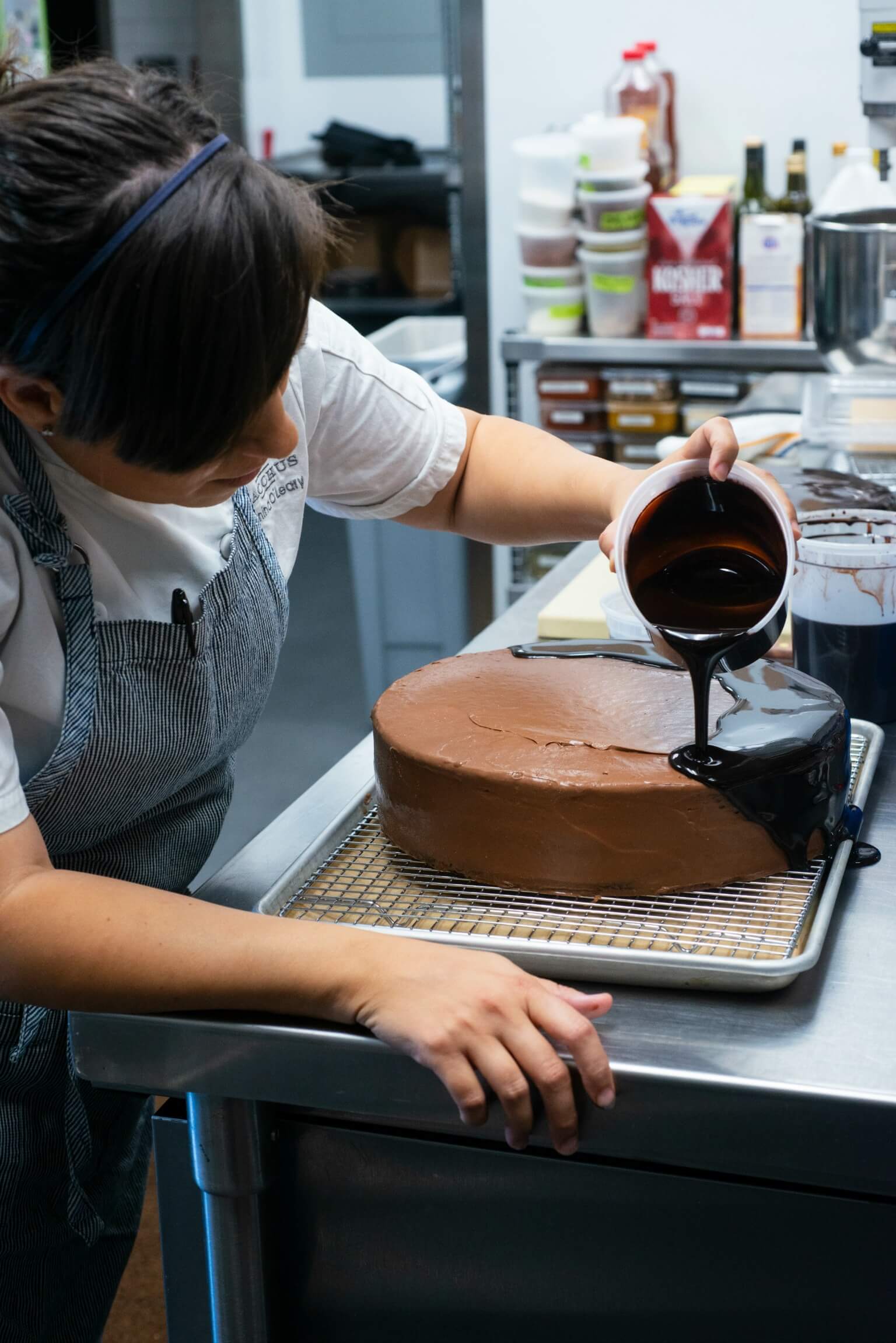 Selby's largest feat in terms of size is their dual wine cellars (located on the ground level for all to see), capable of holding up to 20,000 bottles focusing on vintage Italian, Spanish, French and California wines.
Among the multitude of challenges involved in opening a restaurant in the Bay Area today is securing sufficient staffing, given the high cost of living. Bacchus, however, has a unique advantage due to their commitment to cultivating a group of employees who believe in the company.
"It was my biggest fear. It is an incredibly tight labor market and I've heard horror stories from friends who weren't able to open restaurants," Tim says. "But many employees have been with Bacchus for 10 or 12 years. When we decide to open a new restaurant, we have people in the pipeline who have been growing and are ready to take the next step. Lauren [Kemp, general manager of Selby's] started as a dining room server. We spend a lot of time and frankly, money, investing in people."
Although Selby's has adopted Atherton as its home, the address is within a six-block stretch of El Camino Real that's technically an unincorporated area of San Mateo County. Reminiscent of their desire to celebrate yesteryear influences with today's style, Selby's itself is caught in the middle of dueling forces.
"We're betwixt and between," Tim laughs. "An intent for the restaurant was to honor what came before us. We've heard great stories about Chantilly from people popping in and it's important to continue that legacy of being a clubhouse for the greater Atherton community."
RESERVATIONS RECOMMENDED
3001 El Camino Real, Redwood City
650.546.7700 • selbysrestaurant.com