It's Sunday morning, and Studio Rincon owner, Kathy Petrin, is miked up and leading a 9AM class in Menlo Park. The heat is cranked to 82 degrees, and the sound system is pumping—an eclectic playlist that jumps around from Post Malone to AC/DC to Lenny Kravitz to Ariana Grande. Bodies move in rhythm, sweat dripping, as Kathy's voice guides the way: "Reverse warrior. Big inhale. Windmill it all the way down. Exhale. Flow it forward to plank. Stay with your breath." It sounds like yoga, but ocean waves and tinkling bells won't come until the final resting pose. What's happening here answers to a different name. This is Yogarok.
"Yogarok was coined from being a little rebel," Kathy explains. "Yoga is very traditional, and it doesn't mean that we don't stem from all the traditional aspects of yoga, but we're a little bit edgy, we're a little bit of a rebel." That rebel quality also helps explain Kathy's twisting and turning journey that brought her here. Clearly, she's okay with pushing boundaries and stretching limits.
Born in Palo Alto, Kathy grew up in Mountain View and studied finance at UC Santa Barbara. She supported herself through college working in restaurants, and instead of taking a corporate job after graduation, she stayed in the restaurant business, working her way up from server to bartender to manager to overseeing six restaurants at one time, before finally owning her own restaurant. Along the way, she met her husband, Bill Petrin, a software engineer, and they recognized a shared trait that would serve them well in the years ahead. "We're each kind of a jack-of-all-trades," Kathy says. With three boys soon in tow, life got even busier. Always committed to fitness, Kathy wasn't happy with the local offerings she squeezed into her packed schedule, and as the boys got older, she struggled to find classes that worked for them. "I searched high and low for great dance classes for boys, and I ended up driving all the way down to Campbell and Santa Clara," she recalls. "I thought 'There has to be a better solution!'"
Kathy and Bill conceptualized a fitness environment that had something for everyone—men, women and children—and in 2010, they opened Studio Rincon on Alameda de las Pulgas. Bill, who also attended UC Santa Barbara (although he and Kathy didn't meet there), came up with the name Rincon, Spanish for "corner" or "nook," inspired by Santa Barbara's Rincon Point. "We kind of looked at it like this could be a cute little nook," Kathy says. "Plus, it was neutral. It wasn't all yoga. It wasn't all kids. It wasn't one gender." Bill put his software career on hold to manage the business, and the couple accomplished what they set out to do—offer a range of yoga, dance and fitness classes—more than 50 weekly options including boot camp, youth dance, zumba, yin/restorative yoga, cardio kickboxing and of course, Yogarok, a name they trademarked when they launched the studio to describe athletic vinyasa yoga flowing to a mix of pop, rock and hip-hop.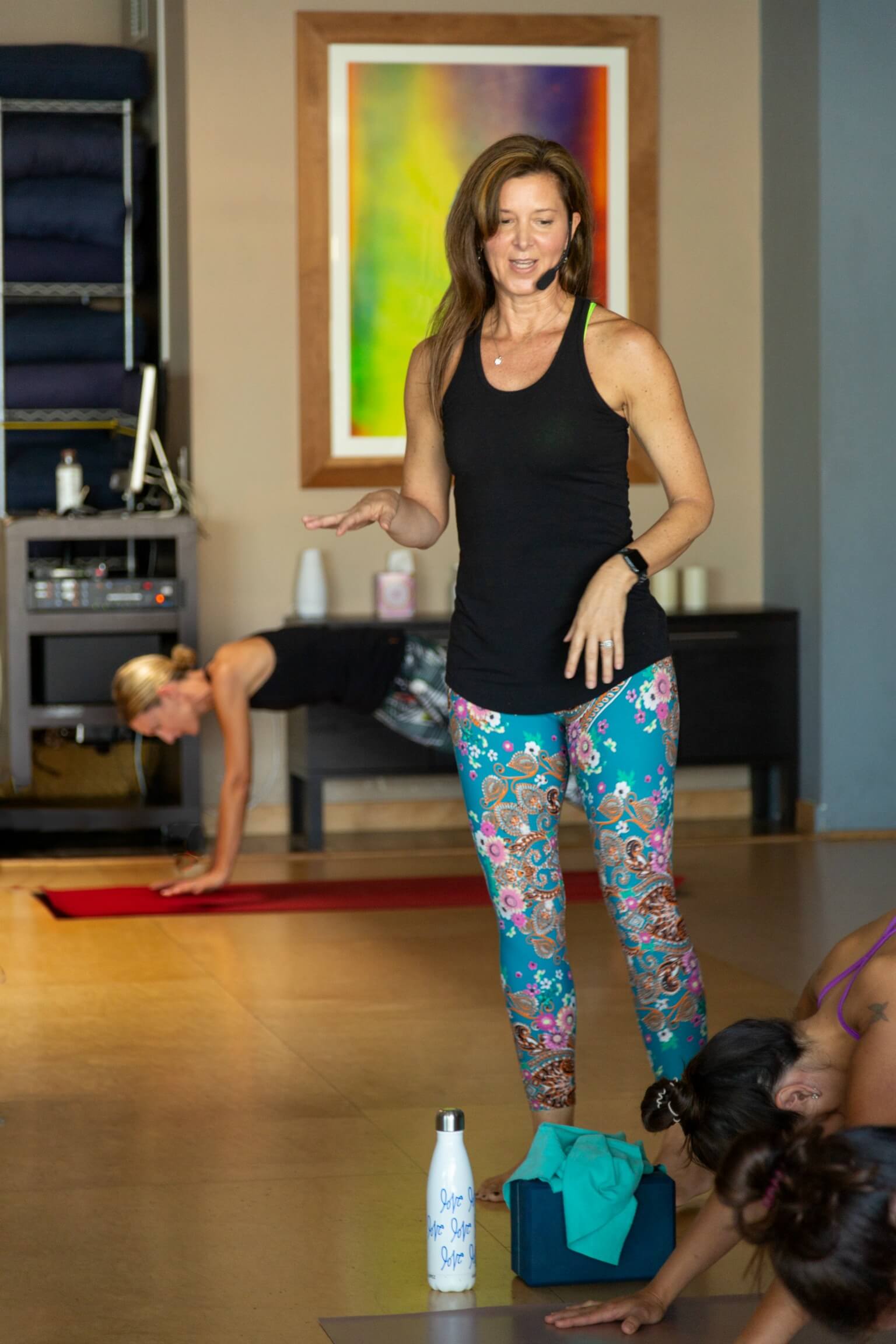 When Studio Rincon opened, Kathy was fairly new to yoga. She began to drop into classes to offset the stress of owning a restaurant and raising three boys. "It started off in the physical realm and then I noticed a whole change in my outlook," she says. "Things were just better in life. I would walk out of the studio and the sky looked bluer." That mental shift inspired Kathy to sign up for yoga teacher training on the weekends, where she started studying the yoga sutras. "It was mind-blowing," she says. "What do you mean, 'All we need, we already have'? Being in this culture of go, go, go, bigger house, bigger car, whatever it is, you really come to terms with what's important and what isn't." After putting in the hours to become a registered yoga instructor, Kathy began to fill in for the occasional class at Studio Rincon and discovered that she had a knack for it. "I would take over a small class and it would go from two to ten people almost instantaneously, and now some of them are up to 45," she says. "I think it's because we make it an ego-less place. Just being here is 99% of it—not whether you do every chaturanga or have the biggest back bend. It's about how people feel during and after."
As her boys grew up, Kathy continued to run the restaurant and teach a handful of yoga classes. In his "spare" time (outside of Studio Rincon and doing software contract work), Bill bootstrapped a startup called Namafit, as a way to connect businesses and fitness instructors. With a manager on board at Studio Rincon, the couple decided Bill had "more capacity," leading them to execute the next part of their vision. In July 2017, they opened an active and loungewear retail store with a name that came easily to them: Yogarok Living. "Yogarok Living captures the music and the fun factor and a fitness lifestyle. It's living a little bit without rules or limits, so being able to be limitless," Kathy explains. "So you can wear a yoga top to coffee or you can throw on a little something and wear it to dinner."
Walking down Santa Cruz Avenue in Menlo Park, the first thing that catches the eye is the sign outside: "Fresh Kombucha on Tap." Step inside Yogarok Living and you'll see big, white comfy couches and colorful racks and displays of activewear, accessories and gift items—ranging from Spiritual Gangster t-shirts and Ultracor leggings to Himalayan wooden candle trays and surfboard-friendly waterproof speakers. And, as promised, you'll also find Kombucha on tap, along with CBD beverages, in flavors like cucumber mint lime and cranberry blood orange. Trending hot and touted for digestion, anti-inflammation and pain relief, the drinks have turned into a big draw. "Most people who beeline in here, that's what they're looking for," Kathy acknowledges. Customers also aim for the back of the store, where there's a small dedicated space for yoga classes, including 45-minute lunch break sessions.
All of this brings Kathy's journey to its current chapter. At the beginning of 2018, the couple switched it up again, making yet another "life turn," as Kathy calls it. Bill is back at work as a full-time software engineer, and Kathy let her restaurant business go and took over operations of Studio Rincon and Yogarok Living. With the boys now 18, 14 and 11, the homefront is as turbo-charged as ever, although Kathy keeps finding room to stretch a little more. She's starting up a yoga teacher training program in January. "I've always trained with the best teachers I could find," she says. "And I'm so excited to share the teachings and work closely with those on the same path."
While preparing for her next class (a glance at her playlist reveals Elton John's "Bennie and the Jets," Prince's "Delirious" and Travis Scott's "Butterfly Effect"), Kathy ponders a request for a few reflections as the year winds down. "Take time to turn in. That act of turning in can create such bliss," she says. And yes, always be a bit of a rebel. "Do something that makes you a little nervous," she encourages. "That's where life begins."