Words by Johanna Harlow
Within a few years of opening, Zola—a stylish French bistro in downtown Palo Alto with dishes dictated by the seasons—was thriving. But it was also pushing up against limitations. "We were full all the time," reflects owner Guillaume Bienaimé. "There was nowhere for people to hang out. We didn't have cocktails. We didn't have a bar for solo diners." To remedy the situation, he bought the hair salon next door and transformed it into a swanky cocktail lounge, bringing bar manager Duncan Harrison on board to help breathe the concept to life. BarZola was born.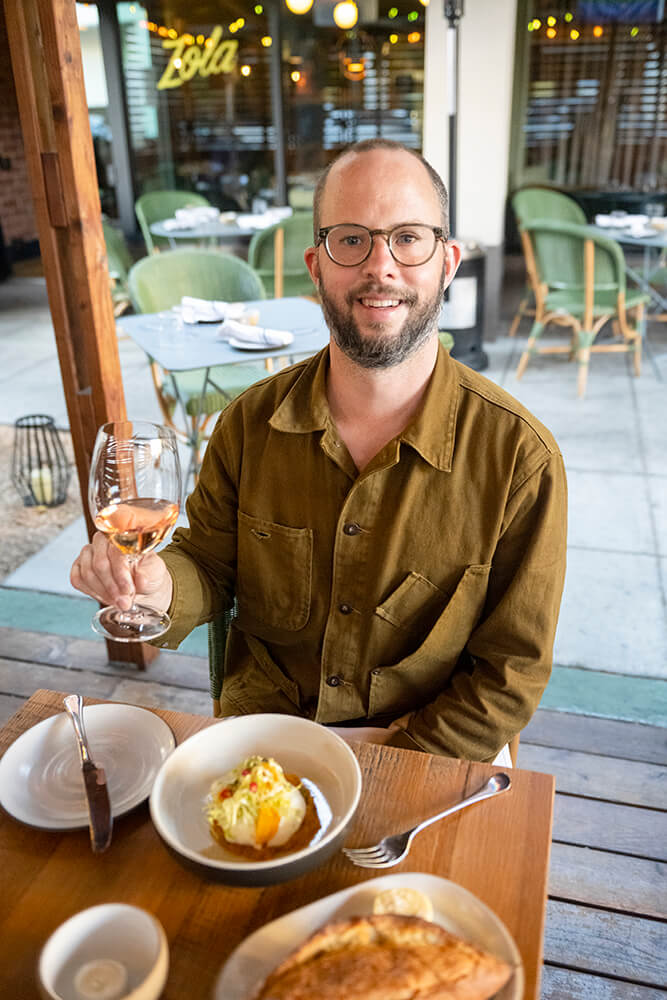 "Being a neighborhood spot is the best thing you can possibly be because that's the function of a bar," Duncan emphasizes. "It dates back to the concept of a pub, which is short for 'public house.' It's a place the neighborhood can treat as a watering hole." Guillaume nods his agreement, "Our number one goal is to be part of the community and be here for the community," he says, noting that BarZola is open to midnight (with dinner served until 10PM and light bites until 11:30PM), providing another option for night owls on a relatively quiet street. "The only other choice is a slice of pizza," Guillaume observes. That tight community connection is also why, on the last Wednesday of each month, they host guest bartenders from across the state to sling drinks for charity.
A seasoned veteran of the culinary scene, Guillaume knows what he wants in a restaurant. At 15, he broke into the business washing dishes at a pizza joint. Just 14 years later, he was executive chef at Menlo Park's upscale Marché, followed by Portola Kitchen. He created Zola to fill a void. "When I looked around and saw there was nothing authentically French, it made a lot of sense," he explains.
Guillaume opened Zola in 2014, naming his new restaurant after French activist and author Émile Zola. "People read a French name on a restaurant and they have these preconceived notions. I didn't want that. I wanted to be a neighborhood bistro that had 80% French and maybe 20% American/Californian influence." He adds, "I just wanted to cook and put honest food on the table and charge what it costs," explaining that he seeks authentic meals over overpriced elite dining or "Disneyland's version of French food."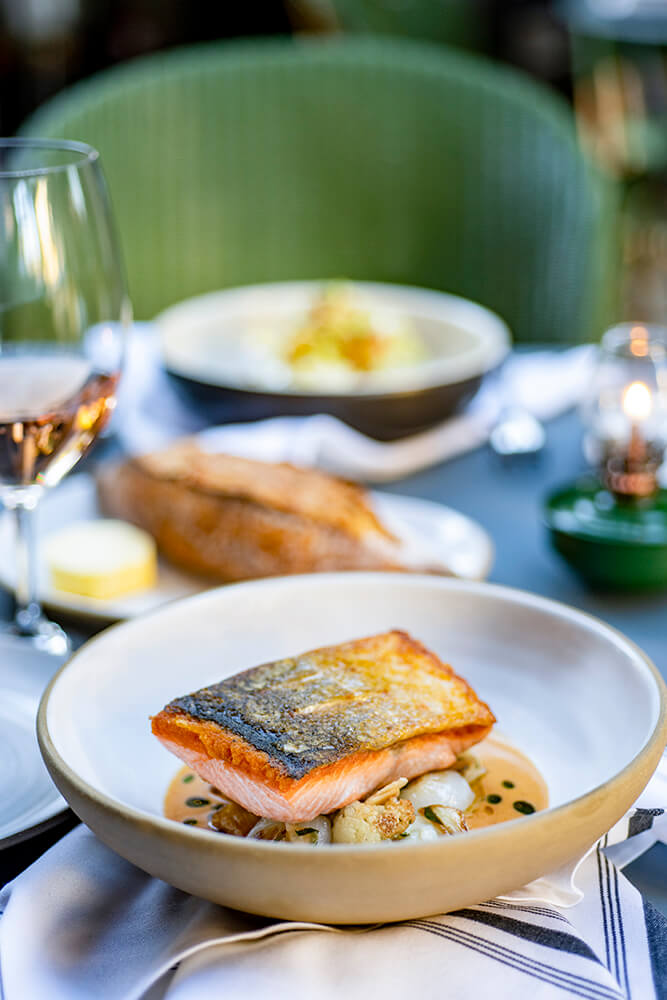 Before culinary school, Guillaume began learning French cooking from his mom and grandmother. During college, he competed with the Johnson & Wales Culinary competition team, winning gold in the National ACF Hot Food competition and multiple medals at the Culinary Olympics in Erfurt, Germany.
He returned to competition this year as a contestant on the French-themed episode of the cooking show Alex vs. America. In preparation, Guillaume says he practiced crepe batter while his son timed him. "He's a smart-ass," he laughs. "He's 11 and so he is telling me what I'm doing wrong." Even so, Guillaume won the $10,000 prize—and promptly donated it to World Central Kitchen, a nonprofit providing meals in the wake of natural disasters.
"We're not trying to dazzle you with some crazy foam or two bites of something ridiculous," Duncan says of Zola. "Our dishes are stupidly delicious with generous, loving portions of food."
As for standout items on the menu? Guillaume is big on seasonality, and right now he's doing some tasty things with gourds. Like adding squash to a buttery burrata, along with cherry tomatoes, basil, pine nuts and crostini. You'll also want to try the staff favorite: a squash gratin with breadcrumbs and nine-month Comte cheese, which combines in an uplifting medley of flavors in the skillet. "It's just one of those comforting, oddly simple things where the squash really kind of shines," Guillaume describes.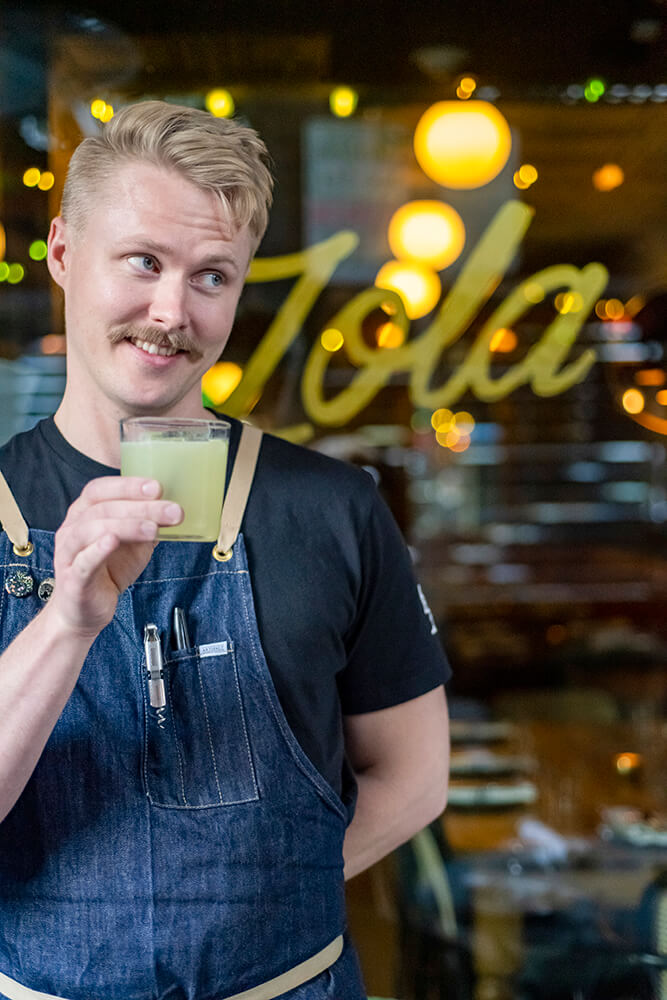 There's also a delightful ricotta gnocchi. With corn, cherry tomatoes and mushrooms blanketed in a truffle velouté sauce, it's a swirl of textures and colors. Breaking the slow-cooked egg atop this dish is highly satisfying.
As for cocktails, Duncan seeks inspiration in the leafy green garnishings, pebble ice and fruit-nonfruit contrast of neo-tiki drinks. He has three recommendations: his own Danish Handshake as well as the Madre del Pueblo and Jai Alai, concocted by two resident bartenders.
"I like to personify them," Duncan laughs. He describes the pink and savory Madre del Pueblo as "the well-dressed woman with a dark side" and the apple-forward Danish Handshake with vodka, aquavit and genepy as "the meeting of mature and sensible people getting along quite nicely." As for the highlighter yellow-green Jai Alai with its exuberant basil leaf headdress? "This is the party animal," Duncan declares. "Like somebody getting dressed up to go to the club in Miami. It's loud and lively and energetic and charming."
Both food and drink are a feast for the eyes. And that's very intentional. "Tasting starts when you walk in the door. Guillaume has been very firm on this tactile experience," Duncan explains. That includes everything from the feel of the leather menu to the lively colors and warm lights that wash the room. "You go on a journey of what to expect by how we've written the menu," Duncan says. "When you finally get to taste it, we've set your expectations and then delivered on them. That's a super satisfying experience."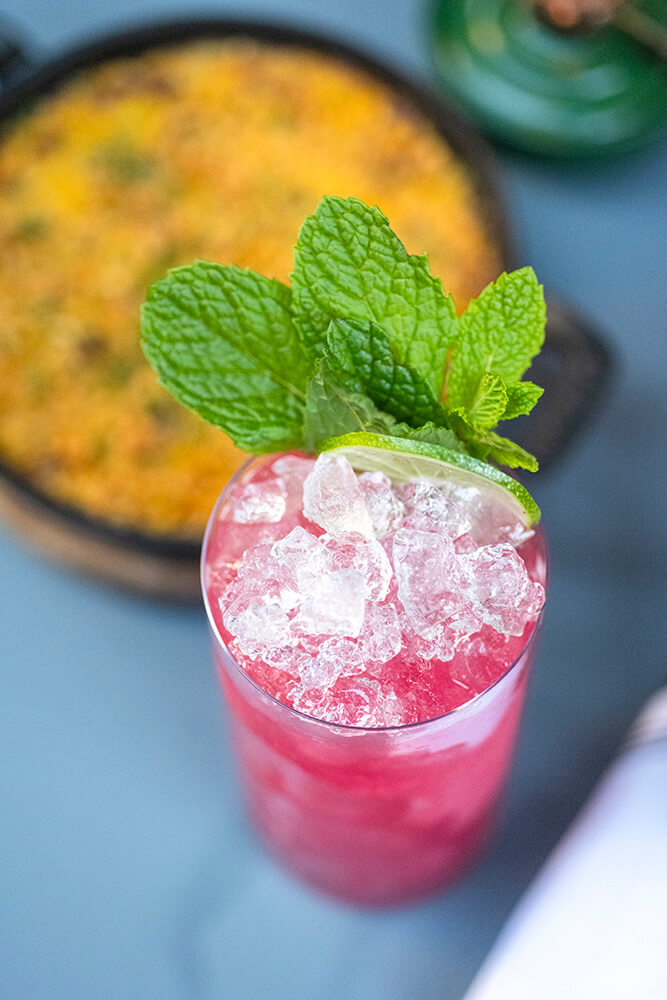 Sharing a food menu and kitchen, Zola and BarZola complement each other while bringing different things to the table. The same can be said of Guillaume and Duncan. Zola's owner identifies as a problem-solver, who loves nothing more than overcoming a good challenge. While Duncan is the hospitality guru. "It all revolves around people in this business," he points out.
"I'm more of an introvert," Guillaume admits. "But I do love being around young, creative and high-energy people. It's great for everyday morale."
This comes into play with the hiring of Zola's bartenders and waitstaff.
Duncan says he's always on the lookout for high emotional IQ, that instinctive ability to pick up on little cues. "A guest might not say, 'I'd like to chat with you today.' Maybe it's them staring whimsically off into space and putting their book down," he describes. "You can tell when someone wants a little bit of interaction." Continuing this train of thought, he adds, "I also think interesting staff are interested—and that just translates to a way better experience for the guests."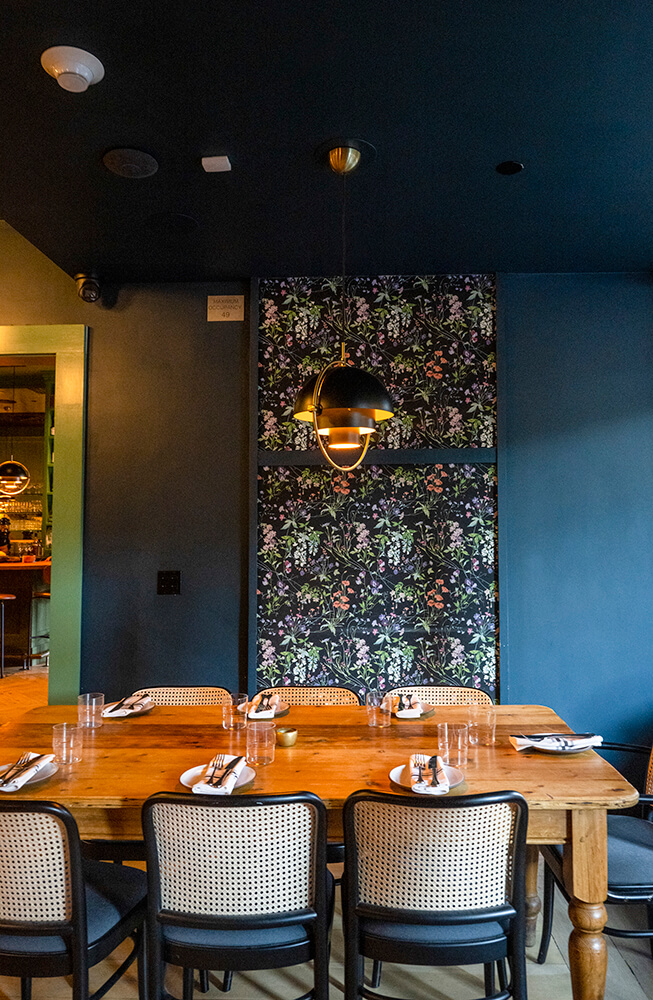 It's also one of the reasons they go the extra mile for birthdays and anniversaries. "You're choosing to come hang out with us on a day that is meaningful to you," Duncan recognizes. It's beneficial to the restaurant too. "Their faces light up the room. There's that social energy and that sense of community that we're trying to foster." Guillaume smiles as he adds, "That flow state is addictive."
Bartenders also have full reign of the Spotify account to set the atmosphere—adjusting from soulful tunes to something more upbeat or funky when things get too lethargic. "We've gotta inject some energy," ventures Duncan.
Without a doubt, this dynamic duo's attention to detail will continue to advance the Zola + BarZola concept. Here's a toast to perfect pairings.